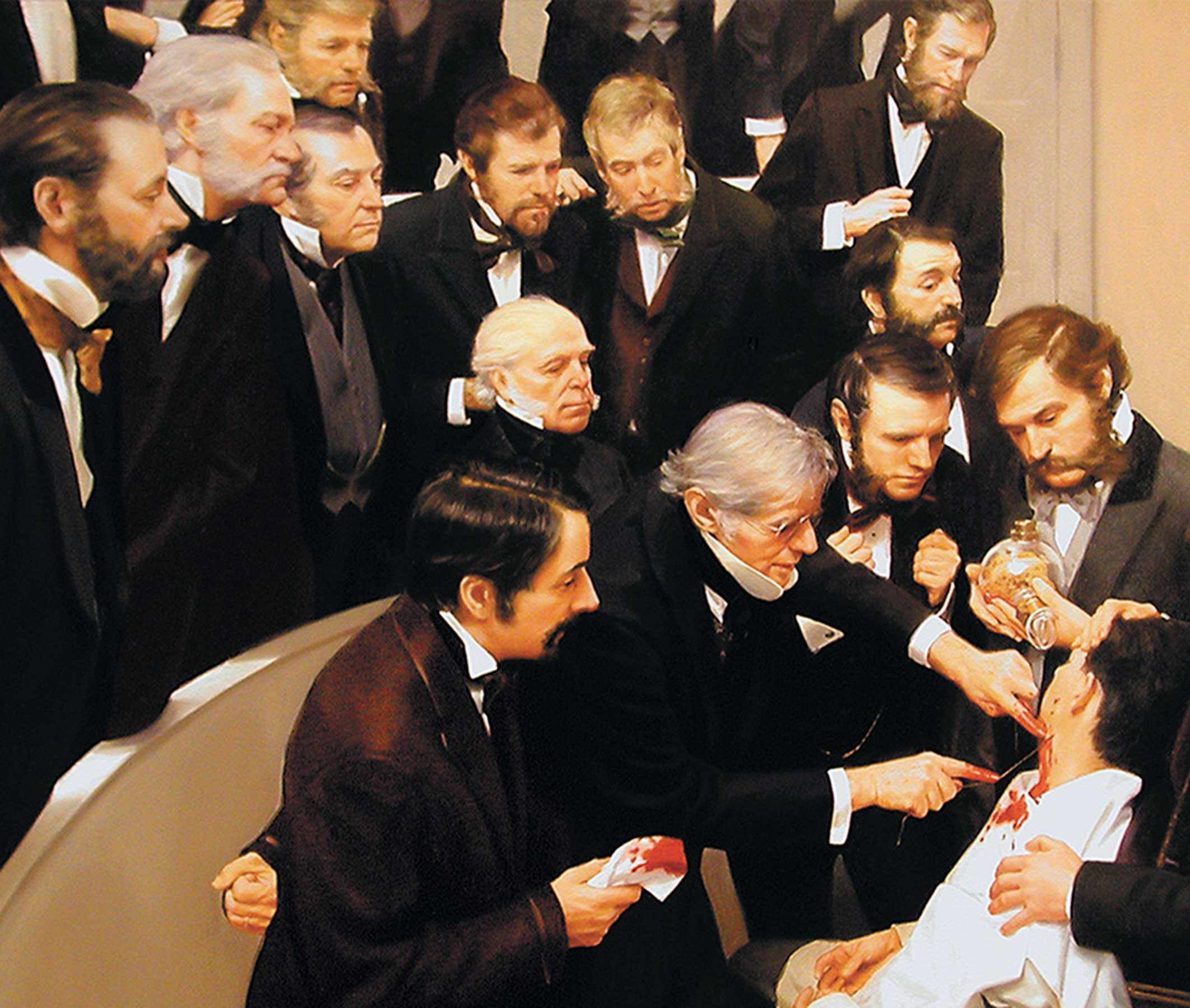 America's #1 Research Hospital
Massachusetts General • Boston, Massachusetts
The charitable hospital is one of the great achievements of American philanthropy. Traditionally, people who had money were treated at home for all health maladies. Starting in 1735, voluntary givers in places like New Orleans and New York created facilities for treating sick paupers. The first general hospital for a wider public was established in Philadelphia by Ben Franklin, Thomas Bond, and other contributors in 1751. It served all comers, regardless of their ability to pay. A similar donor-funded hospital opened in New York in 1771. 
In 1810 a group of leading citizens in Boston organized a "circular letter" fundraising campaign and collected gifts—ranging from 25 cents, to a 273-pound pig, to a $20,000 bequest—that created Massachusetts General Hospital. From its first year, Mass General has doubled as the primary teaching hospital of the Harvard Medical School. Thanks to this academic connection, it currently runs the largest hospital-based research program in the world, boasting a medical experimentation budget of more than $1 billion in 2019. Rated as one of the very top hospitals in the U.S., the facility treats a million and a half outpatients every year, and 50,000 inpatients. 
An independent 501c3, Mass General now sprawls over nearly 30 buildings named for supporters like the Lunder, Yawkey, Wang, and Ragon families. In its latest annual report the hospital reported $348 million in gifts, and boasted 79 donors who gave at least a million dollars that year. Many medical innovations have resulted from donor generosity, including pathbreaking use of anesthesia during surgery, the training of hundreds of Civil War surgeons, the initial understanding of appendicitis, the earliest reattachment of a severed arm, and many new medications and pioneering procedures. 
The hospital's original building—still in use—was designed by Charles Bulfinch, America's first professional architect who drew up many important structures in New England and oversaw completion of the U.S. Capitol. (Architecture never having been a particularly well-paying career, Bulfinch was also probably the only architect ever to be incarcerated in a prison he laid out himself, when he was briefly jailed in Boston for debt.) Mass General's Bulfinch Building is open for free weekday public visits. 
Tours feature the historic Ether Dome, where trainees in theater seats observed 8,000 operations over the years. These included the debut of pain-free surgery, when a local printer had a tumor removed from his neck in 1846 after being knocked out with diethyl ether, humanizing scalpel work. In addition to exploring a small collection of historic artifacts under the striking glassed dome, you can view the 10-foot-by-7-foot painting that commemorates the landmark use of anesthesia. That portrait (reproduced above in detail) was gifted to the hospital in 2001 after a group of physician-donors hired two artists, then posed current Mass General surgeons dressed in period fashion to stage an exact recreation of the event.
MGH also has a dedicated exhibition space on medical history and innovation. The Russell Museum is located in a striking modern structure two blocks from the Bulfinch building. It is also free to visit.
The potent medical capacities of Massachusetts General Hospital positioned it well to play a role in the 2020 coronavirus fight. The facility quickly began accepting patients, researching ways of speeding test results, and experimenting with treatments and vaccines. It pioneered practical measures crucial to keeping hospitals on top of the epidemic—like being a first adopter of a new technology for mass-sterilizing N95 masks, allowing them to be reused up to 30 times instead of discarded after a single use, at a time when the masks were in short supply.
Not only its treatment staff but also many of Mass General's thousands of medical researchers pivoted almost instantly to the covid-19 emergency. One part of the hospital well prepared to help was the Ragon Institute of Mass General MIT and Harvard. Created by local entrepreneur Terry Ragon and his wife Susan with $300 million over ten years, it was established in 2009 to be a world leader in immunology, with a particular charge to create vaccines for HIV-AIDS (currently in clinical trials) and other viruses. Numerous covid-related investigations are now underway at Ragon, and other parts of MGH.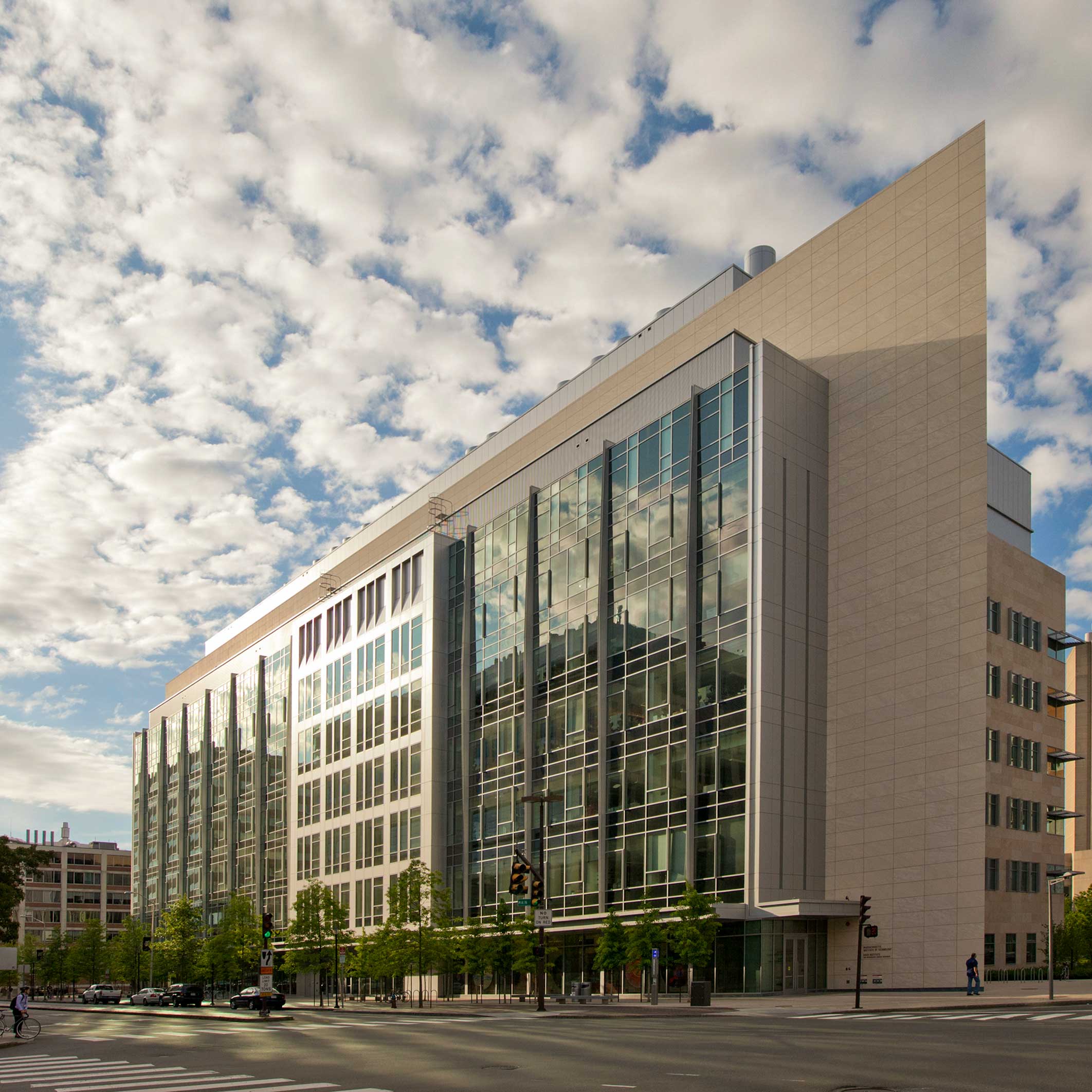 Engineers Against Tumors

Koch Institute for Integrative Cancer Research • Cambridge, Massachusetts
David Koch and two of his brothers earned five degrees from MIT, and during his time on campus David became the basketball team's all-time scoring leader. Their father Fred had previously nabbed an MIT chemical-engineering degree while captaining the boxing squad. So when David accumulated a fortune at the second-largest privately held company in America, it was easy for him to become a loyal supporter of the Massachusetts Institute of Technology.
And as someone who had to battle cancer over a period of decades (he succumbed in 2019), it was natural for him to attack that dread disease as a donor. The $600 million he gave to medical causes during his lifetime included $210 million for cancer treatment and research at Memorial Sloan Kettering, $25 million to M. D. Anderson Cancer Center, and $20 million for a Johns Hopkins cancer program.
At his alma mater, Koch took a distinctive path, a very MIT path: He put up $100 million to create an entity where engineers and biologists would have equal standing to attack cancer in unconventional ways via new technologies. Like using nanoparticles to deliver toxins directly and solely to a tumor, instead of flooding the entire body with poisons as traditional chemotherapy does. Other projects include creating new devices for detecting cancer, reengineering immune systems to fight metastasis, and novel mechanisms for personalizing medicine to individual genetic makeups. The Ludwig Fund for Cancer Research, the Howard Hughes Medical Institute, Robert Swanson, and other donors have also been important funders of the institute's work.
Five Nobel Prize winners have served on the Koch Institute faculty, which currently numbers 1,000 researchers, working at the headquarters pictured to the left, or at other Boston medical institutions. A number of its scientists immediately became involved in anti-covid-19 efforts, including at two MIT-related biotech companies that quickly began testing vaccines and therapies based on RNA technologies developed on campus. 
Public outreach at the Koch Institute includes newsletters, lectures and symposia, visitor events, and participation in the annual Cambridge Science Festival.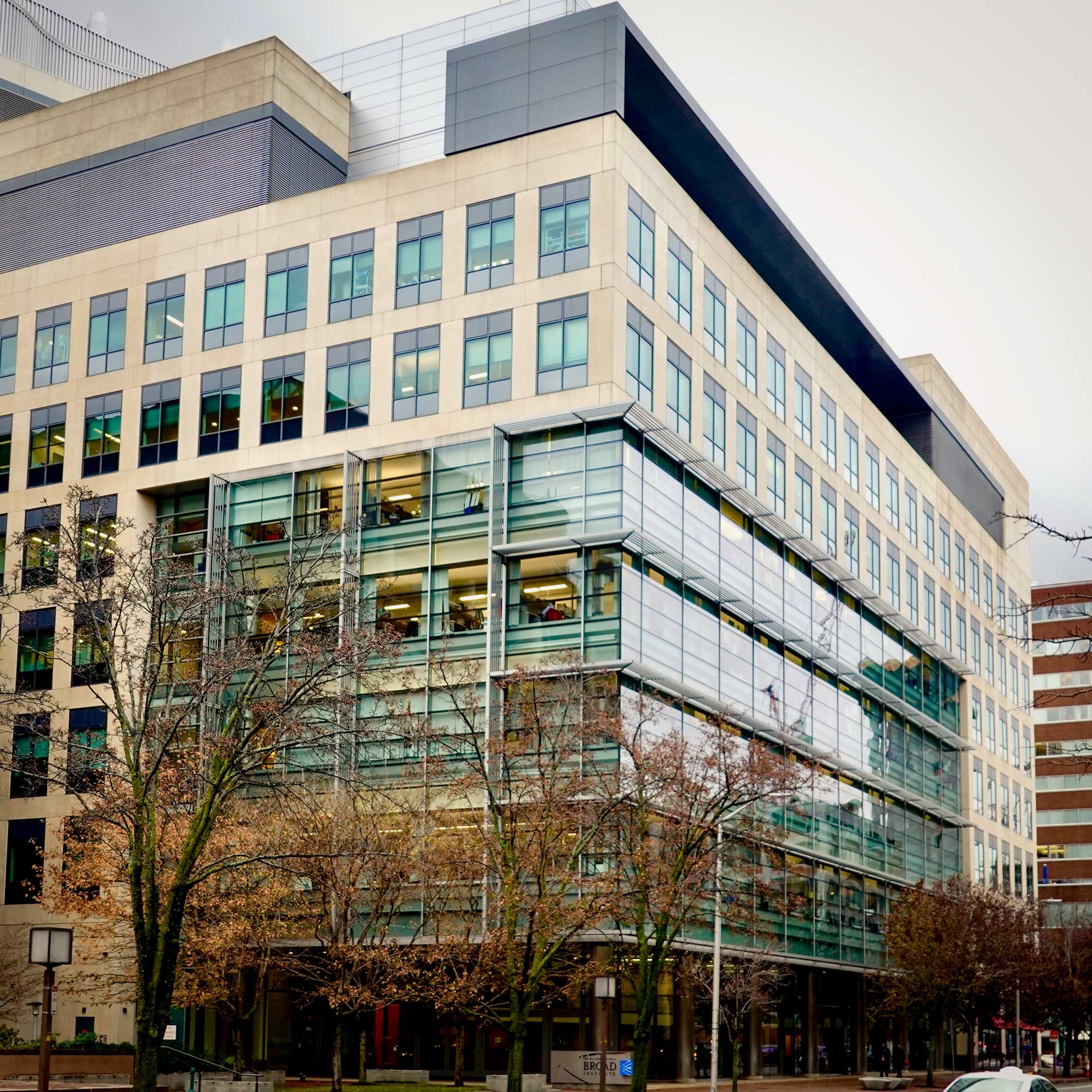 Decoding the Genetic Secrets of Health

Broad Institute • Cambridge, Massachusetts
Eli Broad is an inventor. He is almost surely the only living American who not once but twice (and in completely different industries) stood up a small company and built it into a Fortune 500 champion. So, not surprisingly, he has also proven to be a very inventive philanthropist since he and his wife Edythe began giving away most of their money.
The Broads have been among the most important progenitors of charter schooling in the U.S. They are major art donors and museum builders. And in 2003 they created from scratch the Broad Institute—a medical-research behemoth that is now a magnet for top scientific minds. In addition to putting up a total of $700 million to propel the new organization, the couple pushed MIT and Harvard to unite separate biomedical research efforts into their largest joint venture ever. The Broad Institute is focused on decoding genetic functions so as to open new paths to defeating infectious diseases, cancer, mental illness, and other maladies. It mixes more than a thousand scientists from a variety of fields, who apply computational tools across disciplines to deepen understanding of complex biology. 
The example set by the Broads has drawn many additional donors to the organization. In 2019, philanthropic support for the institute totaled $185 million (more than the sum of their federal grants for the year). Givers like Lou Gerstner, Carlos Slim, Richard Merkin, and Seth Klarman have endowed major subsidiaries at the Broad Institute.
One unusual and powerfully successful sub-faculty within the institute is the Stanley Center for Psychiatric Research. Ted Stanley was a highly successful self-made retailer whose son experienced a crushing bipolar breakdown during college. Stanley became convinced that mental illness was "massively under-researched" by government health agencies, so he personally poured more than a billion dollars into understanding and attacking psychiatric disorders. For years he funded up to half of all the research being conducted in the U.S. on those illnesses. 
Stanley started by creating an archive of hundreds of preserved brains from persons afflicted with various mental disturbances, which became a crucial source of tissue samples for investigators. He underwrote drug trials for new psychiatric medications. Then Stanley donated $825 million to the Broad Institute to create a center focused on uncovering genetic roots of mental imbalance. In 2016, this concerted effort bore dramatic fruit. Research at two Stanley Center labs pinpointed sections of DNA closely associated with schizophrenia, and the likely connection to gene-driven overpruning of brain synapses, opening new possibilities for detection and treatment. Broad Institute director Eric Lander now calls Ted Stanley "the single most important figure in bringing psychiatric disease into the modern molecular and genetic age."
Starting in the spring of 2020, the Broad Institute began serving the public interest by redirecting some of its biological talent to understanding the Wuhan coronavirus. In a matter of days, for instance, an advanced microbiology lab was converted into a large-scale testing facility for covid-19 infections. Forty lab technicians were rapidly trained on how to process patient samples and then deployed in shifts covering all 24 hours of the day. In this way the repurposed facility was able to reduce turnaround times on virus tests to just 12 hours, while processing 14,000 of them every week.
To build understanding of the areas it works in, the Broad Institute offers informational programs for students and educators, fellow scientists, donors, and the general public. These include tours for groups of 10-30 people, special curricula for schools, and many lectures on medicine and genomics that are open to any interested observer.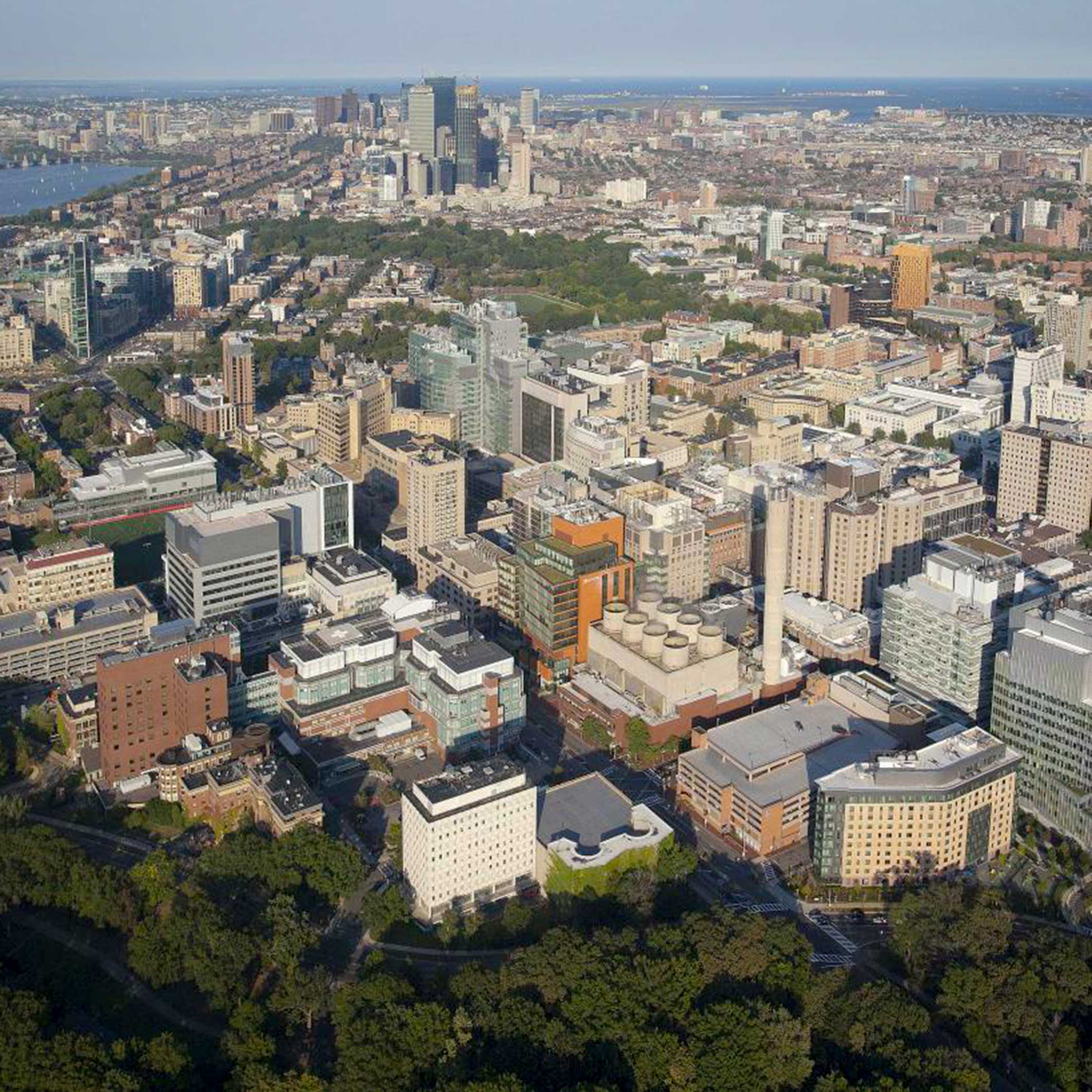 Med Central

Longwood Medical Area • Boston, Massachusetts
There is a synergistic effect from grouping together medical research and treatment facilities. This has created powerful health-care clusters in places like Houston's Texas Medical Center, Manhattan's Upper East Side, San Francisco, and Boston's Longwood Medical Area. Longwood is a 213-acre site about three miles southwest of downtown Boston where 57,000 health-care workers and 29,000 students handle 2.6 million annual patient visits at places like the Dana-Farber Cancer Institute, Brigham and Women's Hospital, the Joslin Diabetes Center, Boston Children's Hospital, Beth Israel Deaconess Medical Center, Harvard Medical School, and the Harvard T. H. Chan School of Public Health. 
All of these facilities are highly rated. Things like the first heart surgery on a fetus still in its mother's womb, and the first face transplant, were carried out in Longwood. And nearly all of the 22 medical facilities in the district depend on generous donor support. 
For instance, a $350 million gift from one of its alumni in 2014 propelled the Chan School to the top of its field. While doctors benefit individual patients, said Gerald Chan in explaining his donation, public health aids a whole population. The "designated driver" campaign that helped curb highway deaths by 25 percent, to take one example, was an initiative of the school. 
The Harvard Medical School is another Longwood institution. Its faculty and students populate 15 different hospitals and research institutes in the Longwood zone, driving much of the area's excellence. The school has been associated with innovations ranging from our earliest smallpox vaccinations to the development of artificial skin. And the Harvard Medical School has depended heavily on private philanthropy right from its founding in 1782. 
The medical school's Center for the History of Medicine and its Warren Anatomical Museum are the easiest places for interested admirers to learn more. They cover topics ranging from the history of women in medicine to the amazing case of local railroad worker Phineas Gage, who lived on after his skull was pierced by a 13-pound iron bar. At present, the collections are stored away during a major rebuilding project. But in 2021 both facilities will reopen with new exhibitions, programming, and tours for donors, students, and members of the public.
The Longwood Medical Area has another charitable institution that plays an important role in unifying its thousands of medical professionals: the Longwood Symphony Orchestra. Many a microbiologist or surgeon had enough training as an oboeist or violin player to become excellent, if not quite good enough to make a living at music. The LSO benefits from this concentration of frustrated talent—using gifted amateurs to put on scores of concerts annually, the main ones at a fine auditorium of the New England Conservatory of Music. 
These performances are popular with the public, and bring together otherwise-siloed health workers. They also serve noble humanitarian purposes. With donor and volunteer support, the proceeds of each symphony concert are donated to nonprofits that serve the ill. And thanks to funding from the Merck corporation and other support, LSO musicians traveling in smaller ensembles also visit 24 different hospitals, hospices, clinics, and nursing homes in the area to soothe patients with the balm of melody.