Philanthropy Roundtable recently spoke with Josiah Haken, CEO of City Relief, on the ways his nonprofit provides meals and essential supplies to homeless communities in New York and New Jersey. Each year, City Relief serves around 60,000 individuals in these urban centers with services that go far beyond a warm meal and a place to sleep. The nonprofit takes a holistic approach that incorporates mental health needs, addiction treatment, job programs and more.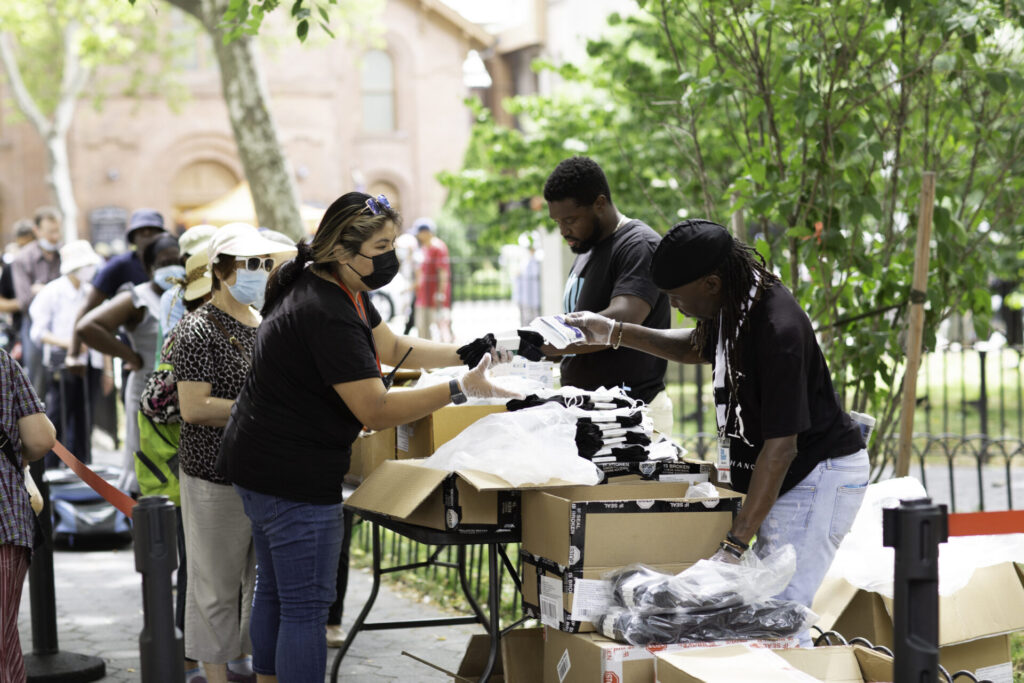 Q: Please introduce us to City Relief. What's your mission, history and focus?
City Relief is a nonprofit organization that creates pop-up outreach events in New York City and New Jersey where folks who are experiencing homelessness can share and receive a meal with dignity. They receive emergency supplies like socks and toiletries, masks, cell phones (in some cases) and other essentials that will hopefully allow them to survive the day. City Relief also provides connections and access to direct service providers and other organizations that can help them, hopefully, imagine and experience a better tomorrow and a future.
We started back in 1989. Our founders, Richard and Dixie Galloway, got this vision for taking a bus into the streets where people are struggling with homelessness and then creating access and connection points to direct service providers that they may otherwise not have been able to get to for help. As an organization, we've always been mobile and consistent, and we are ultimately trying to address homelessness in a holistic way so that we're not just providing a transactional experience, but also creating a long-term solution. In a nutshell, that's who we are and what we're trying to do.
Q: Please give us a rundown of who your typical client is.
Homelessness, in general, is a very complex issue. I describe it as the ocean, where all rivers and streams of injustice tend to pool when they're left unchecked. There isn't really a typical client, in the sense that everybody gets to us through a different path.
Since the surge of asylum seekers to the United States, we've been seeing more kids, unfortunately. But typically, we see adults dealing with mental illness, substance use disorders, job loss or relational trauma, and their struggle has gotten them stuck. We see a pretty diverse range of people from all over the country and the world who have just had a run of bad luck. 
Q: How do you create a community response to the problem of homelessness?
City Relief is just a facilitator. We believe we can have a bigger impact by bringing other people along with us than we can by going it alone.
By ourselves, City Relief is not going to be an effective solution for homelessness on a large scale, just because of the limitations of time, space and money. We want to go all in on this idea of collaboration. We have invited other organizations, other direct service providers and other agencies to serve with us at our pop-up outreach events. 
We do eight of these events throughout the week, and invite other organizations to set up tables and tents, almost like a job fair. We offer legal services, mental health services, benefits and entitlements services, even haircuts — and we invite anyone who provides a direct service that the people we serve would benefit from.
We also invite volunteers to serve with us, and we train them to engage with compassion. The event is not just a service or a transactional exchange — it creates conversations so people can actually learn from each other. We're trying to help shift the narrative from judgment and criticism to empathy and solutions.
By facilitating those conversations, creating a dignifying experience for our guests and inviting other organizations to come alongside us, we're able to create this communal experience where it's actually the community addressing the needs of homeless people and homelessness.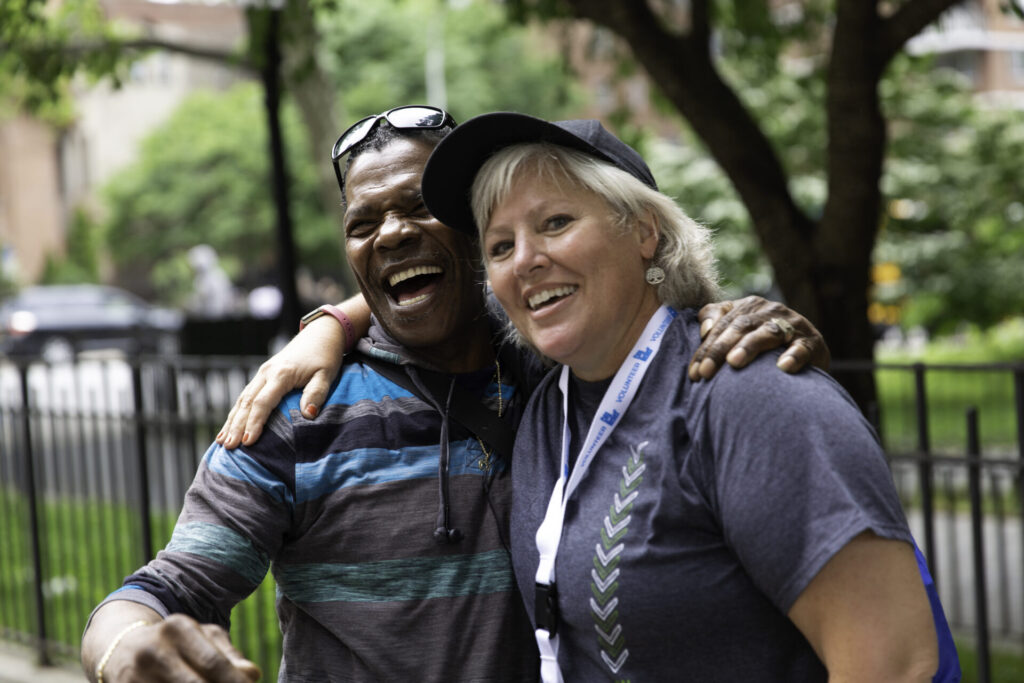 Q: Can you share one or two compelling stories of clients you've served?
One story that sticks out to me is about a gentleman I met in the South Bronx at our Saturday outreach event. He was wearing snakeskin shoes and a women's cardigan. He was 6'5″, 250 pounds, and he just looked out of place. I ended up chatting with him for a little bit and found out that he had been released from prison the day before. He had nowhere to go, so he went right to the shelter system.
Before he got there, he spent the only remaining money he had in the world on a pair of boots, a hoodie, and some jeans. But when he slept, he took those clothes off so he'd be more comfortable and folded them under his bed. When he woke up, they were gone. 
He went to report the theft to the security guard, and the security guard was actually wearing his shoes. So he ended up being forced to collect whatever he could find in this downstairs dump of a room. That's how he ended up dressed like he did. We were able to get him some new clothes and shoes, and then he actually volunteered with us for a few weeks and offered translation services. 
We try to invite our guests to not just be recipients of what we give, but also to be partners and collaborators with us. He served with us for a while, then disappeared. A month or two later, I heard someone honking, and it was him. He was in a utility truck — he'd found a job that was paying a living wage. 
He was just so grateful. He said, "You're the reason I got this job. By meeting me where I was and giving me what I needed that day, you gave me the dignity and the belief that I wasn't alone and I could pursue a better future." 
Another story is about a guy named Willie, who was homeless for 40 years. From 17 to 57 years old, he was in the street. He didn't start out addicted, but ended up addicted. People don't realize that, sometimes, homelessness is actually the cause of addiction.
He was really tough. He'd get his soup from our outreach, then not talk to anybody. But eventually, one of our volunteers built a relationship with him. 
Willie ended up in the hospital one week, and the volunteer noticed he was missing and found out where he was. She went to visit him with balloons and a card, and her visit sparked something in him that made him believe he was worth loving, and it was worth pursuing a better life. He was motivated to get into rehab and rebuild his life. 
We got him a job at a local church, and he got an apartment, and the rest is history. He's been doing great ever since, living a stable life.
Q: What motivates you, personally, in your work?
I started out taking teams into the streets and hanging out with people who were experiencing homelessness. A homeless gentleman from Argentina lived with my family for two years, and he was like a grandfather to my kids. What motivates me is when I think about folks like him, and others too. 
I realized there's nothing intrinsically broken or wrong with people who have experienced homelessness — they're just people. I'd like to help shift the narrative about homelessness so it's no longer this ugly problem that needs to be fixed, but it's actually an opportunity for us to encounter a human being with intrinsic value. That's what motivates me to see macro-level change through micro-level impact.
Q: Can you share some of your outcomes?
We track all kinds of key performance indicators. For example, over the last 12 months, we've served almost 60,000 people, which is a 14% increase from 2021. We've given away 190,000 meals, socks, toiletries and masks. And the biggest thing for us is tracking the almost 5,000 people we've had one-on-one conversations with and developed action plans to help them navigate the bureaucracy of social services. 
We've made almost 9,000 direct connections for guests to specific community services over the last year, which includes things like housing placements, replacement of an ID, health services, employment, training and connections and legal support. The four buckets of impact that we're trying to address are our guests' income, overall health, housing situation and food and security.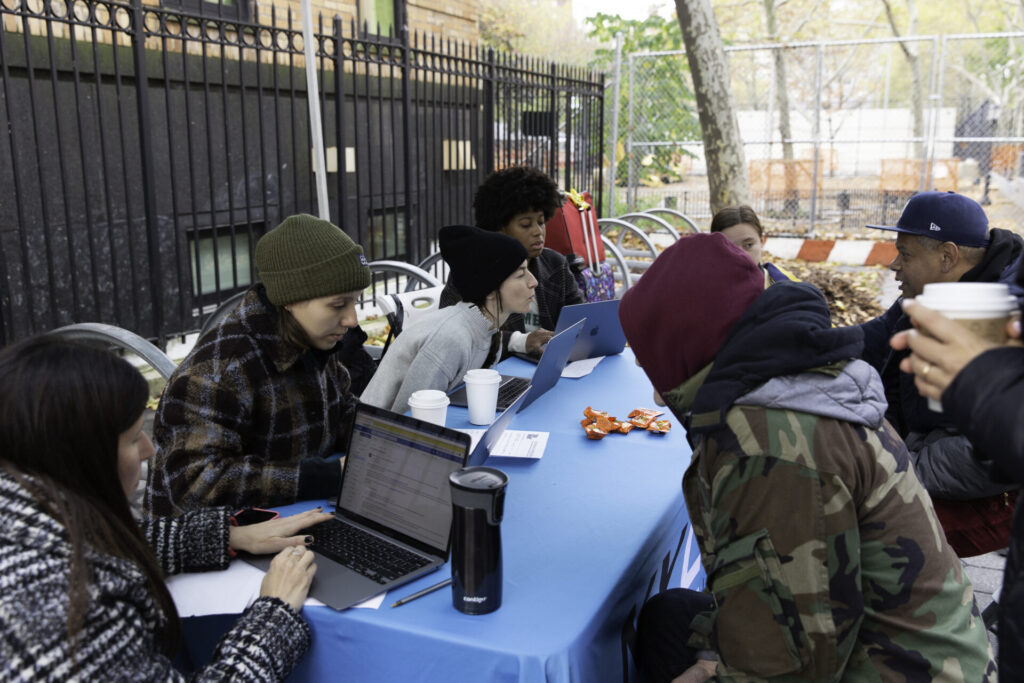 Q: If money were no object, what would you imagine for your organization?
We understand that homelessness is a national crisis, not just a localized one. So we want to be a mobilizing force in addressing homelessness on a national scale.
If money were no object, we would be reaching a larger percentage of the people who are experiencing homelessness in New York City. We would be at additional locations, providing a much deeper and more comprehensive level of care coordination. 
The biggest gap that I see, in addition to access to low-income housing, is having specific, targeted care coordinators who are able to walk people through the process of meeting their needs. 
Our ratio is about 30 full-time staff to 60,000 people. The need far outpaces the supply of people who are there to help. I would love to see City Relief known as the most accessible service for people who are experiencing homelessness. 
For example, any pedestrian in New York will see homeless people. The question is, who do you contact to help those individuals? Right now, it's the city. You call 311. They dispatch an outreach team. I would love to get to a place where City Relief is either participating alongside the organizations that are responding to those calls, or actually providing an alternative for people to call.
From a training and equipping standpoint, I would love to look at mobilizing across the country to respond to the needs of the homeless. We'd get in front of organizations in different places where homelessness is growing so that we can be a resource for those cities. If money was no object, we would be all over the place in terms of the geographic areas we're serving.
City Relief is included in Philanthropy Roundtable's Opportunity Playbook, where you can find more information about their impact and programming. If you are interested in helping to accelerate this organization's impact, please contact Philanthropy Roundtable Program Director Esther Larson.