Civil War battle reenactments are a complicated business. And perhaps none as complicated as at Gettysburg, the Pennsylvania town where a climactic three-day battle raged in 1863. Every year, thousands of reenactors pour in to camp, charge, and chew their way through one of history's pivotal turns. Who organizes these proceedings? Coordinates water, toilets, and emergency services? Like much of the deepest culture in America, these gatherings are all about voluntary association and local control.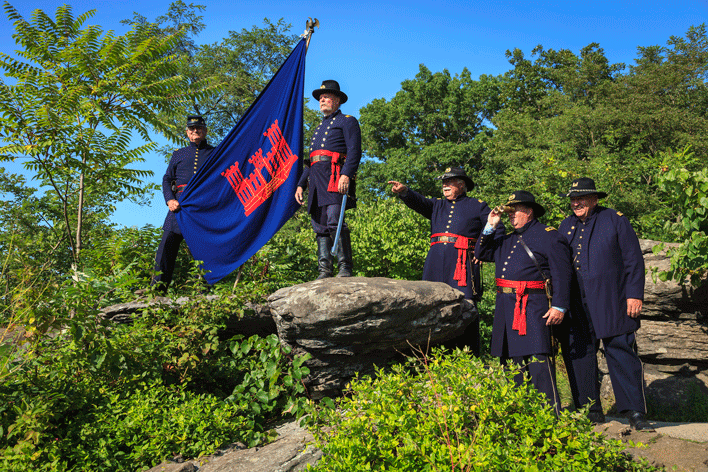 Walking into the past at Gettysburg requires not only reenactors, but faithful community volunteers.
Back in 1995, Gettysburg residents had become fed up with some reenactors who were leaving litter, mud, unpaid bills, and "local carnage in their wake." The gatherings were then attracting up to 30,000 reenactors and 50,000 spectators, overwhelming the 8,000 local residents. So members of the community formed the Gettysburg Anniversary Committee to improve the experience. Committee members are volunteers who take a week off work to manage logistics during the mass affair. In a typical year the committee relies on around 150 volunteers, but on a special anniversary the total of volunteers needed can stretch to 400.
The local helpers assist with basic needs like "wood, water, clean toilets, ice, emergency medical services, shuttles, traffic control, wildfire suppression, security." They also enforce high historical standards within the reenactments. "A dirty musket is rarely, if ever, appropriate." Modern contraptions like zippers and Velcro and safety matches are discouraged. "Women portraying soldiers in the ranks should make every reasonable effort to hide their gender."
The volunteers also sell tickets for spectators, and the profits are donated to local historic-preservation groups. In this way, Gettysburgers are preserving precious heritage while protecting their current town.