"When I think about it, it's rather amazing to me," says Bernie Marcus, pushing away the plate scattered with the remains of his lunch. "All these businessmen who created something out of their own mind and skill and hard work, and you think of the kind of brilliance that they put into creating the wealth that they have—why do they check it all at the door when it comes to charity? It's like there's a locker room and they put all this brilliance into a locker and then they go take care of their philanthropy."
Not so long ago Bernie Marcus was best known as the man who made his billions—$2.7 billion, according to Forbes—conceiving of and co-founding the Home Depot. Now he's known for the charitable use to which he's putting a large chunk of that fortune. Bloomberg BusinessWeek magazine estimates that Marcus has given away roughly $700 million since 2003, in a precisely targeted but wide-ranging program of giving that encompasses autism and veterans' rehabilitation, public policy and foreign affairs, medical research and the promotion of free enterprise.
And not to forget the world's largest showcase for the study and display of marine life: the Georgia Aquarium, in the private dining room of which Bernie Marcus sat pondering the puzzle of wily businessmen who become naïve philanthropists.
"When these guys made an investment as businessmen, they always looked for a return on investment capital," he says. "Charity is no different. There's a bottom line to it. The return on your investment is measured by how many lives you've saved, whether or not you've developed a drug that's going to cure people, whether or not children are getting a better education. You see a need and you figure out how to fill the need."
Diving In
The aquarium is a good example of the Marcus method of doing good, as he demonstrates with a lightning tour after lunch. The need Marcus saw and hoped to fill was local: his adopted hometown of Atlanta, where he built the first Home Depot and where his fortune was made.
At the time, downtown Atlanta was suffering from a lack of economic vitality, including a nearly complete absence of overnight tourism. "Why would you come here?" he asked rhetorically. "There were limited activities to bring tourists here and to make them want to stay. We do a lot of conventions here, but people never stayed over. They had nowhere to go except maybe a ball game."
The city needed an attraction—but what? On a 12-hour flight back to the U.S. from a trip to Israel in the late 1990s, Marcus told then-Gov. Roy Barnes, who was returning from an informational tour he took with Marcus, how he saw the problem. "I told him I wanted to do something for the city and the state," he says now. "With everything that happened to me here, I felt I wanted to give something to the city—and I wanted to do something spectacular, something that would last."
The governor, needless to say, was all ears. Maybe Marcus could finance a new hospital, an opera house, a symphony hall, a museum to put Atlanta on the cultural map?
"The thing is," Marcus says, "I wanted this as a payback to our customers and to our associates. I had to ask, 'What would they enjoy?' My employees, my associates—they're not really symphony people. A very small percentage of my customers go to the symphony. But an aquarium—everybody loves an aquarium!"
For years, finding himself in a city on business and with some time to kill, Marcus had made a habit of visiting the local aquarium. "I wasn't a fish guy. But I would love to go and watch the people as much as the fish. But I do love to see the big fish. I do love the big fish."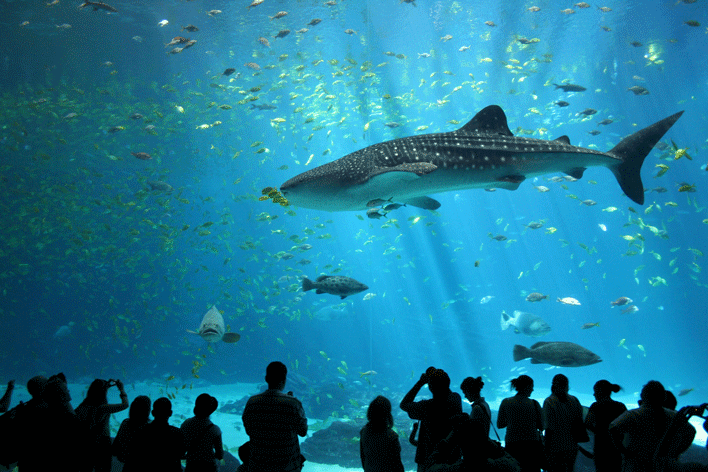 By the time the plane landed, Barnes and Marcus had agreed he would fund an aquarium in downtown Atlanta. One condition of the deal might have taken the governor aback. "I told him, 'I don't want any money from the state,'" Marcus recalls. "'I don't want money from the city. I don't want any political patronage.'" All he asked from the officials was a quick route through the bureaucracy as the project took shape.
Some $300 million later—$250 million of which came from Marcus directly, the rest raised by him from other sponsors, many of them corporate—a dazzling complex has risen from what was once an urban combat zone at the rim of downtown Atlanta, a 15-minute walk from the convention hotels.
The sheer physical size of the accomplishment overwhelms. Guinness has certified the Georgia Aquarium—note please, it's not the Marcus Aquarium—the world's largest in square footage (604,000), in gallons of water (10 million), in the size of its main exhibit tank (284 feet long by 126 feet wide by 30 feet deep), and in number of fish (too many thousands to count). Meanwhile, the facility houses the surgical rooms, intensive care units, and pathology labs of the Correll Center for Aquatic Animal Health, which dispatches researchers and veterinary professionals to facilities around the world.
And the problem that Marcus first saw in Atlanta's rotting core is well on its way to being solved. More than 12 million people have visited the aquarium since it opened in 2005. An estimated $1 billion in economic activity has been generated for the Atlanta area—enough to attract three other major attractions to the same neighborhood: the World of Coca-Cola, the College Football Hall of Fame, and the Civil Rights Museum. More than half the visitors are from out of town.
"And they all stay at hotels," he says, threading his way through scrums of visitors clogging the aquarium's cavernous atrium. "They all go to restaurants. This is what creates jobs here."
Learning to Give
You have to walk fast to keep up with Bernie Marcus as he moves with evident delight from gallery to gallery, from Coldwater Quest to River Scout to Ocean Voyager (sponsored by the Home Depot). His large frame—he stands a trim six-foot-four—moves with a loping gait, and in his free-swinging arms there's a hint of swagger, a lingering suggestion of the cocky kid who grew up on Newark's Belmont Avenue between the wars. It was a predominately African-American neighborhood, and he likes to recall what happened when kids from a local gang bullied him on the way to school. "They whipped me badly," he later wrote, "but somewhat fearless, somewhat stupid, I always came back for more." His refusal to back down so impressed the leader of the gang that he eventually made him second in command—a top lieutenant at age 11.
His parents had arrived penniless from Russia. Marcus' father worked as a cabinet maker: "strong as an ox, a great craftsman but a terrible businessman." It was his mother, crippled with arthritis from an early age, who instilled in him the qualities that he carried into later life, including an irrepressible optimism, a determination to beat the odds, and a constant awareness of tzedakah: the obligation to give generously.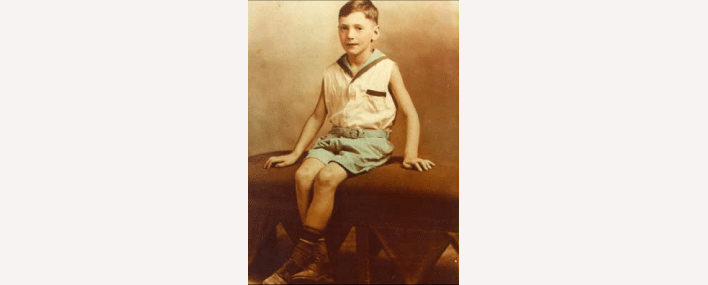 "We lived in a tenement," he says. "We had no money. Five cents was a major issue in our lives." Occasionally, as a special treat, the nickel would be spent for ice cream. But just as often: "My mother would say, 'We can't have the ice cream today, we're planting a tree in Israel instead,'" and the nickel would be sent off, if not to Israel, then to one charitable cause or another. "I grew up knowing that this is what you do. It's bred into me."
Another disposition he inherited from his parents was an unflagging patriotism and belief in the goodness of America. "This was paradise to my parents, after what they'd been through," he says. "The day my mother became a citizen, she cried like a baby." Marcus, friends say, still gets choked up when the national anthem plays.
From his mother too Marcus got perhaps his most useful gift as a businessman: an ability to read the psychology of the people he encounters—assessing their wants and the best means to satisfy them. He honed this talent as a teenager, entertaining audiences as a magician and hypnotist in the Catskills. "Dealing with people is probably my forte," he says. "I wanted to be a psychiatrist."
Psychiatrists, of course, require medical degrees. After a year of pre-med studies at Rutgers, a school close enough to let him live at home, Marcus applied for a scholarship to Harvard. A dean at Rutgers told him he could gain admission to Harvard Medical School with a payment of $10,000 to a third party—a kickback, in other words, to circumvent the infamous Jewish quotas of the day, and a sum wildly beyond the dreams of an immigrant family from Belmont Avenue. He became a pharmacist instead, an option that was a distant second-best. But the frustrated ambition to be a doctor never left him—and was later to determine the course of much of his philanthropy.
Moving the Goods
Marcus finished pharmacy school in 1954 and took sweat equity partnership in a pharmacy in Milburn, New Jersey. The partnership lasted only long enough for Marcus to realize he disliked being a pharmacist—but might like being a salesman. He talked his way into running the cosmetics department at a large regional chain of discount stores called Two Guys. Soon to cosmetics he added the sporting goods department, then the washers and dryers and other household appliances, until he was overseeing $1 billion in business. He was 28.
He left Two Guys in 1968 and four years later had moved to California to run the Handy Dan Home Improvement Centers, a chain owned by Daylin Corporation. Joining Handy Dan, he says, was the turning point in his professional life, if only because at Handy Dan he met Arthur Blank, later to become his partner in the Home Depot and to this day one of his closest friends. But something else happened, too.
"A young man who worked for me, a district manager, came in teary-eyed and then started crying hysterically," he says. "He said he had come to say goodbye." The man had just learned from his doctor that he had months to live. From a friend Marcus had heard of experimental clinical trials being done on cancer at the nearby City of Hope hospital. "I called and asked whether they could do anything for him."
Miraculously, the treatment worked. "I lived through watching him survive, him and his family," Marcus recalls. "It had a dramatic impact on my life. When you're involved in things like that, and you see people's faces—it's not like sending money to a charity without a face." Marcus organized his peers in the industry for Hardware Home Improvement Industry dinners to benefit City of Hope. "One evening we raised $25 million—one evening! In those days, I didn't have much money, but I put my body into it, my soul into it. And that was my beginning in charity."
Building the Dream
By 1976 Daylin was in bankruptcy, even as Handy Dan thrived. Lots of CEOs of bankrupt corporations would be grateful to have a profitable subsidiary—Handy Dan's most successful store was bringing in twice the industry average—but none of those CEOs ran Daylin. After much boardroom maneuvering, Daylin CEO Sanford Sigoloff fired both Marcus and Blank. They didn't realize it at the time, but it was the best turn their careers could have taken.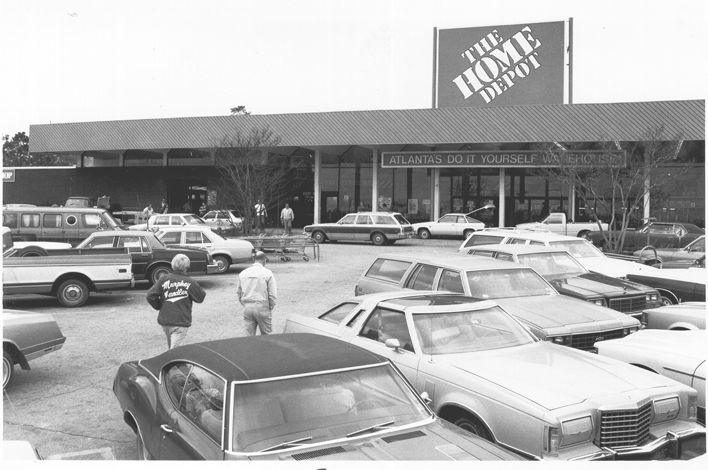 For years, Marcus had been contemplating a new kind of hardware store. He hoped to empower the homeowner who wanted to fix up a kitchen or a bathroom on his own (as more and more Americans were doing in the stagflating 1970s). All of these weekend Mr. Fixits had to drive from paint store to lumberyard to hardware store. Marcus' plan was to simplify things for them, and even for professional craftsmen, by putting everything under one (very large) roof. He wanted to make a warehouse-like space as big as 75,000 square feet, compared with Handy Dan's 35,000.
Stocking the stores directly from manufacturers would allow for lower prices, which could push per-store volume to three times the industry average: as much as $9 million per store versus the $3 million generated by the best Handy Dan stores. The greater volume would allow for profit margins as low as 29 percent—fully one-third lower than the industry average. And wrap the whole enterprise in an ideal of customer service: sales associates who could dispense expert home improvement advice in addition to—sometimes in lieu of—making a sale.
That was the vision, anyway. Money was something else entirely. Nearly broke themselves, Marcus and Blank secured investors through the indispensable help of a New York financier named Kenneth Langone. They chose Atlanta as the site of their first stores, for its business climate, its access to what would become the world's busiest airport, and its weather: decades in the northeast had forever soured Marcus on brutal winters.
The first Home Depot opened on June 22, 1979. Six months later there were three stores employing 200 associates. By the end of the following year, the company was in the black. Much of Marcus' vision for Home Depot was literally visual—a mental picture of how a store should look, to showcase the low price and vast selection and peerless customer service to maximum effect. Marcus tells of visiting a new store in the early days, the night before its grand opening. He discovered to his horror that it was sparkling clean!
As a surprise to please his boss, the new manager had actually tidied up the shelves and even waxed the floors. Marcus and his associates spent the night messing the place up, careening around corners in forklifts to leave skid marks so that the store looked like the kind of scruffy warehouse where a customer might catch a killer deal.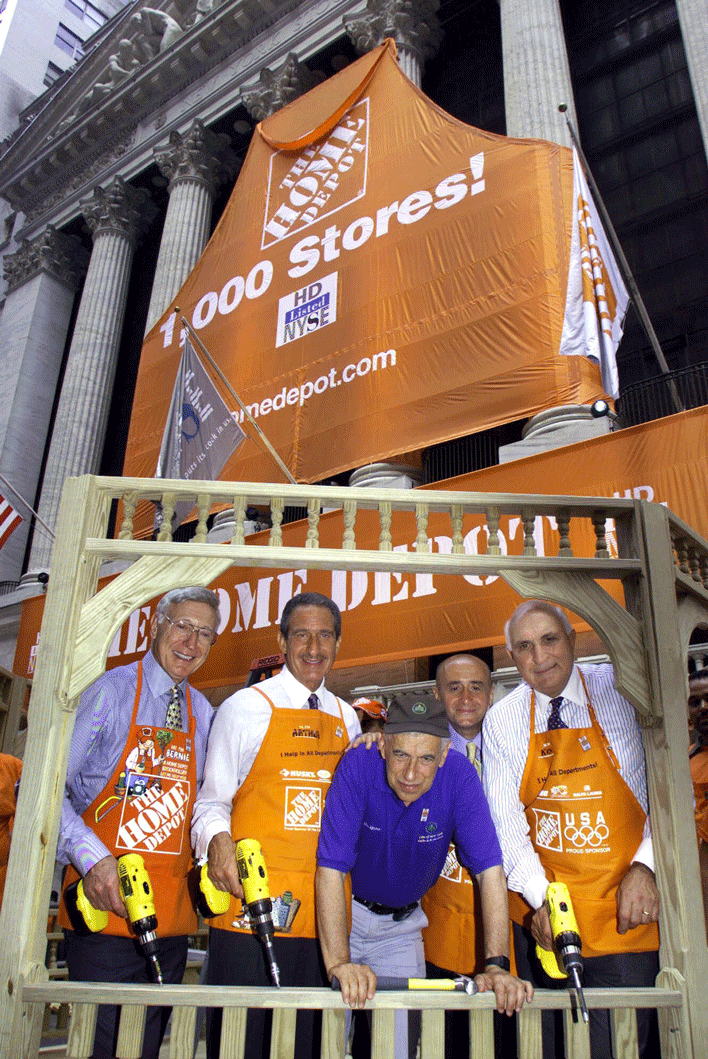 His attention to the culture that developed among the associates was just as painstaking. "We were determined that charity was going to be a part of what we do at the Home Depot," he says. "Every store has a project it's involved in. Right now what they're all doing is helping to rebuild the homes of soldiers who are out fighting the war. Their wives are living at home and their houses are breaking down with no one to help. Our people go in and fix their houses. Nobody knows about it. That's okay. We don't do it for PR."
But within the company employees know that a concern for the less fortunate is part of their identity. "Kids come out of working at Home Depot and they all have this feeling of tzedakah," he says, delighted. "I turned them all into Jews!"
Addressing Autism
Donald Mueller swears to me that this isn't a set-up—a random woman just happens to praise Bernie Marcus in a facility that Bernie Marcus built to a reporter who just happens to be writing a profile of Bernie Marcus—and I believe him. You couldn't fake the touching enthusiasm of Melanie Fischer.
"I love Bernie Marcus," she says. "I mean, I've never met Bernie Marcus, but I love him. This man saved our family. I do not know what would have happened to us without what he's done."
What he's done is right here: we're standing in the lobby of the Marcus Autism Center in Atlanta, generally acknowledged as the most advanced autism treatment and research center in the United States. Mueller is executive director of the center, and as he watches Mrs. Fischer guide her son to a waiting room he says: "And none of this would exist without Bernie."
Melanie Fischer's son is one of 15,000 autistic children and young adults who have been treated at the center since it opened in 1991. Last year the center saw 5,676 children, two-thirds of whom have no "communication capability." The waiting list is 1,700 families long.
All around us are marks of Marcus' attention to the details of a physical environment—the needs of the customer. The building sits on a 16-acre sylvan campus. Inside the floors are carpeted, the colors are subdued earth tones. In the parents' waiting room the chairs are upholstered and the ceilings high. There's none of the cold, clinical black-and-white tiling, none of the antiseptic smells or clatter of steel instruments you associate with a medical facility. You could be in the library of a well-endowed liberal arts college.
Marcus' interest in autism started as so many of his charitable endeavors have begun—with a single employee. In the early 1990s, one of the associates in an Atlanta Home Depot had been missing work, then showing up sleepless and unkempt. Marcus took her aside to ask what was wrong.
"Her child had this strange—well, I guess we called it a disability at first," Marcus says. The need to care for him had overtaken her life. "Nobody knew what it was. The child was not communicating. He would scream in pain and nobody knew why. Doctors didn't have the patience to work with him—in fact, they were afraid of him. Nobody was helping her bring up the child. That's when I first saw how autism destroys families. Back then, if you had a kid with autism, your life was over."
Marcus got involved, touring the country in search of a clinic that might offer him treatment—or even just a definitive diagnosis. "But," he recalls, "nobody was really doing a good job with this." Marcus learned that one out of every 88 kids has autism, against one out of every 25,000 who have cancer, and yet cancer funding for children outstripped autism funding by a factor of 200 to one.
Marcus decided to start a center himself. After much cajoling he arranged an affiliation with Emory University, to lend the program legitimacy and to attract doctors and researchers. The center opened with two psychologists working out of a pair of double-wide trailers on the Emory campus.
Success came in fits and starts. "You go step by step to the next step," he says, and at each step he assessed his progress before taking another one. "After five or six years, I have to tell you, this wasn't working. We were saving children, but nobody was willing to pay for it. We were paying for all of it, and we were losing $1,000, $2,000 for each visit. We were losing money like crazy."
Marcus' goal in charity is to create an institution that can sustain itself without continual infusions of cash from his foundation. The autism center, despite its progress in research and treatment, showed no sign of reaching the goal of sustainability. "Every year I decided to close it," he says. "And I'd go down there and I'd run across a parent who would come up crying and thanking me and hugging me and kissing me, thanking me for what I did for their children. And I'd come back to the office and I'd say, 'I'm dead. I'm dead for another year.' But I knew I had to find another way to do it. So, for me, it became a big selling program."
After he'd shown me around the center, Mueller took me back to his office. "Not so long ago, not many people even knew what autism was," he says. "Now everybody does, all over the world. We've got a World Autism Day at the United Nations. Bernie Marcus made it his mission to bring autism to the world's attention, and he did."
It was all part of Bernie's "selling program," which was meant to make "autism" a household word. He started by bringing legislators and other public officials to the center to raise awareness. Then, Marcus says, "I came up with the idea of a large public organization, which is now known as Autism Speaks." He knew he didn't want to serve as spokesman, so he recruited Robert Wright, just retired as CEO of NBC, and his wife, Suzanne. "I said, 'I'll fund it, $5 million every year for five years.' And they took it and ran with it and have done a phenomenal job."
Closer to home, Marcus negotiated a merger with Children's Healthcare of Atlanta, one of the country's largest pediatric hospitals—"the toughest negotiation of my life," says Mueller, who worked for CHOA at the time and handled the deal. With the center on firmer footing, Marcus was able recently to hire one of the foremost clinician-researchers in the field, Ami Klin, after a long career at the Yale Child Study Center.
At his desk computer, Mueller showed me graphics from the area of research the center has now specialized in—early detection and early treatment of autism in children. With a technique that Klin has in development, diagnosis might become universal, cheap, and routine for children as young as six months—a standard part of well-baby visits to the doctor. The implications for millions of children are revolutionary.
"Early diagnosis is everything," says Mueller. "Right now, if you bring us a two- or three-year-old with autism, I can be confident that we will significantly improve that child's quality of life. Six or seven?" He shakes his head. "The chances are seriously reduced."
The capstone of Marcus' efforts on behalf of autism is Autism Speaks, as the organization is designed to spread knowledge about autism, fund research for treatments and cures, and serve as a resource for parents facing autism without help—everything from a "100 Day Kit" for newly diagnosed families to community grants. It's raised more than $180 million for research. Thirty states have responded to the group's lobbying by expanding insurance coverage to behavioral treatments for autistic children. Marcus calls it the charity he may be proudest of, and it's a good example of the Marcus method: provide funds that can be used to leverage other funds, until the entity can stand by itself.
"And it all started with two trailers on the campus of Emory University," he says. And a plea for help from a mother with nowhere else to turn.
As I leave the Marcus Autism Center I run into Mrs. Fischer again. She puts her hand on my arm. "When you see Bernie Marcus," she says, "you tell him I love him."
Supporting Neuroscience
From autism the Marcus Foundation has moved into research on other neurological disorders and the rehabilitation of children and soldiers who've suffered head trauma. "One thing leads to another," Marcus says. Earlier this year he and his wife, Billi, donated $25 million to Boca Raton Regional Hospital to create a neuroscience institute dedicated to the study and cure of Alzheimer's, Parkinson's, multiple sclerosis, and other neurological disorders. The aging population of Boca Raton, where Marcus lives much of the year, allows for a critical mass of patients for study and treatment in what will eventually be a 52,000-square-foot facility.
"I'm concerned about Alzheimer's, dementia, MS, Parkinson's, because I see people my age struggling through it," he says. "If you have somebody who has Alzheimer's in your family—it's like having an autistic kid. Think of a husband and wife, they're finished. It's 24 hours a day."
His interest—impatience might be a better word—in finding a cure for this cluster of neurological illnesses has led him to support genetic research as well, to trace the maladies to their source. In Atlanta alone, the foundation has funded the Marcus Stroke and Neuroscience Center and the Marcus Nano-technology Center at Georgia Tech.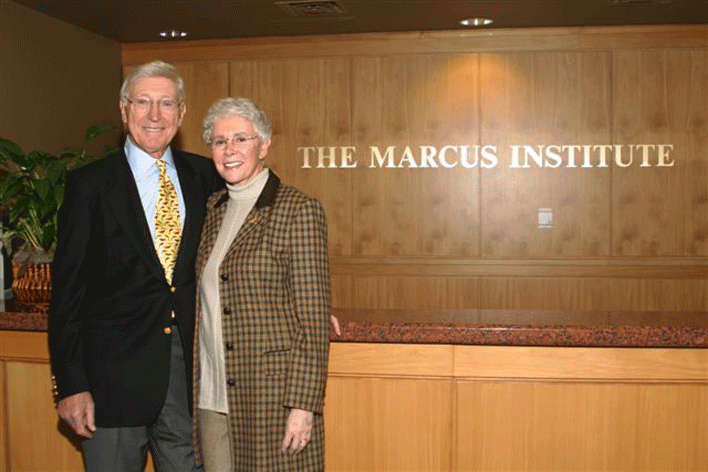 Nearly 30 years ago he learned of Atlanta's Shepherd Hospital, one of the country's foremost rehabilitation clinics for spinal injuries and brain trauma, and raised $22 million to double its size. The Billi Marcus Building opened there in 1992 with space for a Multiple Sclerosis Institute.
His involvement with Shepherd began in 1983, when an associate urged him to tour the clinic. Expecting a grim experience, Marcus says he was instead uplifted by the energy and optimism of patients and clinicians alike. With 152 beds and a world-class team of specialists, the hospital is now ranked in the top 10 rehabilitation hospitals in the country. More recently, Marcus has expanded his giving at Shepherd to the Marcus Community Bridge Program, which reintroduces patients into life after rehab, and the SHARE program, designed to ensure that wounded vets from Iraq and Afghanistan get the most advanced treatment available for their head and spinal cord injuries.
"Bernie isn't just a donor," says James Shepherd, who, with his parents' support, founded the hospital in 1975 after a swimming injury left him partially paralyzed. "Bernie is what I call a transformational donor. He actually makes you work better and smarter."
Which is the point, Marcus says—it's what a serious philanthropist does. He can't understand donors who just hand over a check and walk away, having done little more than "get their picture in the paper or their name on a plaque." The process he's developed for choosing grantees is designed to create entities that will outlive him and his foundation's help. The vetting might be more intrusive than what many charities are used to, but its logic is straightforward—and it's transferable.
"Any large foundation would benefit by looking very closely at how Bernie runs his foundation," says Mike Leven, president and COO of Las Vegas Sands Corporation. Leven serves as a trustee of the Marcus Foundation.
In 2002, soon after Marcus left the Home Depot to devote himself full time to philanthropy, he decided the "buckshot approach"—bits of money fired here and there at whatever piqued the donor's interest that week—wouldn't maximize the impact of his giving. "So we decided to narrow the field to those things that I was really, truly interested in," Marcus says. He's managed to stick to a relatively narrow range with unusual success.
"People may not understand how hard it is to do this," says Leven. "People are coming at you all the time, good people with good causes. Unless you discipline yourself you're going to overgive and underachieve. Bernie's better at it than anybody I know."
Promoting Democracy
One primary interest was Jewish causes, particularly the survival of the state of Israel. "I'm proud of the fact that I'm Jewish," Marcus says, "and what happened with the Holocaust is not going to happen again if I can do anything about it."
"Bernie got concerned 20 years ago not only about the external threats to Israel, but about the internal threats, as well," says Jay Kaiman, the foundation's executive director. Foremost among these was the seemingly perpetual chaos of the Jewish state's political system. "It's a complicated country," Kaiman says. "Bernie felt they needed expertise to be an honest broker and bring factions together."
With the assistance of Israeli leaders and former Secretary of State George Shultz—a man who knows something about bringing factions together—Marcus helped co-found the Israel Democracy Institute in 1991. The original idea was to create a think tank on the American model. It has since evolved into what Marcus calls a "do tank," less a wonkish observer and more an active partici-pant in Israeli democracy.
Today, it's perhaps the most widely respected political voice in Israel. The range of its activities has been astonishing—from research into the origins of political corruption to the promotion of objective news media to the drafting of model legislation—but a continuing task has been to lay the intellectual foundation for an Israeli constitution through academic publications and popular forums. "Until Israel has a constitution and a Bill of Rights, the rule of law is murky," Marcus says. "And I'm a great believer in the rule of law."
Funding Free Markets
In 2011, Marcus founded another nonpartisan group closer to home, using the same combination of theory and practice, to advance another area of primary interest: the free enterprise system.
"The Job Creators Alliance gives voice to the small businessman," Marcus says. "I was a small businessman. I remember what it was like. You take a guy who owns three restaurants. He is working 80 hours each and every week. He doesn't have time to lobby in Washington. And he has nobody in D.C. who cares about him."
The inspiration for the JCA came in 2010, in a conversation Marcus had with a friend who ran a family business with 900 employees. "He told me everything that was coming down the pike at him. The taxes, the regulations, the EPA, the NLRB, all of these organizations that are doing nothing but putting a blanket over the economy." But the big one was "cap and trade." Marcus' friend put all his expansion plans on hold, and braced for the possibility of layoffs.
"I said, 'Do your people understand this?' He said, 'I don't discuss cap and trade with my people.' I said, 'You know how stupid you are?' If I ran a business with 900 people and I knew that something was going to cost jobs for eight or ten of them, I'd tell them about it. At Home Depot, everybody that worked for us understood that if we didn't do well, they weren't going to do well."
The JCA, Marcus says, allows businessmen to tell the story of what overregulation and high taxes are doing to their businesses—on television, in the local media, and to their own employees. It offers fact sheets, research reports, position papers, even media training in how to distill a message into one-minute soundbites. "It's totally non-partisan," he says. "We want them to have the opportunity to tell the world about what's happening out there."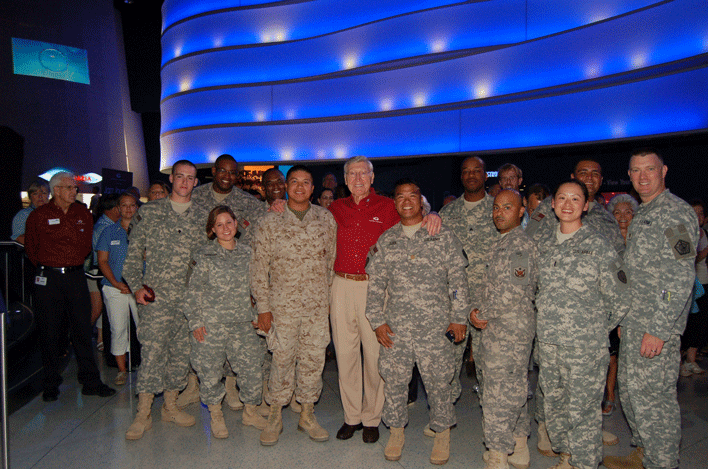 JCA continues a long line of free-market initiatives that Marcus has underwritten over the years. The libertarian think tank Institute for Humane Studies has offered Bernard Marcus Fellowships to graduate students interested in free-market ideas. With grants he's tried to advance the cause of school choice (through the charter school movement and specifically initiatives like KIPP schools) and tort reform (through the Center for Individual Freedom).
Tort reform cuts particularly close to home. Runaway litigation not only threatens business—"in lost jobs, slower growth, increased bankruptcies"—but nonprofits, too.  "Charities, nonprofits, and foundations are every bit as much in the legal crosshairs as businesses," he said in a 2004 interview. Runaway litigation, the near universal fear of groundless but expensive lawsuits, discourages people from joining up with charities, as volunteers and as directors.
"The free enterprise system is under attack," he says. He mentions a golf buddy who opened a string of banks in the United States. No longer. "Do you know where he's opening them? The U.K. He says, 'I won't open another business in the United States for all the money in the world.'"
Giving It Away
Marcus is often asked about the legacies the wealthy should leave their survivors. Before he made the provisions in his will for his children, he consulted a psychiatrist who had written a book called Children of the Rich.
"It's a very serious matter," recalls Marcus. "We spent hour after hour talking about what happens to children who end up with enormous amounts of money but aren't prepared to deal with it. You can destroy a person's life." He's haunted by a story he read not long ago about a young man who inherited $1 billion and bought an estate in Beverly Hills. "Someone asked the kid, 'What do you do with your life?' And he says, 'I get up in the morning.'" Marcus shakes his head. "Now you tell me, why would a parent do that to a child?"
Marcus made sure he wouldn't do that to his children—and made sure they knew it. They'd have the basics, he told them: medical treatment when they needed it, food on the table, a roof over their heads. Beyond that, "I told them, if you want what I have, all this, then you have to work for it."
He also gave them money to start their own foundations—but only after the three of them, two sons and his daughter, combined to do a charitable project of their choosing. He expected it to be done according to the Marcus method: find a need, figure out a way to fill it, set up a structure to get the job done, and find a way to measure the return on investment. The Marcus children focused on groups of Russian immigrants who had come to the Atlanta area with little help in establishing themselves.
"My children used the money very, very intelligently," he says. The immigrants learned how to speak English and got job training, and then jobs, with the aid of the local community, and in the end became citizens. "That convinced me my children were good enough to have their own foundations. After that, I gave them their own money to start with."
There's a pleasing symmetry to it, the thought of the grandchildren of Russian immigrants mobilizing the resources of their father to make the American dream possible for a new generation of Russian immigrants. Mrs. Marcus would no doubt be pleased at this tzedakah.
"The thing about Bernie," says Mueller, of the autism center, "is that he sees 10 years ahead of everybody else." That gift enabled him to revolutionize retail in the United States through the Home Depot. Now he wants to do the same to philanthropy.
At the end of lunch, Marcus mentions a multiple-day meeting he had scheduled for the following week. After working as an advocate for medical research, families with autism, small businessmen, and the free enterprise system, he's become an advocate for philanthropy itself—at least the kind of business-like philanthropy he practices and believes in.
"I speak to philanthropic groups all the time now," he says, "and I talk about this strategy we've developed. I won't tell you who the meeting is with, but these are people who are very young. They are very wealthy. And they don't know anything about philanthropy. So we're going to teach them how to change the world."
He shrugs again with a slight smile, as though it's a modest goal: just another need that he's figuring out how to fill.
Andrew Ferguson is a senior editor at the Weekly Standard. His most recent book is Crazy U.: One Dad's Crash Course on Getting His Kid into College.