Quick: What do these popular movies have in common?
Syriana vilifies big oil companies;
Good Night, and Good Luck pillories 1950s worries about communism;
An Inconvenient Truth churns up a tidal wave of advocacy against climate change;
Food, Inc. makes viewers queasy about industrial agriculture;
Contagion portrays heroic public-health workers facing down a devastating virus;
The Help rallies to the side of downtrodden domestic workers.
Though it's unlikely that one American in 100,000 realizes it, these star-laden, carefully crafted, politically colored films (and lots more like them) all have a single progenitor: philanthropist Jeff Skoll.
Since 2004, when he formed Participant Productions "to create entertainment that inspires and accelerates social change," Skoll has placed his "executive producer" stamp (and piles of his cash) on almost 50 movies, a mix of feature films and some highly evolved documentaries. Many of these movies have enjoyed critical acclaim—reaping 35 Academy Award nominations and seven Oscar statuettes in less than a decade. Some have also sold many, many tickets. Five Participant films have reaped nine figures of box-office traffic: Charlie Wilson's War ($119 million), The Help ($212 million), Contagion ($135 million), The Best Exotic Marigold Hotel ($137 million), and Lincoln ($275 million).
Yet money is not what drives the boss at this highly unusual film studio. Skoll has told the New York Times that the amount of funding he has poured into Participant is "hundreds of millions to date, with much more to follow." To Fortune, he says, "everything I put into Participant, I don't expect to get back."
"Participant is for-profit for everyone but me," Skoll put it when we interviewed him in July. "For me, it is philanthropy." Structuring the enterprise as a business has multiple advantages: It keeps everyone focused on making movies that lots of people will want to watch. It makes it easier to hire expensive Hollywood talent. It offers a greater prospect of sustainability via the recycling of profits (which are uneven but sometimes significant) back into production.
Skoll also realized it would be easier to woo powerful collaborators like Warner Bros. and DreamWorks if he established Participant as a business. "I wanted it to be for-profit so we could bring in other partners, who saw it as a good business opportunity. This was the quickest way to become a global media brand. People in Hollywood aren't used to the non-profit concept at all."
"Participant doesn't make a lot of sense from a financial investment perspective," he explained to Wired a couple years after founding the company. "Social good is what we're really after." But Participant turned out to be more profitable than anyone anticipated. Last year he told Forbes that "we like to be break-even if we can, and we have been. Our other bottom line is social change, and that's where we really look to make an impact."
While Skoll and Participant take positions that are typically seen as being at the less conservative end of the ideological spectrum, their highly effective approach offers lessons for philanthropists of every political color.
The social entrepreneur
From the beginning, Jeff Skoll has been an unusual mix of donor and capitalist in his philanthropy. The first focus of his Skoll Foundation was social entrepreneurship. He has given about $350 million directly to social entrepreneurs who devise business-like solutions to problems like disease, food shortage, and lack of education. In so doing, he has mixed grants, loans, for-profit investments, equity stakes, gifts, and loan guarantees—a hodge-podge of mechanisms drawn from the worlds of business and charity alike.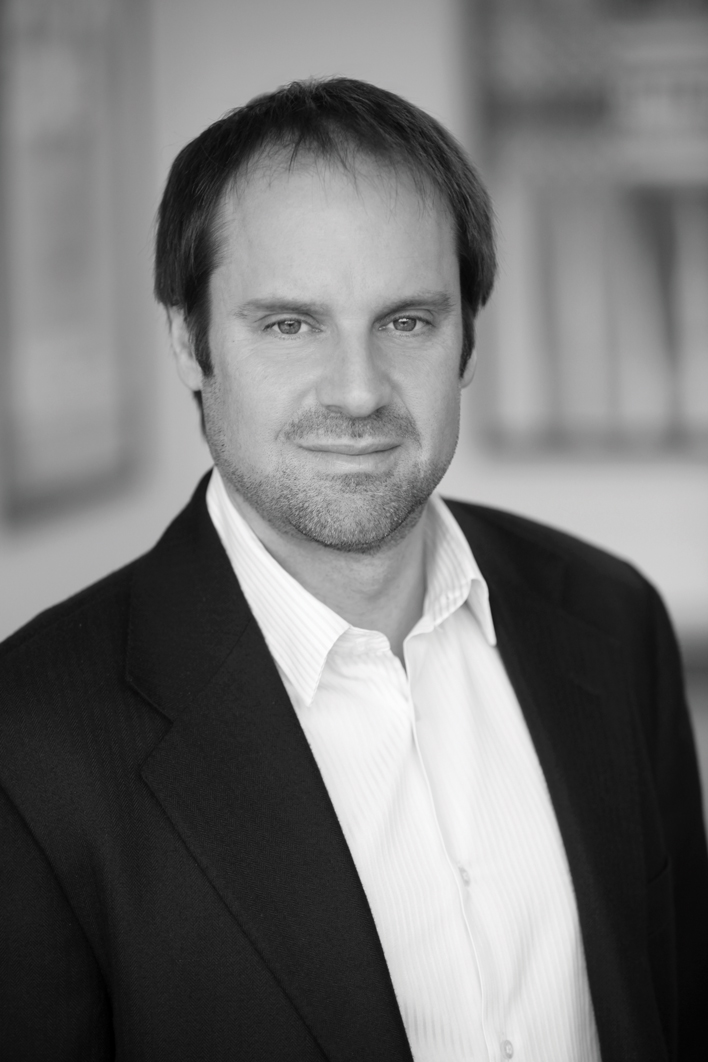 Skoll and Pierre Omidyar, his former business partner and fellow billionaire, are today's two leading exemplars of the business-minded, high-impact, risk-taking philanthropy we call philanthrocapitalism. In particular, Skoll and Omidyar have been pacesetters in combining giving, the profit motive, innovation, and social entrepreneurship in order to achieve large-scale change. When we interviewed Skoll in 2007 for our book Philanthrocapitalism, he explained that "there was something different about this form of philanthropy…non-profit in nature but entrepreneurial in spirit."
The Skoll World Forum for Social Entrepreneurs has been staged annually for the past ten years in Oxford, England. In an emotional opening speech at this year's forum, delivered through the pain of a recent back operation, Skoll reflected on the last decade's "Top Ten Highlights for Social Entrepreneurship." His list included new technologies that advance social good; a Nobel Peace Prize for microfinance pioneer Muhammad Yunus; declining deforestation rates in Brazil; access to fresh water for hundreds of millions more people; significant mitigation of death and suffering from diseases such as guinea worm, polio, and AIDS; and a big reduction in the number of people living in extreme poverty in undeveloped countries.
A break, a billion, a vision
All of Skoll's work using the media to galvanize social and political change, and employing social entrepreneurship to solve immediate human problems, is possible thanks to a remarkable period of just a few years doing business during the dot-com boom. When the Canadian-born Skoll failed to gain occupational traction with his electrical engineering degree from the University of Toronto, he headed to Stanford Business School, where he became friends with a local software engineer named Pierre Omidyar. Omidyar told him about the auction website he was tinkering with; Skoll was not impressed. In 1996, though, Omidyar convinced Skoll to become the first full-time employee of the enterprise. About two and a half years later, Skoll became a billionaire when the firm known as eBay went public. He was 33 years old. Less than two and a half years after that, Skoll resigned from his job and set out to spend his newfound money as a social reformer.
Today, Forbes ranks Skoll at #122 on its list of wealthiest Americans. His personal assets are estimated at $3.8 billion. He has about another billion dollars parked at his foundation and other philanthropic vehicles.
The undertaking Skoll is most passionate about at this phase of his life is clearly Participant Media (as the expanding entity is now known). When Skoll started the organization, his goal was to do movies and television, "but we got into movies much quicker." For both undertakings, Participant's motto is that "a good story well told can truly make a difference in how one sees the world."
Jeff Skoll grew up wanting to be a writer, before deciding he first ought to make money. "I have always wanted to tell stories that got people involved," he recalls. He helped edit student newspapers at the University of Toronto and then Stanford. "That was as close as I got to being a journalist, but I think I would have enjoyed it," he said.
"I read a lot of books when I was younger, and it struck me that the world of the future might be a pretty scary place with terrible new weapons, new wars, new diseases," Skoll told the Huffington Post. When he was 14, his father (owner of an industrial chemicals company) had a bad brush with cancer. He ultimately beat the disease, but it marked his son.
Skoll uses the word scary often, recently telling a reporter from Lifestyles Magazine that "things in the early 1970s were getting pretty scary…. I thought I could help by being a writer. Luckily, I met Pierre. Instead of being a writer, I could hire writers and reach the public in a massive way."
The central effect of many Participant films is to cause viewers to fear something. Fear is, of course, at the root of many personal and public concerns: environmental dangers, plagues, war, racial conflict, oppression of all sorts. One Participant executive told the New York Times that one result of their filmmaking is taking a particular issue and adding it to "the pool of worries" of everyday people. Often, worry is the beginning of action.
From the earliest days of Participant, "I wanted it to be a media company focused on the public interest," Skoll explains, "a global media company that faced issues." And not just any issues. Participant, Skoll's foundation, and his other ventures have very specific causes that they pursue aggressively: global warming, pandemic worries, suspicion of industrialized agriculture, social equality, gay rights, education reform, peace and disarmament.
Recent Participant films on highly politicized topics include 99%, a detailed look at the Occupy protesters; Snitch, a rebuke of strict drug sentences; Chicago 10, an animated celebration of the rioters at the 1968 Democratic Convention; The Fifth Estate, a profile of Julian Assange; and the anti-fracking film Promised Land.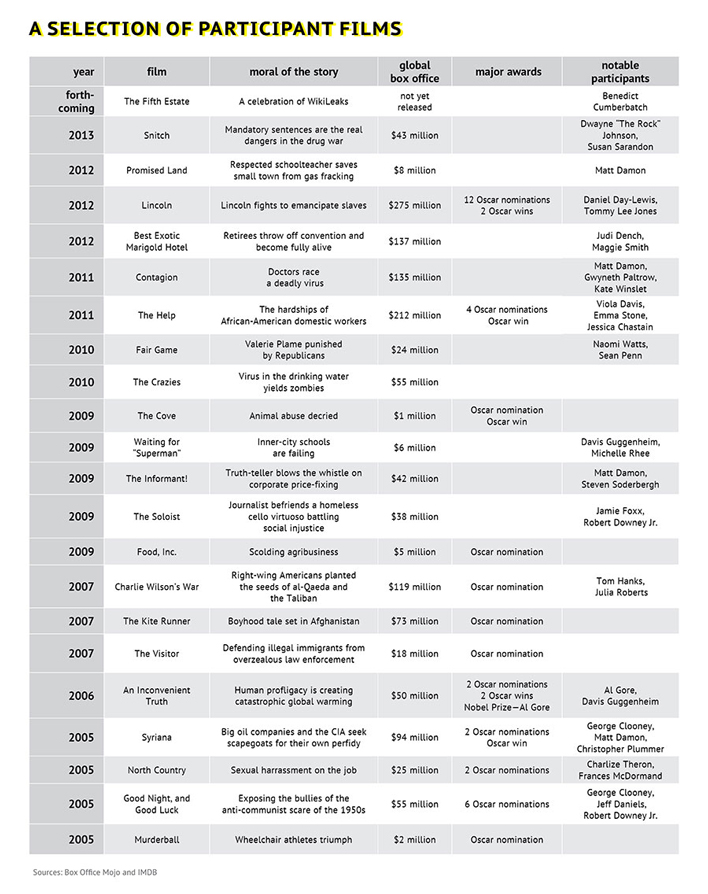 Finding a formula for culture change
Jeff Skoll personally approves every script that Participant green-lights, and thanks to his firm's ability to attract first-rate talent from the entertainment industry, its production quality is high. The company started with an astonishing bang. In July 2005, a year and a half after its founding, Participant released its first film, a documentary about wheelchair rugby called Murderball, that went on to win an Oscar nomination.
A few months later, Good Night, and Good Luck premiered, starring George Clooney, Robert Downey Jr., and Jeff Daniels. Hollywood rained laurels on the anti-McCarthyite drama, including six Academy Award nominations (Best Picture, Best Director, and Best Actor among them). The public responded more modestly; global receipts for the film totaled $55 million. The project was highly profitable nonetheless, because its production budget was less than $8 million—due largely to the fact that the politically minded Clooney, who normally gets up to $20 million per movie, offered to co-write, direct, and star in this one for a grand total of $3 ($1 for each job). This illustrates the intangible benefits Participant reaps as the go-to studio for movies reflecting the political beliefs of some of Hollywood's biggest stars.
A month later in 2005, North Country hit theaters. A fictional account of a sexual harassment lawsuit, it garnered two more Academy Award nominations, including Best Actress (Charlize Theron) and Best Supporting Actress (Frances McDormand). The public was lukewarm, with the worldwide box office of $25 million falling short of the $35 million production budget. But Skoll pronounced himself happy with the film when the "social action campaign" that accompanied its release coincided with federal reauthorization of the Violence Against Women Act. (More later on the advocacy campaigns that are launched with every Participant film.)
Then 2005 was brought to a close by the release of Syriana, a thriller built on corporate, CIA, and oil-business perfidy, and again starring Clooney, along with Matt Damon and Christopher Plummer. It enjoyed a total box office of $94 million, was nominated for two Academy Awards, and won the Oscar for Best Supporting Actor.
All told, the first full year of existence of Participant Productions brought an astonishing 11 Oscar nominations. Plus $176 million of ticket sales. And a sudden slew of top actors, directors, and Hollywood insiders scrambling to work with Jeff Skoll.
This was immediately followed by a crowning success in the area that is of most concern to Skoll. Early in 2006, an unlikely Participant film adapted from the PowerPoint slideshow of a retired politician rolled across America and then the globe. An Inconvenient Truth popularized Al Gore's crusade against carbon emissions that he explains will result in harsh climate change. The film was awarded an Oscar for Best Documentary, and another for Best Song. Its $50 million total box office made it one of the highest grossing documentaries of all time. And the next year Gore won the Nobel Peace Prize.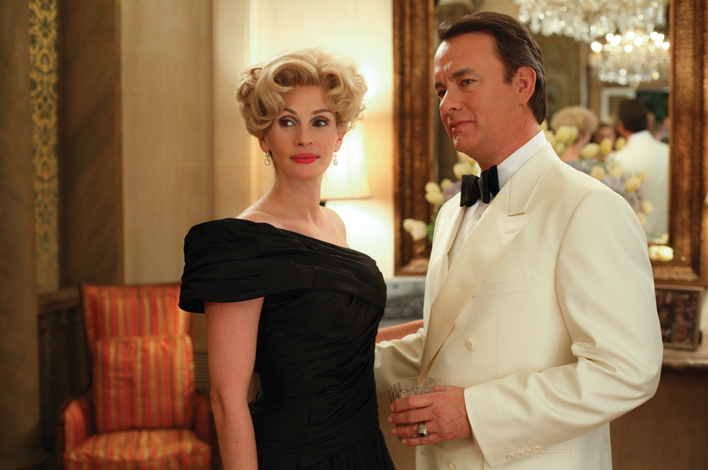 From fantasy to reality
The success of An Inconvenient Truth provided Skoll with compelling early evidence that linking a powerful story with a highly developed activist campaign could move public opinion. A 47-country Internet survey conducted by the Nielsen Co. and Oxford University a year after the film came out found that 66 percent of respondents who had seen An Inconvenient Truth said it "changed their mind" about global warming. Before the film was released, opinion polls suggested that fewer than 30 percent of Americans considered global warming a serious issue. Afterward, 87 percent deemed it "an issue of concern."
Participant vigorously promoted the crisis theme, setting up the website ClimateCrisis.net, establishing alliances with activist groups like the National Resources Defense Council and Stop Global Warming, and distributing hundreds of thousands of study guides aimed at getting the topic into school classrooms. Participant cites "more than 15 climate-change bills introduced in Congress" as part of the film's legacy, and concludes that the "worldwide phenomenon" it kicked off meant that "global warming was now part of the international conversation."
"I would never have predicted that a film like An Inconvenient Truth would impact so many people," says Skoll. But he is only getting started with his work on climate change, with two new projects underway. The first, Climate Nexus, aims to be a sort of public relations agency or rapid response team promoting the crisis message. (The Rockefeller Brothers Fund is a philanthropic partner in this.) The second, as yet unnamed, is a three-year effort to survey in depth the American public's views of global warming. "We are going to poll the entire U.S.," he says.
Skoll's ringing of alarms is part of his wider effort to confront what he considers the most urgent public dangers. He has established a separate philanthropy he calls the Global Threats Fund to research and advocate on five topics: climate change, water shortages, pandemics, nuclear weapons, and Middle Eastern conflict. "I'd like to see the Global Threats initiative go from a five-year experiment into a properly endowed organization of scale. I am looking to bring in other philanthropists and funders," he says. And he is interweaving the efforts of Global Threats with the products of Participant Media—mixing, blending, and blurring entertainment, research, and political activism to move public opinion and spark governmental action.
Skoll reports that the Global Threats Fund and Participant are "somewhat explicitly working together," noting that numerous movies have been made already in each of the five areas. In addition to An Inconvenient Truth, Participant's 2010 Climate of Change with Tilda Swinton is also about global warming. Last Call at the Oasis (2012) addresses water worries. Steven Soderbergh's 2011 hit Contagion, which featured Matt Damon, Gwyneth Paltrow, Laurence Fishburne, Jude Law, and Kate Winslet, is about a global pandemic. The Crazies is a 2010 horror flick premised on a virus infecting a town's water supply and turning the inhabitants into bloodthirsty killers.
Countdown to Zero is a Participant documentary about the proliferation of nuclear weapons. "It was not a box office success, but it had an impact," Skoll reports. "In the run-up to the New Strategic Arms Reduction Treaty talks, we held more than 150 screenings, in venues ranging from the White House to the Kremlin and the Indian Parliament. A lot of people who came to the New START negotiations had seen the film." The grassroots campaign that accompanied the theatrical release included celebrity public-service announcements, a video on Hiroshima that garnered 400,000 views, a texting program, rallies, and targeting of seven U.S. senators whose votes were needed for the New START, which passed the Senate in 2010.
In addition to Syriana, Participant is adding its voice to various Middle Eastern issues with several other films. State 194 is a cry for Palestinian independence. The 1982 classic Gandhi was dubbed into Arabic by Participant in hopes it would promote non-violence in the region. And the studio created films like Charlie Wilson's War, The Kite Runner, and Jimmy Carter: The Man from Plains with an eye to influencing Middle East-related opinion.
Contagion may have been the most successful collaboration between Participant and the Global Threats Fund to date. The action campaign accompanying the movie featured an informational hub that was visited 2 million times and a video that was viewed by more than 200,000 people. According to Participant, this campaign helped drive the House of Representatives to increase funding for government responses to pandemic diseases.
The "social action campaigns"
"Socially relevant content is our entire focus," states Participant's CEO, Jim Berk, in an August 2013 essay in Forbes. He closes his piece with a bit of militant inspiration from Edward Murrow: "There is a great and perhaps decisive battle to be fought against ignorance, intolerance, and indifference."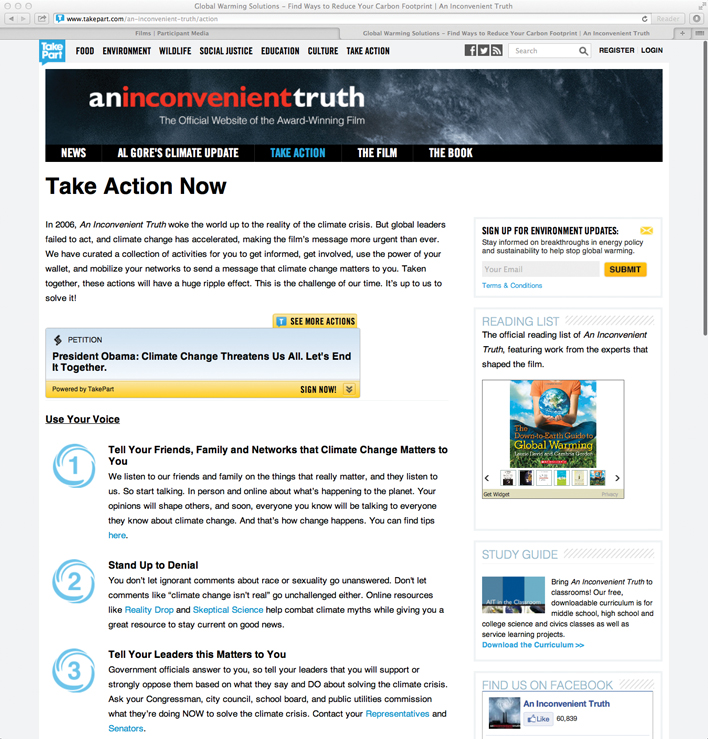 At the same time, Berk notes that "it all starts with a good story. It's how you establish an emotional connection. For us, the story is primary. Without this we will not move forward with a project, no matter how important the issue."
Once Skoll and his associates find that "socially relevant" story with a strong emotional resonance, and produce it with Hollywood's top creative talent, the final crucial step is the "social action campaign." Designed to spur public response, these have been an essential element of the Participant formula since the beginning of the company. In 2008, Participant built the website TakePart.com as its division charged with organizing opinion shifts, political activity, and direct action among film viewers. TakePart's official mission: "to inspire and accelerate social change by connecting compelling content to action."
Typically, partnerships will be formed with relevant activist groups and non-profits. Participant reports that it has formed 600 such working relationships since its first film was released eight years ago. Special screenings are offered to politicians, social organizers, and interested groups of citizens. Facts about the issue at hand are publicized. Curricula are often created for use in classrooms. Social media is unleashed.
Nine books have so far been published to accompany the studio's movies, through a business relationship with PublicAffairs, a well-respected New York publisher with a similar cultural slant. The book spun off of Participant's inner-city education movie Waiting for "Superman" reached No. 1 on the New York Times bestseller list within three weeks of its publication. Food, Inc.: How Industrial Food Is Making Us Sicker, Fatter, and Poorer—and What You Can Do About It, another Participant movie tie-in, became a bestseller that is now in its tenth reprint.
The campaign accompanying Food, Inc. has been one of Participant's most successful, and continues to be active several years after the film's 2008 release. TakePart solicited 230,000 signatures for a petition asking Congress to reauthorize the Child Nutrition Act. Researchers from the Annenberg School of Communications and Journalism surveyed a large sample of people and found that after watching Food, Inc., 81 percent of respondents said "this film has changed my life" and 76 percent stated they could be "part of a social movement to reform agribusiness." Current priorities of this ongoing campaign include encouraging consumers to give up meat, criticizing corporations like Monsanto, agitating against genetically modified organisms, and building pressure on members of Congress not to reduce the budget of the federal food-stamp program.
As it approaches its 50th film and its tenth year, Participant's most voluminous "product" has been the millions of "social action events" (as CEO Berk calls them) that its films have inspired. By August 2013, TakePart claimed "over 15 million social actions completed" through its website during the first seven months of the year. At that rate, Participant's action arm is accumulating something like 25 million petition signings, letters to Congress, personal pledges, book orders, video viewings, or other click-throughs annually.
And the campaigns are becoming increasingly ambitious. AllThingsD.com reported in August that TakePart will soon be adding new direct opportunities to give money and volunteer time. These resources will be channeled to activist groups operating in the field.
The Pivot to television
Many additional opportunities for rousing direct citizen action will arise from Skoll's newest investment, which was just days from its debut when we spoke with him in July. "Pivot" is a new cable television network that gives Skoll and his colleagues a platform for reaching more than 40 million Americans in their homes, and the potential to connect with many more people overseas via exported shows.
"If we do eight movies a year, that's at most 16 hours of content. But if we're on TV, you're reaching people 24/7," Skoll notes. Like his movie production company, Pivot is firmly aimed at social advocacy, and its new programming aims to draw in young viewers. Its signature launch show, Please Like Me, features a 25-year-old Australian comic who is struggling over whether to come out as gay. Raising McCain is a public-affairs talk show hosted by Meghan McCain.
One of the network's linchpins is TakePart Live, an hour-long show mixing news with celebrity and activist guests plus audience feedback, all geared toward inspiring the sorts of social and political involvement promoted at TakePart.com. Skoll describes it as "a news show with a topic of the day that will be crowdsourced; it will be explanatory, participatory, and edgy." He has high hopes that it will be effective in mobilizing young people politically and personally.
Skoll believes Pivot will demonstrate that the combination of content and campaign can be especially powerful on television. On TV, he says, "the opportunities are even more interesting, as this will be a two-device environment. At the movies, your phones and so on are off. When you are watching TV, you will have your phone on, you can text and tweet—get your friends to turn on. This will allow more spontaneity; you can get people in the moment." The hope is that Pivot will be able to go viral with its messages.
Pivot's shows will employ Participant's signature feature of building campaigning into storytelling, each show with its own set of companion action efforts. The "Pivot actions" suggested for watchers of TakePart Live include a petition to ensure gay athletes are safe at the 2014 Winter Olympics, a petition to repeal "stand your ground" laws, a pledge to end mandatory minimum prison sentences, and a petition to "bring an end to corporate-funded voter suppression" (pressuring businesses not to support the American Legislative Exchange Council).
There is also a networkwide campaign called "Eyes Wide Open" which aims to help young viewers interpret the blizzard of news and messages they receive via today's rapidly proliferating media, from broadcast to texts and Twitter. Skoll reckons that Participant has built considerable expertise over the past decade in allying compelling content with effective activism. "For every film, we have developed a social action campaign of some kind," he says. "We have gotten pretty good at it."
Skoll wanted to enter television years earlier, but was slowed by the difficulty of finding a piece of cable-TV beachfront where programming could be made available to enough potential viewers. "We felt we needed to be in 40-50 million homes at the launch, going to 60 million," says Skoll. Initially, Participant looked into buying Current TV, a network launched in part by Al Gore. But the inconvenient truth was that Al Jazeera offered around $500 million to take over Current so its new Al Jazeera America programming could be parked on those channels. Participant was never going to match that price.
"Ours cost a fraction of that," Skoll reports. "We bought the Documentary Channel, which was in 28 million homes, and combined it with Halogen, an independent network. So at launch we are in more than 40 million homes." Because he was able to build his distribution network cheaply, Skoll says, he has "a lot of financial headroom to invest in programming." Pivot launched this summer with a staff of more than 75 people, broadcasting 24/7, airing ten original series totaling 300 hours of its own content, plus access to all of Participant's movies as well as the archive of the Documentary Channel.
Skoll believes that if his network can succeed with the younger viewers it is initially targeting, it will then be able to extend its offerings to other demographics. "A toehold with that group will give us a good chance to grow into the broader market," he says. The firm also hopes to expand around the world. A television partnership has been formed with Univision that will yield ten documentaries, available in both English and Spanish versions. Participant is also producing Spanish films with partners south of the border, including with the company established by Mexican actor and director Gael Garcia Bernal.
Skoll's investment in television is as risky as his venture into movie production, which has notoriously eaten the fortunes of many rich men. Yet he is approaching his latest experiment in world-changing through tale-telling with his usual calm willingness to try things that have defeated many predecessors. "You just never know what will work," he reflects. A tolerance for risk while pursuing his favorite causes is a constant theme in Skoll's philanthropy.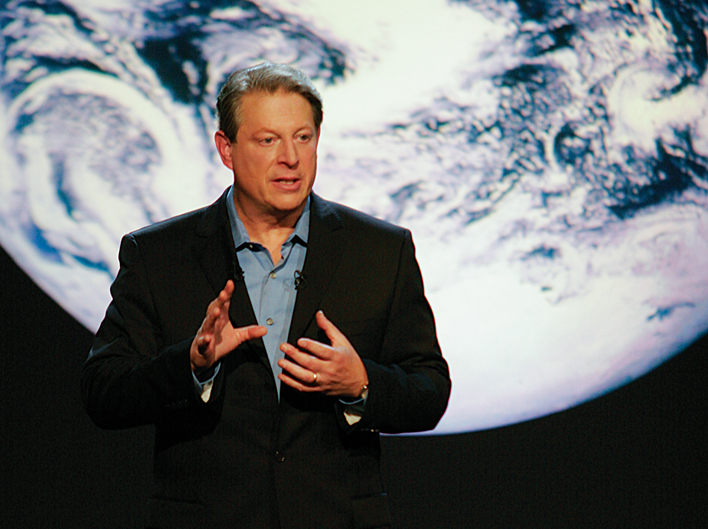 Payoff—with or without box office
For Participant and its campaigning partners, much depends on whether the featured entertainment product becomes popular. Of course, predicting which films will succeed with viewers is fiendishly difficult. Skoll acknowledges that filmanthropy is a much riskier form of giving than backing social entrepreneurs.
"Comparing movies and social entrepreneurship is like comparing apples and oranges. The social entrepreneurship side is a lot more stable and predictable. We are adding four to ten proven social entrepreneurs to our portfolio each year. On the movie side, it is hit or miss." Skoll cites the example of The Beaver, a 2011 movie about depression directed by Jodie Foster and starring Mel Gibson, which flopped. "Nobody saw the movie. It didn't lead to social change."
Big audiences make other elements of Participant's formula work better, and the last couple years have been good in this regard. Participant saw its first movie reach No. 1 in nationwide ticket sales when The Help tackled issues of race, class, civil rights, and fairness in pay (garnering four Academy Award nominations and one win). Very soon after, the studio notched its second No. 1 with Contagion. Participant's biggest financial hit of all, so far, is 2012's Lincoln, written by Tony Kushner, directed by Steven Spielberg, and decorated with 12 Academy Award nominations and two wins (including Best Actor for Daniel Day-Lewis).
Yet box office success has not proved essential to a Participant movie achieving social impact. If a movie gets "screened a lot of times to legislators," Skoll tends to consider it a success even if it loses money. Take 2013's A Place at the Table, a documentary about hunger. According to Skoll, "it did okay at the box office, but there were so many private screenings it was credited for shutting down the Farm Bill plan to ax food stamps. We screened it on the Hill before the vote."
Skoll also points to the political fallout from Middle of Nowhere, a 2012 film about a woman whose husband is incarcerated. Among other things, it portrayed the high cost of making phone calls to prison. Participant and its partners launched a "campaign for phone justice" which lobbied legislators in many states to reduce these prices. "We have already succeeded in California and Pennsylvania," he says.
Skoll is willing to give a picture the go-ahead even if he is pretty sure in advance it will be a commercial failure. "We will sometimes look at a film and say, 'We think this is going to lose X million dollars, but it would be worth it because it can make a difference in the issue,'" he told the Stanford Social Innovation Review last year. North Country, for example, "was a story very well told, and it had a lot of social value," but did not seem primed to do well commercially, "and sure enough it didn't." But its message about "violence against women and women's rights in the workplace" was directly linked to the Violence Against Women Act, which was facing uncertain renewal in Congress. "We had screenings on the Hill and met with legislators, and the act eventually passed."
Skoll admits to being "surprised by how effective the private screenings have been," though he adds, "everyone likes to see a movie!" He recalls a recent "very nice" meeting with the Democratic leader in the Senate, Harry Reid. "Turns out he is a huge Participant fan. He is a very powerful man who is spending a lot of time watching our movies."
Crusading philanthropy
Overall, Skoll is pleased with how his philanthropic activity has gone so far, although the problems facing the planet are proliferating. "In some ways, I'm surprised how things have gone over the past ten years. The world is more complicated and troubled than it was ten years ago, and will be still more troubled in ten years time. Yet interventions are working."
He believes that philanthropy will become more effective in the years ahead. This is partly due to the work of the Giving Pledge, of which he is a signatory. "I have found through the Giving Pledge and so forth that there is a new school of thinking about philanthropy, that is data-driven and focused on results," says Skoll. One of the features of this school is that it does not see philanthropy simply as a matter of making charitable grants. "You want many arrows in your quiver: non-profit grants; for-profit grants; program-related investments such as debt instruments; and proper investment wrapped around a social investment idea," Skoll explains.
For wealthy men and women looking to achieve massive social impact, the media is emerging as a crucial sphere of activity. By blurring lines between business and non-profit, their actions may not fit into traditional conceptions of philanthropy. It is still unclear, for example, what Jeff Bezos, the founder of Amazon, wants to achieve with his recent $250 million acquisition of the Washington Post, but there were hints of Participant's "double bottom line" philosophy in Bezos's early statement to employees that the newspaper's "duty will remain to its readers and not to the private interests of its owners."
Skoll believes the evolution of philanthropy will soon accelerate due to "a big generational shift in wealth in the next ten years." In a decade, he predicts, much more "wealth will be in the hands of people who are much more strategic about where the money should go. People like Pierre Omidyar, [Pershing Square hedge fund boss] Bill Ackman, and me."
Certainly Jeff Skoll has clear, strategic ideas about where he wants his money—and American society—to go. Davis Guggenheim, director of An Inconvenient Truth, noted in Fortune in 2010 that "there's an incredible continuity" to Skoll's film portfolio. "Before you know it, you're going to say, 'You know, all these movies that Jeff is making are adding up to a larger statement.'"
That statement has now come into focus. And we can expect a lot more innovative giving aimed at dramatic culture change—Skoll is not yet 50. There are likely to be many more big, risky bets in areas where "you just never know what will work." -end- 
Matthew Bishop and Michael Green are co-authors of Philanthrocapitalism: How Giving Can Save the World. Bishop is a New York bureau chief of The Economist. Green is executive director of the Social Progress Imperative.
---
SIDEBAR: CO-STARRING IN FILMANTHROPY: PHIL ANSCHUTZ
Another major philanthropist who broke into Hollywood with the goal of nudging America in healthier directions is Phil Anschutz. Like Jeff Skoll, he has put up hundreds of millions of dollars to create top-notch films. Anschutz, however, lacks Skoll's brand of politics. An evangelical Christian who lives a comparatively modest and family-oriented life for someone with a net worth of $10.3 billion (ranking #38 on the Forbes list of wealthiest Americans), Anschutz was frustrated at how vulgar, violent, sexualized, dark, and depressing so much Hollywood fare had become. "I'd been thinking about it for a while. I had children and grandchildren of my own, and I had never been satisfied with the content in movies," Anschutz told Philanthropy in a rare interview this August.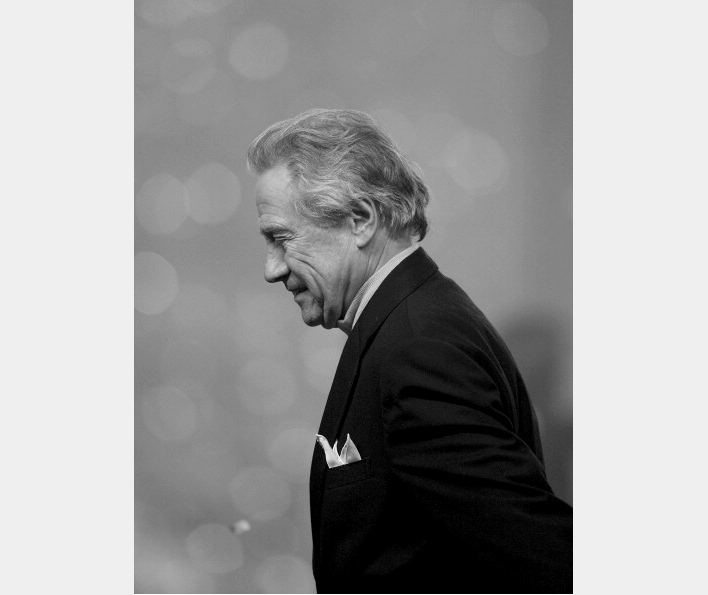 Aiming to be a more positive influence for families and children in particular, in 2001 Anschutz bankrolled Walden Media, the brainchild of Micheal Flaherty. An educational entrepreneur who was teaching part-time in a rundown Boston public school when he first considered making movies for kids, Flaherty saw his students struggle to engage with book after book, unable to grasp how someone else's story could ever change theirs. But when the blockbuster movie Titanic came out, those same students wanted to visit museums, check out books from the library, engross themselves in the catastrophe and its time period. Flaherty thought: Why not make more movies that engage students in historical events or works of literature? What if movies could both make money and open children's minds to the world of books?
Joining with his former college roommate Cary Granat, who was president of a Miramax film division, Flaherty hit the private investment trail with his idea. But after exhausting his savings and 401(k) pitching children's films, he and Granat still had no funding. They made their last call to Anschutz. "Phil got behind it right away. He liked the mission statement, and already had some great ideas for books that he was reading to his grandkids," Flaherty says.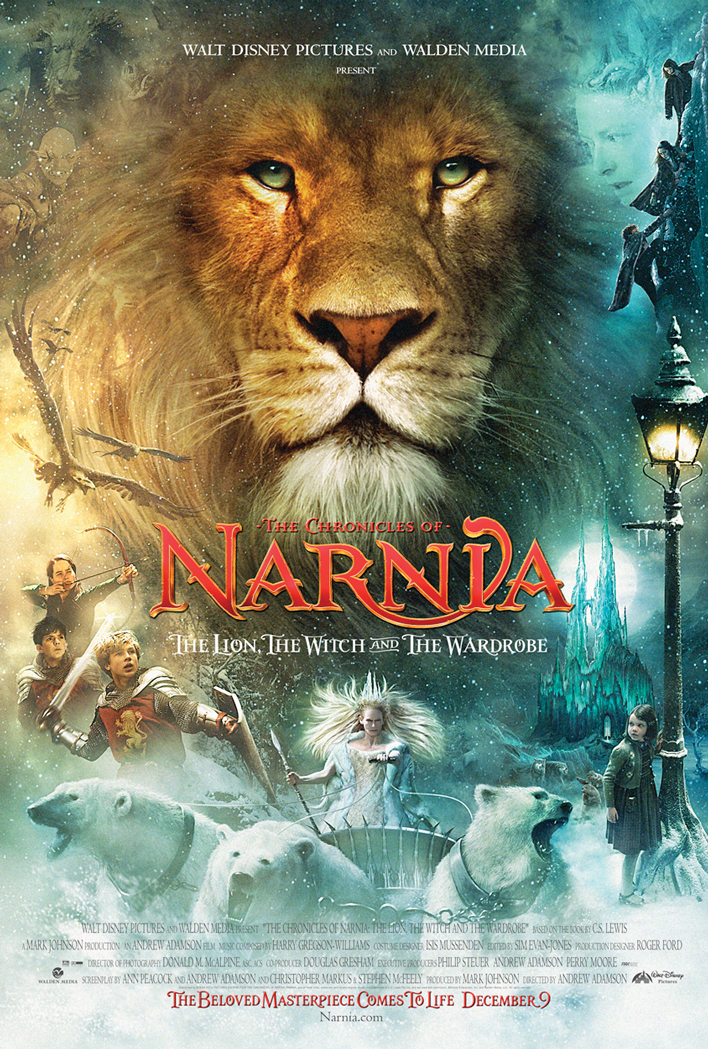 Walden Media, the resulting company, went on to produce Charlotte's Web ($145 million in total box office), Bridge to Terabithia ($138 million), Journey to the Center of the Earth, 1 and 2 ($242 million and $335 million respectively), Tooth Fairy ($112 million), Parental Guidance ($120 million), and other films. Walden's biggest success was the Chronicles of Narnia series. The first film, released in 2005, grossed $745 million; the second brought in $420 million in 2008; the third reaped $416 million in 2010.
Anschutz himself was a key player in bringing Narnia to the silver screen. Flaherty says he was the first to suggest making films of the beloved series written by C. S. Lewis, and he became personally involved in negotiating for rights to the books. Lewis's stepson Douglas Gresham told the Los Angeles Times that he ultimately settled on Walden because of his trust in Anschutz. "I believe he's a man of faith, probably someone who's had some realizations in his life, and is trying to carry them out," concluded Gresham. Anschutz then poured around $200 million into filming the first book, hiring Andrew Adamson, a digital animation expert who had created Shrek, as director, and bringing in Disney as distribution partner. Since then Anschutz has invested even more in his fledgling film company, but won't say how much: "I don't even know how much for sure, but it's been considerable."
Now entering production is a film version of The Giver, the Newbery Award-winning children's novel by Lois Lowry that a generation of U.S. students have carried around in their backpacks. The film will star Jeff Bridges as the wizened community leader who opens his young disciple's eyes to the problems of their seemingly idyllic society.
Walden recently backed out of an arrangement to produce the movie version of Unbroken, Laura Hillenbrand's survival story of World War II hero Louis Zamperini and his postwar redemption. Anschutz says he worried the movie's other partners were taking the film in the wrong direction. "One of the things that had attracted me to that movie, beyond the heroic effort and adventure, was the strong Christian message of forgiveness and discovering faith. I just felt like the way the movie was going to be made, those messages might not be portrayed as clearly as they could have been," he says.
The studio has had its share of box-office flops—some of which Anschutz nevertheless considers a success, including Amazing Grace, the true story of William Wilberforce's quest to abolish the British slave trade. Anschutz says he was drawn to the story for its underlying themes of faith and courage. "On the surface it was a story about the abolition of slavery, but really what that movie was about was coming to faith, about having the courage and the faith to do the right thing, promoting positive change in our society. And it was a message to politicians to do the right thing," he says. The movie didn't prosper in theaters, taking in only $32 million worldwide, but Flaherty says it made a difference.  "We hired a polling agency, and recognition of Wilberforce went up substantially after the movie," he notes, adding that Anschutz pushed to make the film and even contributed a few lines to the script. "I don't know anyone else who would dedicate their resources to making a movie about a forgotten abolitionist."
Like Skoll and Participant, Anschutz and Walden employ a "double bottom line." "Obviously we pay attention to profit and loss," Flaherty says, "but we also pay attention to whether we are making a great movie that is having a positive impact on the culture." For Anschutz, Walden is philanthropy. "Walden has always been more of a philanthropic effort than a business—because it's not a very good business," he says.
And like Participant, Walden has produced its own versions of "action campaigns" to maximize the chances that a film will have a positive social effect. The company's educational arm, for many years based in Boston, separate from the film center in Los Angeles, designs curricula for students and teachers to accompany many of its films, offering historical background, reading lists, bits of science, writing exercises, quizzes, and more. The company also involves libraries, museums, and faith groups in events and seminars, often featuring stars or writers from the movie. And it has distributed hundreds of thousands of copies of the classic books that inspired their films, particularly sending them to undersupplied school libraries so kids don't have to sit on a waiting list before reading the story they saw in the theater.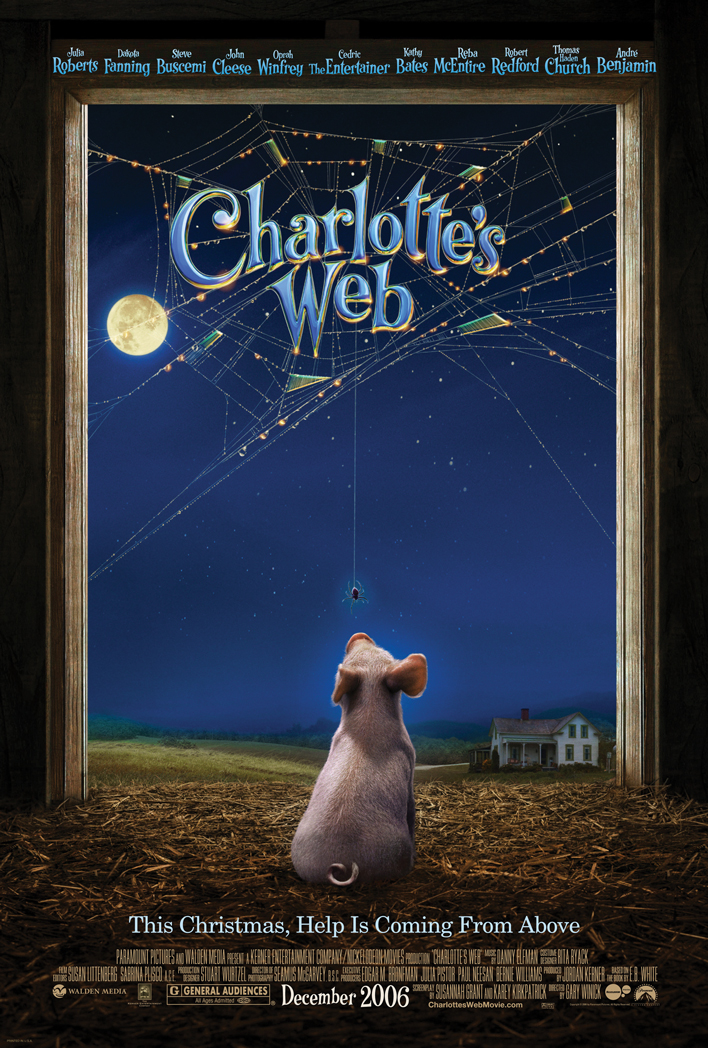 The rather different orbits of Walden and Participant overlapped directly on one film. In 2009, Flaherty was participating in a panel discussion at the Harvard School of Education when he heard a Participant executive talking about its upcoming movie on charter schools. "The second I heard that pitch, we did everything we could to be a part of it," Flaherty says. Walden ultimately chipped in with both production funding and marketing support for what became Waiting for "Superman." Davis Guggenheim, director of An Inconvenient Truth, co-wrote and directed the film, which follows a handful of children through their dysfunctional public schools, portraying how painfully limited their choices are and angering teachers unions in the process. Though not a box-office success, the documentary united advocates of all political stripes behind its call for student-centered reforms. With the support from Walden and Participant, the Bill & Melinda Gates Foundation donated $2 million to bolster the film's social action campaign.
After operating shoulder-to-shoulder with Participant on Superman, Flaherty says he'd be pleased to make common cause again: "I really like that company, and we're going to find more projects to do with them." It remains to be seen what their next project will be.
And Walden is now in a major transition. In August 2013 the company announced it will no longer create films with its own production team, apart from projects already underway. Instead, the firm will co-produce projects brought to it by other studios. As part of this retrenchment, the company announced layoffs that will shrink the enterprise from around 50 employees to about 35. "We're scaling back the amount of capital we allocate to movies per year, but it will still be a meaningful number, and we're still very much staying in the business," says Anschutz.
Flaherty presents the move as an opportunity to refocus the company on classic children's literature. Walden's top priority is stories kids should read. "Literacy is at the center of almost every socioeconomic problem we have in this country and in the world," he says. "Rather than come up with a gigantic list of all the societal ills we'd like to address, we want kids to get excited about reading great books, and to know that great books are transformational and change lives."
But movie-goers will have to wait and see whether the double bottom line that gives a project extra credit for moral goodness can survive in this cutthroat and often nihilistic industry.
"We have shown, I would hope, that making movies of a certain type that don't have sex, violence, bad language, or promote bad taste—and in fact do the opposite of all four of those—can succeed and be profitable," says Anschutz. "I certainly didn't change the world," he adds, with a quiet laugh. "But if you succeed in affecting a few people's lives in a very positive way, then I look back on it as being worthwhile and certainly a justifiable effort."   —The Editors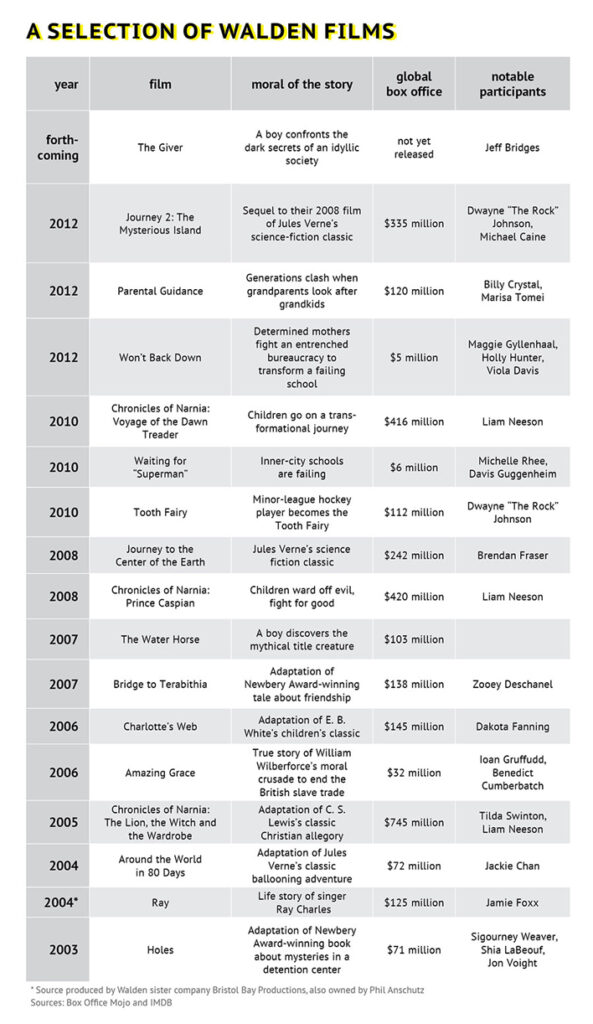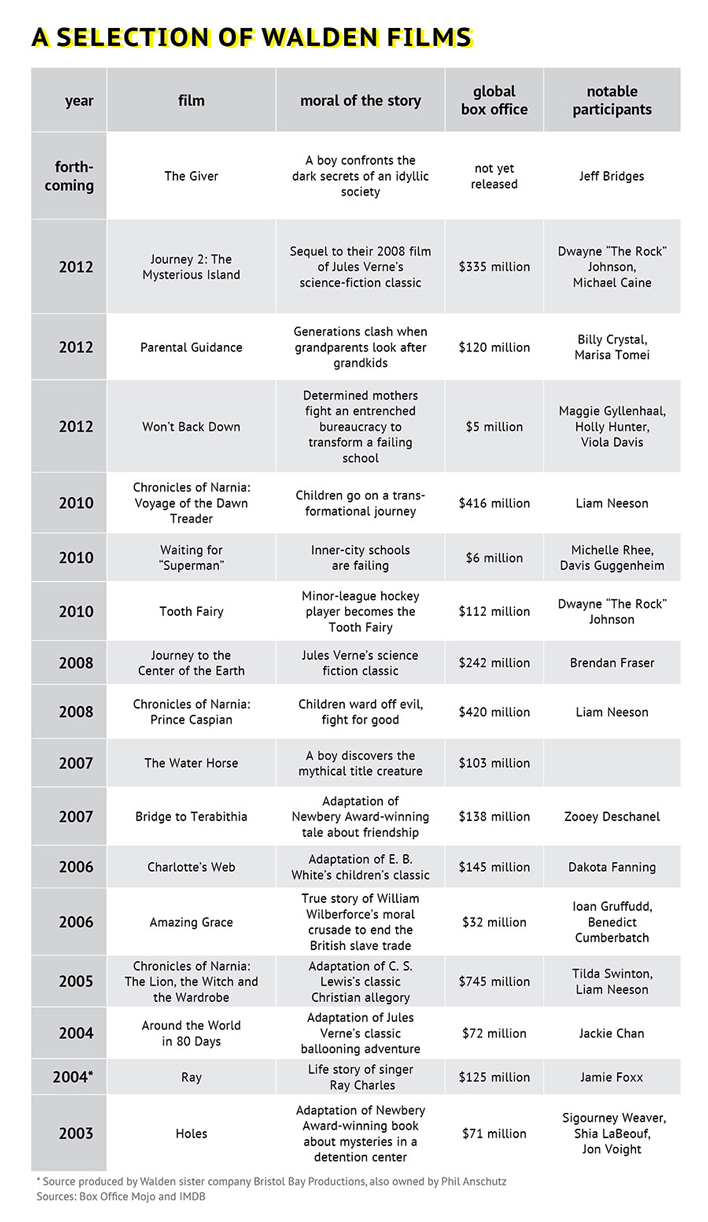 SIDEBAR: THE WEB-STREAMING MODEL OF FILMANTHROPY
At the 2007 release of the first documentary he funded, Ted Leonsis—who made his fortune in the early days of AOL—used the term "filmanthropy" to describe the creation of movies that aim to inspire social change. Bitten by the film bug, and intrigued by the possibilities of transmitting video over the Internet, Leonsis founded SnagFilms in 2008 to distribute documentaries and independent films that would otherwise never reach big audiences. Relying on digital streaming and recommendation software to draw in viewers, SnagFilms now offers about 4,000 films for free over the Web. Short ads are embedded in the movies, and half of the resulting revenue is shared with the filmmakers.
Though the founders won't say how much they've put into SnagFilms, the New York Times reported that the company started with a $10 million investment drawn from a pool of funders that included Leonsis, AOL co-founder Steve Case, and the John S. and James L. Knight Foundation. CEO Rick Allen says the company made a profit in the fourth quarter of 2010, but then decided to spend more and expand. He predicted Snag would be profitable again in 2014.
Allen says Snag too operates on a double bottom line: "While we've been very clear from the beginning this is a commercial entity, and we intend to make a return for our investors, our investors are all interested in also accomplishing good…. What filmanthropy means to us is harnessing the community power of film to inspire an audience to take action, to be a catalyst for them to take action, to learn more, to volunteer, to forward the message." Leonsis tells Philanthropy that there are rewards for the company beyond financial ones: "We are all citizens…we care about the world around us, and we are deeply moved by a well-told story. It is incredibly rewarding to help make that happen."
Leonsis and SnagFilms don't have a pronounced social agenda, as Jeff Skoll and Participant Media do. Nor to they have a special focus, like Phil Anschutz's interest in films for children and families. The causes their films promote are a mishmash of many topics and perspectives. What the company stands for is that easy access to documentaries will help spur people do good things.
Allen offers two examples of a real-world effect. Several months after Snag posted the 2009 documentary The Least of These, chronicling the conditions at a Texas detention center for immigrant families, the Obama administration shut the center down. And after SnagFilms carried Return to Tarawa—about the abandoned remains of American soldiers at a World War II battlefield—the Pentagon sent a team of investigators to the site to gather and identify the bones.
"From our perspective, it wasn't our job to decide whether policies should change," says Allen. "It was our job to make sure that the films were broadly accessible, so a wider coalition of non-profit organizations could use them to draw attention to public issues. We provide our digital tools for spreading the films, and the non-profits pick the course of action."
The company also created Snag Learning, a library where teachers can browse films by topic for use in a classroom. And this autumn Snag plans to debut what it calls "social screening"—a mashup of simulcast, movie screening, live panel discussion, and social-media feedback—that it hopes will let non-profits make big events out of films that matter to them. "Few non-profits can commission expensively produced films on each subject key to their mission, but every group or fan can adopt a relevant film from our library and use it to spread the word about vital topics," says Leonsis.   —The Editors