As thunder rolled over Venezuela's Margarita Island one hot summer sundown, Jenny Colombani, a roadside seller of cocadas, discovered that the stormy night was swarming with angels. Recently, someone had stolen the blender she used to make the coconut milkshakes that were the only source of income for her family. On hearing of this theft, one of her customers disappeared and came back a few minutes later with a child's violin. You can sell this and buy yourself a new blender, he said. Or you can give it to your son to learn to play.
She meant to sell it—she didn't know what else to do—but a film crew that happened to stop by persuaded her to keep it, promising to get her another blender. The crew was there to make a documentary about the Youth Orchestra of the Americas, a visiting ensemble of talented young musicians from the countries of the New World. They would take her and her son to the concert later to show them what it was all about.
Neither Jenny nor nine-year-old Ludwig, named for a composer Jenny's mother had heard of, had ever encountered classical music before. As a symphony washed over them at the concert, Ludwig's hands floated up to keep time just like the conductor below. Backstage, a Brazilian violinist showed him how to hold the instrument and play a scale, and Jenny signed him up to study with a free neighborhood children's orchestra. Its maestro was amazed to learn about this stroke of destiny. "These things that happen this way, let me tell you, they are not coincidences," he said. "It is written. Everything happens for a reason."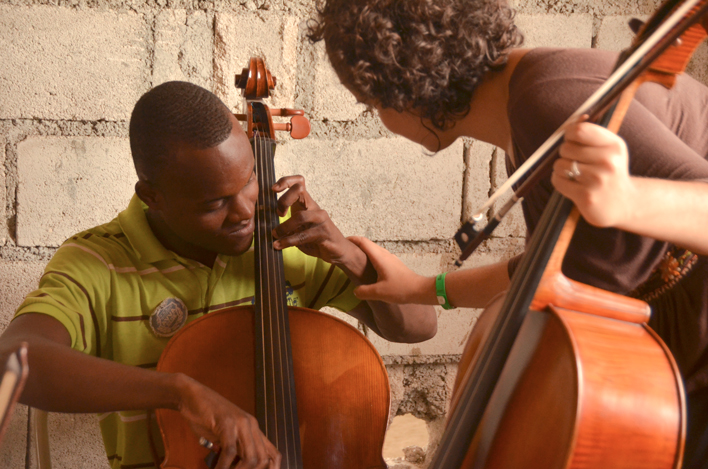 Music, the universal language
The Youth Orchestra of the Americas exists to reach this kind of audience. In fact, many of its own members come from similar backgrounds, and have found ways to develop their musical talents without much institutional support. YOA brings them to the next level.
Aspiring 18-to-30-year-old musicians from North, Central, and South America submit their auditions by YouTube. With this and other information, 80 out of more than 1,000 applicants each year are chosen for the intensive summer program. During a two-week residency, they practice their concert repertoire and learn to play together as an orchestra—a mix of voices, joined as one. Each also receives personalized training: A teaching faculty of professional musicians from all over the world coach groups divided by instrument or section, and also offer individual lessons, which can happen in the middle of the night due to the taxing rehearsal schedule. And even that is not enough for these musicians: often, after a long day of practice, they gather outside and improvise together deep into the night.
Then they take the show on the road. All-star soloists and conductors, such as Yo-Yo Ma and Plácido Domingo, join them for the tour, which travels to a different region every year, performing in venues ranging from Carnegie Hall to tropical community centers. There are now three documentary films—titled Symphony, Discovery, and Legacy—chronicling these musical journeys.
In Discovery, U.S. flutist Bianca Garcia emotionally describes a concert they played in Lima, Peru, at the peak of their madcap itinerary. They laid it all out there, heart, body, and soul, and gave what many of the players felt was the best performance of their lives. As they walked off the stage, utterly spent, they were told to turn around, sit back down, and repeat the entire concert. Hundreds of people outside the hall who hadn't been able to get in had waited there for the duration of the performance, trying to catch whatever scraps of music wafted through the walls. YOA was going to perform again for them. "We connected with that crowd like I have never, ever, ever experienced before," Garcia says through tears. "It totally reaffirmed in my mind that classical music can make a difference."
Even as increasing numbers of U.S. orchestras are forced by bleeding balance sheets to lay off musicians or shut down, there is a symphonic renaissance underway in South America. Classical performances are treated like rock concerts, and a slew of youth orchestras has sprung up around the continent. YOA itself has helped found them in half a dozen countries, loaning out its faculty and providing other support. This is one element of the organization's broader social purpose, which also includes its Global Leaders Program, a year-long fellowship that trains musicians to become effective music teachers and initiators in underserved communities.
The cultural exchange and adventures of travel are a key selling point of the program as well. Last year, during a Central American tour, the orchestra bus was stopped while crossing into Guatemala, its license disputed. YOA staff frantically tried to resolve the issue, noting that the group was supposed to meet the country's president that night. Hours went by with no sign of progress. Meanwhile, the stranded musicians piled into a beer shack on the border, kicking back, jamming, and giving the proprietor the best business day of her year. At some point, a few brass players marched into the immigration office and launched into a spirited rendition of "Tico Tico," a raucous Brazilian samba that YOA traditionally plays as an encore, with the musicians dancing off the stage into the audience. The orchestra was soon sent on its merry way.
Savior in the abyss
YOA owes its existence to Hilda Ochoa-Brillembourg, whose own role in its creation took her by surprise. The Venezuelan transplant recalls a billboard she saw as a child on the streets of Caracas: "I looked into the abyss and I took a step forward." This cryptic message, she tells me, has defined her life.
Knowing almost nothing about economics, she chose to study it in university out of a sense that the skills would be portable and that it offered her a path to financial independence. But she found in it so much more: "how the world works in reality…what makes people tick." Studying the relationship between economic agents in society revealed important truths about what people value and respond to. At one level, this is a science, she says. Above that level, it is an art.
Though she quickly rose to become treasurer of a large public utility, she felt stuck. Her first marriage had fallen apart, and she knew that in order to advance her career she needed further education. And so as a young, single mother, with little grasp of English, she went to the U.S. for the first time to study at Harvard's government and business schools.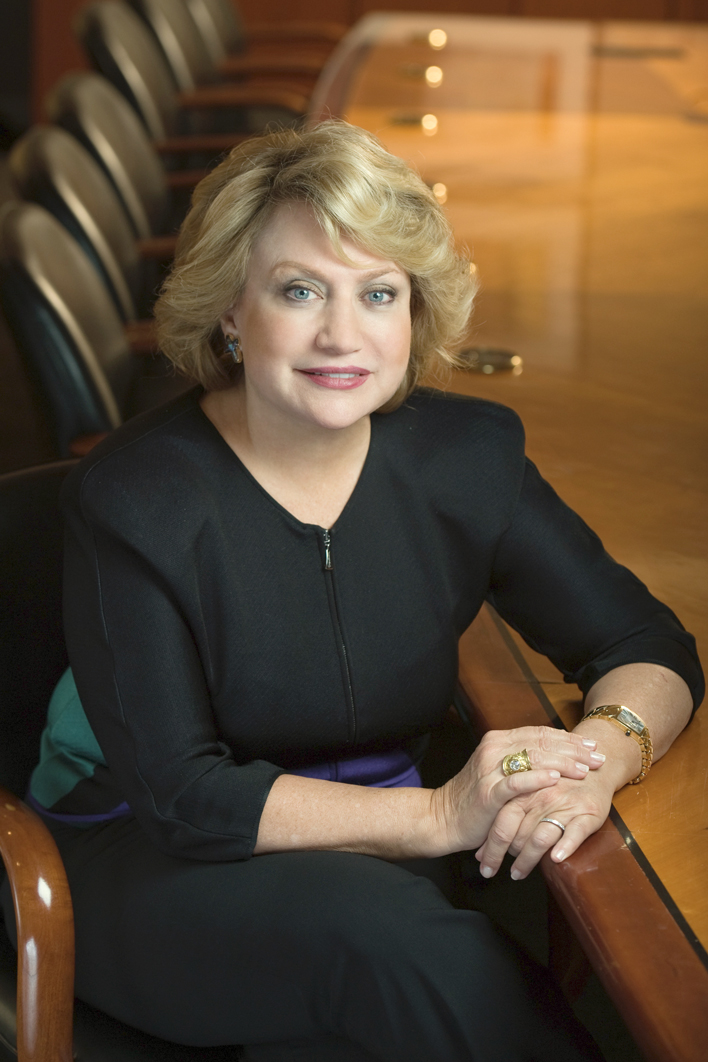 American individualism was a major culture shock. "In Venezuela, you grow up sharing your life and your thoughts and your feelings with all kinds of people—family, friends, your manicurist, your hairdresser, someone you just met in a bathroom. There is a very rich source of communal self-help," she says. Americans' self-reliance and guarded approach to intimacy felt deeply isolating.
Apart from that adjustment, she thrilled to her new home and its culture of meritocracy. She learned English—began to dream in it—graduated, remarried, served as chief investment officer at the World Bank, and founded a financial management firm that she has now led for 27 years. Its offices, which look out over the Potomac River and Washington, D.C., are shared with YOA so that the orchestra's magnetic materfamilias, whom everybody knows as Hilda, can be closely involved with its operations. It is the last thing she would have expected.
"It was not my dream. It was someone else's dream. It's fallen on my grateful hands to carry that dream forward," she says. The inspiration was El Sistema, the Venezuelan music-education program founded by economist and pianist José Antonio Abreu, who was Hilda's favorite university professor. A network of neighborhood youth orchestras throughout the country, El Sistema offers free, rigorous music instruction to any child who wishes to show up and learn.
Abreu started what would become El Sistema in his garage in 1975. When he was appointed minister of culture in 1983, he secured state funding to expand the project by pitching it as a health and social-services program, arguing that the purpose and discipline involved in studying an instrument for several hours a day stretch children and open their horizons. Music is "an agent of social development, in the highest sense because it transmits the highest values—solidarity, harmony, mutual compassion. And it has the ability to unite an entire community and to express sublime feelings," Abreu has said.
El Sistema grew to encompass hundreds of community orchestras and education centers, and hundreds of thousands of young musicians. Its notable alumni include violinist and conductor Gustavo Dudamel, now director of the Los Angeles Philharmonic and a close friend of YOA; and its flagship entity, the Simón Bolívar Symphony Orchestra, plays to worldwide renown.
Despite becoming a global treasure and a source of national pride, El Sistema suffered after Hugo Chavez swerved Venezuela into socialist repression. Hilda notes sadly that the government has "run out of money to maintain anything." For organizations and people alike, she says as an aside, the culture of state dependence is a vicious cycle. In the good times, "everyone gets even more attached to the government because you want to be part of whoever is distributing the piñata." And "when it collapses, the government then also takes center stage and the risk is very high." Some of YOA's musicians tell me that state patronage of El Sistema puts its associates in a politically untenable position, with members unable to speak out against a corrupt and deadly regime without fear of reprisal.
But back in 2000, when Chavez was just taking the reins, a group from the New England Conservatory of Music approached the David Rockefeller Center for Latin American Studies at Harvard about the possibility of starting an intercontinental youth orchestra inspired by El Sistema's ideals. The center's director called Hilda. She was attracted to the idea, but her investment business was shaken by the dot-com implosion, and both resources and personal energy were in short supply. "That was the last thing I needed, to have to help somebody put together an orchestra," Hilda says. But she agreed to round up a few contacts, and lent her office for meetings. Every time she thought she'd done her part and could get back to work, the organizers would ask for another favor. Somehow, "eventually I ended up with the project in my hands," she says.
But "the best dreams to fulfill in life are not necessarily your own," as she now tells YOA musicians when encouraging them to share their gifts with their home communities. Joy in life comes, she says, when you "get out of yourself and start working for the good of others. Some people do it for the good of God, like Mozart or Bach." 
With no musical background of her own, Hilda now dotes on YOA with the devotion of a parent. The orchestra represents for her the joined strengths of her homeland and her adopted country, "united at the highest level of excellence." It says to the rest of the world that this is the "land of opportunity," where "everything seems possible."
She remembers a 2005 concert in Bogotá, Colombia, where "all of a sudden I felt suspended, not noticing space or time. No pain, no thoughts. Just the pure pleasure of music played to perfection…. I was experiencing the liberating spiritual power of music in its full force." The experience has repeated itself many times since.
No turning back
It was around this time, with her business in a slump and YOA's finances in crisis, that Hilda mortgaged her own house to keep the orchestra from shutting down. "Otherwise that would have been the end of the game," she says. "Those were hard moments in which I had to question—what am I doing?" Putting on her economist hat, she describes this decision as a crazy one from a personal standpoint, but a high-yielding investment in the big picture—albeit one where all the financial risk fell on her, while the returns flowed to others.
Today, YOA's house is in order, its $2 million annual budget sustained by an active and growing cohort of individual donors and corporate supporters. Hilda covers the organization's $400,000 annual overhead, understanding that those are the hardest funds to raise; thus all other donations go directly to programming. Supporters in the countries the orchestra visits are required to put up half the cost of its travel there, often through in-kind donations of room and board, transportation, and rehearsal and performance space.
Each musician in the orchestra can be sponsored for $10,000. That can be an excellent investment for a donor, Hilda notes, if the student subsequently is offered a prestigious conservatory scholarship (which happens all the time). With one stroke, $10,000 of philanthropic backing has been converted into $80,000 or more of free training, which then opens a pathway to a professional career. "I cannot imagine a higher return on investment than that."
The less quantifiable benefits can be just as rich. It's "an unforgettable moment," Hilda says, "when you bring music to places where they have never seen an orchestra." Supplying that can be a kind of tonic. "We've vaccinated these people's spirits to sustain all kinds of grievances and obstacles that life throws at all of us."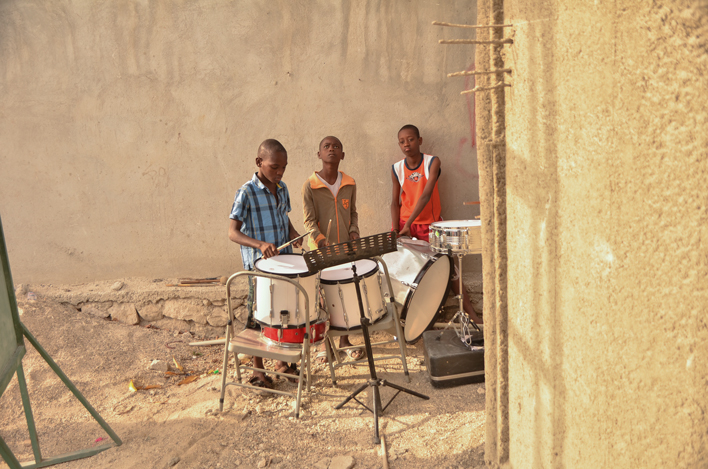 Marley to Mozart
At Church on the Rock in Kingston, Jamaica, 150 of the city's poorest children are about to witness the only known harp on the island played for the first time. YOA, fresh off engagements in the Dominican Republic and Haiti, has come here for the last stop on its 2014 Caribbean tour. This morning is for outreach—a rally and kid-length concert in the sanctuary, and a musical petting zoo spread throughout the classrooms, where children can learn about the different instruments up close and perhaps even try them.
In olden days, YOA's Jamaican sponsor Nigel Clarke tells the assembled children, princes and princesses would listen to this music in court. It was a very special privilege just for them. Today, among all the boys and girls in the world, they are the princes and princesses who have a concert put on in their honor. (Here, though, a few of the royal personages are recruited to serve as human music stands, as the church is lacking in equipment.)
The harp debuts with the mesmerizing Cuban slow dance "Milonga Para Amar" played by Emmanuel Padilla Holguín of Mexico. A jump-out-of-your-seat percussion ensemble brings the room back from its trance. A small string section then gamely plays audience requests by ear—mainly a lot of movie themes, from Disney to Titanic.
Many YOA musicians name these outreach sessions as the most meaningful part of the trip. Others relish performing with equally talented peers in a way that's not available to them at home. The opportunity to do well what they really love, sharing their gifts in ways that can leave an imprint, delight them all.
When the kids are fed lunch and sent home, the orchestra relocates to a nearby high school and settles in for rehearsal, providing an unlikely soundtrack to a team of soccer players scrimmaging in the blazing sun. Dust is flying everywhere, and the quarters are close and sticky, but conductor Carlos Miguel Prieto, an old friend of YOA, keeps up a stream of mischievous remarks to buoy morale. "I can tell I've done permanent damage to your brains with Shostakovich—I keep hearing it pop up here and there," he says when they flub a transition and have to start again.
"Mozart actually came to Jamaica. Did you know this?" he solemnly observes. "And here's the proof"—launching into a medley of excerpts from canons and concerti woven into Bob Marley's greatest hits. Another piece with local flavor is "Pass de Ball," a symphonic arrangement of some traditional Jamaican songs.
There are classics too. "I want you to imagine like you're grabbing the audience by the throat, and you're not letting go," says Prieto on the opening bars of Beethoven's Fifth. Just then, a tiny little boy with a tiny little cello appears. He has, he says, been playing for a week. Along with his slightly older sister and her only slightly less tiny violin, he is invited up into the orchestra, where they are engulfed in a sonic swirl.
The children, as it turns out, belong to Nigel Clarke, the YOA board member responsible for bringing the orchestra to Jamaica for the first time. Clarke, CFO of the Musson Group—a telecom, distribution, and manufacturing conglomerate serving the Caribbean and Central America—and recently appointed senator, is a passionate advocate for the spread of classical music in his native country. He is founding chairman of the National Youth Orchestra of Jamaica, one of the spinoffs that YOA has helped to support. NYOJ will be joining YOA onstage for part of this evening's performance—the first international symphonic orchestra concert on the island in living memory, perhaps ever.
When he was growing up, Clarke tells the musicians, the closest thing he ever saw to an orchestra was a picture on the wall of a classroom. Partly thanks to lack of resources and partly thanks to lingering suspicion of the recently departed colonists' European culture, there was little interest or opportunity among his peers for enjoying the great musical tradition that ought to be everyone's birthright.
Jamaica, he notes, has a proudly musical culture already, with its reggae beloved around the world. It has only to gain by opening itself to other forms of musical expression. He calls on the immortal lines of Bob Marley: "Emancipate yourselves from mental slavery; none but ourselves can free our minds."
It is important, he says, for his countrymen to see that these young musicians, so full of potential, come from the same walk of life as they do. "You are our neighbors."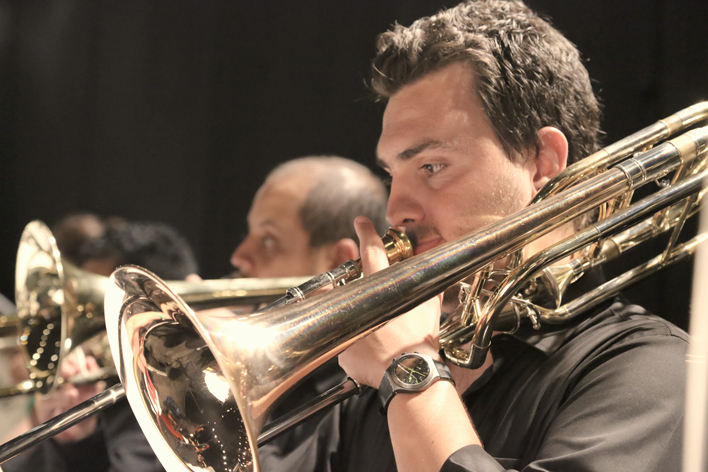 Out of many, one
As a tropical breeze blows in off the ocean, night falls in Emancipation Park. People are chatting, snacking, exercising, unwinding. Banners and plaques around the perimeter celebrate Jamaica's history as a melting pot and its half century of independence. "Out of many, one people" is its motto—not unlike the ideal of an orchestra.
While YOA runs a sound check, patrons of the park begin to wander over with their ice cream cones and find a place to sit. One woman is gaily singing along to the familiar tunes in "Pass de Ball." She saw the concert advertised on television this morning and drove across the island several hours in advance to be sure she had a spot. Her forethought serves her well; the venue, set up for 700, welcomes nearly 2,000 concertgoers by the time the program starts—perched on railings, stretched on grass, filling every available space to standing-room-only.
As violinist Alexandre Da Costa takes the stage, Prieto makes a special introduction. The Canadian soloist has Jamaican roots; his grandfather emigrated and was never able to come back. Here and now, Da Costa and his mother are visiting the country for the first time. "Whenever you hear him play, keep in mind: he is one of yours," says Prieto.
Da Costa is playing Tchaikovsky's Violin Concerto. The solo explodes with almost frightening technical wizardry, while the orchestra swells and crashes like the ocean underneath. Then comes the moment Hilda had predicted: we are carried to a different plane. Babies stop crying, while adults' eyes fill with tears. The music tells a story that, as Victor Hugo said, "cannot be put in words and cannot remain silent." For those gathered here tonight, it is the story of a new world.