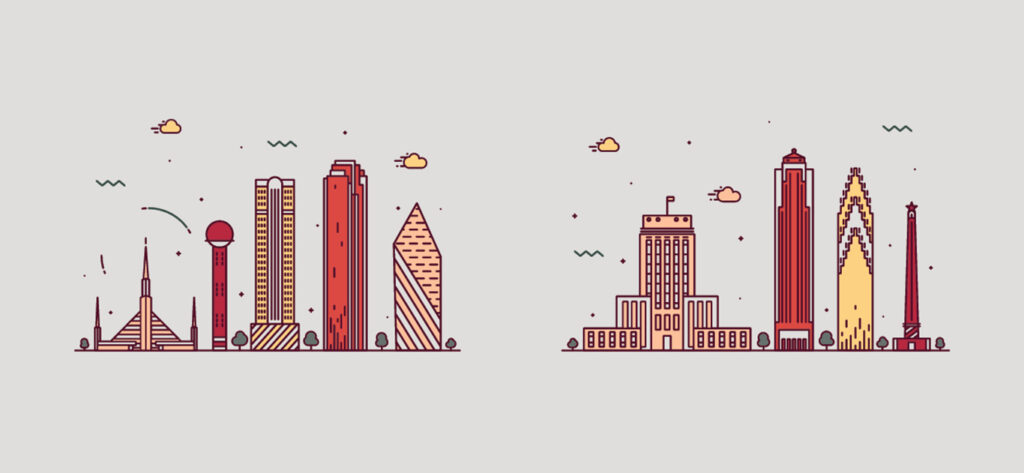 You've heard about the "Texas Miracle." When the Great Recession touched down, Texas weathered the whirlwind far better than other places and was soon back to its rapid pre-recession growth. In the seven years after the slowdown, the Lone Star State added 1.7 million net new jobs—more than the entire rest of the country put together over that same period. The Texas economy is now bigger than all but 11 entire nations. And people are flocking in: the three fastest-growing metro areas in the U.S. are Austin, Houston, and Dallas, with San Antonio not far behind.
The stereotypes may conjure up plains and cattle but, as in the rest of the country, most of Texas's population and wealth resides in the cities. And those cities have recently become some of the most philanthropic places on earth. There are a lot of Texas donors. They give away gobs of money. And they invest entrepreneurial and management talent in many of their favorite causes.
Lone Star philanthropists are intensely civic-minded. Many of them are devoted to turning their hometowns into national centers for culture, health, innovation, and prosperity. Today's two giant stars dominating the Texas philanthropy constellation are Houston and Dallas.
Houston is one of the most cosmopolitan cities in America. It is the energy-production capital of the world, a huge port, NASA's base. It is home to several of the nation's top medical facilities. Houston has a major arts complex. It is an immigration hub, and a bookend of the South (with Atlanta and Charlotte standing at the other end of the shelf).
Dallas is a technology and transportation center, as well as an oil town, and considers itself the most Texan metropolis. It has the long, spare views speckled with yellow and blue that tell you you're in the West. "There is no obvious reason for Dallas to exist," notes Brent Christopher, president of the Dallas-based Communities Foundation of Texas. There is no port like Houston's; it was never capital of the Republic; the Trinity River is a muddy, meager wriggle. "This city was built out of the sheer will and determination of the people who decided to make it so."
Parks and recreation
The secret of Dallas and Houston is that they are both chock-a-block with willful, determined builders. And that shows in their giving. As they've each become centers of gushing economic production, and matured as communities, an energetic competition has grown up in their creation of impressive new parks, museums, hospitals, universities, and arts centers. Burgeoning circles of local patriots wielding newly minted fortunes have dramatically changed the quality of life in both cities over the past decade or so.
One thing these wealthy, public-minded families have done is to beautify their downtowns, giving locals new reasons to step outside on a lunch break, or stick around after 6 o'clock. Klyde Warren Park, opened in 2012, was created out of thin air by decking over a downtown freeway that once divided the heart of Dallas. Its five acres of green space, open-air restaurants, and performance pavilions now link rather than separate, and attract thousands seeking a bit of recreation. About half of the park's $110 million price tag came from private philanthropy. Oil-pipeline billionaire Kelcy Warren gave $10 million to, literally, get it off the ground. In a sign of the personal and generational involvement that Texas philanthropists often show, Warren named the park for his young son on the condition that the boy devote one day a month to helping clean it.
Warren Park unifies the surrounding Dallas Arts District—itself a remarkable product of private philanthropy. About 85 percent of the Arts District's total funding came from philanthropy. That included some outsized individual contributions like a $42 million gift from the late Bill Winspear. The district connects previous facilities—like the Dallas Museum of Art, the Meyerson Symphony Center, and the Nasher Sculpture Center—with spectacular new offerings. One of the latest additions was the Perot Museum of Nature and Science, a $180 million attraction funded entirely through private donations.
The crown jewel of the Arts District is the AT&T Performing Arts Center, opened in 2009. A sprawling, ten-acre complex, the PAC features several opera and theater houses and outdoor parks and concert spaces. Fully 93 percent of its $354 million construction budget came from private donations. Amazingly, there were 134 separate gifts of at least a million dollars. The board increased its fundraising goal twice as contributions poured in, adding new elements to the project to keep up with generous public interest.
In Dallas, even the bridges carrying interstates over the Trinity River owe their striking visual signatures to philanthropy. Three highly artistic suspension bridges designed by Spanish architect Santiago Calatrava are completed or under way. The first, which opened to traffic in 2012, was named for donor Margaret Hunt Hill. Another is being completed now thanks to Margaret McDermott, widow of a founder of Texas Instruments and a loyal Dallas arts patron.
When it comes to art and parks, though, Houston is making itself hard to beat. The Museum of Fine Arts, already a favorite destination for high-profile touring exhibitions, announced in January a $450 million redesign. Two thirds of that has already been raised, led by gifts of $50 million from the Kinder Foundation founded by pipeline entrepreneur Richard Kinder and his wife, Nancy, and $70 million from money-manager Fayez Sarofim. The redesign, scheduled for completion in 2019, will include architecturally inventive exhibition halls, a continuous 14-acre green space, and expanded room for the adjoined Glassell School of Art. It will cement Houston as an art destination.
In the meantime, Houston is buzzing about its Buffalo Bayou. The river that leads to the bay has long been as shaggy as its name: vines dragging along languid, swampy, forgotten waters. The donor-funded Buffalo Bayou Partnership seeks to reclaim the once-polluted and industrialized waterway for the public. The centerpiece of the project is Buffalo Bayou Park, which will encompass 160 acres of downtown waterfront and include 20 miles of hike-and-bike trails, canoe launches, playgrounds, art installations, spaces for private events, and outdoor performance venues. It will reconnect Houston with its waterfront that was long ago broken up into bleak marooned segments.
This project too was launched with a major gift from Richard and Nancy Kinder—a $30 million check that covers half of the total cost. Many other donors are contributing as well. Like their neighbors in Dallas, businesspeople in Houston now view green spaces and museums as important to their city's qualify of life, and are consequently happy to help pay for these improvements. The bayou project has already drawn national attention as one of today's leading upgrades of urban space. Dallas is similarly transforming its riverfront with philanthropic leadership, and both cities are drawing inspiration from San Antonio's River Walk, a hugely successful earlier enhancement that depended on private donors.
Healthy care and surprising schools
One area of philanthropy where Houston is the undisputed leader is medical care. Literally multibillions of donations built the Texas Medical Center in southwest Houston. It is the size of a small city, bringing together more than 50 separate hospitals, research labs, and patient centers. Many of them are rated among the best in the U.S. and the world—like the MD Anderson Cancer Clinic, Methodist Hospital and St. Luke's Hospital (both near the top of the U.S. News & World Report rankings), Texas Children's Hospital, and the Menninger Clinic.
MD Anderson's latest big philanthropic campaign hoped to raise a billion dollars over six years; it shut down two years early after it exceeded $1.2 billion. There were more than 630,000 individual gifts—127 of them having at least seven figures.
Philanthropic powerhouses Michael and Susan Dell have focused much of their generosity on enriching the health infrastructure of Austin through the Michael & Susan Dell Foundation. Its $150 million in medical donations in the area include $32 million for a children's medical center and a $50 million pledge to launch the first medical school in Austin, scheduled to open at the University of Texas next summer. Not to be outdone, Texas Christian University and the University of North Texas announced plans in July for a medical school in Fort Worth, which has reportedly already raised $25 million in donor pledges. The school plans to accept its first class in 2018.
While no state values its heritage more highly than Texas, the place is remarkably open to anyone. A great many Texas success stories involve outsiders coming to the state to make a big mark. One legendary example is the Knowledge Is Power Program. In 1992, David Levin, a Yale graduate from New York, and Mike Feinberg, a UPenn graduate from Chicago, were both given two-year Teach For America assignments in Houston. Levin and Feinberg sought to overhaul the conventional approach to teaching. They used mnemonic chants and songs, strict discipline, heavy homework loads, and personalized attention to the home lives of kids who were most struggling. In one case, Feinberg confiscated the TV of a student who'd repeatedly neglected to turn in homework.
In the fall of 1994, they founded KIPP Academy Houston, where they were able to add long school hours, Saturday classes, a summer prep course, and a contract signed by teachers, students, and parents committing them to the rigorous standards. Among their first class of 50 students, half had failed both the state math and reading tests the year before. At the end of KIPP's first year, all but one student had passed both exams.
Two decades later, KIPP has 70,000 students at 183 schools, and is nationally recognized as a ray of hope in inner-city schooling. Feinberg sums up KIPP's Houston-born formula for success as "great teaching and more of it." The hardest part is finding potentially great teachers, and making that potential real. Here philanthropy steps in, funding training and leadership programs. In addition, charters don't usually receive the same amount of government funding per student as public schools, and they can't go to taxpayers for appropriations or bonds for facilities. Philanthropy steps in to make up these differences.
Houston's Jeff Hines, one of KIPP's top donors, speaks of the program as turning the educational system from a monopoly into a marketplace. "Creating competition where none previously existed," he says, "forces everyone to 'up their game.'" Competition means that KIPP's effects aren't just on its own students, but "you are also positively impacting kids across the entire school system."
KIPP has recently formed a partnership with YES Prep, another Houston-founded charter network, and promised to serve tens of thousands of new students in Houston. Among the components of this project is a partnership with public schools through the Spring Branch Independent School District. Known as the SKY Partnership, it includes two middle-school collaborations that bring charter methods to students in the district-run school, while sharing their band, athletics, and elective offerings with the charter kids. Students in the programs then continue on to a YES Prep high school. The partnership is backed by $90 million of philanthropic funding, including $10 million from Jeff and Wendy Hines.
New styles, and scopes, of philanthropy
"Texans believe in excellence, and they're willing to invest in excellence," says Texas philanthropy consultant Alison Alter. The state's donors "are finding new ways of working," and creating new alliances among themselves to bite off huge improvements. Most of these givers are "entrepreneurs who are becoming philanthropists, as opposed to people who have just inherited wealth." And these self-made donors are bringing skills and appetites for innovation that they honed in making their money. "They're not willing to settle," she asserts, "for anything less than really solving the problems."