It's called pro bono publico—literally, "for the public good." This legal work that firms and some individual attorneys donate is imagined by most people to be something like what Atticus Finch did for a hard-pressed defendant in To Kill a Mockingbird. An advocate, in a personal act of generosity, puts his or her lawyering skills behind a powerless party who otherwise might not get a fair shake in the courts. Pro bono legal assistance of this sort doesn't seek to transform our system of law, but helps it live up to its highest ideals.
That image now needs some updating. Since the "rights revolution" of the 1960s and '70s, pro bono legal work has often been focused less on individuals in need than on policy and politics. Changing America, rather than aiding the vulnerable, is often the goal.
Some critics charge that much contemporary pro bono practice is just a means of enacting left-leaning policies via the courts, avoiding the bother of convincing voters and winning elections. Whether or not that is accurate when applied to all of today's pro bono efforts, it is certainly true about the way pro bono law is now carried out by many of the nation's elite law firms. Is this desirable? Is there a different model that can bring the charitable impulse of directly helping people in need back into pro bono practice?
A judge's indictment
Today's most trenchant critic of pro bono law may be federal judge Dennis Jacobs, who serves on the Second Circuit Court of Appeals in New York. Jacobs has long decried so-called "impact" pro bono litigation, which seeks increased funding for government programs, ties up public works projects in interminable environmental review, or restrains effective law enforcement techniques. In a famous 2009 speech at Cornell Law School, Jacobs compared lawyers' interest in litigating on behalf of terror suspects at Guantanamo Bay to their lack of interest in hands-on advocacy on behalf of U.S. military veterans. "Many inmates of the facility at Guantanamo Bay find themselves well-lawyered," said Jacobs, while "in some family courts, parents are found to be unfit because they are soldiers or sailors deployed abroad. They look in vain for high-power legal assistance."
In 2011, Jacobs went further in a published dissent in Amnesty International v. Clapper, a case involving the constitutionality of U.S. surveillance of international communications. He argued that that litigation was not animated by pursuit of the public good, but by a desire by the pro bono lawyers donating their time to Amnesty International to "claim a role in policymaking for which they were not appointed or elected, for which they are not fitted by experience, and for which they are not accountable." (Jacobs's dissent was vindicated the next year by the Supreme Court.)
The practice of law by America's 1.2 million lawyers is governed by state bars and supreme courts, so there is no standard approach to pro bono legal work. The American Bar Association's model rules of conduct urge every lawyer to provide at least 50 pro bono hours per year to "persons of limited means" or groups that "address the needs of persons of limited means." This is not binding.
In a 2012 ABA survey, 2,800 lawyers said they put in approximately 56 hours of pro bono services each, annually. But that average is uneven. About 20 percent of lawyers do no pro bono work at all in a typical year. Another 18 percent put in less than 20 hours. About 36 percent exceed 50 hours annually. Two groups—lawyers in large firms, and solo practitioners—do most pro bono work. Members of big firms average 77 hours per year; self-employed lawyers put in 62.
Collectively, these donations of very expensive hourly time and expertise add up to a huge amount of in-kind philanthropy. So where is it all going? To what causes?
The ABA report took a stab at trying to characterize the kinds of pro bono work lawyers actually did. Its categories, though, are too general to tell us much. Criminal law, for instance, which absorbed 7 percent of pro bono work in 2012, can encompass anything from negotiating with local prosecutors for a reduced sentence on a guilty plea to jousting at the aforementioned Guantanamo Bay tribunals. Can we go deeper?
Pro bono at the top
To get a clearer sense of the precise content of today's pro bono work, I researched over a period of months what is going on at the locale where the most, and most influential, pro bono work is taking place today—elite law firms. A review of recent press releases from the top 100 law firms in America reveals a predilection for pro bono cases like the following:
Filing class action suits on behalf of deaf prison inmates in Massachusetts, Florida, Kentucky, and Maryland, seeking the installation of videophones and expanded interpretive services.
A successful challenge to a Texas voter-identification law, on the ground that it discriminates against minorities.
A settlement with New York City confirming a "right to shelter" for the homeless, which a 2015 NYC Department of Investigations report says costs the city more than $1 billion a year to "warehouse" the homeless in "conditions of squalor."
Winning an injunction on behalf of two abortionists who were denied admitting privileges at a Texas hospital.
Negotiating a $1 billion settlement on behalf of Social Security recipients who had their benefits revoked for outstanding probate or arrest warrants.
Many of these cases are undertaken in conjunction with advocacy groups that connect potential clients with the expensive law firms willing to offer free services. Then the advocacy groups file "friend of the court" briefs supporting the effort. Judge Jacobs once described this process as the "reciprocating motor of political activism that ties together policy research and lobbying, litigation and briefs amicus, and the arousing of politically targeted demographics in which lawyers go shopping for useful clients."
The result is "impact litigation." And among its other effects are real costs to taxpayers. There are payouts to litigants. There is increased spending on government benefits. There are often payments to the law firms themselves, under "fee-shifting" provisions in state and federal labor, discrimination, and housing laws.
Not every pro bono case that comes out of a large law firm seeks to wrench open taxpayers' wallets or layer new regulations onto welfare agencies, prisons, and schools. Elite lawyers sometimes also represent indigent individuals in local housing disputes and custody battles, provide advice to nonprofits, or stand up for the accused in criminal cases. These efforts can have great influence on the lives of struggling individuals.
But the cases that grab the headlines in firms' annual reports are large-scale "impact" cases against government at all levels. That's where squadrons of young associates are mobilized. Not for nothing did famed appeals court judge Laurence Silberman once remark that "lawyers really see pro bono as the penance they pay for serving in a capitalist system."
School for the Supreme Court
The place where young lawyers are taught to use the law as a tool for policy change, of course, is in law school—especially in the hands-on "legal clinics" that have emerged at nearly every law school in America. These clinics were originally created during the 1960s in a multimillion-dollar initiative of the Ford Foundation that aimed to "reinforce the social consciousness" of law students and law professors and fight "political tyranny," as founding documents put it. Today, elite law schools such as Harvard, Yale, Stanford, NYU, and Virginia have specialized Supreme Court clinics that train their charges to bring big cases before the nation's highest court.
The cases these clinics take on are a regular menagerie of the types of pro bono litigation that Judge Jacobs described. Recent briefs include one from the Stanford clinic urging the Supreme Court to require public employees to pay fees to unions in the Friedrichs v. California Teachers Association case, which the Court did; a successful request backed by Yale students that the Court hear Birchfield v. North Dakota, which challenges a state law making it a crime for motorists suspected of drunk driving to refuse to take a breathalyzer or blood test; and an NYU amicus brief in Riccu v. DiStefano, opposing a group of white and Hispanic firefighter applicants whose passing test scores were thrown out when no African-American test-takers passed.
One newer Supreme Court clinic has taken a different path. The law school at George Mason University (recently renamed for deceased Justice Antonin Scalia) operates an exceedingly rare law-school clinic not focused on left-leaning activism. It has carved out an "underserved niche in Supreme Court practice," as attorney Thomas McCarthy puts it: representing states in cases before the Supreme Court, often when criminal convictions under state law are challenged. McCarthy oversees students participating in the clinic along with William Consovoy, his partner in a boutique appellate firm that has its own active Supreme Court practice for paying clients. Both men are graduates of the Mason law school.
Mason students monitor cases percolating through the federal appellate courts to identify ones that the Supreme Court may be interested in reviewing. If the clinic is asked to write a pro bono brief for the Court, the goal is "to give students the exact experience they'd have if they were a junior associate at a law firm," says Consovoy. Professors also give students general feedback as they work through the record and case law to develop ideas for arguments. The goal of the clinic is teaching students, but the output has to be professional. "Because this is for real clients (albeit nonpaying), the work has to be Supreme Court-quality,"
says McCarthy.
States come to Mason for assistance because defending a state law or criminal conviction in the high court is an entirely different task from their standard work of winning a conviction before a jury, or defending it in a state appellate court. Few states have a lawyer in the attorney general's office with experience practicing before the U.S. Supreme Court. It is an "area where there were opportunities to help, and where help was needed," says McCarthy. This latest Supreme Court term, the upstart Mason clinic went up against Yale's clinic in Birchfield—with Mason defending and Yale attacking the North Dakota law. In its July ruling, the Court split the difference, upholding the breathalyzer portion of the law.
Saving conviction
Having this philanthropically supported expertise available on a pro bono basis proved to be a "godsend" to Carla Sigler, an assistant district attorney in Louisiana who had to defend a murder conviction. In 2002, Bradlee Marsh stopped to pick up two hitchhikers. Once he and his brother were in Marsh's truck, Jonathan Boyer pulled a gun and demanded money. When Marsh refused, Boyer shot him in the head three times and helped himself to some cash and a silver chain. Marsh died, and the evidence of Boyer's guilt was overwhelming: he confessed to police and to several family members, his fingerprints were in the truck, and his brother testified against him as an eyewitness.
The state announced it would seek the death penalty and appointed an experienced capital-crimes defense attorney to defend Boyer. Boyer's counsel asked for several continuances, then on the eve of the hearing Hurricane Rita closed the courthouse. Eventually, to get the delayed case moving, the state agreed to drop the death-penalty charge. By the time Boyer was convicted, however, more than five years had elapsed, and on appeal he argued that the delay violated his Constitutional right to a speedy trial.
Sigler had prosecuted Boyer, and when the Supreme Court decided in 2012 to review his case she felt "a sense of dread…. As a prosecutor, your worst fear is for a murder conviction to be overturned. I knew that family. What was I going to tell them?" Sigler had no Supreme Court experience, and "I was terrified, I'll be quite frank about that."
She turned to the Mason clinic for help in writing the merits brief and in prepping for oral argument. Though Sigler is an experienced legal writer, she credits the brief with "giving us an edge before oral argument…. They did an amazing job coming up with great cases and in presenting the facts the best way possible."
Even more important was the clinic's help in getting Sigler ready for oral argument before the Court—which one advocate has likened to being chased by a swarm of bees. The clinic took her to observe a day of argument at the Court, and arranged mock panels to simulate the dizzying pace of an appearance before the Supremes. As a busy prosecutor, with little time to prep and none of the resources that are at the disposal of well-heeled advocates in large firms, Sigler found the help invaluable: "More than anyone," she says, "they saved that conviction…. I'm just so grateful to the people at the clinic for seeing that this was an important legal issue."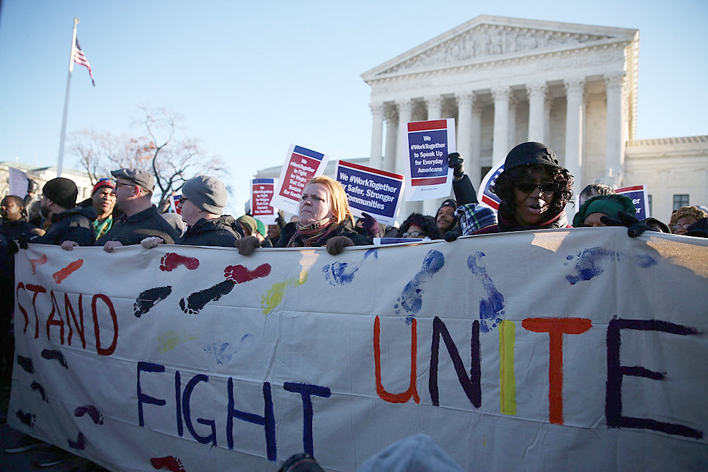 Low bono litigation
Of course, getting students to work pro bono on Supreme Court litigation is not hard. Most "young lawyers will crawl over broken glass" to get a chance to work on a Supreme Court brief, notes Consovoy. But what about pro bono work for clients whose cases are less glamorous, whose legal needs are humdrum? There are many worthy clients who need just a few hours of a lawyer's time to sort out a custody dispute, review a business contract, navigate the bureaucracy of legal immigration, or write a will that can protect their assets for their children. Settling these issues can mean the difference between misery and peace, between permanent failure and personal flourishing. Yet people of modest means often stagger along for years, or even a lifetime, because of the cost or difficulty of finding good lawyers to do routine legal work.
One insider who urges that today's hundreds of law school clinics should provide more of this kind of hands-on legal assistance is Julie Lawton, a professor at DePaul University Law School in Chicago. She oversees a clinic where DePaul students offer real estate, business, and community development help. Lawton recently caused a stir when she published a law-review article warning that many of today's clinics don't focus enough on student educational needs or student interests, but rather on the political and philosophical commitments of professors.
While Lawton is a left-leaning independent who sees "undeniable need for social justice in this country," she warns that legal educators in pro bono clinics are less conscious than they should be about whether they are imposing their view of "justice" on students. More than 40 law schools now require students to engage in clinical work. In effect, these schools are now forcing students to pay (in the form of tuition dollars, often debt-financed) to perform free legal work on behalf of causes that primarily reflect their professors' political commitments.|
In her own clinic, Lawton has consciously sought to provide what she calls "a more diverse set" of hands-on opportunities, which she feels is both a moral and a pedagogical necessity. Students in her clinic work with local community development groups and affordable housing advocates, much like housing clinics at any law school. But they also work with condo boards and market-rate housing co-ops. They help small- and medium-sized real-estate developers who want to bring commercial developments to struggling neighborhoods, as well as large for-profit real-estate developers. They help family businesses with paperwork, permits, zoning regulations, and real-estate transactions. By providing students a broader range of clinical options, Lawton believes she is helping her students to develop their own sense of what is just and helpful to people, free of professorial imposition, while simultaneously providing a richer educational experience.
Another promising new model is the rise of so-called "low bono" lawyers: mission-driven firms that use philanthropic support to provide low-cost legal services to persons of moderate income—who often fall between the cracks of no-cost pro bono offerings and a commercial firm's high fees. One such effort is the Court Square Law Project in New York City. Court Square was founded with the help of 19 major New York law firms. They each provided $100,000 in seed money, and their lawyers regularly volunteer time and expertise to the project.
For fees that are substantially less than market rates, Court Square helps small businesses and nonprofits incorporate, negotiates with vendors, and writes employment contracts. It settles divorces, works out custody arrangements, and moves to modify or enforce child-support decrees. It provides trust and estate advice to protect families of modest means whose main asset is a life-insurance policy. These are routine matters, but when families and small businesses are unable to navigate them, the result can be the difference between self-support and living on the dole, between homeownership and homelessness, between a happy family life and a calamitous one.
That's just the kind of modulated intervention that intelligent charity has always aimed to make. Sheltering someone as she weathers a storm. Helping a man help himself. Providing a citizen with an essential tool. Making sure that everyday people are treated fairly by large agencies. Guarding the principles of equal opportunity, individual liberty, and humanitarian sympathy. Lawyers helping members of the public live a good life.
Atticus Finch, we still need you.