New York City, with a trivial exception at the birth of our republic, has never been a national or even state capital. So while many of the institutions of London or Paris are the creation of government, the glories of New York mostly express the private successes and aspirations of its residents. There is no greater example on earth of the power of philanthropy than the museums, hospitals, theaters and music halls, parks, universities, and architectural gems of New York City.
Consider the New York Public Library. With more than 53 million items in its collection, there are only two libraries in the world that are substantially larger—the Library of Congress, and the British Library—both controlled by national governments. The New York Public Library, however, is a private, non-governmental nonprofit owned by the Astor, Lenox, and Tilden foundations. It is a product of the generosity of three of the richest men in nineteenth-century New York, as well as many other donors who have continued to provide major funding in recent decades.
Donor one: a cautious giver
Libraries go back a long way in New York City. The oldest still operating is the New York Society Library, founded in 1754. But from its earliest days, it has been a subscription library—patrons pay an annual fee (currently $260) to make use of it.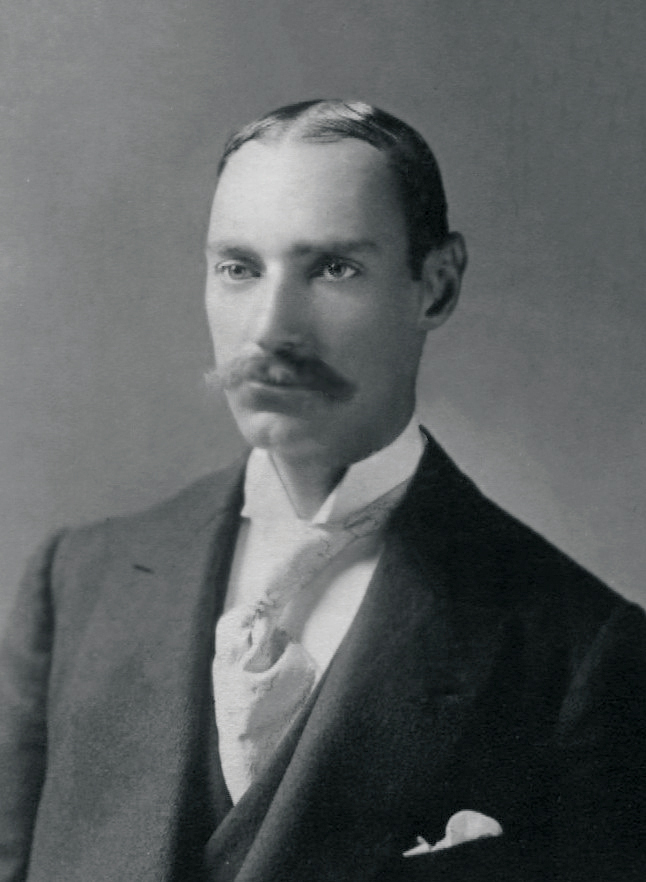 As New York City began to explode in size in the early nineteenth century, the need for a free public library became ever more acute. In 1838, James Cogswell, a noted scholar and bibliophile, began talking with his friend and patron John Jacob Astor about establishing one.
Astor had moved to New York from his native Germany as a young man of 20, shortly after the end of the American Revolution. He arrived with only five pounds in money and seven flutes that he intended to sell. But he soon prospered mightily in the fur trade and began investing in Manhattan real estate. 
As the city grew, Astor would buy rural land up- island and wait for the city to reach it. For instance, in 1803 he bought Aaron Burr's 160-acre estate outside then-suburban Greenwich Village, for $1,000 an acre. By the 1820s, he was carving each acre of land into more than a dozen lots of 25 by 100 feet, which he could sell for a total of around $20,000.
By the 1830s Astor was by far the richest man in the country, though not an especially generous one. On one occasion, when a group of men called on him to make a contribution to some worthy cause, he wrote out a check for $50. The men looked at it with some dismay and one said, "Mr. Astor, even your son William gave us $100."
"Well," said Astor, who had a keen sense of humor, "William has a rich man for a father. I am a poor man's son."
Still, Astor was no skinflint. He loved the theater and the company of literary men, many of whose incomes he subsidized. And he wanted to leave one substantial legacy to his home city by which he would be remembered. In 1838, he agreed to fund a library in his will with $400,000, then a vast sum.
Astor died in 1848 and the library opened in 1854, with nearly 90,000 books in its collection. The building, on Lafayette Street in the East Village, is still there, now the Public Theater. Washington Irving, an intimate friend of Astor's, was chairman of the board of trustees. By 1895, thanks to further donations by the Astor family, the library had two new extensions of the building, and the collection numbered 225,000.
While open to the public without fee, it was principally aimed at scholars, and books could not be taken off the premises. Some complained that the library's hours were insufficient. One cartoon of the day showed a sign on the front door reading, "This library open every other Monday, from 9:58 to 10:00 a.m." And the library was not easy to use—a quarter century after it had opened, fewer than half the books were catalogued. So while 51,856 people used the Astor Library in 1882, New York did not yet have a true public library.
Donor two: the collector
Unlike John Jacob Astor, James Lenox was born rich. He was the only son of the prominent merchant and Scots immigrant Robert Lenox who, on his death in 1839, left his son several million dollars, plus 30 acres of farmland located between what is now Park Avenue and Central Park. At that time, Lenox Hill was miles north of the city. But as New York continued to roar uptown, the value of the land would increase exponentially, and with it Lenox's wealth.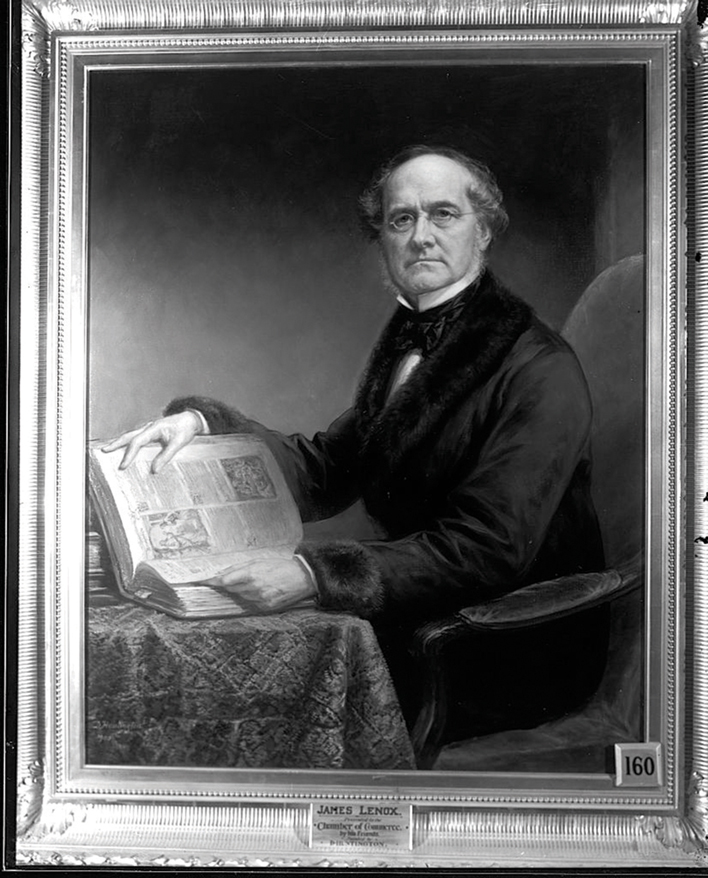 Lenox never married and was for the most part a recluse. But he was a passionate bibliophile and art collector. Eventually his house at Fifth Avenue and 12th Street overflowed with 50,000 books, including the only Gutenberg Bible in the New World. Stacked on the floor and on tables, many of these books were inaccessible.
In 1870, Lenox decided to build on his uptown property a proper library, professionally staffed and organized, to house his ever-growing collection. He hired the distinguished architect Richard Morris Hunt to design the building, and Hunt produced one of New York's early architectural masterworks between 70th and 71st streets, facing Fifth Avenue and Central Park. (After it was torn down in 1912, there rose in its place the house of Henry Clay Frick, which today houses the Frick Collection, one of the world's greatest art museums.)
The Lenox Library, containing almost entirely rare books, was not open to the public but only to scholars. It added greatly to New York as an international center of culture. But the city still lacked a truly public library.
Donor three: the steward
Samuel Tilden was born in 1814 in New Lebanon, New York, 150 miles north of Manhattan, son of a prosperous family that manufactured patent medicines. Educated in law, he practiced the profession with skill and success. A careful and gifted investor, he gathered a large fortune. Indeed he was so good at investing that several friends, including former President Martin Van Buren, had him manage their finances.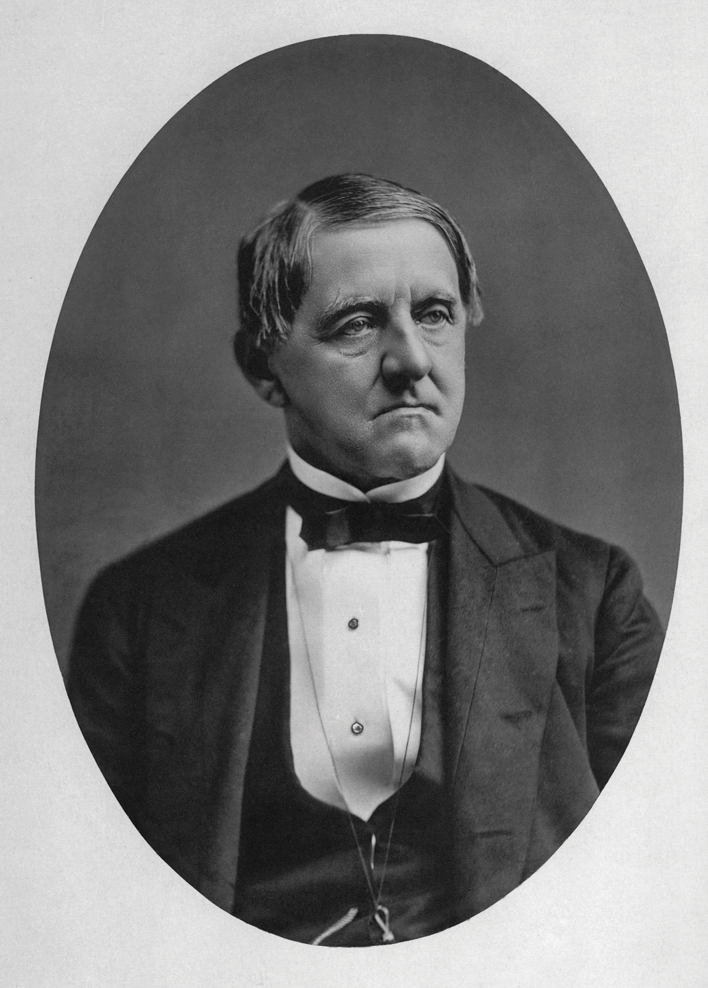 Like James Lenox, Tilden never married, but unlike Lenox he was a sociable fellow and a member of several civic organizations. His house facing Gramercy Park is now the home of the National Arts Club.
Tilden entered politics as an anti-Tammany reformist. He served in the New York State Assembly, and in 1874 he was elected governor of the state. In 1876 he was nominated for President. While he won more votes than the Republican candidate, Rutherford B. Hayes, Hayes won the Electoral College by a single vote after the most disputed presidential election in American history. 
Tilden remains to this day the only presidential candidate to have won an absolute majority of the popular vote (not just a plurality) but still lose the election. He was good humored about it, quipping, "I can retire to private life with the consciousness that I shall receive from posterity the credit of having been elected to the highest position in the gift of the people, without any of the cares and responsibilities of the office."
When Tilden died in 1886, he left an estate of about $7 million—with $4 million of it designated to "establish and maintain a free library and reading room in the city of New York." The will, however, was disputed by some of Tilden's relatives, and in the end only about $2.4 million was left available for that purpose. But in the 1880s that was still a large sum of money.
The money remained in the care of Tilden's trustee John Bigelow until 1895, when Bigelow arranged a literary merger. Both the Astor and Lenox libraries had begun to struggle financially, with diminishing endowments and growing collections. Bigelow skillfully negotiated an agreement to combine the libraries and merge them with the Tilden trust. The new organization was to be called the New York Public Library, Astor, Lenox, and Tilden Foundations. In 1901, the New York Public Library merged with the New York Free Circulating Library, which catered to ordinary people rather than scholars.
A new building was needed and the city agreed to build it on land that had held the old Croton Reservoir between 40th and 42nd streets on Fifth Avenue. John Billings, the first director of the New York Public Library, planned out a reading room 247 feet long by 78 feet wide, atop seven floors of book stacks with 75 miles of shelves. He devised a system for processing book requests and getting them to readers efficiently. When the library opened to the public on May 12, 1911, the first book asked for was delivered in only six minutes.
The architectural firm of Carrère & Hastings created one of the greatest Beaux Arts buildings in the world, and one of the city's most notable landmarks. The main reading room ranks with the concourse of Grand Central Terminal as one of the most admired interior spaces in New York. The much-loved stone lions in front of the main entrance were named Patience and Fortitude by Mayor Fiorello La Guardia during the Great Depression.
Perhaps Billings's greatest contribution to making the New York Public Library truly a library for all New Yorkers was to convince Andrew Carnegie in 1901 to donate $5.4 million to build 63 branch libraries throughout Manhattan and the Bronx (Brooklyn and Queens have their own library systems). (As with most of his library donations, Carnegie supported the construction of New York's branch libraries on the condition that the city provide operating funds.) These neighborhood libraries have for generations been engines of upward mobility for millions of New Yorkers.
A continuing tradition
The creative giving that created the New York Public Library has continued throughout its existence. In 1999, the Rose family, prominent in New York City real estate, donated money for the restoration of the main reading room. The clothing designer Bill Blass paid for the restoration of the catalog room. Brooke Astor was so generous in her lifetime with many different projects that the majestic front hall was named in her honor.
When the soft Vermont marble of the facade needed restoration in 2008, investor Stephen Schwarzman donated $100 million to get that done while also expanding the book stacks under Bryant Park, the nine-acre green space behind the library.
Today the New York Public Library remains an independent nonprofit that serves 17 million people every year, with millions more using its books and information online. The services of the library are free for everyone thanks to a mix of city funding, large gifts, and tens of thousands of dues-paying members. The world's greatest public library, created by three book-loving donors, continues to enrich the life of its city and country thanks to the enduring power of the philanthropic impulse.
Biblio Benefactors
The creation of libraries is a deep vein in philanthropy, starting in the days of George Peabody, often referred to as the "father of modern philanthropy." A banker by trade, Peabody turned to charitable causes in the early 1850s when he built a library to celebrate the centennial of his Massachusetts hometown. More Peabody libraries followed. Enoch Pratt and Andrew Carnegie picked up the torch for library philanthropy in the 1880s, cementing into philanthropic missions for decades to come the creation of open, inspiring buildings stocked with materials that everyday Americans can use to improve their minds and practical skills.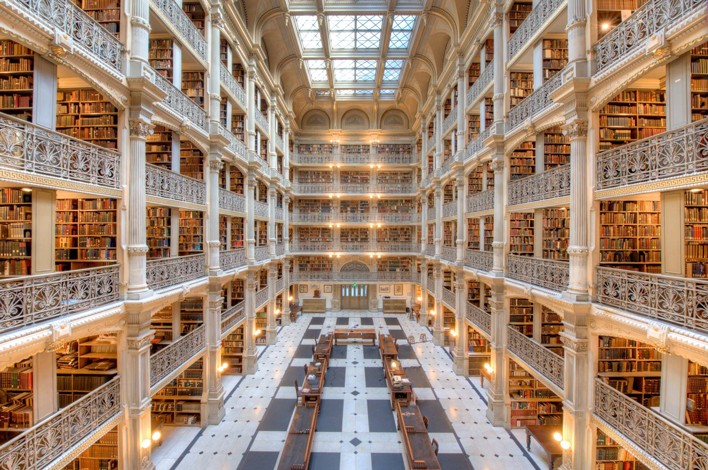 After building a successful library in his hometown, banker George Peabody went on to construct other Peabody libraries, including this gem in Baltimore, now a research library focused on the nineteenth century at Johns Hopkins University. It contains over 300,000 volumes in a high space demarcated by six layers of cast-iron work, covered in gold leaf. Peabody intended this library to be a cultural center for Baltimore, offering public lectures, a music school, and an art gallery, as well as books for residents.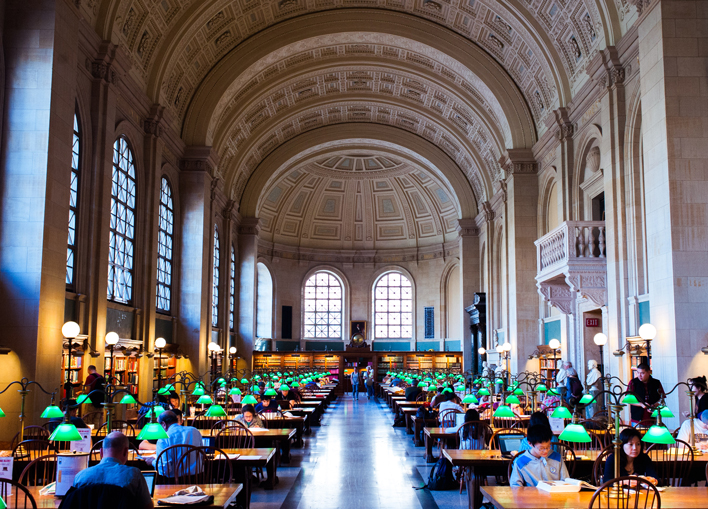 The first large and free municipal library in the United States was the Boston Public Library. Merchant Joshua Bates donated $50,000 to the library project with the stipulations that it include a room seating 100 to 150 readers at desks, and be completely free.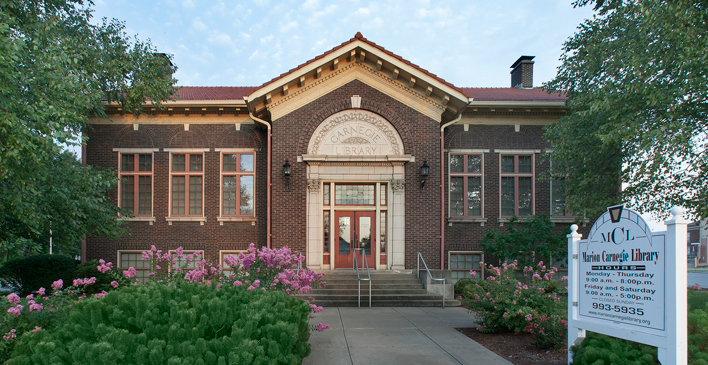 This quaint library in Marion, Illinois, is one of many built with Andrew Carnegie's wealth of spirit and funds. Born in meager circumstances, Carnegie credited his rise in part to a kindly man in his town who gave young Andrew access to precious books. Inspired by this experience and the library building of Enoch Pratt, Carnegie determined to make books accessible to the American public. Building over 2,800 libraries, Carnegie provided buildings only if communities could show they would acquire books and make the institutions thrive.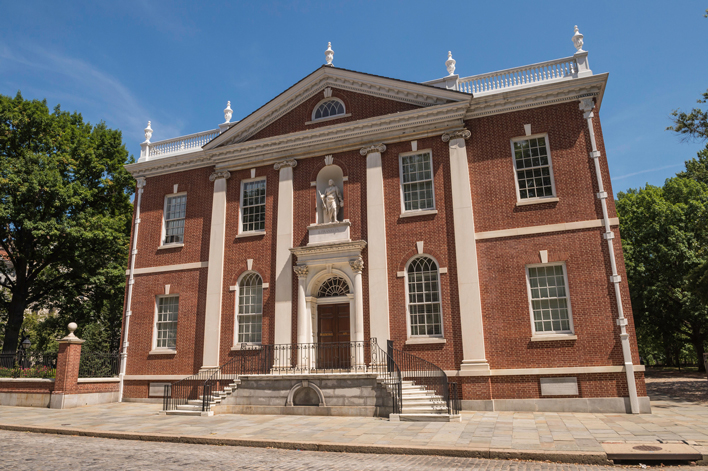 America's first successful lending library, the Library Company of Philadelphia was one of Benjamin Franklin's many projects to build up our new civil society. Long before the nation's birth, Franklin convinced members of his Junto mutual-improvement society to gather funds to purchase books and make them available to the library's subscribers, starting in 1731. This building still houses the collections of the American Philosophical Society, while an expanded Library Company, free and open to the public and sustained by private donations, takes up residence nearby.