When heavyweight MMA fighter Justin Wren steps in the cage to fight, he is introduced with his nickname "the Big Pygmy." This unusual moniker was lovingly bestowed on him by the Pygmy people of the Congo—a sign of their affection and appreciation for his indefatigable efforts on their behalf.
When Wren learned that some of the Mbuti Pygmies in the Congo were being exploited as slaves, he felt called to do something about it. Since 2011 he has spent considerable time with the Mbuti, including one stay that spanned a year. He lived as they did, sleeping on the floor, and hunting and gathering as they have always done.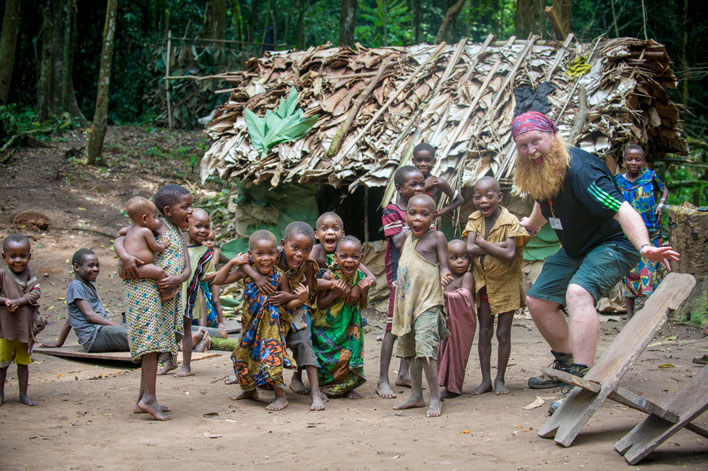 MMA fighter Justin Wren found his philanthropic passion among the Pygmy people.
Wren's nonprofit Fight for the Forgotten has since helped the Pygmy people buy land, access clean water, and free members from economic bondage. The neighboring tribes who kept them enslaved, known as the Mokpala, were themselves very poor. So Wren coordinated aid and the drilling of needed wells for both the Pygmies and the Mokpala. "If you hate one side and love another it doesn't work," he says.
The Pygmies were also taught sustainable farming practices, and now produce corn, beans, cassava, and banana. This benefits their health and provides revenue when they sell excess crops at market. There are now approximately 1,500 free Pygmy people living on 3,000 acres spread across ten different villages that they legally own.
Wren has expanded his charity work to include an anti-bullying initiative in the U.S. He has spoken at many schools over the years, sharing his personal experience of being bullied while growing up. It was not until he discovered wrestling, and later martial arts, that he was able to build his self-esteem and confidence. Fight for the Forgotten is partnering with equipment supplier Century Martial Arts to provide a character-development curriculum to martial-arts academies that provides harassed young people with coping strategies.
Wren's charitable strategy is simple: "No act of kindness, no matter how small, is ever wasted." He finds his nonprofit work life affirming and the most rewarding thing he does. "Nothing compares to the celebration that happens when a village gets clean water."