Michael and Tonya Milkie decided to start a charter public high school in Chicago in 1999. They drew on their experience teaching in the city's toughest public schools, and borrowed bright ideas from America's top charter-school founders and other savvy managers of social enterprises. As both educators and entrepreneurs, they knew that their autonomy, and ability to make tough decisions flexibly, without bureaucracy or inertia, would be essential to their success.
They wanted a school where "classrooms are sacred." They wanted to put their full, unhedged support behind instructors "focused on teaching, and getting better at teaching and reaching the kids who are struggling." Administrators would be "available and resourceful," says Tonya, and focused on helping the teachers on the front line solve classroom problems.
In Noble Street College Prep, they set out to create a school culture centered on student results—not the adult preferences, employee desires, neighborhood issues, political burdens, and other subjects that distract administrators of many public schools. Their expectations were high. "We're constantly saying, 'How can we have better outcomes for our students?' " states Michael. "We have to have great results."
With nine out of ten of its disadvantaged students graduating and going to college, and the original school having grown into 17 campuses scattered across Chicago, the Noble Network has hit its high targets. The Eli and Edythe Broad Foundation named it the top charter network in America in 2015. Noble now educates around 12,000 students annually—89 percent low-income, 98 percent minorities.
But the more Noble succeeded, the more it sparked consternation at the Chicago Teachers Union—one of America's most powerful and militant labor groups. The CTU has gone out on strike twice in recent years, shutting down the nation's third-largest school district for seven days in 2012 and then again for one day in 2016.
Increasingly, the union drew a bead on the Noble Network. Each new school opening was met with protests. Those Noble could mostly ignore. But then the CTU set out to unionize the charter schools' teachers.
In March 2017, a hundred Noble employees organized by activists delivered an open letter to Michael Milkie and the network's board of directors, expressing an interest in unionizing all 800 of Noble's educators. "We must be trusted to have a collective voice," the letter read. Local Democratic politicians endorsed the organizing effort. The campaign was billed in news reports as an attempt to form "the nation's largest charter teachers union."
"It's definitely a big deal," says Chicago native Peter Cunningham, who worked in the U.S. Department of Education during the Obama administration. "Noble unequivocally has a culture of super hard work and high expectations. It's hard to establish that culture when you don't fully control the teachers and the schools."
Organizers portray the campaign as a necessary response to issues raised by Noble's growth, and they promise to alter compensation policies, discipline practices, and teacher diversity. They have created a "People of Color Caucus." They complain in a statement of principles that "we are fighting for a union that will impact systems that dehumanize us, our students, and families." The suggestion is that the Noble Network, while enabling unambiguous excellence among a student body that is almost all students of color, is somehow oppressive.
In accordance with federal law, unionizing Noble teachers will require a majority vote in an election. To date, no vote has yet been scheduled by the union.
From criticize to organize
Noble is not the first large charter network to be targeted for unionization. United Teachers Los Angeles has been trying since 2015, so far futilely, to organize Alliance College-Ready Public Schools, L.A.'s largest charter network. And the number of charter schools in Chicago bound by union contracts has already increased from seven in 2009-10 to 31 in 2016-17. In the longstanding battle waged against charter schools by teacher unions, though, conquering famously successful Noble would be the ultimate prize.
The unions portray their drive to represent charter-school teachers as an effort to strengthen conditions that support learning. There is, however, a hard reality that needs to be kept in mind by teachers in those charter schools and the families that rely on them. For many years now, the main goal of teacher unions when it comes to charter schools has been something very different from strengthening their learning conditions: unions have tried to crimp, cramp, and close charters.
The particular strategy pursued against the Noble network offers warnings. There are two main approaches to union organizing. The traditional approach is to cajole and encourage employees until the union has some confidence it may win a vote amongst them, at which point a petition for a union election is filed with the government. The other strategy is what is known in union parlance as a "corporate campaign." This involves harsh attacks on the employer that aim to undermine its ability to conduct its routine business. The aim, according to employer groups that have been through this, is "to generate so much pressure on the 'target' that it will give in to union demands." That is how the Noble Network organizing effort has mostly proceeded.
Charter schools are public schools open equally to all at no charge, with most of them heavily focused on serving the neediest students in low-income neighborhoods. When teacher unions assail them as "privatized" or "elite," or hint that they are oppressive, dehumanizing, unfair, and damaging to neighborhoods, as the Noble effort does, they are using vilification strategies straight from the unions' corporate playbook. They undermine the public legitimacy of the schools in an effort to gain leverage over them. These campaigns seem less about attracting teachers, and more about demonizing and distracting a high-performing competitor whose results embarrass conventional unionized schools serving similar populations.
Going after the strong
Teacher unions have always complained that successful charter schools threaten their existence. They have labored mightily in every state where charters exist to discredit the movement, block or cap new schools, roll back charter operations, and infiltrate their teacher ranks when all else fails. "If we lose our grip on the labor supply to the education industry," as the Pennsylvania affiliate of the National Education Association union has put it, "we will bargain from a position of weakness." Union strategies to neutralize charter schools have thus been a contradictory mix of attempts to sign up their teachers while simultaneously using union political, communications, and legislative power to stifle their institutions.
Nationwide, private-sector unions have been in decline for decades, and this year even the government-employee unions that have so far dodged decline are bracing for a possible blow. There is a U.S. Supreme Court decision coming, Janus v. American Federation of State, County, and Municipal Employees, that could allow non-union public-sector workers to opt out of union agency fees. (Labeled "fair share fees" by unions, public-sector employees who are non-union in states like Illinois are required to pay an "agency fee" to cover administrative costs associated with collective bargaining.) That would bring precipitous financial decline to the public-sector guilds. (See final paragraphs at the end of this story.)
While unions view charter schools as mortal threats, charter advocates have mostly just ignored unions. Neither charter operators nor the movement's broader advocates have paid any significant attention to this issue. They all point out that charter-school autonomy is the ultimate root of their success, and thus sacred, yet most dodge any discussion of the threat to autonomous school operations that unions pose. Publicly, many school operators say they are "neutral" on the idea of unionization.
There are several reasons for this. First, charter leaders run extremely lean operations, and most have been too busy founding schools and trying to get great results from their kids to focus on abstract long-term threats. Second, only a small subset of charter schools nationwide face any realistic threat of unionization in the near future. The esprit de corps at the best networks has made them stony ground for union thorn-planters. So why should administrators fuss over a longshot? Also, some charter schools face state or district laws that forbid them from resisting unions.
The end result has been a widespread "it won't happen to me" mindset among charter-school leaders. With no one making counterarguments from the charter side, unions have owned the public messaging about the pros and cons of organizing charters. In the face of this, Noble's experience has been described by one donor as "a wake-up call."
With high teacher retention rates, and instructors enjoying extensive control over their own classrooms, Noble seemed impervious to union threats. But Noble wasn't targeted by the union because it was weak and susceptible. It was targeted precisely because it is strong and thriving.
"This is about much more than whether one charter or another gets organized," says Andrew Broy, president of the Illinois Charter School Network. "If we allow charters to be governed by the same sort of model that's been used in urban districts, all of the dynamism, innovation, entrepreneurialism will be gone."
One-size-fits-all is on the way
The attempt to unionize the Noble Network has been building for a decade. The American Federation of Teachers launched a division in 2007 dedicated to organizing charter schools nationwide. A year later, the Chicago Teachers Union created a special unit with that same mission within its city. "We would like all the charter schools to be part of CTU," Jackson Potter of the Chicago union told the New York Times.
Current head of the CTU's charter-school unit Chris Baehrend has made it clear that his organization will keep fighting the existence of charters even while trying to draw their teachers into his group. For instance, Baehrend has publicly opposed the implementation of an Illinois state law that mandated fair per-pupil funding for charter-school students while also increasing funding for Chicago Public Schools. At an October CPS budget hearing, Baehrend called equitable funding a "bribe" to charters and said that those who benefit are "privatization vultures."
The union's next move in Chicago could be its most devastating yet. It has said it will try to consolidate the union contracts it already has in force at more than 30 charter schools, and push all of those very different campuses to accept one group contract. A uniform contract for numerous charters in Chicago will be a death knell for school autonomy.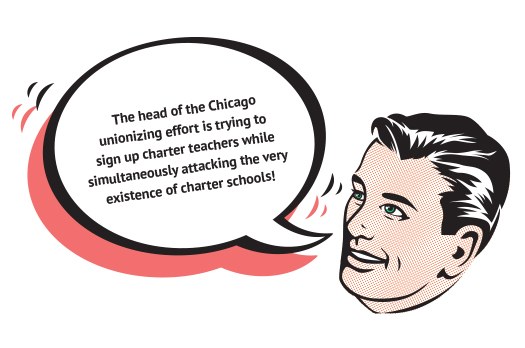 "A charter school is about building a school around the needs of a community, and you can't do that with one contract governing 128 schools," says Broy. He believes the CTU will want the next charter-school contract to look very similar to the one it has with the Chicago school district—requiring lock-step compensation, seniority-based layoffs, and a shorter school day and year. It has already achieved this goal at two Chicago charter networks.
The unions are doing "exactly what unions do in private industry—airlines, hotels," says Michael Sullivan, who heads the labor and employment practice at Chicago-based Goldberg Kohn and works with charter schools nationally. "Try to bargain where they can get the best contract, then impose that contract on everyone else through threat of strike."
Hostility not help
The first attempt to unionize a large charter network occurred in 2015, when United Teachers Los Angeles set its sights on Alliance College-Ready Public Schools. Nearly all of the 12,000 students at Alliance are low-income and Latino or African-American, yet about 95 percent graduate from high school, in a city where the graduation rate of all students is just 77 percent. Alliance and other successful charters are popular with Los Angeles families, and as they have expanded, the district schools have seen their enrollments decline, bringing the prospect of job cuts and leaner contracts for unionized teachers.
To stem this competition, the teacher union has combined direct organizing, political pressure, and unrelenting public relations. Leaders at Alliance report that the unionization drive has been an enormous disruption from their mission of educating students. "We will always put the students first, but outside forces are trying to distract us," says Frank Baxter, a prominent philanthropist who is the founding board chair of Alliance.
In California, the threat of unionization is ever present, because no election is required. Unions simply press employees to sign a card saying they are in favor, and if a majority of the workforce does so, the union is imposed on all. So for three years, UTLA organizers have been showing up at schools, unannounced, to recruit teachers. These recruiters, at least some of whom are paid, are "very active" on the network's 28 campuses, says Catherine Suitor, Alliance's chief advancement officer.
The union is also using political pressure. Since their blitz began, public records show that Alliance has faced ten unfair labor practice complaints, each with multiple charges that require a detailed legal response. The union also inspired a costly state audit of the school, requested by a state senator who has no Alliance schools in his district but is a former UTLA board member. Alliance was exonerated by the state auditor, but at a serious cost in administrative energy and expense.
"Whether unions are good or bad for charter schools or for Alliance, this particular union—UTLA—has aggressively and consistently opposed charter schools for years," complains Alliance CEO Dan Katzir. The organizing campaign has felt like an extension of that hostile approach.
During the three years that UTLA has been trying to unionize Alliance, it has also pressed other charter schools to accept collective-bargaining agreements. More charters have been unionized in Los Angeles than in any other city so far—31 percent of all. Teachers at one of the charter schools that joined the union regretted it almost immediately, and voted to leave after less than two years because they said union officials were pushing their own agenda. During a period of leadership tumult at the Port of Los Angeles High School, teachers accepted unionization with a promise of waivers from contract provisions that would damage their charter's effectiveness. But UTLA backed out of the waivers, so the educators ended their alliance with the union.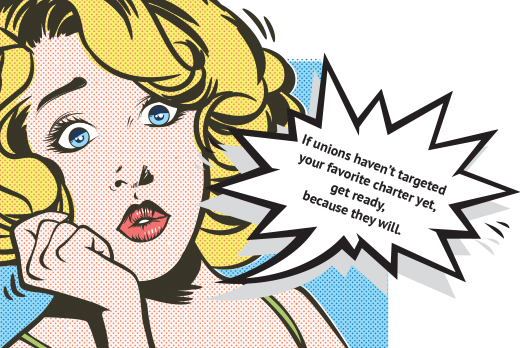 "During bargaining and contract discussions, a majority of Port of Los Angeles teachers recognized that the unique ideals and practices of the school were not supported by UTLA," the charter teachers said in a statement. "Teachers realized that UTLA policies would take precedence over POLA's practices. Essentially, the decision-making process was no longer entirely under the teachers' control. With UTLA on campus, teachers were pitted against administrators, yet both are essential in educating students."
Another cautionary tale on how union bureaucracy can damage school culture comes from New York City. In 2005, a K-8 charter school was founded in New York by the United Federation of Teachers. The union president promised that "our schools will show real, quantifiable student achievement and with those results, finally dispel the misguided and simplistic notion that the union contract is an impediment to success."
The school floundered from its inception. It burned through five principals in seven years. In 2014, shortly before it shut down, only 1.2 percent of seventh-graders scored proficient on state reading tests, and just 2 percent of eighth-graders reached proficiency in math. As Errol Louis wrote in the New York Daily News, "The union's decade-long experiment in operating a charter school has been an embarrassing failure." 
Preventive measures
Though the proportion of charter schools under collective-bargaining agreements has held relatively steady nationwide since 2010, the campaigns against Noble in Chicago and Alliance in L.A., plus recent activity in D.C. and New York City, have increased awareness of the potential threat. "The crown jewels of every other city should take note," suggests attorney Michael Sullivan.
Philanthropists who support education reform are beginning to sound the alarm. "Anyone who has invested in charter schools needs to pay attention to this," warns Linda Childears, president of the Daniels Fund, which supports school choice for families in Colorado, New Mexico, Utah, and Wyoming. Daniels is dedicating both brain and financial power to explore what kinds of resources can better equip schools to defend themselves against the threat of unionization.
Some guidelines for charter-school leaders and donors are beginning to emerge from this effort:
School leaders should listen to and share information with staff. "Encourage healthy communication between school management and teachers," urges Frank Baxter. "Keep close to and listen to your staff." Sullivan agrees: "Be proactive about communicating with employees long before the union shows up. Communication is key."
And if you become the target of a unionizing campaign, provide teachers with ongoing factual information about the union's proposals versus their own employment terms. Funders may want to offer to pay for staff and production costs of these communications.
Donors should step up their financial support generally when charter schools are pressed by unions. When a charter becomes a target, the result is "financial havoc." Charters already receive less funding than their neighborhood counterparts—about 25 percent less in most places—so when the costs of defending themselves against a union campaign are added to their educational responsibilities, many schools teeter.
It is estimated that UTLA's campaign has cost the Alliance schools $1 million per year to counter, a sum that is difficult for any nonprofit organization to come up with on short order. Because the vast majority of charter schools don't have in-house lawyers, legal fees can add up quickly in the absence of pro bono support. Donors "have a huge role to play" in standing by schools, says Nina Rees of the National Alliance for Public Charter Schools. While protecting schools is not as attractive as growing them, in a time of crisis it's absolutely essential.
Childears agrees. "It's a huge amount of money these charters are spending defending themselves," she says. Unions have a regenerating revenue source—monthly dues—to fund their efforts. Donors can help level the playing field by underwriting the costs that charter-school operators rack up in responding.
Share lessons across different regions, schools, and contexts. Philanthropists can help transfer knowledge and experience so that educators who fall into union crosshairs don't have to reinvent the wheel in their own defense. "It made perfect sense to us that we would try to coordinate this on a national level," says Childears. "We need to work together." Daniels is funding the creation of resources that can help charters prepare for and respond to unions.
Baxter also underscores the importance of solidarity across the charter sector. "It appears there is a national initiative on the part of the unions, and most of the donors are not aware that it's coming to their city," says Baxter. "There needs to be a national initiative."
The case that could change everything 
There is much speculation on the impact the pending Janus court case might have on union campaigns against charter schools. A decision is expected soon. Some charter supporters worry that a U.S. Supreme Court ruling against the unions could actually deepen their determination to unionize charters, to counteract membership and dues declines that are likely to accelerate. Others think a verdict against the unions could weaken and distract them into focusing on other, more urgent, acts of self-preservation. ("Unions will need to conserve resources to keep the members they already have," is the argument of Mike Antonucci of the Education Intelligence Agency.)
Given the vigor with which unions are currently campaigning against Noble, Alliance, and other charter schools, though, it's hard to imagine a ceasefire. The prudent path for all charter-school leaders and supporters is to prepare for a storm. 
Romy Drucker is co-founder of The74Million.org, a national news site focused on K-12 education.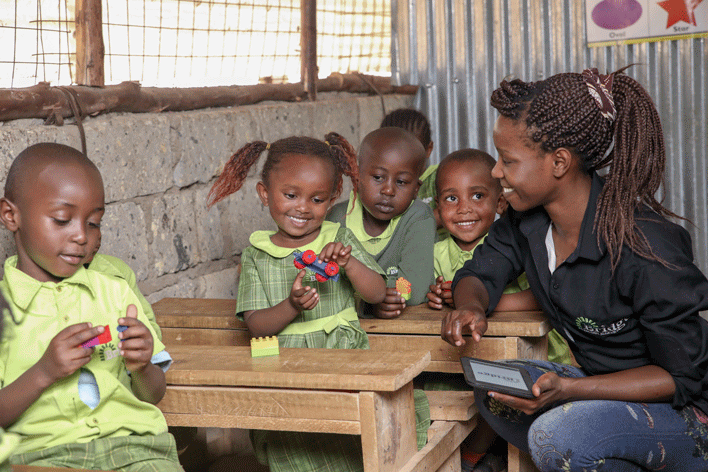 In the Developing World Too, Unions Try to Stop a Fresh Approach
It's an old story: Abysmal education outcomes. No accountability for teachers or administrators. No recourse for students or their parents.
Then a new idea comes along and old expectations fly out the window. Reformers take a fresh approach to teacher training, and pour themselves into bringing good education even to poor families. Generous donors become excited about the new possibilities. Long-suffering families respond with overwhelming enthusiasm and strong demand. Early results as measured in hard student-proficiency scores are encouraging. There is a chance to dramatically expand the new approach to reach many more underserved students.
But wait. Then the status quo strikes back. The powers-that-be start to kick and scream. Will the backlashers be able to protect their old turf, and stop the new model? Or can the new reform continue to grow?
Supporters of high-achieving charter schools in the U.S. will instantly recognize this script. But it is also playing out in the developing world. An exciting educational alternative called Bridge International Academies has produced strong results in some of the world's poorest neighborhoods over the last decade, but as it has grown, it has entered the crosshairs of snipers defending old educational monopolies.
Founded in 2008, Bridge began in Kenya with a model that charges parents small fees (currently about $7 per month) for a lean but rigorous private-school education for a child. The fee introduces a level of accountability between school, teacher, student, and family that does not exist in many developing-world government schools. Parents pay quite willingly. But only because—and so long as—they see results.
Bridge operates as a business, answerable to its customers and investors. And it has already expanded to Uganda, Liberia, Nigeria, and India. It serves over 100,000 students, with plans to extend its reach to 500,000 students in a few years.
The failings of conventional government-run schools are far worse in poor countries than they are in the U.S. In 2016, the U.N.'s International Commission on Financing Global Education reported that just 67 percent of children in low-income countries complete primary school. Only 24 percent complete high school.
The problem is not complex. A recent World Bank report found that teachers in conventional government schools simply fail to show up for work on 57 percent of all school days in Uganda. In Kenya the rate of teacher absenteeism is 48 percent of all school days. A typical public-school student in Kenya averages only about two and a half hours of daily instruction. Meanwhile, at bare-bones private schools like Bridge academies, teachers show up and teach a full day at rates of close to 100 percent.
Bridge administers rigorous teacher training and provides resources for rich day-long instruction. Using a hand-held e-reader, instructors draw on detailed classroom guides and curricular resources, eliminating the need to develop their own lesson plans. The resources help teachers engage students and set up small-group interaction. The e-readers also allow teachers to collect and respond to student data.
In most countries where it operates, Bridge operates as a private-school network. The exception is Liberia, where Bridge was invited by the government in 2016 to come in and run a stable of chronically failing state schools. Bridge operates these as a public-private partnership funded and monitored by the Liberian education ministry rather than parents. Bridge is managing 68 schools in this way across Liberia (which has the highest rate of unschooled children in the world).
The company has raised philanthropic funds to pay for textbooks, classroom supplies, and other resources supporting this experiment. Although the Partnership Schools for Liberia are still in their early days, preliminary results are promising. A study by the Center for Global Development has identified significant learning gains for the Bridge students in both literacy and math.
In countries such as Kenya and Uganda, students are required to take a proficiency exam at the end of primary school. In Uganda, 93 percent of Bridge students end up in the top two performance brackets, compared to 56 percent of students nationwide. In Kenya, 86 percent of Bridge students pass the national exam, far higher than their counterparts in public schools. These outcomes become even more impressive when you consider that Bridge only locates its campuses in a country's poorest slums.
Excited by these kinds of results, the Chan Zuckerberg Initiative, the Mulago Foundation, Novastar Ventures, the David Weekley Family Foundation, and many other donors have provided funds to expand Bridge's model of bare-bones for-profit schooling, providing startup loans to get measures off the ground. Mulago's Kevin Starr believes this is highly effective philanthropy. When you visit a Bridge campus, he notes, "You see engaged kids, uniformed, in full classrooms with a teacher on task the whole time." Mulago has contributed over $1 million to the Liberian experiment, which Starr views as "a huge R&D project on whether private management of public schools can be a viable way for governments to equitably provide high-quality education."
Chan Zuckerberg's Jim Shelton notes that these private schools are unassuming and utilitarian. Classrooms are intentionally built at very low cost, as network leaders prefer to put resources into curriculum, technological tools, and teacher training. "We don't focus on the aesthetic appearance of our schools, but rather the teaching that is happening in our classrooms and the learning gains achieved by our pupils. Keeping our buildings simple keeps costs low for parents and allows us to focus investment in teacher support," stated Bridge in a 2017 report.
Yet for all the academic success, parent support, and donor enthusiasm that Bridge has generated, the network is now being methodically criticized by labor unions that represent public-school teachers in Kenya and abroad. Bridge's status as a private entity that charges tuition has drawn attacks from the Kenya National Union of Teachers, and a global conglomerate of teacher unions based in Brussels, Belgium, called Education International.
Lawsuits have been launched in Uganda and Kenya by opponents aiming to shut down Bridge campuses. The enterprise's unusual teacher-training model is criticized for differing from public-school standards. In Kenya, one lower court responded to these actions by ordering the closure of ten Bridge academies.
That brought cheers from the head of Kenya's teacher union. His American union comrade, the president of the National Education Association, likewise savages Bridge as "morally wrong and professionally reprehensible." Government regulators are also threatening to shut down Bridge schools in Uganda.
How philanthropic backers of Bridge will respond to these attacks is yet to be seen. U.S. investors in the firm have been pleased with its academic gains, and seem to be holding steady. But more energetic defenses may be needed if the forces now sniping against Bridge-style school reforms in poor countries manage to strike further blows. However, the government-supported collaborative in Liberia as well as a recently formed partnership with the Indian government provide newfound political cover the network has not been accustomed to receiving.
Seth Andrew, global director of Bridge International Academies, and founder of several successful charter schools here in the U.S., says philanthropists who want to support the Bridge model could be especially effective right now by funding scholarships, and underwriting the partnership in Liberia over the next few crucial years. So far, Bridge's students in Liberia are attaining about two years of learning in just one year of instruction. If those kind of results can be solidified before opponents strangle the model, it will be hard to deny this powerful new opportunity to more of the 600 million children worldwide who are dreadfully miseducated, or not educated, by their government.
Despite the powerful results produced to date by for-profit alternative schools like Bridge, there is no certainty this innovation will be allowed to continue. As successful charter-school operators in the U.S. can testify, sometimes even impeccable reforms can be quashed by powerful constituencies. Simple, highly accountable private schools for very poor families in the developing world will be one of the next big tests of whether education reformers can block the empire of the status quo from striking back.
—Pat Burke