My original plan had nothing to do with coming to the United States to become an entrepreneur," says Gururaj Deshpande. When the young man from southwestern India first settled in the Americas, his plan was to pursue graduate studies in electrical engineering at the University of New Brunswick, not far from Canada's Atlantic coast. From there, he went to pursue a doctorate at Queens University in Ontario. "Desh," as everyone calls him, aspired to a career in teaching or research, perhaps at MIT, perhaps at Bell Labs.
After he completed his doctorate, Deshpande made a critical decision. Peter Brackett, a professor-turned-entrepreneur from Queen's, convinced him to try the corporate world. Brackett helped Deshpande land a job at Codex, a Motorola subsidiary in Ontario, where he worked on developing advanced modem technology. As he watched Codex benefit from his leadership and expertise, Deshpande came to believe that he could make it on his own. In 1984, he moved to the United States, where, four years later, he founded network equipment-maker Coral Network. In 1991, he launched a network switching firm: Cascade Communications. By 1997, over 70 percent of all Internet traffic was carried over Deshpande's products. That year, Deshpande sold Cascade to Ascend Communications. The deal closed for $3.7 billion.
The excitement of entrepreneurship drew Deshpande right back to work. A year after selling Cascade, he worked with a team of MIT researchers to launch Sycamore Networks. In 2000, he founded Tejas Networks, a Bangalore-based telecommunications equipment company. He is chairman of A123Systems, a manufacturer of high-power lithium-ion batteries; when A123Systems went public in October 2009, it raised $438 million and traded at a 50 percent premium on the day it was listed.
Startup Philanthropy
"My wife, Jaishree, and I talked about how we had had good opportunities here," Deshpande explains. "So we asked ourselves, 'How could we create opportunities for others?'" Naturally enough, the couple turned to entrepreneurship. "It's been a thrilling experience," he says, "and we want to share it with others."
The first fruit of their deliberations is the Deshpande Center for Technological Innovation at the Massachusetts Institute of Technology. Deshpande joined MIT's board in 2000, and two years later made a $20 million gift to launch the center. His goal: to bring entrepreneurship to the laboratory.
"I'm an engineer by training," he explains. "When I got started 40 years ago, engineers would design a new product off in a back room somewhere. Then we would call in the sales people and tell them what the product did. The customer was almost an afterthought. That's all changed. Today, the customer is telling engineers what to build. Market forces—customer preferences—drive the engineering process. We want to push that up, even earlier in the pipeline. We want to introduce market forces into the innovation process."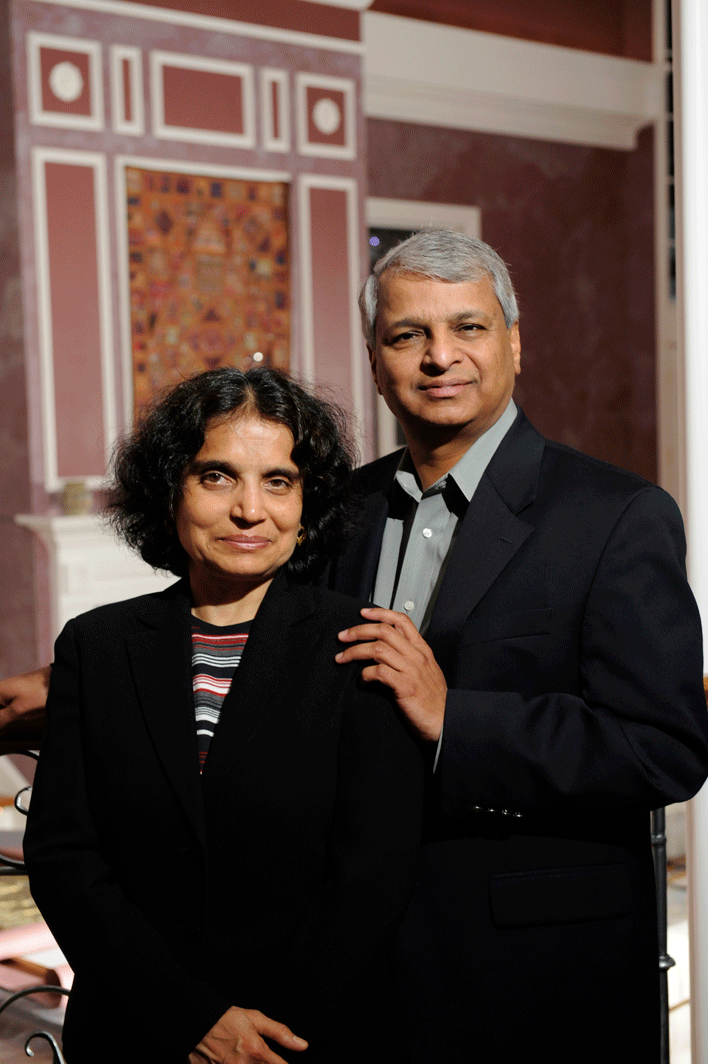 Jaishree and Gururaj Deshpande
As he outlines the purpose of the Deshpande Center, you can hear both the engineering and entrepreneurial sides of his brain working. There is, he argues, a "disconnect" between university-led scientific breakthroughs and finding the right commercial application for those discoveries. Some of the products of scientific research are turned into new commercial technologies, but the success rate, in Deshpande's view, is too low. Academics and innovators are brilliant people, but they are not necessarily entrepreneurs—and it takes an entrepreneur to see the best business opportunity for a new discovery.
"Innovation," says Deshpande, "currently has a bad supply chain." The decline of industrial research laboratories at places like IBM and Bell Labs has "moved the basic center of gravity for research back to the universities." But if academic research is to have real-world impact, Deshpande explains, the disconnect between academia and the market needs to be fixed. What's at stake is nothing less than America's future competitiveness.
The Deshpande Center was one of the very first "proof of concept centers." Faculty members who think they have an idea with commercial potential can apply for a start up "ignition" grant (usually about $50,000) to develop prototypes and determine market potential. About half the ideas that get ignition funding advance to the next stage, an "innovation" grant (up to $200,000) to iron out commercial risks and ready the technology for market. At the end of this second stage, the aim is for the technology to be ready to attract significant private investment.
One of the early successes for the Deshpande Center was its backing for MIT engineering professor Douglas Hart. Hart had seen some of his peers from graduate school go into business rather than academia; having chosen the academic route himself, he was "feeling a little jealous and a little poor." Hart was at the forefront of scientific research on fluid dynamics. He believed his discoveries could open up new technologies for three-dimensional imaging, but it was still just "a solution looking for a problem."
The head of the Deshpande Center approached Hart. "Are you serious about starting a company?" she asked. Hart answered, "Yes. I just don't know how." The Deshpande Center provided the professor with support and mentoring. He was teamed up with two Harvard MBA students who had the commercial know-how and drive to turn his idea into a business. "I picked the two most obnoxious guys I could find," Hart admits. "I learned a lot."
Hart originally thought he would try to apply his discoveries to the production of better security scanners, like the ones at airports or government buildings. But the entrepreneurs he was working with convinced him there were better commercial applications for his discovery. The market opportunity the team spotted was in dentistry. By tweaking the technology, Hart could make instant 3-D images of teeth, faster and with less intrusion than the traditional technique of taking a physical cast. They started Brontes Technologies, which, after two and a half years of growth, was sold to 3M in 2006 for $95 million.
Hart is now working on another spin-out, Lantos Technologies, that is adapting his 3-D technology for use in imaging the ear canal for better-fitting hearing aids and audio headphones. Having already been through the process of starting a company, Hart probably could have proceeded on his own, but he went back to the Deshpande Center because of the advice and mentoring it provides. Lantos has received venture-capital backing and expects to receive final FDA approval to go on the market in mid-2012.
Despite having two business successes under his belt, Hart says that what really gets him excited is "teaching two new classes this year. I am proud of being an entrepreneur but I am first and foremost a professor." By letting Hart focus on the science and partnering him with ambitious business students to commercialize his ideas, the support of the Deshpande Center is giving him the best of both worlds.
At the latest count the Deshpande Center has granted $11 million to back more than 90 ideas, which have resulted in 26 spin-outs. Apart from Brontes, others have included chemistry professor Donald Sadoway's Liquid Metal Battery Corporation, which promises cheap storage of solar and wind power and won investment from Bill Gates' venture fund; materials science professor Michael Cima's Taris Biomedical, which has received $36 million in venture capital to develop a new drug-delivery mechanism for bladder conditions; and the Vertica Software database business founded by computer science professor Michael Stonebraker and acquired by Hewlett-Packard in 2011 for a sum reported to be about $200 million. There are also high hopes for technologies in the pipeline, including a new surgical "glue" and a continuous glucose sensor for diabetics.
If anyone asks whether the Deshpande Center is really necessary, whether some—maybe all—of these technologies would have found their way to market without its help, the center's current director, Leon Sandler, has an emphatic answer. "We believe that most of these technologies would not find their way to market without our help," he says. There are a number of things that need to be proven before a promising technology can become a profitable commercial application. "For that reason, we have to be willing to take risks."
It is probably too early to know the full effect of the Deshpande Center. "We're not growing lettuce," adds Sandler. "We're growing oak trees. It takes time to see results." So far, the center has seen just over one in four grants turn into businesses, which Sandler thinks is about right. Its spin-outs have raised in excess of $350 million of investment and employ more than 400 people. If even just a portion of the spin-outs achieve their hoped-for success when they hit the market, the impact of the Deshpande Center will be much greater.
Scaling Up
When talking about results, Deshpande is keen to point out wider effects of the center on the culture of MIT. "Academics used to focus on the ideas that were the most scientifically prestigious, rather than most market-relevant," he explains. "We are changing the way that universities operate, changing new graduate students' approach to research." Hart agrees, saying that before he connected with the Deshpande Center, "I hadn't been sure if commercial opportunities were open to academics." Today he reckons that more than 70 percent of post-doctoral research students are starting their career thinking that they are going to be part of the new generation of "faculty entrepreneurs." Indeed, one of his own graduate students has just spun out a 3-D imaging company called Viztu. Though Viztu has not received any direct support from the Deshpande Center, Hart insists that many of the next generation of start-ups should be counted as part of the center's wider impact on campus.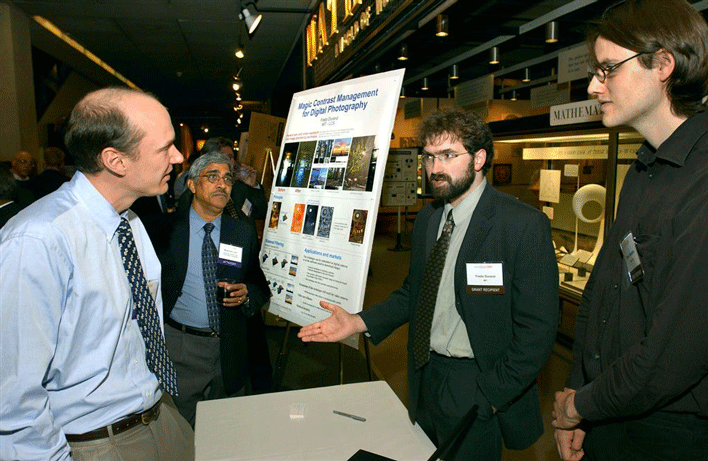 IdeaStream (Photo courtesy of the Deshpande Center)
Successful start-ups do provide the Deshpande Center with some revenue, but it gets only a small sliver of the modest royalties taken by MIT. It would take a Google-sized success to make the center self-financing. Some of the new businesses have also made gifts of stock, which may become an important source of financing in the future but, again, not immediately. Of Deshpande's original gift of $20 million, $8 million went into the center's endowment and the balance has funded its programs. Other donors are now coming on board to provide the necessary future funding, including other MIT alumni working in technology. "I'm confident that the center will be sustainable," says the founder. A shift from the philanthropic model to one that is more like a for-profit, in which successes provide funding for future ventures, could guarantee long-term sustainability.
As the Deshpande Center reaches its tenth birthday, interest in the model is spreading to other universities. Former executive director Krisztina Holly is now leading similar work at the Stevens Institute of Innovation at the University of Southern California. The state of Colorado has recently launched the Colorado Innovation Network, a partnership between the Governor, Colorado State University, and the University of Colorado. The model is also expanding overseas. Singapore has launched an Innovation Center (as part of the Singapore-MIT Alliance for Research and Technology) that is replicating the Deshpande Center practices. Universities in Portugal and Russia are looking to follow suit. Deshpande is supporting this dissemination process through the newly created Deshpande Innovation Network that is available to any university.
Entrepreneurship in India
A paradox of Deshpande's philanthropy is that just as his giving to support economic innovation is getting traction in the States and across the globe, his giving in India has become focused on something quite different. "Our first instinct was to replicate the MIT center," Deshpande remembers, thinking of the first conversations he and Jaishree had about starting a similar program in India. (They are both graduates of the Indian Institute of Technology Madras, known as the MIT of India.) Upon reflection, however, they concluded that in India, "social innovation is more exciting than scientific innovation." What Deshpande calls "the unifying concept" of his work in the United States and India is that it all challenges the idea of universities as ivory towers, and connects academics to society, "treating the whole world as part of the campus."
The Deshpandes decided to focus their Indian philanthropy in Karnataka. At first that looks like an obvious choice for a tech entrepreneur, for the southwestern Indian state is home of the subcontinent's flourishing IT sector. But the couple eschewed the boomtown of Bangalore and went instead to Desh's hometown of Hubli. The choice is not merely sentimental. Deshpande calls Hubli and its surrounding districts, with a population of about 10 million, an ideal "sandbox." (In software development, a sandbox is a safe environment where programmers can test out new code without risk to the functioning of the larger program.) Hubli is representative of the challenges and opportunities facing most of his home country, Deshpande believes, and therefore a good area for innovations to be tested in.
He has invested heavily in cultural change in the universities of the sandbox, since pedagogy at most higher-education institutions in India is still based on rote repetition rather than problem-solving. Deshpande believes Indian universities need to be more outward-looking, because solutions to social problems must take place in society rather than in laboratories. To encourage that cultural change, the Deshpande Center for Social Entrepreneurship is backing nearly 5,000 projects that involve students in finding solutions to social problems.
Unsurprisingly, technology and engineering still play a part—one of the projects is to design a lighter, more efficient cart for street vendors—but the emphasis, as at MIT, is on technologies that are driven by the needs and wants of real people.
"In philanthropy, the beneficiaries have the least say in the process, whereas in the for-profit world, the customer is king," Deshpande explains. What he is trying to do in India is put the "customers" for development back in charge. "Outsiders can be catalysts, but not changemakers. Ours is a venture-capital model that is building social leadership locally."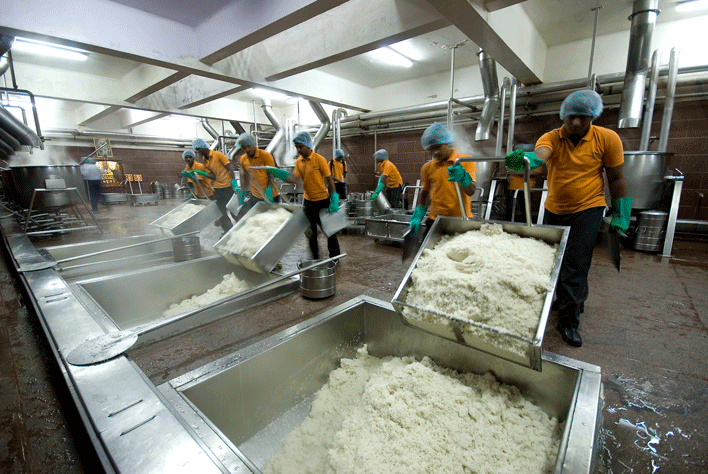 Akshaya Patra operates kitchens feeding millions of Indian schoolchildren. (Photo courtesy of Akshaya Patra)
This approach to social innovation echoes the MIT center's efforts to market-test scientific innovations. Having thus stimulated a cohort of social entrepreneurs in India, the donor is now developing a cadre of several hundred nonprofit leaders, known as Deshpande Fellows. He also recruits local business leaders as "Hubli Champions" to partner with and support this new generation of social entrepreneurs.
Where commercial and social innovation diverge is the presence or absence of market forces. In the social sector, there is no obvious mechanism to drive out bad ideas and grow good ones. To help compensate, Deshpande hopes "to bring the excellence of execution of the for-profit world to the nonprofit world, to flush out the non-performing assets." For that to happen, good ideas need to be replicated and expanded, pushing aside weaker competitors. One of the first places Deshpande is trying to achieve this is in school meal programs in India.
Studies have shown that providing a nutritious lunch to schoolchildren not only reduces malnutrition but also boosts school attendance and performance. Desh and Jaishree are helping the Akshaya Patra Foundation, a nonprofit created in 2000 to provide lunches, to build eight kitchens across India that will serve 1.3 million meals per day at a cost of 12¢ per child. With an estimated 100 million children across India who could benefit from a school lunch, even this large project will need to expand dramatically and find a way to sustain itself. Deshpande is not confident that philanthropy alone can solve the problem. But if Akshaya Patra's program can reach 5 million children, he thinks it will set a standard for school meal programs that will eventually have to be matched nationally by better government provision.
In his most recent philanthropic ventures, Deshpande has brought the social lessons from India back to America. He created the Merrimack Valley Sandbox, focused on the cities of Lowell and Lawrence, close to his hometown of Andover, Massachusetts. This, too, is a university-based program, run out of the Center for Innovation and Entrepreneurship at the University of Massachusetts Lowell, but it is modeled on the Hubli program rather than the MIT center. Through a program of $500 grants, Deshpande supports students to come up with local solutions to local problems, and he is building a network of supporters from the local business community to mentor and support the growth and replication of those ideas. A new Deshpande Center at the University of New Brunswick, which opened in October 2011, is a hybrid of the MIT and Hubli models.
Out of the Ivory Tower
The thread that runs through Deshpande's philanthropy is a vision for how innovation translates into real-world change. The first challenge is culture change: to get problem solvers—whether MIT scientists in their laboratories or social entrepreneurs in Hubli or the Merrimack Valley—to bring their ideas into contact with reality. The second is to create an ecosystem that supports the best ideas. In the for-profit world, competition from new start-ups provides a ready pool of innovations that are often adopted through the acquisition of small companies by large ones, just as 3M bought Doug Hart's 3-D dental imagery technology. In the market for social innovation, Deshpande believes that nonprofits should play the role of start-ups.
Bringing real people into the world of ideas may be Deshpande's most valuable contribution: getting scientists to think about customers, social entrepreneurs to focus on the needy, and policymakers to think of their constituents. The "proof of concept" approach to innovation is in some ways anathema to how the government works. Experimentation and testing until the best real-world solution becomes obvious runs counter to a political cycle that wants to proclaim success before the next election. "Five years is too long for a politician," Deshpande muses. Maybe improving the public policy process will be his next engineering challenge.
Matthew Bishop is New York bureau chief for the Economist. Michael Green is an economist and writer. Together they are co-authors of Philanthrocapitalism, The Road from Ruin, and In Gold We Trust?