You've seen it on the news, if not in person: In the wake of large-scale disasters, relief actors implement a centralized, paramilitary model of control. Top-down planning, byzantine bureaucracy, and elaborate protocol, it would appear, are the pathways to restoring normality.
It's a logical response. If disasters inherently create chaos, it follows that any crisis-management strategy should counteract it with strict order. But there's a downside to this method—sometimes strict order stifles action, or so argues celebrity chef José Andrés.
In We Fed an Island, Andrés posits that a combination of mismanagement and inefficiency caused by a centralization of power within federal agencies and nonprofits hindered disaster recovery—and prolonged suffering.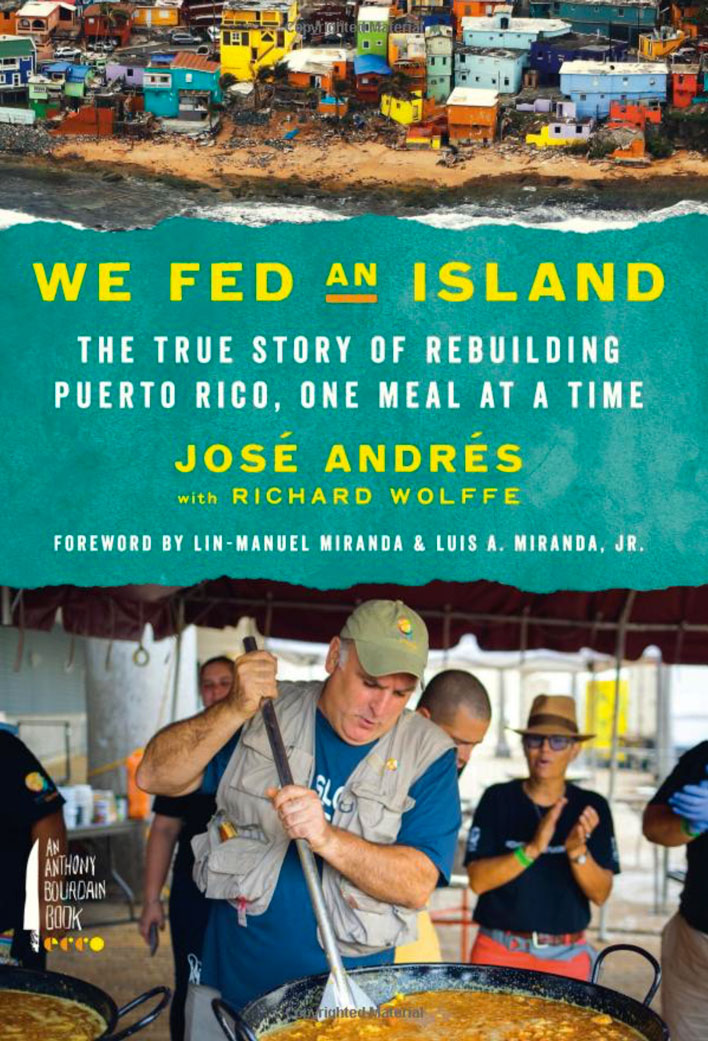 The book, which was co-written with journalist Richard Wolffe, follows Andrés as he impulsively travels with $2,500 cash to the ravaged island five days after the storm to establish a system for immediately feeding as many victims as possible. "There is no recovery to manage, and no citizens to govern," Andrés writes, "if we cannot get water and food to the people."
If you are on American soil and survive a cyclone packing 155-mile-per-hour winds, you would expect to receive emergency assistance within hours, maybe a day or two at most. But Hurricane Maria went nearly unnoticed compared to Harvey and Irma, leaving countless Puerto Ricans without food and water indefinitely. An initial casualty count of only 16 was eventually revealed to approach 3,000.
Arriving in San Juan on one of the first commercial flights after the storm, Andrés found that the crisis was sorely underestimated and went into action. He conferred with local chefs and devised the framework for a network of community kitchens, activating food trucks, restaurants, churches, and schools. Many of these agreements began with good faith and a handshake.
Despite widespread devastation, lack of funds, and crumbling infrastructure, Andrés and his nonprofit, World Central Kitchen, succeeded in serving hot food—stews, paellas, chicken, and sandwiches—to a neighborhood in San Juan a day after arriving on the island. "Chefs understand how to create order out of chaos," writes Andrés. By his fourth day, he served more than 5,000 meals. He had arrived without a plan, but by relying on the locals to gather information and make decisions, the kitchen network secured food and water sources with which to grow their operations. These meals were much more appetizing than the military field rations handed out by main disaster-relief organizations, where they were able to distribute food at all.
Encouraged by the possibility of scaling his efforts, Andrés pursued a partnership with FEMA. But long meetings lay bare the frustratingly slow pace of government planning, whereby Excel spreadsheets dictate next steps that need approval by a committee of executives not in the field. "The government was unprepared, more than a week after the hurricane, and that made me feel…very sad," he writes. "It also made me hate meetings, and endless planning." Confronting a FEMA director, Andrés was informed by the bureaucrat that "Food isn't a priority right now."
To add insult to injury, Andrés eventually found out that FEMA had just awarded a $156 million food contract to an Atlanta-based company with one employee and no track record of disaster relief. The contract was terminated 20 days later without a single meal served.
Andrés had similar disappointment in trying to partner with other major aid agencies, which did well with fundraising but had little activity on the ground. But despite a lack of support, Andrés's operation continued to grow, thanks to the partnerships he forged in the community. Feeding people in a disaster zone creates an "army of first responders," he writes, volunteers who know the lay of the land and can root the relief operation within the chaos. World Central Kitchen served more than 3 million meals in Puerto Rico in two months, using 24 kitchens and seven food trucks manned by an army of 20,000 volunteers, and exceeding the amount of food that more established relief organizations provided. "We were able to grow from an organization that wasn't supposed to be there," Andrés writes, "to an organization that had better intelligence, supplies, and purpose than the people who claimed they were experts." This is a model that he has since applied to other humanitarian disaster zones, such as the earthquake-ravaged villages in Indonesia last fall or the Venezuela-Colombia border in February.
Having navigated so much red tape and bureaucracy, Andrés urges governments and nonprofits to adopt a more collaborative role with communities and food experts on the ground, to embrace uncertainty and improvise, and to have more transparency in how they use funds. With a more localized model of disaster relief, he counsels, future hurricane victims may be spared more suffering.