The city in which Jane Fisher Sherman grew up can now be found only in memory and sepia photos. As a young girl, the now-grandmother and philanthropist took the bus from her leafy urban neighborhood to downtown Detroit, where trolleys scurried, store windows shone, and people flocked to the streets for business, food, and entertainment. The Motor City was alive, active, growing.
No longer. There are no traffic jams downtown, and in the surrounding neighborhoods decay is rampant. Up to one third of city land is deserted, and boarded-up houses dot almost every street. In 2012, one out of every 1,800 residents was murdered. Residents are afraid to pump gas in city limits, lest they be carjacked. Police take an average of 58 minutes to respond to 911 calls. The public schools are some of the worst in the country.
In the 1950s, Detroit was a city of 1.8 million; now it has shrunk to about 701,000. With a shriveled tax base and enormous pension obligations to public employees, Detroit filed for the nation's largest-ever municipal bankruptcy in 2013. The city's state-appointed emergency manager declared that Motown was between $18 billion and $20 billion in debt.
So now Sherman, the eldest daughter of multimillionaire businessman Max Fisher, finds herself returning to Detroit to plant trees and help impoverished mothers in a part of the city where blight is rampant and streetsneighborhood adopted by the Max M. & Marjorie S. Fisher Foundation, one third of households live on less than $15,000 per year.
Sherman is part of a large cohort of private donors, foundations, and corporate givers working overtime to keep Detroit alive. In this city, like nowhere else in America, philanthropy is keeping the lights on. Sometimes literally.
A shadow administration
Sue Mosey sits in her midtown Detroit office, a wall of glass letting in light from the overcast sky. She talks fast, like someone with no time to waste, ticking off a list of things her nonprofit is doing that are normally reserved for public agencies: rezoning the neighborhood, installing streetlights, repaving roads, maintaining parks, picking up trash, planting flowers, paying government salaries, wooing development. "We stepped into a vacuum, especially a governmental vacuum," she says, adding that outsiders are shocked at the types of work her group does. She recounts some recent visitors from an Atlanta foundation. "I don't think they could ever really get their head around it. But when you're in a city that has lost so much of its tax base, if you want to move forward you just do what needs to be done."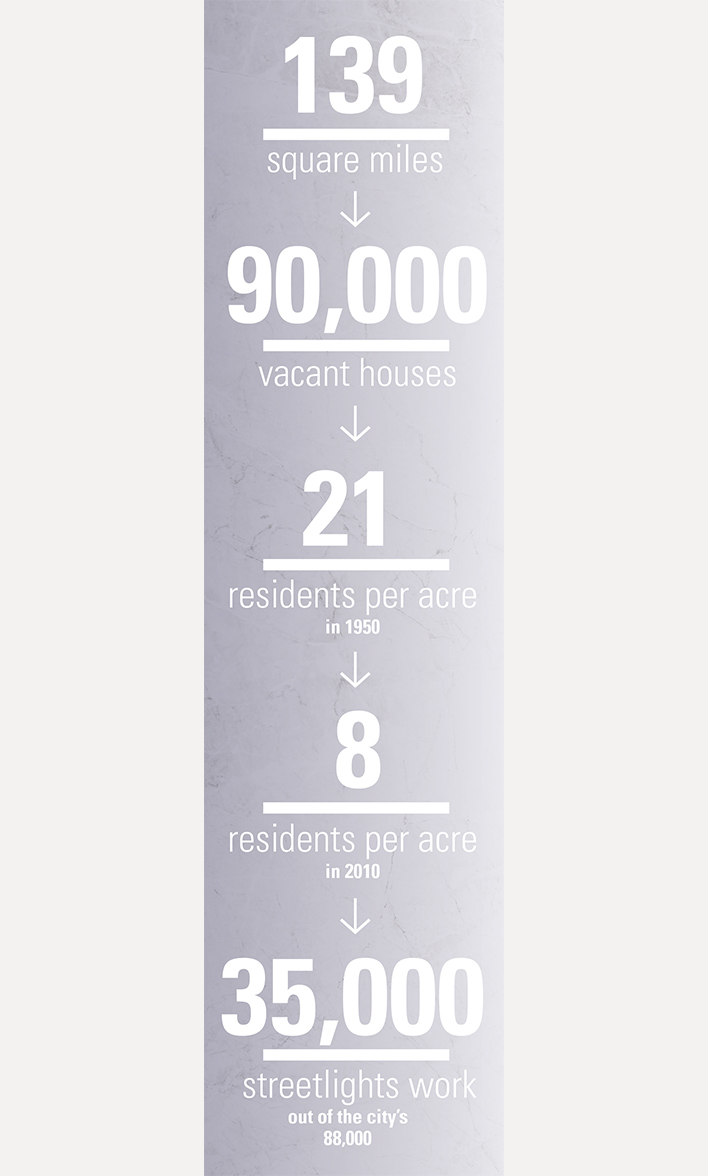 The area Mosey serves, midtown Detroit, is experiencing a revival. Much of that is due to her team, and the philanthropic dollars pouring through them. Donors have given millions to help Mosey's group turn around this neighborhood adjacent to Detroit's downtown, betting that a vibrant central residential district will prove to be the fertile ground Detroit needs to grow again.
Mosey has worked for her nonprofit, now named Midtown Detroit to match the neighborhood, for 26 years. During that time the group bought up parks, gave out loans to otherwise-wary developers, and branded and marketed the neighborhood with zeal. It turned a block of vacant historic houses into a boutique hotel.
Now Mosey is beginning to see her hard work pay off, as the neighborhood becomes an attractive destination. More than two dozen small businesses opened in Midtown in the past year and a half, and Whole Foods—a frequent marker of neighborhoods on the up-and-up—opened a grocery in recent months. The area's residences are now 96 percent occupied, and 277 people sit on a waiting list for a 58-unit apartment building her group helped open for business in 2012. 
But it hasn't been easy. "One thing you learn in Detroit pretty quickly is as you do things, you pretty much have to address other problems that go with them. You can't just do an intervention and then think it can work," Mosey says. As a result, the group has its fingers in every pie in the neighborhood. It maintains all the nearby public spaces for the city, under a contract in which it does not get paid. It hires private companies to clean up trash, remove graffiti, and keep the streetlights on. 
"The only lights in Midtown that consistently work are the new ones that we've paid for and put up," Mosey says. "Most of the other lights are off most of the time. The whole thing's crumbling. There are all kinds of wiring and circuit issues, transformer issues. If you don't maintain the system, and it's very old, then this is what you get." 
A new lighting authority created by the city will make things better, Mosey hopes. They've hired the private contractor that Midtown Detroit already works with.
Now the nonprofit is drawing up a rezoning plan for the neighborhood, which it plans to take to the city for approval, to allow for more modern, mixed-use development. "We've hired the zoning guy who was laid off from the city," Mosey explains. Midtown Detroit also pays the salaries of two workers in the building and safety department who are working to streamline business licenses and permits, to cut red tape that binds the city's home-grown entrepreneurs.
The Hudson-Webber Foundation was Midtown Detroit's sole funder for many years. Now other donors are involved in the work there. "That set of investments has kept the infrastructure from crumbling, and now the market has caught up," says Hudson-Webber president Dave Egner.
These efforts reflect the new reality of Detroit philanthropy: The scale of the city's setbacks demands an "all hands on deck" approach. Between 2007 and 2011, area foundations like Hudson-Webber, Skillman, Kresge, W. K. Kellogg, and others poured at least $628 million into Detroit, according to a Foundation Center analysis done for the Chronicle of Philanthropy. And big national players like the Ford, Charles Stewart Mott, and John S. and James L. Knight foundations have also directed more resources to the city in the last few years. The Ford Foundation, for instance, reports devoting $60 million to the region since 2007—up from the $38 million the foundation gave during the previous ten years. 
So donors are giving more. But are they giving differently than during Detroit's decades-long spiral into dysfunction? Ford, Kresge, Kellogg, and Mott have long pedigrees as leaders of the philanthropic left. But with the sobering realities of Detroit's social and economic bankruptcy, even the "progressive" foundations are dabbling in programs not normally associated with the left: bits of school choice, enhanced law enforcement, a friendlier business climate, private solutions to public problems. Just as a practical matter, the severity of Detroit's collapse seems to have pulled philanthropists into more hard-headed work.
The Kresge Foundation and corporate partners last year donated 100 police cars to the city. The Skillman Foundation has set up neighborhood and after-school patrols, and is now working with city police to improve tactics and create neighborhood safety zones.
"We just finally came to a conclusion that lack of safety undermined everything we were trying to do," says Skillman president Tonya Allen. "We were trying to do good schools. Safety undermined it. We would see kids who were doing really well, wearing uniforms, and they were getting attacked when they walked out of the building," she says, recalling a 2009 incident where seven teens were shot at a bus stop while traveling home from a summer-school program funded by her foundation.
"Violence and a lack of safety are demoralizing and heart-wrenching. So we made this conscious decision that we were no longer going to sit on the sidelines on safety, we were going to stop letting the bad guys win."
The Kresge and Kellogg foundations ventured into new territory for them in this union-dominated city when they lent support (along with other donors) to Excellent Schools Detroit, a group which offers parents information not just on conventional public schools but also on charter schools, parochial schools, and private schools, encouraging parents to select the best match for their child.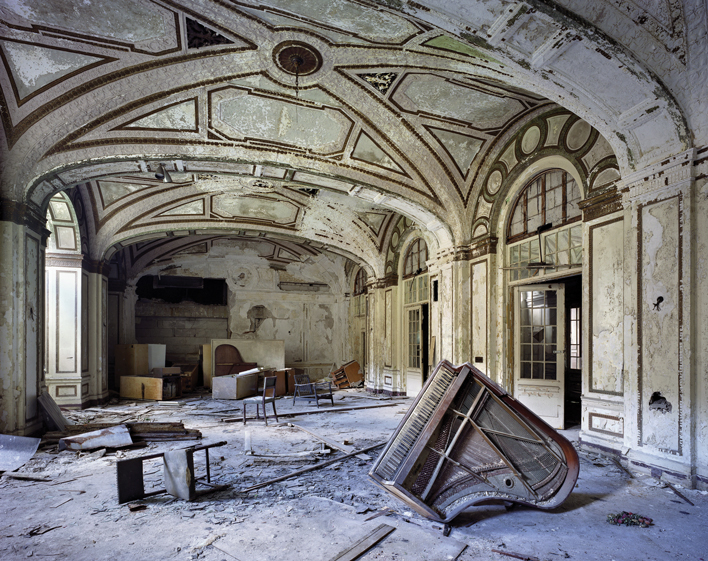 =
Ford, Mott, Kresge, and Kellogg have all embraced the New Economy Initiative. A prime example of this more urgent philanthropy being seen across the city, NEI started with the recognition that Detroit will never prosper with so few private-sector jobs—it currently has only one for every four residents. So in 2008 ten foundations joined forces (Fisher, Kresge, Skillman, Ford, Hudson-Webber, Kellogg, Mott, Knight, the Community Foundation for Southeast Michigan, and the McGregor Fund) pooling $100 million to spend over eight years to revive the region's economy. Given the varied philosophies and priorities of those foundations, it took the leaders several years to agree how to spend the money. Eventually, though, they placed a big bet on attracting private entrepreneurs.
By 2012 (the latest year for which numbers are available), with $70 million spent, the results seem impressive. A third-party audit of NEI grantees showed 423 new companies started in the Detroit region, with $22 million in annual revenue booked by these growing businesses, resulting in 6,898 new jobs, and $255 million in additional investments leveraged by the NEI startups. The initiative's backers concentrated on fueling Detroit's startup culture, in an attempt to diversify the regional economy beyond the area staples of government and automobiles. The region was "a victim of 70 years of our own success. We had started to protect this culture that was built on paternal relationships with large employers, particularly in manufacturing," says Egner, who is the NEI's director in addition to running Hudson-Webber. "The foundations knew this needed to change."
Now foundations are even being called upon to help untangle the city's bankruptcy. U.S. District Judge Gerald Rosen petitioned a group of 10 national and local foundations to provide $500 million to protect the city's art collection and employee pensions, both targets of creditors. At least one individual donor has already given $5 million to the cause. The story continues to develop as Philanthropy goes to press.
Betting on the city
Drive along the main center-city drag, Woodward Avenue, and you'll see a large sign in window after window: "Opportunity Detroit." The moniker is plastered on the buildings owned by Quicken Loans founder Dan Gilbert, who is the hottest name in town right now. A United Way billboard looming above a highway pictures a young boy and reads: "The next Dan Gilbert. The Detroit of tomorrow starts with a donation today." Seemingly everyone sings his praises. And he returns the favor, as the city's number one cheerleader.
In 2010, Gilbert moved his company headquarters from the suburbs to downtown, bringing 1,700 employees along with him. He brought along another 2,000 the year after, and wooed more businesses to follow him. (The Mackinac Center for Public Policy notes that the Quicken Loans move and other prominent corporate shifts to downtown often came with giant tax breaks.) He then went on a shopping spree for the city's skyscrapers, nabbed them at rock-bottom prices—one sold for $8 per square foot—renovated them, and courted about 200 retailers and businesses to fill them. He stands to earn a hefty sum if Detroit really does pull off a revival. But Gilbert, a signatory of the Giving Pledge, has also poured his money into downtown parks, housing aid, small business development, and transportation improvements.
A tour of some of Gilbert's once-abandoned buildings, now turned into a series of hip offices with the help of his design firm dPOP!, leaves no doubt that he is physically transforming downtown Detroit. In what used to be empty brick space filled with trash, brightly colored cartoonish chairs populate one office; in another, chandeliers hang in a vault-turned-meeting-room. At every turn are professionals who weren't here a few years ago. In addition to working in Detroit, about 2,000 of them have made the city home, some aided by a rent incentive program Gilbert and other business leaders fund. Gilbert has given "tens of millions of dollars that have been extremely important to talent attraction and creation of a bustling central business district," according to Egner.
But is it business or philanthropy that motivates Gilbert to pour millions into Detroit? "We frame it as doing good and doing well," says Matt Cullen, CEO of Gilbert's umbrella organization for his 70-plus companies. "Philanthropy alone won't work in the city of Detroit," he says. "A philanthropic intervention doesn't create a sustainable economic environment." Cullen is not shy about the possibility of Gilbert's investments paying off in a big way. "We fundamentally believe the city of Detroit is an undervalued asset. And we fundamentally believe that now is the time to get in at the bottom floor of economic development in this city, and that we will benefit as a result of it."
Scoffers say Gilbert's efforts to renovate skyscrapers and make downtown more inviting are cosmetic changes that ignore social and systemic problems in the surrounding neighborhoods. Others doubt that the regional economy will ever bounce back to the point that Gilbert's investments will pay off. But Cullen says he and Gilbert are contributing where they think they can give the most help. "Downtown and the neighborhoods are a single organism. There's no way to be successful with an either-or solution," he says. "We want the whole city to come back."
To lure more businesses to Detroit, Gilbert started a nonprofit, Bizdom, to provide office space, training, and up to $125,000 in startup funding for budding entrepreneurs. Bizdom, which has received funding from the New Economy Initiative, sits in one of Gilbert's downtown buildings, decked out with shiny Mac computers, bright green paint, and white boards that cover entire walls. "Please erase the walls after your meeting," reads a sign.
Gilbert has also boosted a 3.3-mile streetcar planned to run along Woodward Avenue. He pledged $8 million to the $145 million project, which has received an unprecedented $100 million in private donations, including $35 million from the Kresge Foundation. Construction is also backed by $25 million in federal grants.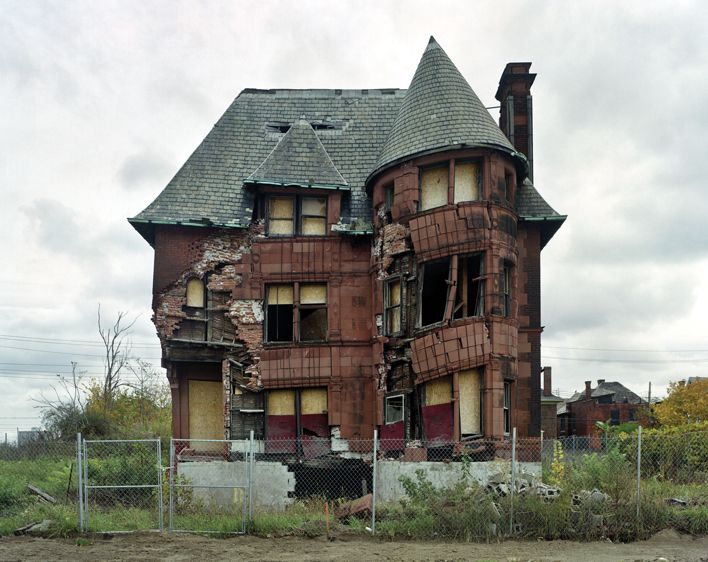 Skeptics point to the city's failed People Mover, built in 1987 to circle downtown but now requiring millions in annual government subsidies to operate. But Laura Trudeau, who heads Detroit giving for Kresge, insists M-1 Rail will connect downtown with neighborhoods, and people with jobs, in a way that the People Mover and city buses can't. "The area needs a stronger economic core, with more people living there and more jobs within the city itself," Trudeau says. "People are just demanding better mass transit."
Gilbert's latest volunteer work has a not-very-lucrative focus: ridding the city of blight. The federal government recently appointed the billionaire to a task force to deal with Detroit's estimated 78,000 abandoned structures. The news was seen as a shift for Gilbert, who until then seemed focused solely on downtown. The morning of his interview with Philanthropy, Cullen toured decaying homes in Brightmoor, the neighborhood the Fisher Foundation adopted, where 30 percent of houses are vacant.
Cullen says Gilbert's new work on blight came out of conversations when he and other business leaders convened at the White House in late summer 2013. "They had invited us to talk about what the federal government could do within their existing programs in order to make a difference," Cullen says. "Dan brought forth the idea that, 'It's hard for the city to really move forward until we get rid of all of this blight.'" The feds agreed to chip in $150 million for blight removal, with most of the funds coming out of existing budgets, and asked Gilbert to sit on the task force.
Gilbert's committee wants to remove every decrepit structure in the city in three years. Considering that no one really knows how many abandoned buildings Detroit has—some estimate up to 90,000—the goal is "audacious," as Cullen puts it. "We're working together to see if we can provide a plan that would provide the necessary financial resources, the technical capacity to take it down, and the legal authority to get it done." Experts say demolishing a single-family home can cost between $8,000 and $15,000. Cullen thinks the project can be done for $1 billion in private and public support; Gilbert estimates only $500 million. How much of that will be his own contribution is yet to be seen. 
Future planning
Blight clearing and mass transit aren't the only tasks traditionally managed by government that Detroit donors find themselves investing heavily in. Kresge gave $50 million to build a three-mile promenade along the city's riverfront in 2008. With a more recent $5 million donation, Kresge became the primary funder of long-term city planning for Detroit's 139 square miles.
City government started the effort, but faced raucous neighborhood meetings, with residents worried the city would shrink its borders and they'd be forced to leave their homes. Officials passed the project to philanthropy, where it could be completed in a less politicized way. The new inch-and-a-half thick "Detroit Future City" plan required intensive community involvement—meeting after meeting. "This city needed to come to terms with where it was," says Dan Kinkead, now the director of the plan's implementation team. Planners needed to hear from residents and businesses about what wasn't working and what improvements sounded appealing, he says.
Detroit Future City now offers detailed strategies for stabilizing Detroit's depleted population, multiplying its jobs, and fixing its transportation problems. It offers solutions for fixing the city's lights, sewers, and roads, and ideas for what to do with the multitude of empty lots. Kinkead's implementation team will help city officials, businesses, philanthropists, and community leaders develop neighborhoods and fix broken infrastructure. Marjorie Fisher, Jane Fisher Sherman's stepmother, has already given $1 million to be spent in line with Detroit Future City, funding some of the plan's top priorities, such as blight removal and job training.
Stopping the bad guys
In Palmer Woods, the same neighborhood in which Sherman spent her girlhood years, the streets are dark on this chilly October night. Eleven neighbors gather in a lamp-lit living room, modern art adorning the walls. This relatively well-off enclave of Tudor brick homes has only dozens of abandoned houses in its midst, instead of the hundreds found in other Detroit neighborhoods. Yet residents here, outfitted in blazers and pearls, are seeking solutions to the crime that plagues them as well as the rest of the city. They've gathered to hear what the Manhattan Institute has to say about how they might help the police in their area.
The Palmer Woods residents tell the think-tank representatives that criminals must stop invading their homes and cars. One woman says she is afraid to walk from her garage to her front door. The man sitting across from her seems less worried—but he has a gun visibly stashed in his leather belt. The discussion continues as a large SUV drives by, ablaze with colored security lights. "There goes our private patrol," one resident says. The group has already paid for a hired security firm to keep watch over the neighborhood.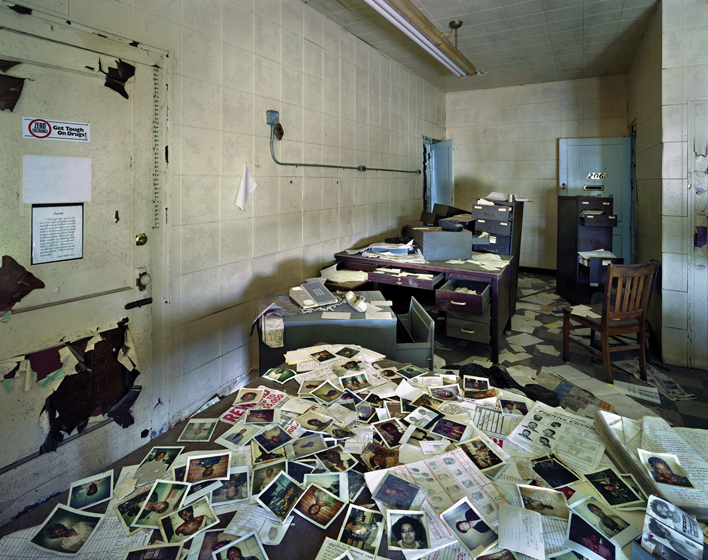 Now they are listening to ideas from a New York nonprofit on how to prop up city police operations. The institute's George Kelling pioneered the "broken windows" theory of crime prevention: Follow up on the small crimes, and the big ones will also go away. With the help of an anonymous donor, the Manhattan Institute brought Kelling and Michael Allegretti, vice president of programs at the think tank, to Detroit's neighborhoods to work with residents and the police on reducing home invasions.
In a pilot program that wrapped up in another neighborhood last year, the institute helped residents come up with a list of behaviors that often preceded home invasions. For example, a stranger pacing in front of a house while talking on a cell phone could be a thief casing a home. Residents then listed those behaviors on flyers and distributed them, telling neighbors to call police if they saw something fishy.
Meanwhile, area police agreed to be more visible, adding "community engagement" to their everyday to-do lists, which led to 1,200 conversations with community members. And parole officers visited criminals known for home burglaries and threatened harsher prosecution, simultaneously offering them help getting jobs from a local nonprofit. After a year, home invasions in the neighborhood were down 26 percent. "Citizens suddenly said, 'Wow, the cops care. They're here,'" says Allegretti. "Potentially, lives were saved."
In addition to helping the residents in Palmer Woods, the institute is hoping to work with police next to reduce crime at Detroit's gas stations, notorious for carjacking and theft. The group is still looking for a donor to fund those efforts, which Allegretti believes it is likely to get.
Other local philanthropists are also taking measures to tackle safety problems in Detroit. In addition to their donation of 100 police cars, the Kresge Foundation and corporate partners last year gave 23 ambulances to the city. Kresge has offered money to fund local patrols of off-duty cops, and gang violence prevention. Kresge and Skillman both gave money to support AmeriCorps volunteers working with Detroit police to analyze crime statistics. Hudson-Webber paid for innovative videoconferencing arraignment technology so that police wouldn't have to leave their patrols to go to court to get criminals locked up. The foundation also helped fund the police at Wayne State University to target crime in their midtown Detroit neighborhood.
In downtown Detroit, Dan Gilbert's companies established a "command center," where video feeds from about 1,000 cameras—some owned by Gilbert, some by other downtown employers—are monitored by security personnel. The presence of these donated cameras has helped deter crime in the area, observers say. The private security teams also monitor social media and tell the Detroit police when trouble seems to be brewing. "I'm confident that working together we're going to reduce crime a lot," says Cullen.
Building neighborhoods
Things are looking up for midtown and downtown Detroit, but in the neighborhoods surrounding them, residents face dire circumstances. "There's a lot of fear. It's sad," says Maria Salinas, a neighborhood leader working in southwest Detroit for the Skillman Foundation. "Kids go to school and they have to pass abandoned buildings, burnt out buildings, prostitutes sometimes, drug dealers," she says. "They don't know there's a better way."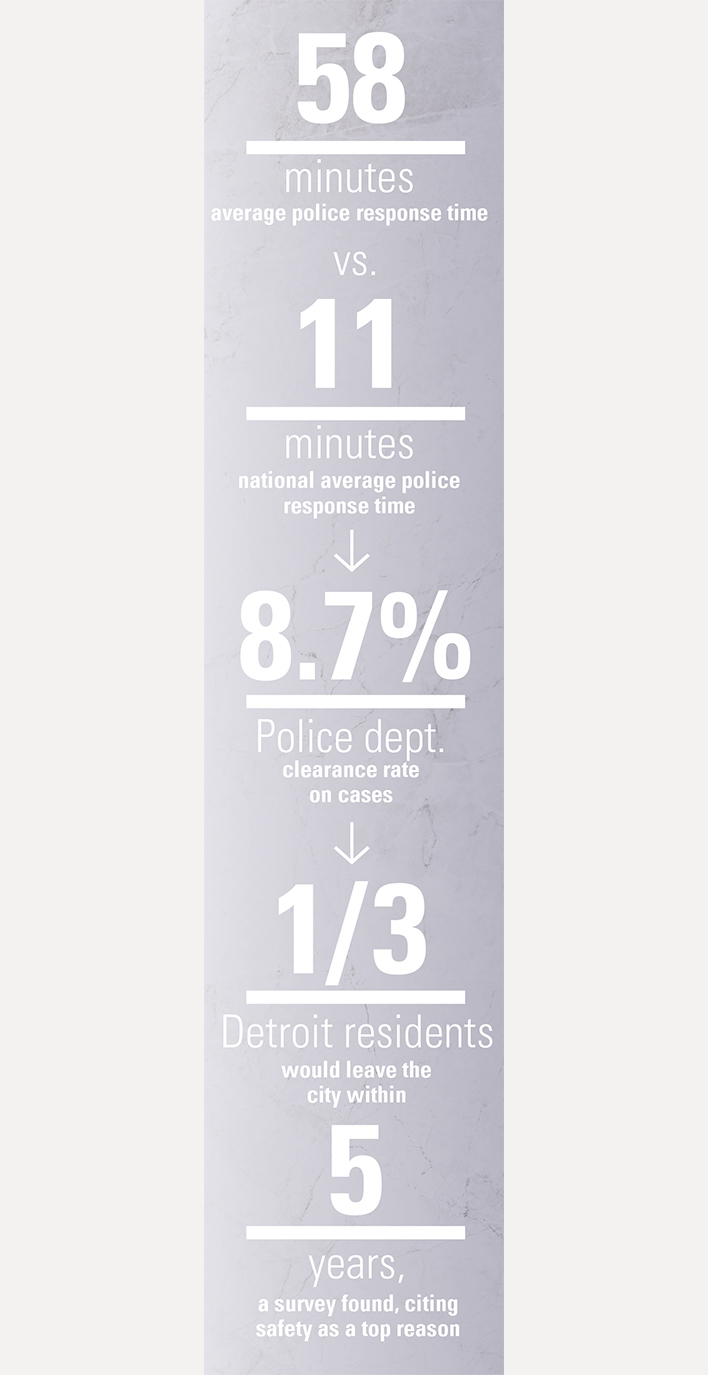 For the last seven years, Salinas has been trying to show her community a better way. She's one of several leaders chosen by Skillman to act as liaisons in six areas targeted by its Good Neighborhoods Initiative. Much of the work is to build what the foundation calls "civic muscle." Salinas and her nonprofit, Congress of Communities, help residents band together to solve problems. The congress has painted murals and helped get cops and parents to patrol a park adjacent to several schools when bells announce the end of the academic day. It steers residents seeking nonprofit services, and supports Skillman's efforts to get more kids into quality schools and extracurricular programs. In other neighborhoods, Skillman's local leaders have zeroed in on problems such as job creation and cutting red tape for businesses.
In the last few years, says Salinas, "city and state services kind of just came to a halt. That's where the residents started to lose faith. Their garbage isn't getting picked up. Our lights are being turned off." Skillman already had five years of hands-on experience making these neighborhoods better when these services started to disappear. So they were able to help neighbors cope, she says.
It remains to be seen whether the $100 million Good Neighborhoods Initiative will meet its 10-year goals. So far, Allen says, Skillman has seen a 10 percent increase in the neighborhoods' high-school graduation rates (while citywide graduation rates remained stagnant), 15 percent more kids enrolled in extracurricular programs, 100 percent more teenagers holding summer jobs, and nearly 70 percent of graduating high school seniors applying to college. "We in philanthropy…have to create condition-changers—strategies that influence the broader context. We've tried to do that in Detroit."
In the Brightmoor neighborhood, the Fisher Foundation has committed more than $2 million to training daycare providers. Partnering with mothers and daycare workers, the foundation helps the adults understand child development. The aim is for young children growing up in a neighborhood worn down by blight and drugs to start kindergarten ready to learn. In addition to helping kids, the program frees up single moms to get jobs.
Detroit's philanthropic collaboration is on display here. "One of the reasons we went into Brightmoor is we felt we weren't going to be working alone," says Jane Fisher Sherman. "Because Skillman was already working there, we would have a partner and we would be able to work together and make a difference in the area."
The foundation has also helped created parks and gardens where families and children can be outdoors in the neighborhood. One day last September, four generations of the Fisher clan descended on one of the parks to help about 30 residents plant fruit trees. "This is something that five years ago would not have happened," Sherman says. "You now see the neighbors taking great pride in their neighborhood."
The current mobilization of private money that keeps Detroit breathing on life support is remarkable in scope. Whether or not the city will ever grow and thrive again—and whether philanthropists will be steely enough to support the hard decisions necessary for that to happen—remains to be seen. After all, most of these foundations poured millions into the city for decades, only to have debt, crime, and poverty soar while the middle class fled.
Critics believe some philanthropists joined Detroit's politicians and public employees in maintaining misguided fiscal and social policies that led to the city's mortal afflictions. Today, private donors are keeping the city's bones from crumbling. Whether they can help lead a resurrection is still uncertain.   
Liz Essley Whyte is managing editor of Philanthropy.
(Photos by Yves Marchand and Romain Meffre)