Here in Appalachian Ohio, we often say our community foundation started like an Amish barn-raising: everyone showed up with what they could offer, and we got to work. We lacked traditional financial assets, endowments, and philanthropy know-how, but were rich in vision and commitment from the community.
We opened our offices in Nelsonville, at the heart of the "Little Cities of Black Diamonds"—an area nicknamed for the coal it produced. Many of our communities had developed as mining-company towns. They boomed when resource extraction was in full swing, and endured the economic and psychological depression that came with the busts.
Today, 20 years after we opened our doors, we are surrounded by physical reminders of our region's challenges and resilience. Across from our office is an architectural treasure—a former hotel where U.S. presidents stood on an ornate second-floor balcony to deliver speeches to miners gathered below. The hotel is now used for low-income housing, a necessity in our county, where the poverty rate is 31 percent. A few doors in the other direction is a food pantry. One in five local families depends on this or another pantry. One of the most painful situations in our region today are the families and lives disintegrating because of addiction.
Amid these visible needs, we are at an unseen disadvantage when it comes to pulling ourselves up by our bootstraps: a severe "philanthropy gap." Appalachian Ohio has 90 percent fewer philanthropic assets per capita than the rest of Ohio.
This gap has nothing to do with a lack of generosity. During our boom period, our communities were new and had not yet developed the civic infrastructure, local ownership, or capacity required to retain wealth. More developed economic centers like Pittsburgh and Cleveland were better able to reinvest and retain the wealth flowing from our local natural resources—so secondary business successes, and then great philanthropy, were concentrated there. When the bust arrived, our citizens had to pick up and move, or be swept into a consuming struggle to make ends meet.
The dominant style of giving that emerged emphasized immediate demands, and neighbors helping neighbors. Obituaries commonly share how to help with funeral expenses. In a coffee shop below the historic balcony described above there is a bulletin board where citizens post information on fundraisers helping families in crisis: all-you-can-eat dinners, motorcycle "poker runs," "Chinese auctions," and other benefit events aimed at helping pay medical bills and other expenses.
Inside the coffee shop there are frequently informal meetings among barbers, bankers, and business owners where they plan ways to pool resources to help others. One recent project aimed to boost the crown jewel of Nelsonville—a beautiful opera house, built when our economy attracted theater troupes to perform for miners with cash in their pockets. Against many odds, the community raised funds for renovations ensuring a lively community music and arts center.
Our community foundation was created in 1998 to offer the stability and sustainability that endowments, joint trusts, and legacy gifts can provide to a close-knit area like ours. Today, the Foundation for Appalachian Ohio is home to more than 450 charitable funds, serving all 32 counties of Appalachian Ohio, including an endowment for Nelsonville's opera house. Our remarkable journey is worth sharing. 
Built from scratch
When Frederick Goff founded the world's first community foundation, the Cleveland Foundation, in 1910, the starting funds were mostly shifted from trusts that already existed. When we launched our local counterpart we began with no resources at all. Our initial asset was a pledge from the state to match every gift we could secure for operations, up to $1 million. Gifts came in all sizes, but most were small.
One major commitment came from the Ford Foundation, which had a program for seeding community philanthropy in new places, like ours. A Nebraska-based surgeon who had grown up in our region provided an endowment for an annual scholarship to honor his high-school football coach. An elderly woman in California sought us out through her attorney after watching a television program on Appalachia, establishing a fund to benefit children.
Even with these generous gifts, we did not have significant dollars to grant, so we started by developing a public-awareness campaign. The region's losses had resulted in a culture of diminished expectations. Our trademarked I'm a Child of Appalachia initiative shares stories of educational, entrepreneurial, and charitable success. A first honoree and spokesman was Bob Evans, founder of the popular restaurant chain.
A CPA working with us suggested that as a regional foundation we could help by developing local community funds under our umbrella. That effort has yielded ten active county community foundations supporting and inspiring local philanthropy. The first of these foundations now distributes $250,000 in annual grants. Our work to create wide, small-scale participation helped us establish a large grassroots network of partners. And when one community developed a successful initiative, it often produced ideas that could quickly be shared with others nearby. For example, a grant to a community drug coalition in one county sparked prevention strategies in 12 other locations.
We also led larger regional improvements. We formed a business council and a regional economic development organization. These help us retain local business talent, and stimulate the wealth creation that ultimately leads to philanthropic giving.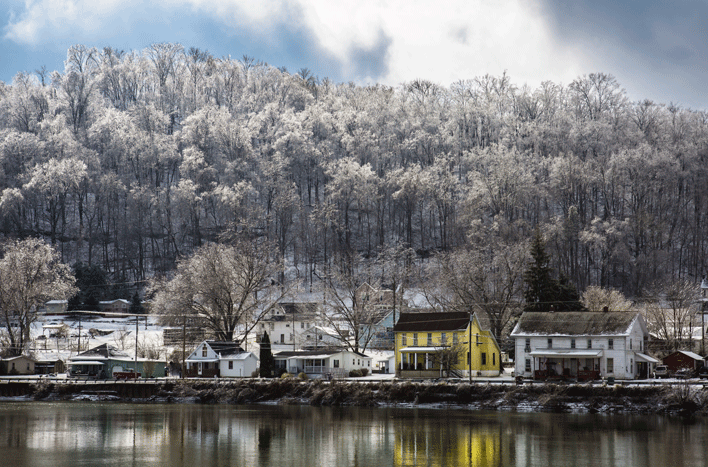 Despite these accomplishments, I felt completely out of place at national philanthropy gatherings. Many foundation heads commanded large sums, and wondered where to channel them. Sometimes my primary concern was making payroll. 
A first-of-its-kind "IPO"—Initial Philanthropic Offering
All this was on my mind when a board member asked, "What do you think we could do for the region if we were not always worried about raising our operating dollars?" My reply came so swiftly it surprised even me: "We would raise $100 million."
It sounded outlandish—we were struggling to secure our annual budget of $800,000. But I was painfully aware of how much time was absorbed to keep our lights on. If we could secure some major gifts and expand our asset base, we could actually have more energy for working with our partners to improve life in this region.
We studied the idea and concluded that if we devoted ourselves to the task for five years, raising $100 million was not impossible. First we would pull together $3.2 million to underwrite our operating budget during the campaign. That capital would buy us the freedom to focus on our long-term goal.
We asked ourselves what we would do to raise this sum if we were a private company. Our board chair was an angel investor. Another board member had taken his company public. Yet another had led a venture-capital fund. We devised an "IPO"—an Initial Philanthropic Offering—centered on the compelling value proposition that if our neighbors would invest $3.2 million in us, that would equip us to raise $100 million in new philanthropy in the handful of years following.
We set up a system of "shares"—each constituting a gift of $32,000—and went looking for 100 "shareholders." Within six months, we had secured all the required pledges. Our Initial Philanthropic Offering was a success.
These early shareholders were mostly friends and family. They included all of our board members. Our initial founders. Everyone who held a donor-advised fund with us. Many local businesses. And some large national corporations. As we asked for financial pledges, we also asked each shareholder for his or her personal commitment to help us succeed via a different set of gifts—ideas, experience, introductions, and feedback.
Most participating families gifted one share. One spouse, though, decided she wanted to have a share of her "own," so her family contributed two. Several families who could afford it followed her lead. Many gave sacrificially at a time in their lives when they faced the expenses of raising children. A large-equipment dealer, Ohio CAT, offered to match gifts so that those who found a full share beyond their giving capacity could join in. Some of the people who gave shares lived outside our region, but had grown up here; giving a share was a way for them to reconnect with their roots.
Gulfport Energy, the largest natural gas-and-oil company in Ohio, felt so strongly about helping make sure that our region's shale-energy development would generate local philanthropic wealth that it provided a major leadership gift—one "share" for every community it operated within. Another unexpected gift of multiple shares came from Ohio University, which understood how our region's philanthropy gap impeded its educational mission. Our final gift came from the region's largest utility, American Electric Power. It pushed us over the top of our initial goal to 106 shares.
We held a public celebration and anounced that we were going to raise a total of $100 million to transform Appalachian Ohio. The next morning we returned to the office feeling, as one shareholder put it, "like the dog who was chasing a van and caught it." What were we going to do with this thing in our mouth? How would we keep this promise?
The case for endowment 
Our IPO raised more than just initial funding—it raised all of our expectations. We provided our shareholders a constant stream of information about strategy and results, endowment growth, new partners, and exciting grantmaking. Our investors became close partners, and their belief and energy was crucial to the next step of our challenge—building an endowment.
Raising endowment funds is no easy task. Amid urgent human needs, funding an endowment can seem like an inert form of philanthropy. Most givers these days prefer to support specific programs, where they can see immediate results, and have hands-on involvement. And, nationally, there have been too many reports of bloated endowment trusts, unresponsive managers, and endowed organizations that drift from or openly disrespect the original intentions of donors.
But in a community like ours, an endowment can be a powerful new tool. One of the fundamental barriers to progress in Appalachia is that our charitable investments are rarely sustained. Watching promising efforts dissipate due to a lack of long-term funding zaps energy from our most talented citizens. Stable endowments will help us create lasting and permanent improvements, by providing the resources we need to direct our own future.
When we set our goal of raising $100 million, we gave ourselves a 15-year timeframe. Four years later, we have more than $64 million delivered or pledged—the vast majority for endowment. An early leadership donation helped to set the pace. A shareholder and his partner pledged 97 percent of their estate to endowments benefiting the region, inspiring many others to make planned gifts.
Our grantmaking since our IPO has tripled. Our shareholders' generous gifts to our operations freed us to devote our energy to working deeply with our partners on successful regional programs. An early first step has been building five funds we call the "Pillars of Prosperity"—endowments dedicated to community and economic development, education, arts and culture, environmental stewardship, and health and human services. And to give donors the best of both worlds, we've created a unique blended-gift campaign that allows donors to give simultaneously to present-day programming and endowment.
As with any entrepreneurial venture, we don't know exactly where we will end up. Continual improvisation and improvement is the name of the game. But we are confident we will succeed—because we do not go alone. Our confidence is placed in the hands and hearts of the children of Appalachia.
Cara Dingus Brook is president and CEO of the Foundation for Appalachian Ohio.