Eli Broad has long made it a habit to read four newspapers every morning. Which is how one day in March 2006 he came across an article in the New York Times entitled "Where Have You Gone, Molly Picon?" The story described the demise of the Hebrew Actors' Union, a century-old outgrowth of the once-thriving Yiddish theater in New York, noting that the group's archive of posters, props, manuscripts, musical scores, and other pieces of Jewish culture was in danger of being lost forever.
Then the businessman and philanthropist did something he almost never does: He acted on pure impulse. "Out of the blue, I called and said, 'What's it going to take to preserve all this?'" he recalls, sitting in the living room of his breathtaking Frank Gehry-designed home in the Brentwood section of Los Angeles, amid a few of the many treasures in his collection of contemporary art. Broad made a call, solicited a proposal, and wrote a check for $186,000.
Some three years later, he and his wife, Edythe, attended the opening of "Stars, Strikes and the Yiddish Stage," a Manhattan exhibition of some of the materials their gift had saved. In brief remarks to the invited guests, Eli explained the impetus for his gesture. His parents, Lithuanian immigrants to the Bronx and then Detroit, were great fans of the Yiddish theater and even spoke the language at home. "I've always had a wish to do something for my parents that they would have loved," he told the crowd of scholars, performers, and history buffs assembled for the occasion.
Then, as the couple looked on approvingly, the artistic director of the National Yiddish Theater led a performance of "America," a long-forgotten show tune discovered in the moldering archive. "America!" the song goes in English translation. "When I came you extended your hand to me. You let me in your beautiful country. I will be useful to you, and I'll shine Uncle Sam's boots in America! Everyone has freedoms here without end!" Except perhaps for the part about shining boots, it was a sentiment Broad knows well.
Five-and-dime to Fortune 500
The only child of the owners of a five-and-dime store, Eli Broad went on to become a living embodiment of the American dream. In 1956, at age 23, he gave up a nascent career in accounting to co-found the homebuilding firm Kaufman and Broad, later KB Home. It became the first such company to be listed on the New York Stock Exchange. Later, Broad transformed a small insurance company into SunAmerica, a giant in retirement savings. Now 80, he is well into what he likes to call his "fourth career," overseeing the distribution of the couple's $6 billion fortune in an impressive array of philanthropic ventures.
The Broads are signatories of the Giving Pledge, having promised to give 75 percent of their fortune to charitable causes. But apart from the Hebrew Actors' Union gift, they rarely base their donations on a passing fancy. They are pioneers of what is often called "venture philanthropy"—giving designed in a business-like way to create maximum impact. They have focused their donations in three areas: education reform, modern art, and genetic research. Though he hasn't practiced accounting for more than half a century, Eli's head for number-crunching and penchant for meticulous research has made the Broad Foundation an exemplar of the ways that philanthropic gifts, when strategically deployed, can change a culture.
"I'm working harder now than when I ran a Fortune 500 company," Broad tells me. "Others just write checks. We don't do that. We want to make a difference. We see everything we do as an investment and we want a return, whether that's in terms of scientific and medical findings, or bigger and broader audiences for art, or student achievement."
We're sitting at a small conference table in Broad's twelfth-floor office at his foundation's Los Angeles headquarters in Westwood. It's a tidy, sunlit room decorated with a number of museum-quality canvases. Eli strides over to his desk and retrieves an inch-thick binder.
"We have a separate unit that evaluates every grant we make," he explains, flipping through the painstakingly compiled end-of-year grant report, which runs nearly 300 pages. He notes that the foundation's three-member evaluation unit is kept separate from other areas of the organization, to maintain the independence and accuracy of its findings. "We're very proud of that," he says. "I can't think of any other foundation that has this sort of discipline."
Another point of distinction: Unlike many foundations that have teams of grant officers who sift through applications as they arrive, Broad says, "We don't wait for people to come to us. We go and seek out ideas. I'm an entrepreneur…. I look for opportunities."
It's an approach that other philanthropically minded executives are eager to learn from. Not long ago, the couple received a visit from an ambitious tech entrepreneur—"a very bright and very sweet young man in tennis shoes," as Edythe recalls—who was thinking about making a big education gift and wanted some advice. The introduction had come from Arne Duncan, the U.S. Secretary of Education and a longtime colleague in the school reform movement, and the Broads were happy to offer their expertise. Not long afterwards, the sneaker-clad entrepreneur, Facebook founder Mark Zuckerberg, pledged $100 million to improve Newark, New Jersey's struggling school system. The Broad Foundation later donated an additional $500,000 to the effort.
Building houses, building a home
Given his achievements in the corporate sphere and his membership in what his education opponent Diane Ravitch calls the "billionaire boys club," it's curious to note that Eli Broad grew up in a socialist household. His father was a devoted member of the Workmen's Circle, a Jewish labor organization, and as a boy Eli was sent to the group's "red diaper" summer camps. "My parents went through the Great Depression," he points out, noting that their view of the world was shaped by that experience. "It was 'poor working people versus the big bad bosses.'"
Despite this class consciousness, Eli plunged into the corporate world right out of college. As the first person to create two Fortune 500 companies, he became a business titan. His paths to success, however, might have found favor with even his father's progressive lodge brothers. KB Home made home ownership a reality for middle-income families. SunAmerica offered people a safe place to build their retirement savings.
Growing up, the man who would seek a wholesale transformation of the education system could be an argumentative student. "The teachers would make a statement and I would challenge it or ask a lot of questions, and they didn't like that," he recalls. "They just wanted you to accept whatever they said."
Broad matriculated at Michigan State University, where he majored in accounting. On graduating, he persuaded the powers-that-be to make an exception to the state accounting exam's age requirement. He passed on the first try, becoming the youngest CPA in Michigan history at age 20. It was around this time that he met Edythe Lawson and proposed marriage after only a few dates. They wed in 1954 and soon had two sons.
Sitting at home one afternoon—he in his usual tailored suit, she in a black pantsuit, a scarf draped over her shoulders—Eli and Edythe seem wonderfully complementary. He's analytical; she's intuitive. He can be brusque, beginning one interview session with the edgy admonition, "Okay. Let's go," while she is warm and empathetic, with an impish sense of humor.
Asked whether Eli's penchant for being "unreasonable" (the leitmotif of his 2012 memoir) ever made married life difficult, Edythe laughs. "He'll just keep pushing and pushing and pushing, but if I say something, he listens. He's a little more mellow now," she adds. "Not a lot. A little."
Despite Edythe's calming influence, Eli's implacable nature cost him his first accounting job, when he pressed his boss so relentlessly for a raise that he wound up getting sacked. Rather than seek out a similar position, he teamed up with homebuilder Donald Kaufman, the husband of one of Edythe's cousins, and with $12,500 in seed capital from her father started KB Home. As Broad relates in his memoir, The Art of Being Unreasonable, he scrutinized every step of the building process, hunting for economic efficiencies. Significantly undercutting the competition in price, the firm sold 120 starter houses in its first year.
After taking the fast-growing corporation public in 1971, Broad and Kaufman diversified by purchasing the Baltimore-based Sun Life Insurance Company, a sleepy regional business. Shifting the firm's emphasis from selling life insurance to marketing retirement savings just as baby boomers were beginning to plan for their golden years, Broad landed on a winning formula—and a massive return when AIG purchased the company in 1998 for $18 billion.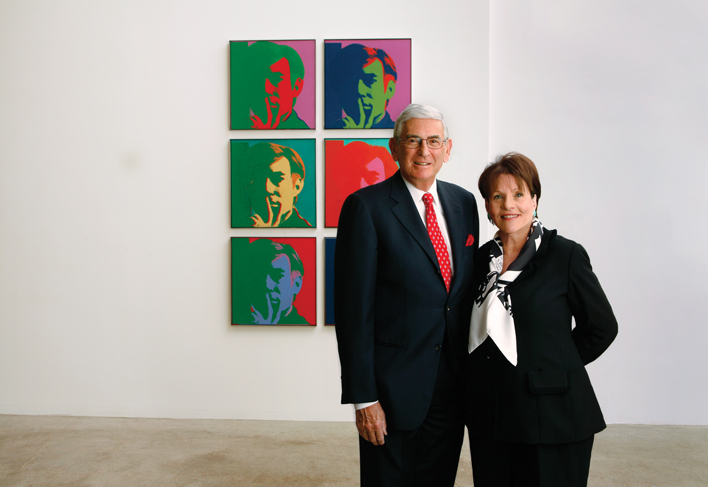 Art in the City of Angels
While the sale of SunAmerica prompted the Broads' full-time commitment to philanthropy, their charitable engagement had actually begun years before. Back in 1984, as their collection of fine art outgrew available wall space, the couple established the Broad Art Foundation to share their formidable trove with museums and institutions around the world. The collection has steadily expanded to include more than 2,000 works, with an emphasis on postwar and contemporary artists, and over the years the art foundation has loaned works more than 8,000 times to nearly 500 institutions. "The model that Eli Broad established of making his collection available for loan is exemplary," says Thomas Campbell, director of New York City's Metropolitan Museum of Art. "I can't think of any comparable body of work that is lent as generously."
Broad has not merely lent artworks to museums. He's also helped to create several major institutions in Los Angeles and one at his alma mater Michigan State, contributing money, connections, and energy—and no shortage of what his parents might have called kibitzing (Yiddish for sometimes unwelcome advice). While his eagerness to shake up art-world paradigms has led to criticism over the years from observers who deem him an unusually meddlesome benefactor, no one disputes that his efforts have helped transform Los Angeles into a legitimate art capital.
"There are a lot who would say he's been overly influential and a lot who would say without him they wouldn't be there," notes Glenn Lowry, director of the Museum of Modern Art in New York City. "He doesn't listen to either side. He does what he believes in. Of course it's going to be controversial. You don't change cities and reimagine urban landscapes from an armchair."
Broad's vision for a renewed city center in L.A.'s long moribund downtown includes a new museum, the Broad, which will achieve the couple's long-term goal of sharing the better part of their collection with the public. Set to open in 2014, the museum is being erected just steps away from the city's Museum of Contemporary Art (for which Broad served as founding chairman) and the landmark Frank Gehry-designed Walt Disney Concert Hall, a project that was nearly abandoned due to cost overruns and mismanagement until Broad stepped in to provide the financial boost and aggressive leadership necessary to bring it to fruition. Just a few blocks away sits the Ramón Cortines School of Visual and Performing Arts, a glittering public high school that also owes its existence to Broad's largesse.
While the recession has slowed the cultural district's redevelopment plans, new shops and restaurants are now opening at a fast clip, bringing energy to an area that had long been written off. "I think Grand Avenue is going to become the cultural and civic center of Los Angeles," Broad says. "It's happening already."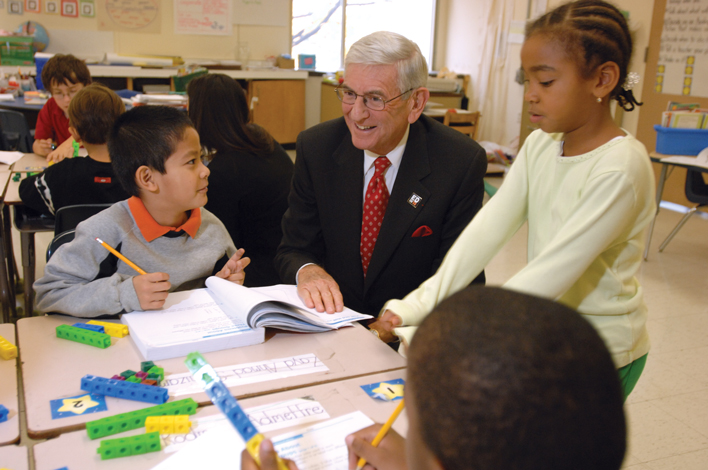 Raising up reformers
On a mild afternoon in late July, Eli Broad strides into a large hotel ballroom and perches on a director's chair before 43 bright-eyed young business-world refugees. They have come from around the country to enlist as foot soldiers in his campaign to transform public education in America. Each is joined by a mentor who has already completed the two-year program, known as the Broad Residency in Urban Education, and who is eager to guide the next class of reformers.
The Residents are a diverse group of poised MBAs and experienced executives from around the country, carefully selected for new careers helping run public-school systems. The Residency and the companion Broad Superintendents Academy are Broad's flagship leadership initiatives to catalyze change in public education by planting dynamic administrators in places where they can make a big impact—urban school districts, charter school organizations, and departments of education at the state or federal level.
"First I want to say I'm grateful you're all willing to go on this journey for two years, because I can think of nothing more important in education than people with your background getting involved in urban school-district management," Broad tells them, going on to outline how his own interest in K-12 education developed. In his travels around the world, Broad was impressed by the high level of academic achievement he witnessed in other countries, particularly South Korea, China, India, and parts of Scandinavia. "It was very clear to me that they are doing a far better job of educating their children than we are," he tells the residents. "And it was obvious we'd pay a big price if we didn't change."
Though Broad had some firsthand experience in higher education decades ago—he was an assistant professor of accounting at the Detroit Institute of Technology—he quickly realized he had little to offer in terms of curriculum or pedagogy. What he did know about was how to manage a large, complex organization—something too few of the nation's district leaders were doing effectively. So in 2002, he launched the Superintendents Academy, an 18-month training program designed to prepare hard-charging executives from the business and non-profit sectors for placement in urban school districts. Its 150 alumni to date include Los Angeles superintendent John Deasy and state superintendents of Louisiana (John White), Maryland (Lillian Lowery), New Jersey (Christopher Cerf), and Rhode Island (Deborah Gist).
To be truly effective, of course, such leaders need to be surrounded by teams of managers who share their visions and support their efforts. That, Broad tells the Residents, is where they come in. Founded in 2003, the Residency retrains talented professionals to work in conjunction with these leaders to shake up the status quo.
"So what are we trying to do?" he continues. "We're trying to ensure that every student has an opportunity to succeed. We're trying to make sure the money goes into the classroom and isn't tied up in bureaucracies. We've got to empower teachers but at the same time keep them responsible for performance." And to pull all of this off, "You've got to be a great communicator," he tells them. "You have to be able to sell your ideas to an audience that sometimes doesn't want any change."
When I meet with several of the Residents, I find that most were discovered by the organization's three-member recruitment team, which is charged with visiting top MBA and policy programs and conferences of young business executives around the country, and making a pitch to the best and the brightest. Interested applicants undergo an elaborate screening process: those who pass the written application, phone interview, and extensive day of panel interviews must then go through another round of interviews to be hired by whatever school district, charter-school office, or education department will be hosting them. This year, out of nearly 3,000 applicants, a little more than 1 percent made the final cut.
"This is the most rigorous recruitment process I've ever been through, and I did recruitment!" says Jevelyn Bonner-Reed, a member of the new class, who previously worked as human resources manager at Goldman Sachs. Earlier in the week she started her new job as director of strategic initiatives in human resources for the Charlotte-Mecklenburg School District in North Carolina. "I was like, 'Oh, my goodness, this is tough!' But we can't send the wrong people to these schools to be a part of this change."
Broad Residents have generally abandoned promising and highly remunerative careers in the private sector out of a real passion to make a difference. As Edythe puts it, "It's really thrilling to see young, highly educated people who could earn a lot of money being so willing to put that on hold and do something that benefits underprivileged children."
Felipe Perez, for example, served as an Army reservist in Iraq and Afghanistan and became Los Angeles's policy director for emergency services before landing a well-paid position at a security consulting firm. "I was going down a comfortable path, but I wasn't fulfilled," he says. Growing up in East Los Angeles, Perez excelled in his public school, but he was an exception. "Of the kids in my freshman class, half dropped out," he recalls. "We need to bring the American education system closer to the American ideal of equal opportunity."
His colleague Ann Ziker is one of the few Broad Residents with classroom experience, having taught history and social studies in Houston. "I went in as a wide-eyed, idealistic, save-the-world type of person and left three years later, deeply disillusioned and frustrated," she tells me. Later she found herself in a management consulting position with McKinsey & Co., an experience that "restored my faith," she says. "I learned that with extraordinary people and extraordinary problem-solving tools, there is no problem too intractable. It turned me from a cynic back into an optimist." Ziker now works at YES Prep, a charter-school system in Houston.
"In education—although they deeply understand the urgency of this work—the Broads are playing the long game, through talent development," says Education Secretary Duncan. "To serve students well, school systems need leaders with the skills to do a complicated job. The Broads are contributing in major ways to the solution by helping school systems find and develop leaders. They deserve credit for bringing a thoughtful approach to a hard problem and generosity to the solution."
Conventional vs. unconventional alternatives
The Broads' support for systemic change in education goes beyond funneling leaders into the field. They recently initiated the Broad Prize for Charter Schools, naming YES Prep, an organization with 13 campuses serving low-income kids, the winner in 2012, and Uncommon Schools, a network of 38 schools across three states, in 2013. Those schools (and other finalists for the Broad charter-school prize) have produced superb results with hundreds of thousands of children from difficult backgrounds, as demonstrated by hard achievement data.
A predecessor to the charter-school award, the 13-year-old Broad Prize in Education, is given annually to conventional public schools to "highlight successful urban districts." Former New York Schools chancellor Joel Klein recalled the day they won the Prize in 2007 as "one of the most significant of my tenure." Yet the initiative has garnered criticism from those in the school-reform movement who view it as propping up mediocrity or failure. In two big-city public districts named as Broad Prize finalists in 2013, Houston and San Diego, only about one out of ten African-American eighth graders can read proficiently, notes education analyst Andy Smarick. That's a far worse performance than charter and other less-conventional schools achieve with the same populations, so why not give them the million-dollar award instead?
Eli Broad has acknowledged that the "best urban public charter-school systems are performing significantly better than the best traditional school-district systems." Some reformers would prefer he stop underwriting conventional urban schools altogether and shift his efforts entirely to promising alternatives.
Michigan schools are close to the hearts of the Broads, who both attended public school in Detroit. The dysfunctional school system in their struggling native city dismays them. "It's a disaster," Eli says.
In response, the Broads worked with Gov. Rick Snyder to create the EAA, which is now responsible for more than 10,000 students. In these schools "there's a seven-and-a-half-hour school day, two meals per day, and every child has a tablet," Eli says. In an effort to end "social promotion," under which a child is moved to the next grade without being proficient, students learn at their individual pace, only advancing when they have mastered the given material. "They don't have grades, they have levels," Edythe explains, recalling a visit to one Detroit school. "Honestly, I don't think there was one child at that school who was at grade level, so what a clever way to not discourage them. You can only succeed."
"Eli and Edythe Broad are proud Detroit natives who are passionate about the city's comeback and know that a strong public education system is one of the keys to that restoration and resurgence," observes Snyder. "Their generous support and hard work for the EAA have simply been instrumental every step of the way—and most importantly, in making a positive difference for Michigan's school children and their futures and quality of life."
The Broads have also been forward-thinking when it comes to employing the tools of the digital era to reform education. They are among the nation's top proponents of "blended learning," which couples computer-based instruction with personalized teaching focusing on knowledge gaps revealed by daily computerized assessment. This allows each student to work at his or her own individual pace, tracks student progress, and frees teachers from the necessity of delivering one-size-fits-all mass lectures, letting them tutor students individually instead. Last year, the Broad Foundation gave some $20 million to an array of blended-learning initiatives, including the online Khan Academy and New Classrooms Innovation Partners, co-founded by Joel Rose, creator of the New York City personalized education program School of One.
"Eli and Edythe Broad are the epitome of private citizens doing public good," says former President Bill Clinton, who has overlapped with the Broads on school reform. "Through their transformational approach to philanthropy, they've been taking on great challenges and noble causes. Our country's future is brighter because of them."
Won't back down
The Broads' education-reform crusade has not been without controversy. Detractors, many aligned with teachers unions, see the reform movement as a bid to undermine public education. Others wonder if the high-stakes testing has gone too far. Even Eli acknowledges that No Child Left Behind, for instance, "was in dreamland" when it mandated that every child be totally proficient by 2014, but he remains convinced that the overall approach is the right one.
"You need a measurement system of some sort," he says. "But how you evaluate teachers shouldn't just be testing alone. There needs to be observation by principals or master teachers or others. And you have to give teachers more training." Broad would like to see teachers obtain degrees in subject areas like English, math, or science, rather than in education theory.
Given the public-school bureaucracy's resistance to reform, the Broads are also active at the political level. They have funded a number of policy groups and political action committees, including Students First, 50CAN, Democrats for Education Reform, and Stand for Children. "Most people with money like to do feel-good things. There aren't a lot of people willing to tackle the hard issue of significant school reform," says Joel Klein. "The Broads are among the few willing to take the heat, and their impact has been enormous. I'm sure Eli and Edythe would like to avoid controversy and just get the work done, but they're not afraid of it."
Eli sees the criticism of his education activism as proof that his approach is shaking up the system. Edythe concedes that the criticism used to bother her at times, but she says with a smile, "I'm 77. It doesn't bother me anymore. I know the things we're doing are important and will yield good effects over time."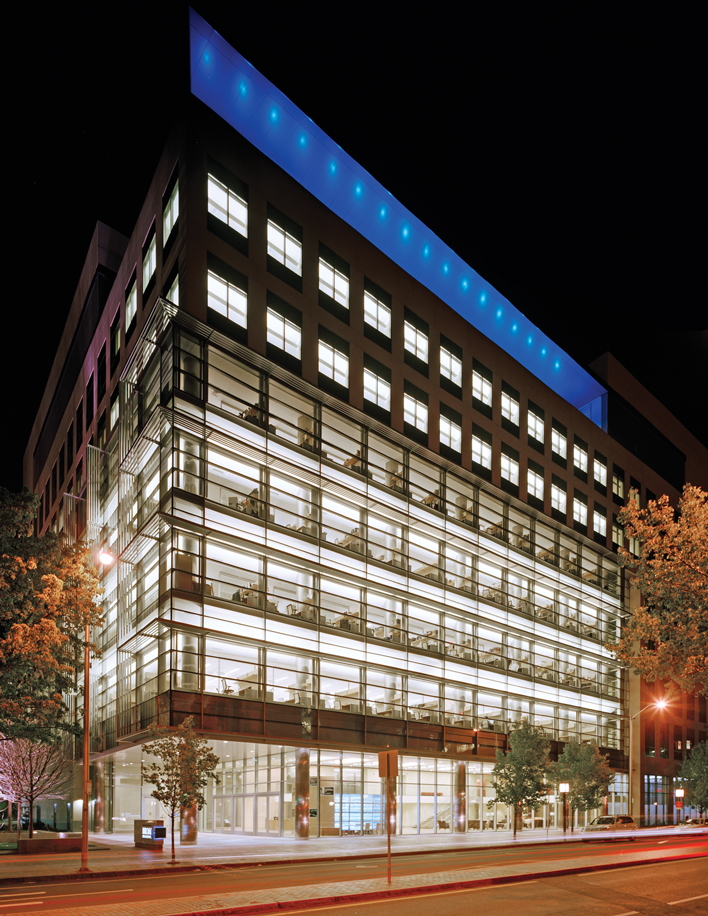 Cracking cancer's code
At the Eli and Edythe L. Broad Institute of MIT and Harvard, the genomic research facility built in Cambridge, Massachusetts with $600 million of Broad donations, the DNA sequencers, incubators, liquid handlers, robotic arms, and other high-tech devices are often given whimsical monikers. Some are named for pioneering scientists, others for comic-book superheroes. There are several named for famous captains (Captain Janeway of Star Trek, and Captain Crunch of the cereal), and even a pair of refrigeration units named Thing 1 and Thing 2, after the Dr. Seuss characters.
There are "fun reasons and practical reasons" for this, says Niall Lennon, director of technology and applications development for genomics, as he walks me through one of the labs where top-of-the-line sequencers hum day and night. The fun part is obvious. The practical reason is that identifying pieces of equipment by "asset numbers" works for computers but not for people. "Humans interact with objects a lot better when they have something in their mind they can associate with it."
This juncture between human ingenuity and technological wizardry is at the core of the Broad Institute's approach. Dedicated to defeating cancer, infectious disease, and other ailments by sequencing the genomes of thousands of human subjects as well as various microbes, viruses, and other organisms, the institute is applying the latest industrial tools to create vast leaps in efficiency. In the fast-evolving field of computational biology, pioneered in part by the Broad Institute, powerful databases churn through vast troves of data, seeking clues into why some cells become cancerous, for instance, while others do not, or how infectious diseases like malaria or dengue fever mutate and thrive.
The institute is now constructing a second building down the street to house its growing team of "Broadies," as the 2,000 researchers associated with the institute are known. The now-burgeoning center grew out of the Broads' struggle to understand their son's Crohn's disease, a type of inflammatory bowel disease. Finding that the mysterious illness had no known cause or cure, the couple began funding research on Crohn's and similar disorders. One grant recipient was the Whitehead Institute at MIT, where Eric Lander was directing work on the Human Genome Project. One day, the Broads paid a visit to the lab.
"They were very excited, because they had never seen anything like it," recalls Lander. In time, he told Eli about his dream of creating a new institute, an intensely collaborative place that would bring together scientists from an array of disciplines and institutions to work on projects both large and small, making the resulting data freely available. Broad asked him what it would cost, and Lander came up with an estimate of $800 million.
"I said, 'I hope you get it!'" Eli recalls with a laugh.
After that, "Eli, being Eli, went and did a tremendous amount of due diligence," Lander says. "And Edythe, being Edythe, was very intuitive and said, 'This makes a lot of sense.'"
"I just fell in love with Eric Lander and what he was doing," Edythe says. "I wanted to give him all my money."
In 2004, Eli came back to Lander with an offer of a $100 million challenge grant, and Lander devised a plan to bring in Harvard and MIT as partners. The two rival schools had never before joined forces on a project of such ambitious scope. Eighteen months later, the Broads put another $100 million into the project, and in 2008, they agreed to endow the institute to the tune of $400 million more. (They also support regenerative medicine and stem-cell research centers at the University of California, Los Angeles, the University of Southern California, and the University of California, San Francisco.)
Broad, who writes in his memoir about the importance of leveraging one's investments and energy, can take comfort in the fact that the $20 million a year in funding his foundation provides to the institute is a catalyst for a much greater investment by the National Institutes of Health, which provides the bulk of the institute's $270 million annual operating budget.
One key to that leverage is that the Broads' donations come without strings attached. "Unrestricted funds are gold, they're magic," Lander says. "We're able to say when we have a good idea, 'Let's start investing in it now rather than write a grant and start working on it two years from now after it wends its way through the NIH system.'"
As Todd Golub, the institute's chief scientific officer, puts it, "Having unrestricted funds allows you to think more ambitiously and be more creative. The knowledge that there is some funding available has liberated people here to think in new ways, putting things in motion that will one day find other funding."
The premium put on free-flowing, collaborative work is apparent everywhere, down to the very architecture: Glass walls throughout the building are covered with notes and equations scrawled by Broadies wielding markers, suspending moments of tangled problem-solving or spontaneous insight for others to see. The institute even boasts an artist-in-residence, who gives expression to the secrets of nature unfolding around him.
Another long game
What the Broad Institute and similar facilities are doing is reinventing how medical science is conducted. Whereas the old model, which is still predominant, involves rigorously testing a given hypothesis, the research underway at the Broad tends to focus on enhancing our knowledge of the underlying processes, on the theory that understanding what is actually happening at the molecular level will inevitably lead to more effective practical treatments. It's another long-game approach of the sort that appeals to Broad, who shows a distinct preference in his philanthropy for rewriting the rulebook over settling for incremental progress.
What makes this effort so unique—and such a magnet for the world's top scientific minds—is its open-ended vision, its effort to bring together a variety of scientific disciplines to work toward common goals, and the staggering array of technological gadgetry on hand. Patrick Faloon, a Broad researcher whose work involves using industrial robots to test quickly thousands of chemical compounds for their effects on various bits of DNA, notes that the equipment available to Broadies is typically found only in Big Pharma labs, where it is aimed squarely at bringing lucrative new drugs to market. Here, the mission involves "projects a pharmaceutical company might not see as being financially worthwhile," he explains.
Clad in a blue lab coat, Faloon points out that his department came in first in the country for the past three years in the volume and difficulty of "assays," or laboratory procedures, conducted. "It took a lot of initial investment to get up and running," he adds, standing in front of a top-of-the-line unit that uses acoustical waves to transfer liquids by the nanoliter. "I've worked in very traditional labs in the past, and to have this type of setup is unparalleled in my mind."
Better yet, the institute is determined to make the results of its labors as widely available as possible. While taking pains to protect patient data and valuable bits of intellectual property, so that incentives for private companies to spend heavily on lifesaving therapies are preserved, "everything else we think should be out there as much as possible," explains Golub. "We take a pretty aggressive stance on that. In the early days, the Broad helped set a standard for what is now the expectation—if you get a big data set, you should make the raw material available, not just the little snippets that you might write a paper about. And the journals now expect it."
While some researchers have taken issue with the use of scarce funding for research that may not lead to immediate clinical applications, the institute is betting that this work will eventually yield dividends on a scale that would be unthinkable under the old model. "The Broad has taken a leadership role, dissecting the genome of cancers to make a new taxonomy of the disease that I think is going to rewrite the textbooks," Golub says. "Now that we have a basic framework of the genetic underpinnings of the disease, the challenge is to bring it into the clinic, where patients can benefit directly from precision medicine."
He also cites the area of schizophrenia. "There has been no biological understanding of what those diseases were," he notes. "There haven't been new drugs for these diseases for 50 years, in part because it hasn't been clear what to work on. Now, in an international effort spearheaded by the Broad, a number of research committees have come together to unveil the first genes that are likely causes."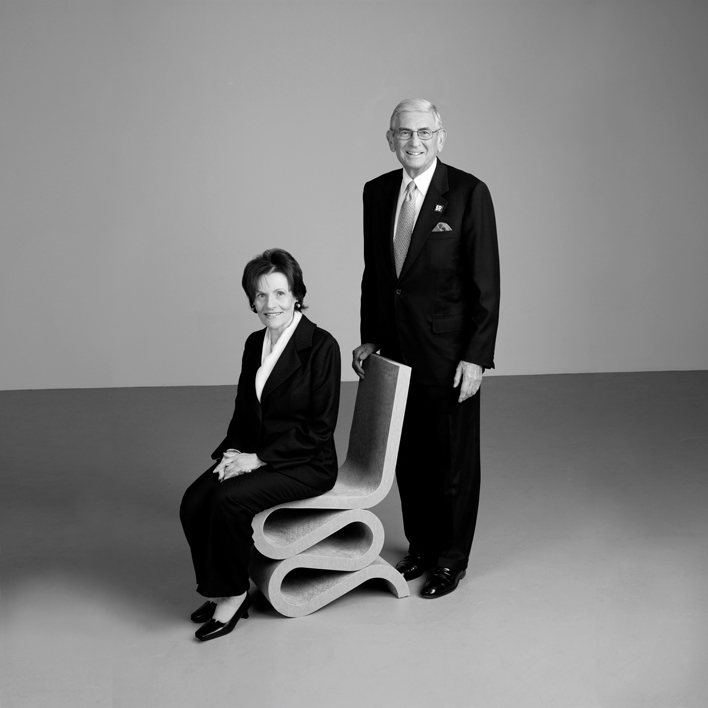 The ripple effect
In addition to a board of directors, the institute has enlisted a blue-ribbon board of scientific counselors to conduct careful annual reviews of its work. And each year, Eli and Edythe dutifully attend the counselors' meeting, which Golub describes as a "two-day, exhausting, scientifically intense" series of reports. "It's not because they have any intention of steering what's going on," he adds, "but just to ensure that the scientific advisors continue to be impressed by what we're delivering on. And that's a very good thing. It keeps us on our toes."
As to whether they truly comprehend the advanced scientific concepts being discussed, Broad says, "We understand more than we did—maybe about 10 to 20 percent." Unlike in other areas, Broad studiously avoids making suggestions as to the institute's management or overall strategy. "I know that in the art world there are those who think that Eli expresses his opinion a great deal," Lander notes. "In the scientific world, nada. Never."
"I'm always struck by the utter absence of any agenda in dealing with us," notes David Altshuler, the institute's deputy director and chief academic officer. "There's nothing they've ever asked for other than that we try to be excellent. That's pretty extraordinary."
And before long, it's expected that Eli's and Edythe's efforts will bear fruit in ways we can't yet begin to predict. "We're not yet at a point where there's a drug that is benefitting patients, but we're on that path," Golub says. "I think in the end, though, the even bigger impact will be made through unleashing the rest of the world's ability to make discoveries because of tools that we develop or data that we generate and share."
Big ripple effects like that are precisely what the Broads hope to set in motion through their philanthropy. "We used to give to things that were already there," Edythe says. "Now we create. We look and see something, and Eli will say, 'We can do this better.' And that's a lot more fun."
"She says it's fun," Eli interjects with a smile. "It's also hard work!"