Jessica Moore did not know who her father was until she was 13. As she grew up, her stepfather abused her and ultimately went to jail, which was both a relief and a burden, as it left the family financially precarious. Meanwhile, Jessica was dealing with a mysterious illness that took her out of school for months at a time and would not be correctly diagnosed for several years. Even when the rare autoimmune disorder was finally identified, there was no treatment for it. Facing chronic fatigue and pain, she waited tables up to 30 hours a week to boost the family income while she completed high school, clinging to the thought that some way, somehow, she had to go to college and attain her independence.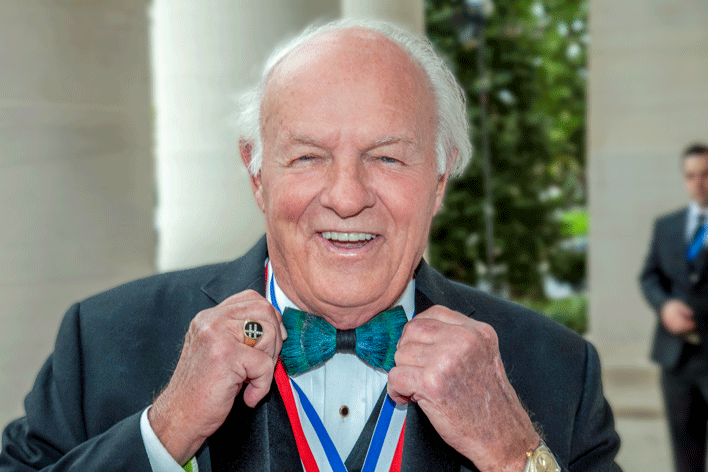 He's succeeded in business, and stunned in philanthropy, but Denny Sanford says his biggest honor was receiving the Horatio Alger Award.
Nobody she knew well had gone to college. In her small Georgia community, even graduating from high school was often an achievement. But she wanted more. She got involved with science fairs and then research at a nearby lab, drawn to the subject as she tried to understand her own illness. She gained recognition for her work, and when it came time to apply for college, this set her apart.
"If you had told me a year ago that I would be at Harvard, studying abroad this summer in Venice for free, I would have laughed in your face," she says. But a scholarship from the Horatio Alger Association allowed her to focus solely on her learning, opening a huge new world of opportunity for her.
Since 1984, the Horatio Alger Association has awarded more than $143 million in scholarships to students like Jessica, selected for their courage and tenacity in overcoming hardship. The association, founded in 1947, is made up of individuals who used hard work to overcome serious trials and achieve success. Members have included the astronaut Buzz Aldrin, businessman and donor Richard DeVos, surgeon Ben Carson, actor Denzel Washington, restaurateur Dave Thomas, justice Clarence Thomas, singer Reba McEntire, businessman Wayne Huizenga, hotelier Conrad Hilton, author Maya Angelou, and hundreds of other entrepreneurs, artists, and leaders.
A Horatio Alger enrollment is one of the highest American distinctions—"the biggest honor that I could ever imagine in my life," said businessman and philanthropist Denny Sanford, who was inducted in 2016. Sanford's mother died when he was four, and as a teen he tangled with the law. A second chance enabled him to go to college, and he went on to found one major company and reinvigorate another. His first philanthropy was to programs benefiting foster children, whose troubles he identified with. He is best known for over $1 billion in giving to medical research and a nonprofit health-care network serving his native Dakotas.
This year, Sanford made a record-breaking $30 million gift to the Horatio Alger Association's scholarship fund, the single largest donation the group has ever received. In the spirit of this high-achievement, high-humility group, Sanford says he wanted to "remind students that if someone like me can overcome challenges to succeed, they can too."
Back to Fall 2018 Briefly Noted