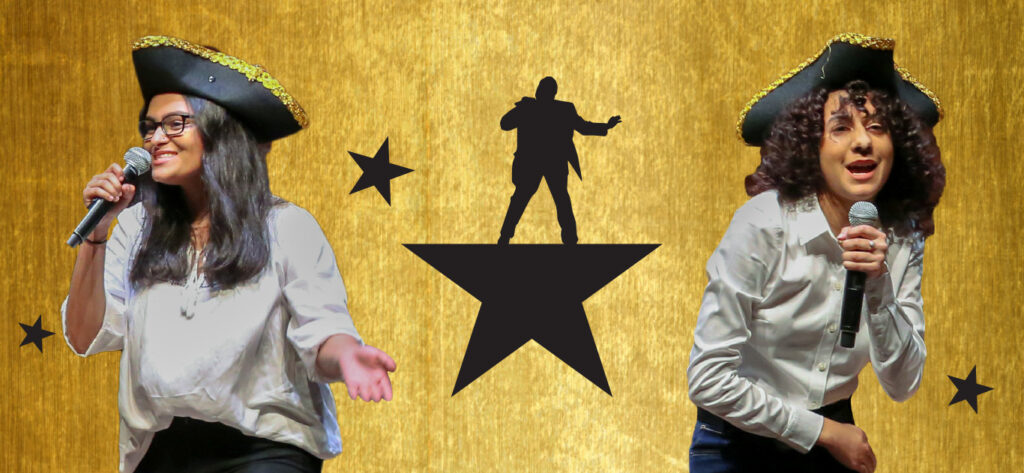 Twenty minutes before curtain, an argument is breaking out backstage at the Richard Rodgers Theater in New York City. I've just asked three teenagers, Crystal, Aisha, and Ishrat, if they would side with Benjamin Franklin or his loyalist son, William, on the American Revolution.
"I would go with William Franklin," says Crystal. Ishrat disagrees: "I'd be a patriot, absolutely." She turns to Aisha to hear her opinion. To her shock, she's also on the loyalist side. "Only people in the high ranks wanted war," Alicia explains. She thinks that if she'd lived during the run-up to the Revolution, "I wouldn't be high class, I'd be working class."
"But what about the Boston Massacre?" Ishrat asks, dumbfounded.
Our conversation is cut short. The three need to go onstage and perform their original song—about the tension between Franklin and his progeny.
Nearly 250 years after British muskets were fired on King Street, the Gilder Lehrman Institute of American History, supported by the Rockefeller Foundation, is using its Hamilton Education Program—known as EduHam—to get young Americans worked up about historical events.
A long bet on the dark horse founding father
EduHam begins with a treasury of primary sources—rare original documents from American history that have been painstakingly purchased, catalogued, and then shared with the public by history-loving New York philanthropists Richard Gilder and Lewis Lehrman. The institute they jointly set up provides teachers with easy access to these foundational documents, plus curricula built around them. In this way, crucial Americans speak in today's classrooms in their own words, bringing previous generations of people, events, and principles to life for students.
The Gilder Lehrman Institute of American History was founded in 1994 specifically to support American history education. Its progenitors were a prominent investor whose several philanthropic triumphs include funding the rebirth of Central Park in New York City (Gilder) and a former corporate CEO and donor whose public service nearly got him elected governor of New York state (Lehrman). The institute's programming revolves around a collection of primary-source documents in its possession numbering 70,000 items, and includes everything from Columbus's 1493 letter describing the New World and a deep trove of Lincoln documents to notes from World War II soldiers.
The institute offers schools classroom materials, library resources, teacher training, posters and booklets, and videos. It has created an online study guide for the History A.P. exam that is used heavily. Its website gets more than 7 million unique visits every year. Fully 16,000 schools now use Gilder Lehrman resources. The institute has created an online course that allows teachers to earn master's degrees in history. It also sponsors national student-essay contests on historical topics, and awards $1,000 prizes to the history teacher of the year in every state, plus a $10,000 annual prize to a national winner.
The institute has even created its own history-centered schools in New York City. Buoyed by the surging popularity of its lectures, exhibits, and Saturday courses for high-school students, it sponsored a new Academy of American Studies in Queens that now enrolls 1,000 students, and a High School of American Studies in the Bronx. Both are highly ranked.
The Gilder Lehrman Institute also reaches the general public through traveling exhibitions, online courses, and open access to its archive for researchers and interested citizens. Gilder Lehrman encourages historical study by academics and authors by sponsoring three coveted prizes that recognize outstanding new books on American history: The George Washington Prize, Lincoln Prize, and Frederick Douglass Prize.
The first winner of the $50,000 Washington Prize was Ron Chernow's biography of Alexander Hamilton. That was back in 2005, when Hamilton was often viewed as a kind of red-headed stepchild among the founders. In those years, GLI was waging a lonely countercultural battle.
When they awarded their inaugural prize to the Chernow book, Richard Gilder hoped that this recognition might lift the reputation of our first Secretary of the Treasury, and elevate interest in America's founders in general. And that's exactly what happened. Over the subsequent decade, interest in Hamilton and the Revolutionary War soared. So much so that in 2015 the Washington Prize's first-ever "special achievement award" was granted to Lin-Manuel Miranda for his creation of the smash musical Hamilton that is based on Chernow's book. Gilder Lehrman's determination to get Americans excited about their history had come full circle.

A philanthropic partnership
Back in 2002, Patrick Brennan was working on a political campaign and renting office space from a person he calls "a complete maniac, in the best way possible." Brennan became good friends with his landlord. The man's name was Luis Miranda.
Thirteen years later, Brennan was COO of the Rockefeller Foundation. He decided to see an off-Broadway showing of Hamilton and was hooked: he saw the performance three times. Then he began to wish teenagers could take in the show and wrestle with its lessons. So he called up his old landlord Luis Miranda, father of Lin-Manuel Miranda, and wondered if there was some way the Rockefeller Foundation could help build an educational program around the musical. There was a precedent—the foundation had worked with Spike Lee to create a curriculum for Louisiana schools based on When the Levees Broke.
Miranda and Brennan did a little brainstorming. But it wasn't until the conversation was joined by Ron Chernow that a real plan emerged. "Ron was the marriage counselor," Luis Miranda recalls. He made the connection to the Gilder Lehrman Institute.
Brennan wanted to move quickly from idea to implementation. He offered to make Rockefeller the full and sole funder of the educational initiative in order to speed up the timeline. So only six weeks elapsed between the first chat between Brennan and Miranda and a public announcement that schoolchildren would be connected to Hamilton thanks to a philanthropic initiative.
Miranda has a favorite word—embeleco—that falls somewhere at the intersection of "plot," "game," and "shenanigans." The best counterpart might be the Yiddish word chutzpah. Now some heady embeleco was brewing. With his son's musical starting to attract strong attention, "You dream big and don't run away," says Miranda. The educational campaign to accompany Hamilton was about to become as ambitious as the stage production itself.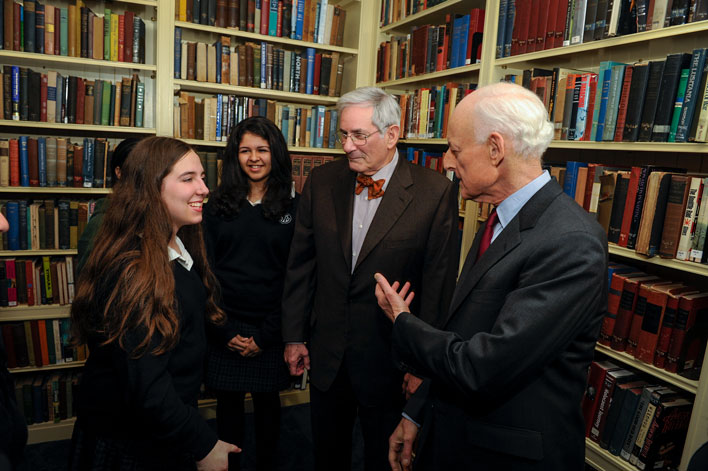 And while the musical supplied the inspiration, and Rockefeller supplied the money, it became the job of the Gilder Lehrman Institute to create everything necessary to transform an entertainment vehicle into an educational enterprise. The group quickly created lesson plans, lines of questions, classroom kits, online documents, and easy access to relevant items in its deep stash of original documents from America's founding. Videos were shot, allowing pupils to hear the creators and cast of Hamilton discuss the characters they play in the show, and how primary-source materials shaped their own creation of a hit drama.
All of this work put heavy demands on Gilder Lehrman. At the time the EduHam initiative was announced, the institute was a $9 million organization. The budget for the first five years of student outreach connected to the Broadway show was $25 million. Students pay only $10, a "Hamilton," to attend.
The enthusiasm generated among participants made the rapid expansion easier. The program began in the spring of 2016 with a promise to bring 20,000 kids from New York City's poorest schools to see the show. These students would be required to do their own research on the topics of the production, and then prepare a short theatrical work that dramatizes one person, event, or topic from the Revolutionary War period. After completing this homework, students would get a coveted private showing of Hamilton by the Broadway cast. And from every school that participates, one set of students would be chosen to perform their historical dramatization right on the same stage that the professionals go to work on.
The program was so popular with students and educators it was soon expanded across the country, following the Hamilton touring company. The new plan is to serve as many as 250,000 students in multiple states.
Explosive growth
The logistics involved in staging even one of the special student shows are staggering. As I stand outside the Richard Rodgers theater on performance day, a seemingly endless stream of students walk by me. Thirteen hundred teenagers, chaperoned by adults in blaze-orange vests, stream into the cavernous hall. Half a dozen members of Gilder Lehrman's ground team (described by Miranda as "SWAT-like") direct about 30 volunteers who steer the crowd through a long afternoon of experiences.
The day begins with student performances that are supported by raucous eruptions from the crowd. One girl starts by saying, "My name is…" but is interrupted by a bellowed "ANA LEE!" coming from her proud classmates. She has to restart, saying, "My name is Thomas Paine…" and then she completes her song paying tribute to the fiery pamphleteer.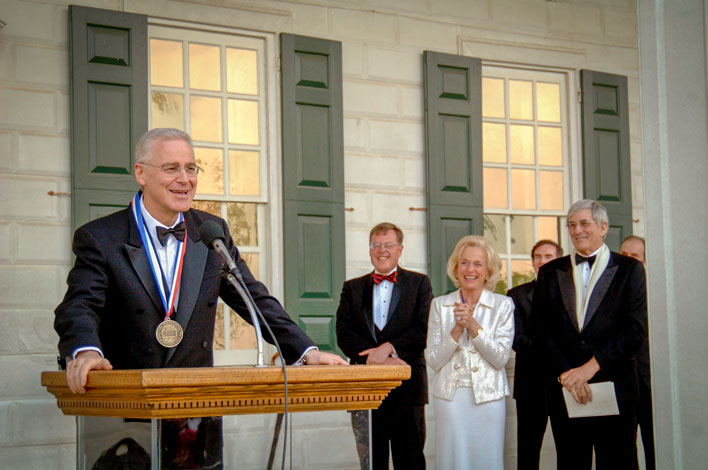 Another student, nervous and barely visible under her hoodie, loses her place in her musical number. She turns her back on the auditorium. But the student audience keeps clapping and encouraging her to restart. She begins again, tears visible, and finishes to loud appreciation.
Hamilton actor J. Quinton Johnson serves as the emcee for the student historical acts. Twice he calls back girls who have exited immediately after their performances without waiting to bow, so they can see the applauding audience. "When you do great work," he instructs them, "it's okay to say, 'Yeah, we did that.' "
When EduHam began following the tour across the country, the program had to be adapted. The targeted schools are the toughest in each participating city, so organizers had to get up to speed on neighborhood tensions and gang roles to make sure there wouldn't be fights when students from multiple schools milled together in theaters. In New York City all students used public transportation to get to the show, but in L.A. coordinators had to get permission to line 80 buses along Hollywood Boulevard for pick up and drop off. At less-populated tour stops, some students were transported 100 miles or more to attend.
Other schools needed different accommodations. One institution served autistic students; another catered to young moms who needed babysitters or nursing rooms to be able to attend. The one constant: every school put its students through rich studies of America's founding generation before attending, and then placed some of its own kids on stage as performers to showcase their own original historical dramas.
Gilder Lehrman had to grow to keep up with all of this. When I ask Sasha Pereira, director of GLI's Hamilton project, how much of her time EduHam takes up, she laughs: "120 percent." Like many of the first students she brought to the drama, Pereira grew up in the south Bronx. She fondly remembers the music teacher who made a crucial difference in her life. Five full-time staffers have now been hired by Gilder Lehrman to run the educational outreach for Hamilton, including one based in Chicago (the institute's first employee outside New York City).
This increased activity and visibility has led more schools to make use of the Gilder Lehrman document collection, which contains more than just Revolutionary-era items, including rich resources on Lincoln, slavery, and the Civil War, as well as useful material from other eras of U.S. history. The institute is seeing more students who have become interested in history applying for internships.
Institute president James Basker recently told City Journal that Hamilton has "brought out the best in us programmatically" and "has broadened the institute's national exposure." The institute could reach as many as 2 million students this year through its programming—not only EduHam but also various other historical seminars, exhibits, and Saturday courses.
Spreading American ideas
Today, the Rockefeller Foundation is no longer the only funder of EduHam. In many cities where the musical and its associated student studies touch down, local funders have stepped up with grants to help link students to the show. And after the last set of muskets and waistcoats are packed away and the tour leaves town, Gilder Lehrman stays connected to those funders. In at least three cities so far, local donors have begun to support Gilder Lehrman's wider programming. Especially popular are teacher seminars that bring 35 instructors together for a weeklong class on a particular historical person or U.S. era. EduHam has thus enabled Gilder Lehrman to share its history-bolstering programs with educators and donors who had previously never considered making common cause with the institute.
There has been so much demand for new partnerships, according to Luis Miranda, that everyone on the project has had to learn to say no to good ideas, in order to keep a sharp focus on the mission of historical education. There was, for instance, interest from another Broadway production in creating an education program of its own. But "we're not in the theater business," says EduHam's Susan Zuckerman. "We're in the American history business."
That mission to get American kids excited again about their history is bringing exciting results. In Milwaukee, students at participating school Reagan International Baccalaureate have been scouring Gilder Lehrman's primary sources for material to base original compositions of their own on. Now they are performing the results for their teachers. A junior steps up to the front of a classroom to recite a poem. She's chosen the Battle of Yorktown as her subject, and written from the perspective of George Washington himself.
"I dream of becoming more than what I am," she begins in a measured voice. "I refuse to accept that this is all I will ever be. My eyes may never see our victory, but I'll pour my blood into this field until I haven't a drop left to shed. I will rise up with the knowledge that a revolution I have led."
Her voice picks up momentum as Washington calls his troops to "meet our futures," and "pick up a gun, a weapon, a knife." She exclaims that "Our blood, and our tears, have all lead us right here! 'Freedom!' we cry. Louder!"
Richard Gilder and Lewis Lehrman are both deep lovers of American history. Their endeavor started when they discovered that many of the most historically important U.S. documents were held by collectors rather than being available for public viewing or study.
"Here's the only country built on ideas," says Gilder. "And these ideas have got to be mastered. I'd like to inject them in every person."
Gilder and Lehrman have jointly spent more than $150 million to get the ideas behind America into broad circulation. More than 70,000 document purchases later, with a healthy institute in operation to turn them into classroom fodder, the historical passion of these two men is paying rich dividends. It is fueling not only better scholarly understanding, but inventive measures to get our next generation excited about the audacious principles on which America is founded.