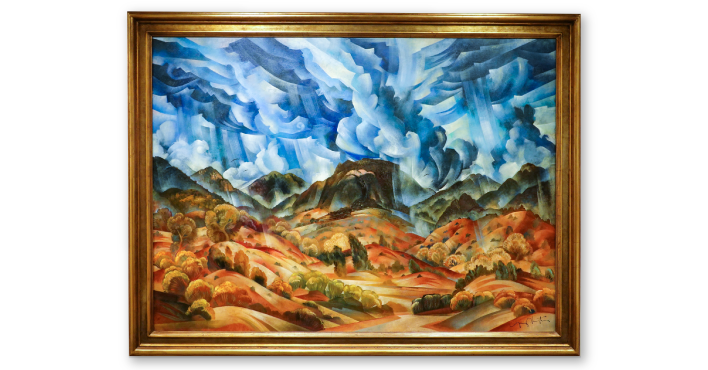 Western Art in a Southern State
James Museum of Western and Wildlife Art • St. Petersburg, Florida
Florida is a funny place for a museum devoted to the art of the American West. But patrons fall in love with what they fall in love with, and collector Tom James is a St. Petersburg native. After he made it big by building his Raymond James investment firm into one of the largest financial companies outside of New York, he and his wife Mary started collecting paintings, sculpture, and jewelry connected to a way of life they had become passionate about: deserts, canyons, plains, wildlife, Native Americans, cowboys, the frontier. At first they displayed their art at the Florida headquarters of Raymond James. Then in 2018 the couple opened a museum in downtown St. Pete as a gift to their hometown—and to lovers of the aesthetics of the American West.
Entering the James Museum of Western and Wildlife Art brings you into a long narrow sculpture court with a waterfall at the end that evokes a Utah sandstone canyon. This floor contains an auditorium, event space, cafe, and shop. Upstairs is 30,000 square feet of gallery space containing hundreds of pieces collected by the couple.
At first, some of the art may strike you as over-lit, over-colored, overly cinematic. The animal images in particular are outliers—many depict megafauna from Africa, the Arctic, and other places that are a long ways from Albuquerque. Cuddly pandas, polar bears haloed by aurora glows, adorable coyote pups playing with turtles, sun-kissed rhinos cresting hills. More than a touch of kitsch.
But keep walking. As you burrow into the heart of the museum that centers on the western U.S., you'll find a few pieces by classic frontier artists like Charles Russell, Oscar Berninghaus, and Frederic Remington, plus some historic Native-American artifacts. Much deeper stocks of famous imagery like that, however, can be found in places such as the Anschutz Collection in Denver.
What's really top-shelf about the James Museum is the richness of its contemporary Western art. The founders developed enthusiastic personal connections with many living painters, sculptors, and jewelry makers, including lots of twenty-first-century Indian artists. And that's the vast majority of what they collected. You'll find some very mod pieces, but also many vivid paintings and handsome sculptures executed in traditional representational styles. If you start reading the info tags you'll learn that almost all of them were created in the last 20 years or so.
These contemporary works fit very much in the pedigree of Western art, but often have intriguing modern twists. Like the Benton-esque landscape reproduced on the previous page, which was painted in 2012 by Navajo Tony Abeyta.
There are just enough historic pieces to spark a dialogue between the recently created images that dominate this collection and the classic portrayals of Western locales and people. When I visited, the museum was hosting a first-rate temporary exhibit of the century-old Indian photographs of Edward Curtis, including displays of his rare books and even of his pioneering silent film featuring Native Americans.
The James Museum is a great example of a quirky donor-driven collection where fussy curators and Ivy-trained art historians weren't allowed to dominate. You get a vast range of items, of differing quality, with unexpected mixes, and many surprises: High art. Heartstrings art. Historic pieces. Ethnic pleas. Commercial paintings. Explorer artifacts. A soup-to-nuts expression of feelings much wider than what's allowed at an academic museum.
The James also runs a rich education program that brings cowboy music, hoop dancing, Navajo weaving, prominent author talks, totem-pole classes for kids, and other tidbits of our Wild West right into the heart of palm-fringed Tampa Bay. Only in America.

He Did It His Way
The Ringling • Sarasota, Florida
Those of you who have visited the Getty Museums in Los Angeles may get a similar feeling when you tour the John and Mable Ringling estate. It's a huge multi-building property that includes a home, a sprawling villa gallery, modern wings, and extensive gardens. Like the Getty, the vast seaside complex has a Mediterranean feel both in architecture and in the paintings and sculptures (including lots of Italian pieces).
At the Ringling, though, before you step into the art you're immersed in entertainment. You see, the first stops on your tour are two cavernous buildings that document the culture, business, and style of the circus. If you partake, you'll get a fascinating primer on the industry where John Ringling made the money that allowed him to accumulate so many sixteenth- to nineteenth-century masterpieces.
The circus displays are as well done as the high art you'll encounter later in your visit. They range from a fascinating illustrated history of circus posters, to exceptional murals painted in the same loud, brilliant manner as those advertisements. There is the world's largest and loveliest miniature circus model, which recreates in an area the size of a football field the many thousands of elements that went into a major circus performance—animals, human performers, a train, wagons, tents, and myriad show-bizzy elements, all in brilliant colors.
This education in the choreography, logistics, animal husbandry, and artistic design of circuses would normally be a meal unto itself. But at the Ringling it's just an appetizer. Next you'll stroll through the lush gardens, including some of the most flourishing banyan trees you may ever see. That will bring you to the family's oceanfront home, whose construction is as exotic as its name:  Ca' d'Zan. The remarkable Oriental building is perched right on the salt water, with hundreds of feet of private frontage in both directions producing breathtaking views of Sarasota Bay.
And on the other side of the 66-acre estate you will find an enormous horseshoe-shaped museum modeled on the Uffizi Gallery in Florence. Ringling dotted its courtyard with Classical and Renaissance sculptures, and its 21 galleries he filled with old master paintings.
As with the other institutions described in this article, John Ringling did not allow art snobs or formal experts to dictate what entered his museum. It was accessible beauty that he was seeking, not bragging rights. Many of his sculptures are thus twentieth-century replicas in bronze or marble of monumental European pieces. His paintings are all old treasures, but selected with his keen eye for visual drama rather than academic significance or monetary value. Mostare large-scale, brightly colored, vividly figured images of historical, religious, or mythological happenings.
The most dramatic pieces in this huge trove are five immense oil paintings (around 15 by 15 feet on average) created by Peter Paul Rubens in the early 1600s. The daughter of the Spanish king commissioned the series from Rubens, so they could be reproduced in 20 equally enormous woven tapestries she eventually gifted to a convent in Madrid. The images all centered around different aspects of holy communion. Only seven of Rubens' epic paintings survive. Two of them are in the Louvre in Paris. The other five were purchased by John Ringling and now hang in his museum. (One is partially reproduced at the opening of this profile.)
There are hundreds of paintings and sculptures on display here with this same narrative power, including lots by less well-known artists. Nearly all depict evocative scenes from great literature. Many are flush with energy, tension, pathos, or violence. Most are rendered in realistic, amazingly life-like, ways.
There's even more to the Ringling than there is space to describe here: a relocated European opera house, a 1,000-bush rose garden, a dense schedule of performing arts on campus, etc. The museum has been impressively revived by recent philanthropy totaling more than $100 million.
The soul of the place, though, is still what that old impresario John Ringling pulled together: Rooms dense with stories told in paint and marble. It's a delightful place to escape modernity.

Artistic Retreat
Bonnet House • Fort Lauderdale, Florida
From Miami to Palm Beach on Florida's golden Atlantic coast, there is no private holding anything like Bonnet House: a 35-acre rectangle of green wildness stretching all the way from the Atlantic surf on its eastern edge to the jungley shore of the Intracoastal Waterway at the barrier island's western boundary. Today the property belongs to the Florida Trust for Historic Preservation, thanks to a 1983 gift. But the story starts a century earlier.
Hugh Taylor Birch was a wealthy Chicago lawyer who caught Florida fever when he saw an exhibit at the 1893 World's Fair touting the nearly unpeopled state. Not long after, he boarded a ship headed for Miami. A storm blew them up against the coast at Fort Lauderdale when that area was nothing but a mangrove tangle. Birch wandered the beach, tracked down the few inhabitants, then bought as much land as he could lay hold of, for $50 an acre.
Birch later gifted to the local populace three miles of beach. It came with his stipulation that it must always remain open to the public—which is what made Fort Lauderdale into the sunbather's mecca it became. He also donated, in 1941, an undeveloped 180-acre chunk of land, including his home, which became Hugh Taylor Birch State Park.
When his daughter Helen married in 1919, Birch gave her 35 acres, including 700 feet of oceanfront, just to the south  of his own estate. Helen and her husband Frederic Bartlett built a family compound there, much of it through their own labor, all of it to their own quirky design. Frederic was an artist—whose work ranged from handsome realistic portraits to Gauguinish paintings like the one abovr. He had no desire for a pretentious trophy estate, rarely entertained outsiders, and never let any architect or interior designer come near the place. Rather, he insisted that his family should use the process of building out their Florida residence to fuel their own creativity.
So during their every-morning swims in the ocean the Bartletts collected seashells, and then installed some of them right into the surface of the walls of their house. They grew orchids. They built a tower where they placed a telescope and practiced amateur astronomy. Helen composed (and published) songs. Frederic painted murals, erected outbuildings, and created some striking furniture and accessories out of found objects, old architectural elements, and recycled junk like used kerosene cans.
The founders did not allow art snobs or formal experts to dictate what entered these museums.  Everyone in the family enjoyed art and music. They gardened and kept hens and loved food. A few years after Helen died, Frederic married the former wife of Eli Lilly, Jr., and used his Florida home to infect her with the creativity bug as well. He taught her oil painting, at which she became quite adept.
The home this free-spirited but quite rooted family built up—known as Bonnet House after a plant that grows here—is a set of comparatively humble buildings all wrapped with lush greenery. In some places it looks like a fishing camp. Elsewhere its embellishments, bright colors, and fanciful decorations give it a carnival feeling. It is all open to the public today, maintained by the Florida Trust exactly as the family kept it.
The place is still used to encourage creativity—local artists are invited to work in the house almost every day. Juried art exhibits featuring images of Bonnet House or south Florida are staged twice every year. There are art classes, birding classes, gardening lessons, and concerts under the stars at the property every week or so.
And in addition to the whimsical art they created and kept in their house, Frederic and Helen were among the first Americans to collect paintings by Seurat, Cezanne, Picasso, van Gogh, Matisse, and their contemporaries. These the family eventually donated to the Art Institute of Chicago—where the paintings known as the Helen Birch Bartlett collection are considered some of that museum's greatest treasures.