Much news today is somehow related to religion, as a glance at the headlines reveals: Turmoil in the Middle East. Church relief missions after a natural disaster. The actions of Pope Francis. Challenges to the Affordable Care Act's contraception mandate. The ebb and flow of local religious programs that feed the hungry, operate schools, fight addictions, and run hospitals. Statements by the Dalai Lama. Same-sex marriage and abortion debates. Jihadist terror. Differences in community life and politics that link to spiritual perspective. Many of today's evolving stories are intricately entwined with religious issues.
And beyond its role as a factor in news events, faith is of deep and urgent personal relevance to many citizens. According to the Pew Research Center, 56 percent of Americans say that religion is "very important" to them, while another 26 percent say it's "somewhat important." This can powerfully influence both private and public actions.
Despite its pervasive importance, religion is a foreign land to many, perhaps most, reporters. "I was practically born and raised in the news business, and know firsthand that newsrooms are exceedingly secular places," says veteran journalist Carl Cannon, Washington bureau chief of RealClearPolitics. "But the people we cover—and our audiences—are steeped in religious faith of all kinds. So to accurately cover the political and civic life of this country, journalists need to know what's going on in the spiritual life of their fellow Americans." This, however, is a struggle for under-informed reporters.
"Religion is a subject that has traditionally been slighted in the secular media in our coverage of politics, largely, I think, because we reporters have been scared off the subject by our lack of familiarity with it," says Weekly Standard senior editor Andrew Ferguson. "Political coverage in general has suffered as a result, and when religion erupts in our political life in undeniable ways—think of the rise of both the religious right and religious left in the past generation—a lot of us have to scramble to keep up."
For the past three decades, one recourse for scrambling reporters has been to call Michael Cromartie, an evangelical Christian who works at the D.C.-based Ethics and Public Policy Center, for background information on their stories. Cromartie became increasingly concerned about the religious illiteracy of the journalists he spoke with. "I would get phone calls, from really smart reporters, asking some of the most misinformed questions." For instance, one journalist asked for the name of the author and publisher when Cromartie mentioned the book of Ephesians. Religious subjects were a "whole new universe" for many of these reporters, he realized, and he wanted to do something about it.
Luis Lugo, then director of the Pew Forum on Religion and Public Life, says he also wanted to "educate the press on religion." Initially, the two joined forces to offer local lunchtime seminars, a staple of the D.C. think-tank world. But Lugo prodded Cromartie to "think outside the box as if money were not an issue." Cromartie proposed getting the journalists out of Washington and "away from their deadlines, to actually have a reflective two days with serious scholars." In 2002, they launched a series of weekend conferences, now hosted semiannually near Miami, featuring experts and believers like megachurch pastors Tim Keller and Rick Warren, National Institutes of Health director Francis Collins, Pakistani ambassador Husain Haqqani, and others.
Each invitation-only conference is limited to about 20 influential correspondents, columnists, producers, and opinion leaders from both print and broadcast media. The Faith Angle Forum, as it came to be called, has welcomed David Brooks and Ross Douthat of the New York Times, Christopher Hitchens of Vanity Fair, Mike Allen of Politico, Rachel Zoll of the Associated Press, Clare Duffy of "NBC Nightly News," Nina Easton of Fortune, Malcolm Gladwell and Peter Boyer of the New Yorker, Lisa Miller of New York magazine, Nancy Gibbs and David van Biema of Time, and more than 200 other journalists from 40 media outlets.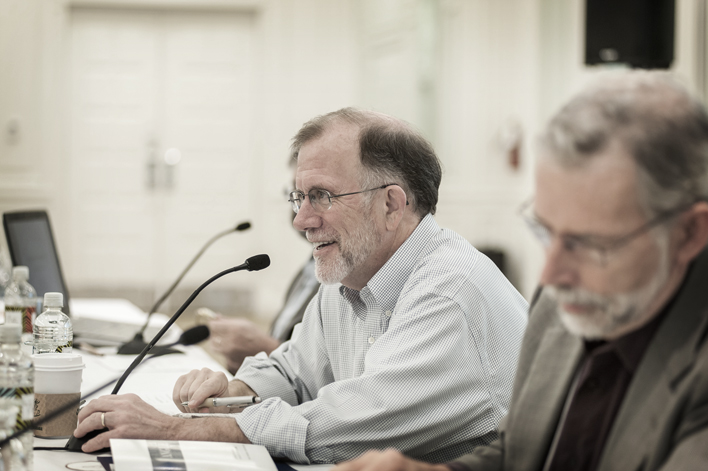 Opening minds to new breezes
It's a gusty November night on Miami's South Beach. Journalists, featured speakers, and program supporters mingle on an outdoor terrace in the salty air. The oceanfront setting in an art-deco hotel aims to whisk guests away from ordinary life in their busy stomping grounds. Some, like ABC News correspondent Dan Harris and Washington Post political reporter Karen Tumulty, are old hands at Cromartie's gatherings. Others, like the Economist Washington bureau chief David Rennie and Texas Monthly writer Erica Greider, are here for the first time.
One newcomer—a thoughtful liberal at a left-leaning publication—wonders aloud why Cromartie invited her. It's clear many attendees are not religious. So what could be his intention?
Cromartie tells anyone who asks that his goal is to bring together "smart people on all sides" and create a robust dialogue. His intention is not to convert anyone, but to help journalists better their craft by exposing them to excellent speakers purveying ideas with which they may not be familiar.
The first of these speakers is L. Gregory Jones, a theology professor at Duke University. He leads journalists through a consideration of how the concept of forgiveness can play out in the public sphere. Addressing ideas of genuine remorse, accountability, humility, and healing, Jones draws on examples from traumatized communities like Rwanda and post-shooting Virginia Tech, to disgraced public figures such as Lance Armstrong and Mark Sanford.
Theological concepts like sin and repentance, as it turns out, have a very practical application in the news business. Atlantic political reporter Molly Ball asks a pointed question: "How do we afford these people their human capacity for absolution, while also not letting them off the hook?" Jones describes what real atonement looks like, citing Watergate-conspirator-turned-prison-evangelist Chuck Colson as an example.
"I found the session about forgiveness enormously helpful as a human being," says Will Saletan afterward. A writer on "politics, science, technology, and other stuff" at Slate and the author of Bearing Right: How Conservatives Won the Abortion War, he comments that "it was interesting to be exposed to a wisdom that we can all relate to and share, and maybe begin to associate that with religion instead of associating religion with some political movement."
Another session features NASA astronomer Jennifer Wiseman, the new director of the Dialogue on Science, Ethics, and Religion for the American Association for the Advancement of Science. She presents some stunning images from the Hubble telescope and sparks a wide-ranging conversation on the latest advances in cosmology and the different ways religious believers engage with unfolding developments in science.
The forum doesn't shy away from policy issues. Political scientist Peter Skerry and demographer John Green make a presentation on the history of U.S. immigration, along with a breakdown of the diverse views religious people hold on the topic. Green points out data linking more frequent church attendance with a more welcoming stance toward overseas arrivals. Skerry references his extensive interviews with border patrol agents, who turn out to sympathize with would-be immigrants, belying simple claims of racism.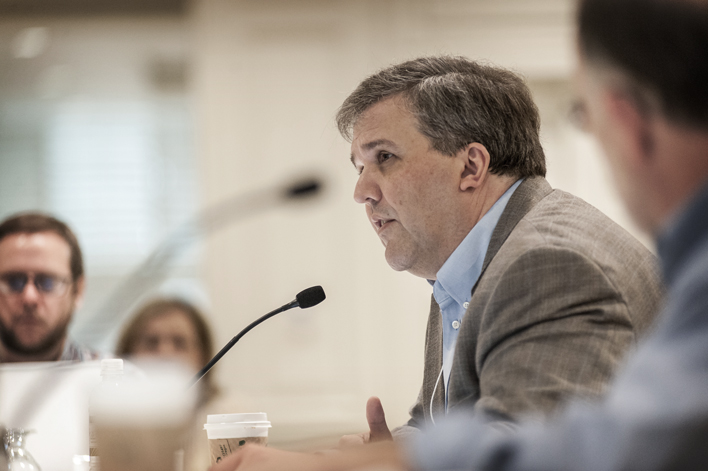 Putting a face on faith
The Faith Angle Forum attempts to be relevant and immediately useful to journalists.
"We try very hard to make the sessions timely to what the reporters are covering now in the news," Cromartie says. The aim, though, is "education, not influencing legislation." Past topics have included just-war theory, the rise of the megachurch, the evolution of the Christian right, and a discussion of Protestant theologian Reinhold Neibuhr inspired by then-Presidential candidate Barack Obama's mention of him as a favorite philosopher.
In the run-up to the 2012 elections, the conference featured a discussion on the Church of Jesus Christ of Latter-day Saints. At the time, "not many political reporters could have told you more than a few sentences about Mormonism, even though one of the two men who were contesting to be our next President was a devout Mormon," notes Ferguson.
"What we really wanted to do is understand, from both a Mormon and a non-Mormon perspective: What is Mormonism? How does it shape his character? What are the myths and what are the realities?" says NPR religion correspondent Barbara Bradley Hagerty. The Faith Angle takes "a deep dive," she says, into the subject at hand, whether that be Mormonism, immigration, or Islam.
Bradley Hagerty serves on a steering committee that recommends topics for each conference. Everyone on this committee brings something different to the table, she explains. Jeffrey Goldberg of the Atlantic has a deep knowledge of the Middle East. New York Times columnist David Brooks and Washington Post writer E. J. Dionne offer experienced views of politics. Carl Cannon is also an adviser, as are Washington Post columnist Michael Gerson and The New Republic's Franklin Foer.
As major media outlets, like the rest of the nation, become more partisan and polarized, bias and lack of understanding for other viewpoints can run rampant. That may be a harsh generalization, Gerson says, but "there are pockets of the journalistic community that have a low level of religious literacy," he admits. One aim of the forum is "to expose journalists in an intimate setting to religious leaders they might not meet in other circumstances, and may even have a caricatured image of."
"What I think this forum really does is defang religion," says Slate's Saletan. "It debunks the ignorant impression that a lot of journalists have of religion as something that is inherently politically conservative, backward, fundamentalist, and narrow."
Many of the participants say that this is the only chance they've had in years to ponder these subjects at length. Journalists "often don't have time for deeper, more fundamental debates about religion, ethics, science, public policy, and their intersection," Gerson adds. "This is one of the few places for them to get away and ask those questions and talk to one another about this set of issues." Bradley Hagerty says she leaves each forum having learned something new.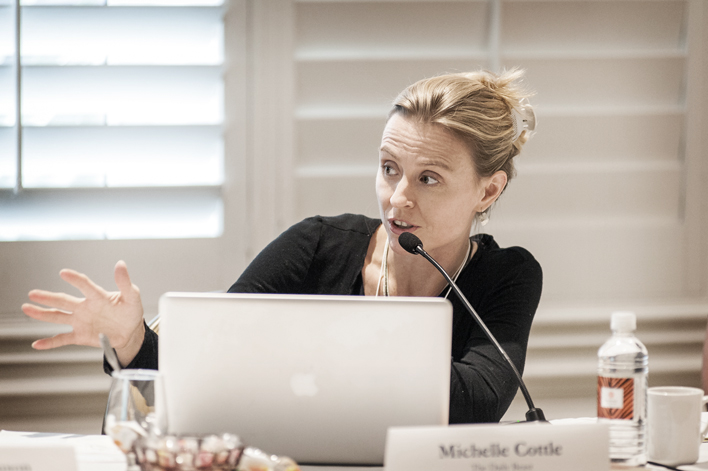 Reaching the public
Though relatively few people get to participate in a forum, the goal of the sessions ultimately is to inform the general public. Educating one reporter can bring a revised message to thousands or even millions in his or her audience. Session audio and transcripts are also made available online for direct reference. The relationships that are built at the conferences are another effect of the forum.
In South Beach, many of the reporters work on stories during breaks, and live-tweet discussions, bringing the conference conversations to cyberspace. Kirsten Powers—a Fox News Democratic contributor, Daily Beast columnist, and darling of liberal punditry—is a frequent Faith Angle guest. She recently recounted in Christianity Today her surprising (to everyone, including her, she says) conversion to evangelical Christianity. As the conference progressed, she shared her running conversation with her 131,000 Twitter followers. Religion News Service reporter Sarah Pulliam Bailey and Daily Beast correspondent Michelle Cottle also broadcast the forum via social media.
The conferences also lead directly to stories. In South Beach, the Economist's "Lexington" columnist and Washington bureau chief David Rennie made his own Twitter debut, and penned two columns based on the sessions: "Forget the Huddled Masses: Treating immigrants as a charity case is not working, time to change course," and "All About Adam: A furious—and political—debate about the origins of mankind." Gerson published a Washington Post op-ed on evangelicals and immigration reform out of the day's events.
Pew footed most of bill in the first ten years of the program; since then, Cromartie has patched together a series of donors to pay for the two events each year. Each conference costs $150,000 to produce. Donors are invited to attend the conference as observers. Recent observers included Deborah Haarsma, president of BioLogos Foundation, which promotes the idea that science and Biblical faith are in harmony; educator Jerry Pattengale, who attended on behalf of Indiana Wesleyan and also was taking notes for Hobby Lobby craft store magnates, the Green family; and Earl Whipple of the Templeton Foundation, which regards these dialogues as "critically important" and frequently supports them.
Lugo, who is now the director of community initiatives for the Douglas and Maria DeVos Foundation, believes it is useful for philanthropy to support reporter education on crucial topics. "As monies become scarcer for journalists to do this in-depth education, it has been even more important for the philanthropic world to close that gap," he argues.
Gerson calls the Faith Angle Forum a "strategic intervention." It "doesn't often have the immediate outcome," he says, "but it is playing an extraordinary purpose to expose some of the most influential people in America to the most important ideas and debates in America."