When H. F. "Gerry" Lenfest made a fortune from the sale of his cable company to AT&T in 1999, he determined to give it all away as quickly and intelligently as he could. The result has been $1.2 billion of giving, with more to come. The foundation he and his wife Marguerite established is due to close no later than ten years after their deaths.
Lenfest went to work on the high seas right out of high school, serving three years on oil tankers. When he returned, his father enrolled him in Washington and Lee University. After college, Lenfest served in the Navy, and then completed law school at Columbia University. Following a stint on Wall Street, he went to work for Walter Annenberg's Triangle Publications, where he spotted an opportunity when Triangle decided to sell its cable TV business. Lenfest scraped together $2.3 million to buy a system with 7,600 subscribers. Year after year he grew his enterprise, concentrating his efforts around Philadelphia and San Francisco. When he sold, it had 1.3 million customers.
Now celebrated as one of the contemporary founding fathers of Philadelphia, the 83-year-old Lenfest has bolstered the city's cultural institutions with hundreds of millions in support for education, art, music, and museums. He has given generously to colleges. Philanthropy has previously documented his $5.8 million gift to save the SS United States (Fall 2010), his $20 million gift to the tuition-free, vocational Williamson Free School (Spring 2011), and his aid in settling the art of the Barnes Collection in downtown Philadelphia (Summer 2011).
Lenfest recently spoke with Philanthropy about his giving and one of his more recent investments—the city's flagship newspaper, the Philadelphia Inquirer, which he owns with five others. He's now in the midst of litigation against one of the other owners in an effort to defend, as he said in a letter to newspaper employees, the "independent journalism" that is "at the heart and soul of a free press."
Philanthropy: You've given away more than $1 billion personally and through your foundation. What do you consider your greatest philanthropic achievement?
Lenfest: That's hard to pin down, but the one I think I'm most proud of is the Lenfest College Scholarship Program, which we started when we sold the company. It was the first real philanthropic venture that we went into. We picked scholarships for rural students as opposed to inner-city, because there seemed to be such emphasis on inner-city and we felt the rural was neglected. We started with Franklin County, Pennsylvania, which had the lowest percentage of high school graduates going to college of any county in the state, with the exception of Philadelphia proper. It has blossomed into a wonderful program. We award scholarships to 24 students each year. Roger Lehecka, the former dean of students at Columbia, has assembled a group of deans from colleges like Swarthmore and Cornell and Princeton and other excellent schools to go out in the hinterlands and interview these students. And of course the deans of admission at the schools where they apply are impressed that they've been selected for the scholarship by this august group. It's not the amount of money that we give; it's the qualifications they get from the selection process. These rural students go to colleges and universities that they'd often never heard of, and now some of them are going on to Ph.D.s. They have also formed a very close-knit alumni group called the Lenfest Scholars. So that's what I'm most proud of.
Philanthropy: Why did you decide to spend down?
Lenfest: I read a book that discussed the history of foundations, Inside American Philanthropy: The Dramas of Donorship, by Waldemar Nielsen. Many foundations were started by people who gathered their cronies and their children around them. Most of these didn't last beyond two generations. The banks are filled with skeletons of old private foundations. The book also said: "What's the use of doing something in perpetuity? You can't see beyond your life what the needs will be, and circumstances change." So I have two principles: One is that I don't want to die with a lot of wealth, and second, that my kids are taken care of. I don't believe in wealth going on in perpetuity. There are occasions when it's turned out to be well done, but they are few in my opinion.
Philanthropy: What made you want to focus the foundation's remaining efforts on disadvantaged Philadelphia youth?
Lenfest: The Philadelphia school district is in deep trouble. We can't, in our foundation, really cure that problem, but we can nip at some of the areas where we feel we can help. I turned over the chairmanship of the foundation to Keith Leaphart because I felt he was better equipped with his background to help with education in the city. I first met Keith when he emptied my wastepaper basket at my company. I talked to him and said: "Who are you and what are you doing?" He said, "Well, I'm getting my master's in business and my medical degree at the same time, and this janitorial business is how I pay my way through school." I've followed Keith and his career and greatly respect him. He knows the city. He grew up in one of the poorer sections. He got out of the situation he was in and through his education became a great success.
Philanthropy: I understand that you were once building a new, larger house but decided instead to give the land to a nature preserve. Can you tell me more about that?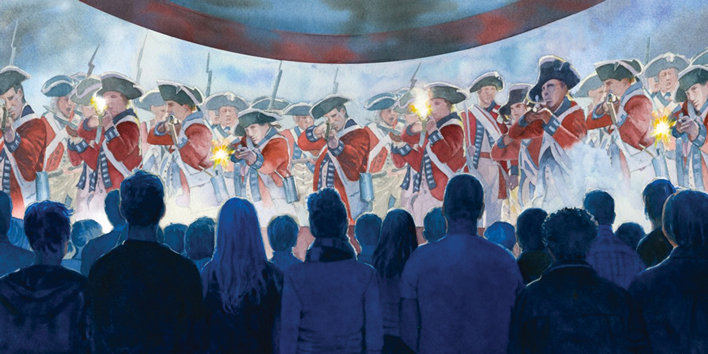 Lenfest: We bought the last of the King Ranch property in Chester County, Pennsylvania. The huge King Ranch had 800,000 or so acres in Texas, and it had about 10,000 acres in the Philadelphia area. They used to bring in cattle by railroad car and fatten them up for the eastern market. The head of King Ranch passed away, and they sold their property in pieces. I was fortunate to buy the last 500 acres.
I had the design of this house, and I went out to see it. The hole was dug and rebar was being put in. I looked down in this hole and asked the architect, "How big is that house?" And he said: "16,000 square feet." I thought for a moment, and I said, "You know what, fill up the hole." It was the most expensive hole in Chester County.
And next to it was 500 acres that was bought by the county. We combined the two lots into a 1,000-acre preserve. We bought a farm next to that. So there are approximately 1,200 acres without a house on it to preserve some beautiful rolling hills. People can go on walks with their dogs or ride their horses or go fox hunting. It's the largest park in Chester County.
Philanthropy: Is it true you still live in the same house you bought decades ago?
Lenfest: We bought it in 1966 for $35,000. We still live there. We got air conditioning last year. There are a lot of big oak trees, so it's very cool at night. We also have a place in Rittenhouse Square in Center City, Philadelphia. We didn't have that until we sold the company.
Philanthropy: Let's talk about journalism and your investment in the Philadelphia Inquirer. You once told a reporter there that you joined the paper's ownership team not "for an investment but for a public purpose." Do you consider journalism a public good? Does it need philanthropic backing?
Lenfest: Absolutely. The Philadelphia Inquirer started in 1829. I was at the Library of Congress to see a Civil War exhibit, and on the wall was an issue of the Inquirer. It's had a public purpose, taking stands on various issues, and reporting the news—local news. What form of media can accomplish the need of the Inquirer in Philadelphia? None. So that requires a responsible ownership with integrity that doesn't use the newspaper for its own ends.
Philanthropy: Do you think newspapers could transition to nonprofit models eventually? Should they?
Lenfest: I think eventually it would be wonderful if nonprofits would own newspapers. And they're allowed to do that in the U.S. code now, to take in that kind of revenue. Eventually I foresee foundations taking ownership of newspapers. Newspapers don't have to be limited to the paper. In the digital age, it doesn't make any difference in what form the journalism takes place, but the journalism is the key to it—the coverage, in a responsible way, of local news. And investigative reporting.
Philanthropy: You've said: "There is nothing more rewarding, if you measure your impact based on money spent, than protecting the oceans." Why do you have such a strong love for the ocean, and what makes this philanthropy rewarding?
Lenfest: My father was a naval architect, so we were surrounded with ship lore in my childhood. When I was 19 I got a job on a tanker, and we'd go to Venezuela and pick up crude, take it to Aruba and get it refined, then go to Europe. I was in the U.S. Navy on destroyers. So I've had some experience with the sea, and I just grew to love it.
The seas are always a big dumping ground. Whatever we want to get rid of we dump in the ocean. There is a crying need as the ocean turns more acidic and less fish remain. It's an overlooked resource that needs protection. So I was happy to help in a small way. Our Lenfest Ocean Program does research by using resources and professors from universities all over the world. Action is based on legitimate research, which is what we're all about.
Philanthropy: You've given more than $100 million to Columbia University. Do you consider that giving back to a school that gave to you, or has the institution impressed you in other ways?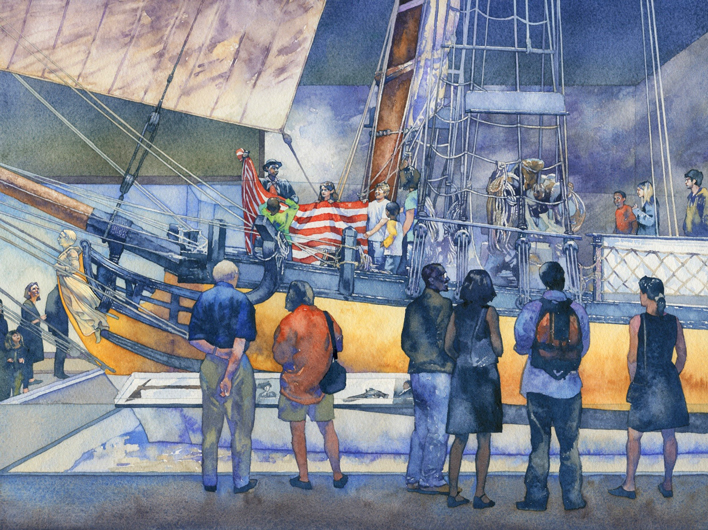 Lenfest: More of the latter. I went to law school there. Normally your allegiance is to the college you went to for undergraduate studies, in my case Washington and Lee, where I've given substantial amounts also. But Columbia has a great new president and development program. We created new professorships to increase the teaching spectrum of the arts and sciences, as well as support the law school. I grew to particularly like the liberal arts program, called the core curriculum. It was first started in 1919, when after the First World War it had courses for Army officers explaining American ideals and what Europe was about and so forth, which gave them background for service overseas. It has evolved since then, and it's a requirement for every undergraduate. I did research on the value of that curriculum by corresponding with the alumni. They reported that those liberal arts followed them the rest of their lives. It broadened their interests and their lives. They became better persons.
Philanthropy: What did you learn from the millions of dollars you spent on the Lenfest Arts Campaign to promote Philadelphia arts on TV? Do you consider it a success?
Lenfest: I've spent close to $2 million a year. That's been very successful. The idea is to sell tickets. We don't say: "Support the Philadelphia Orchestra." We say: "On Thursday night, they play Shostakovich's fifth symphony, and here's how you buy a ticket." That leads to a better bottom line for the institutions. If you asked them whether it helped, they would all say they can't afford to be on television without the support we've given them.
Philanthropy: You gave more than $50 million to the Museum of the American Revolution. Why?
Lenfest: There's no museum in the nation that is devoted entirely to the American Revolution. And that's what gave us our independence. It was probably the greatest revolution in the history of mankind. Look what we created. We created this nation. The principles of the American Revolution have gone throughout the world. The lessons of the revolution, I think, are important to young people today. It shouldn't be just a museum of artifacts, but of the principles of the founding. Liberty is not just liberty; it's responsibility. You have to have a responsible citizenry. They have to recognize the principles that created our liberty.
Philanthropy: The museum was originally supposed to be in Valley Forge, but has been relocated to Philadelphia. What happened?
Lenfest: The neighbors in the area and also the National Park Service did not want a private museum next to the federal Valley Forge Park. So we exchanged our property in Valley Forge for a property that's in the historic district of Philadelphia, where 2 million visitors come every year. It's a much better location for us. Philadelphia is the city which founded this nation. The Declaration of Independence and the Constitution were both created in Philadelphia. It was the first capital of the United States. It's a logical place for the Museum of the American Revolution.
Philanthropy: Your children have been increasingly active in philanthropy. Did you show them the ropes?
Lenfest: When we sold the company we asked each of our three children to set up his or her own foundation. I'm not on the board of any of their foundations. We let them pick their own boards, which is another principle of mine. Family foundations are generally a big mistake, because children lose interest if they can't have some sway in how the funds are donated. So we let each child have his or her own foundation, and they've done well. Brook, for example, through his foundation started probably the best charter school in Philadelphia. The public-school system has actually asked the charter school he founded to take on the worst schools in the district. One had the most violence in the city system. Now there's none. They've done a great job.