It is commencement day at Brown University. Graduates, family, alumni, bagpipers, and the odd dog parade down College Hill and through the iconic iron gates. The class of 1996 is led by student-selected orators Andrea Anderson and Michael Palmer. Anderson, already accepted into Brown's eight-year liberal arts medical program, will become a doctor in Washington, D.C. Palmer will end up working for a dot-com company in Seattle, get his MFA in screenwriting in Los Angeles, and pen some scripts for the fourth season of the "West Wing."
Also in the throng is Andrew Yang, an economics major on a partial scholarship provided by his father's employer, IBM. He had been a snack-bar worker on campus and a busboy at a Chinese restaurant. He trained in tae kwon do, played video games, and enjoyed working out, naming his pectorals Lex and Rex.
But when it came to life after Brown, Yang didn't know what to do. His senior year was primarily focused on moping about his ex-girlfriend. He recalls feeling that he had "really achieved nothing at this point; no distinction."
He had, however, achieved a 178 on the LSAT and acceptance into Columbia Law School. He took out $40,000 a year in student loans and enrolled. This led, as night follows day, to a tony job at Davis Polk & Wardwell in New York City, doing the paperwork for mergers and acquisitions. He started at $125,000 a year with an annual bonus of $15,000.
"If you're a very strong student you can become a banker, consultant, doctor, or a lawyer, and get paid quite well for doing nothing other than being good at school, passing from one level to the next," he tells me. "I was 24 years old and had done nothing of substance." Despite the high pay and prestige, Yang kept thinking, "Shouldn't I be the person building the company, and hire someone else to do the paperwork?"
So he quit the law firm and founded Stargiving.com, a website to help celebrities raise money for charity. It went the way of most startups; it failed. His investors lost all their money and Yang started seeking out the free bread samples at Cosi.
He learned a painful but simple lesson: "Entrepreneurship is super hard." Resolving to apprentice himself to an experienced business builder he could learn from, Yang found his way to a health-care software company. On the side he began a weekend party business to rebuild his commercial confidence, make a little money, and better his chances with the ladies.
Then a friend asked Yang to run his small test-prep company, Manhattan GMAT. With an initial salary of $65,000, Yang took the offer and built the company into one of the leading GMAT preparers in the United States. Four years later the venture was acquired by Kaplan, making Yang a 34-year-old millionaire.
Though he was suddenly doing great, "I found myself really despairing about the path the country seemed to be on." This was 2010, two years after the fall of Salomon Brothers. Detroit was well on its way to municipal bankruptcy, and unemployment passed 9 percent. Meanwhile he saw hordes of bright college graduates spinning their wheels as he had: pursuing careers in professional services they had no passion for, just because it was an easy and expected course, and they didn't see any obvious path for putting their talents to work in a more creative way.
Though America's economy desperately wanted fresh talent and new growth, the cities with the greatest need and lowest startup costs—New Orleans, Baltimore, Detroit, Cleveland—weren't attracting college graduates. "Our talent is not allocated in a way that is actually going to solve our biggest problems," he realized. So Yang made a pact with himself: "You should get off your butt and try to do something about it."
Reversing the brain drain
The idea was deceptively simple. Place top college graduates at worthy startups in low-cost cities where they will gain the skills and instincts necessary to be valued workers and then progenitors of new enterprises themselves someday. The companies where these smart young kids were placed would benefit from the influx of energy and talent. The receiving cities would have a chance to grow. And the participating men and women would be solving problems and creating new entities, not just dispensing professional services.
This would require sophisticated recruiting, instant creation of a measure of prestige, a powerful training boot camp, and rituals and rites capable of building camaraderie and esprit de corps. What Teach For America had done for education, Andrew Yang wanted to do for entrepreneurship. He even mirrored the name, calling his new nonprofit Venture for America. An initial goal was to help participating startups create 100,000 new jobs in their struggling areas by 2025.
With his plan in hand and $120,000 of his own savings invested as seed capital, Yang started to court donors. He tapped old colleagues and friends from Brown. He pitched fellow entrepreneurs. Venture capitalists and other financiers liked the focus on building new companies and cultivating business savvy in a new generation of bright kids.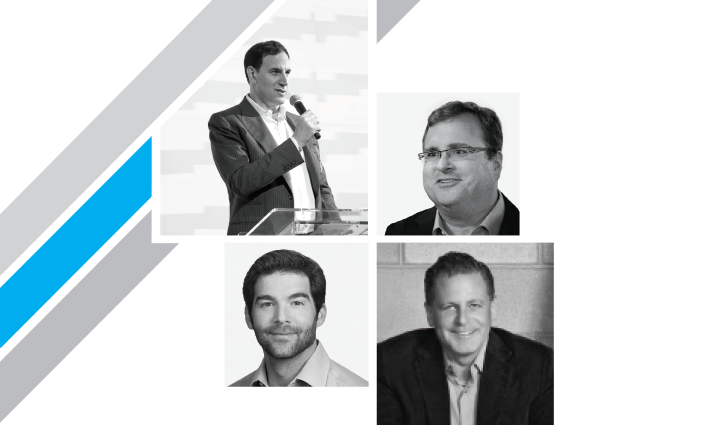 Current entrepreneurs are building future entrepreneurs. Clockwise from top left, financier Sy Jacobs, LinkedIn co-founder Reid Hoffman, Quicken Loans founder Dan Gilbert, and LinkedIn president Jeff Weiner are all VFA donors. (Venture for America; Bloomberg, contributor/gettyimages; Marvin Shaouni; LinkedIn)
Private equity fund manager Sy Jacobs was at a Detroit Tigers baseball game when he first heard about VFA. His buddy and fellow University of Michigan alumnus Bernie Sucher had moved to Moscow years ago and become very successful in Russian capital markets, but kept ties with business interests back home. He and Jacobs shared a particular interest in initiatives that might bring some commercial spark to the Motor City that they each had links to.
"Bernie was telling me about the increased time he was spending in Detroit, and I kept asking him why, what's going on that's exciting," remembers Jacobs. When he described how VFA was bringing in Ivy League kids to help boost small local ventures, Jacobs wanted to learn more. "I was captivated by the mission of promoting entrepreneurism as a nonprofit," he says. "I got involved right away."
Of particular interest was the concept of "reversing the brain drain"—sending top students back to midsize American cities, from which many of them would otherwise flow to the obvious locales like New York, San Francisco, Atlanta. "Kids are almost systematically directed into three white-collar industries in five wealthy cities," Jacobs says. It was "crystal clear to me that this was not a good thing." Jacobs (who has just agreed to chair VFA's board) is a walking advertisement for a reversed brain drain. "I'm a New Yorker but somehow all of my charitable dollars end up in the State of Michigan."
Along with his new supporters like Jacobs, Yang began to think through where to send fellows. After launching in Detroit, Providence, and New Orleans, VFA added nine more "target cities"—and still more are coming. From a starting budget of $200,000 in 2011, the program is projecting a nearly $5 million budget in 2015, which will allow it to send out about 150 fellows.
This growing reach is thanks to a growing donor base. The largest supporters of VFA are now corporate foundations—Barclays, PricewaterhouseCoopers Foundation, and UBS. Individuals like LinkedIn co-founder Reid Hoffman, Zappos CEO Tony Hsieh, and LinkedIn CEO Jeff Weiner are also making large yearly gifts. Foundations known to invest in entrepreneurship—the Ewing Marion Kauffman Foundation, the Burton D. Morgan Foundation, and the Abell Foundation in Baltimore—are on board. For some donors, the allure is to support their own region. Tony Hsieh and the Zappos Downtown Project, for instance, pledged $1 million to set up a pipeline of fellows to Las Vegas, where the firm is headquartered and the local economy is very mixed.
Motor City mojo
"Living in Detroit is certainly different than other cities. But it's absolutely perfect for trying to start a business."
Meet Brian Rudolph, co-founder of Banza, a company that aims to do to pasta what Chobani did to yogurt: redefine the category. "Banza is made from chickpeas. Chickpeas are delicious. Also the same color as pasta," he explains. But Banza has nearly twice the protein of regular pasta, roughly half the carbs, and four times the fiber. Oh, and it's also gluten-free.
"I thought I was going to go into finance and consulting. That's what my family encouraged me to do," says Rudolph. But "I just like to sell things," and in the process of co-founding a music blog with friends at Emory University "I fell in love with this concept of creating value."
"If you really want to start a companyI don't think there's a better path.You learn by working in a startup."
He heard about VFA from someone in the Kairos Society, an entrepreneurship group on campus, and what he learned "really resonated with me. It made sense that I could go work in a startup environment and have an impact from day one." He went through three rounds of interviews, culminating in a day in New York City with other candidates. Seeing the caliber of his peers sealed the deal. "It was appealing, being around people who are like-minded and want to create value, potentially create a business. I don't think I'd ever really been in an atmosphere like that before."
Rudolph's placement was at promotional company Quikly in downtown Detroit, a city he had avoided at all costs before. But after only two years, he has changed his tune. In New York, "I'm easily distracted." Being in Detroit "allows me to spend more time and focus on work." And the local startup culture is opening one door after another.
Days after he finished his VFA placement, he got a call from CNBC asking about his interest in a reality TV show, "Restaurant Startup," where teams compete for investors to back their food business. A few weeks later they filmed. "We managed to pull together a product in a very short period of time," he said. Rudolph also pitched the chickpea pasta idea at a competition, and met Brian May, who would later introduce the company to the Meijer grocery chain.
He also connected with Dave Zilko, president of Garden Fresh Salsa, who became Rudolph's mentor. "There's nothing quite like being able to learn from a seasoned entrepreneur who can guide you," says Rudolph. "I've sent him e-mails where I've been absolutely stressed out of my mind because something went terribly wrong, and he's sent me back responses that have really helped me make the right decisions in those moments of crisis."
Looking back over his experience with VFA and his preparation for Banza, "there are a ton of skills that I have now that I didn't have then," he says. "If you really want to start a company I don't think there's a better path. I really don't. You learn by working in a startup."
Rudolph is not the only VFA alum who has gone on to lead in Detroit. Five former fellows have started companies. Sean Jackson, a key member of the city's Blight Removal Task Force today, began in the city as a VFA fellow at Dan Gilbert's Rock Ventures.
The decision to support VFA was a "no-brainer," says Gilbert, the founder of Quicken Loans and now a major philanthropist and business-builder. "From the day the VFA fellows arrive, they are fueled by the electrifying environment and energy that a hustling and bustling urban core offers. They seem to always be looking for innovative solutions to business problems, and are driven to create new opportunities for themselves and others, which is exactly what cities like Detroit and Cleveland need to continue to thrive."
An engine of character formation
Leaning into my recorder, Andrew Yang is eager to make his point. "We're taking very smart technical people today and having them design esoteric paper assets as opposed to building things. When you say entrepreneurship to many parents, they think unemployment, they think youthful dalliance, naïveté, they think this person is going to wind up on my sofa. Some people think entrepreneurship is a well-supported path. I haven't seen that on any significant level.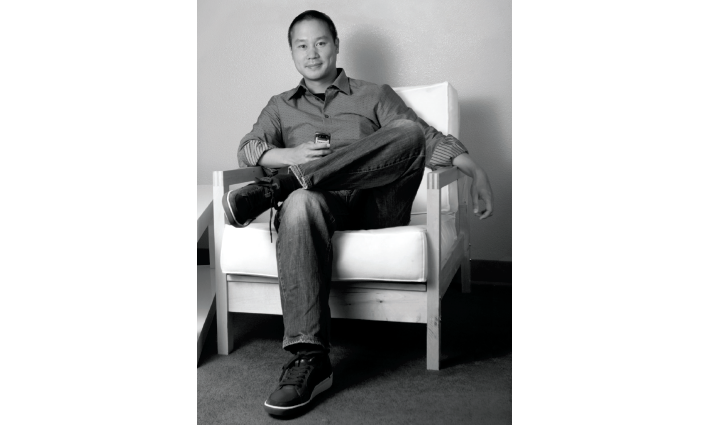 Zappos.com CEO Tony Hsieh is counting on a steady stream of fellows to energize his ambitious Downtown Project in Las Vegas. (Zappos.com)
But even though they have to step off the expected, gilded paths to enter the world of startups, when the option is made available, often thanks to philanthropic support, many young people will jump for the chance. Blackstone LaunchPad, a group of business accelerators on college campuses, reports an unprecedented amount of interest from undergraduates—80 percent of whom are not business students. They're "music students, English majors, all thinking about how they can make a living out of what they're interested in," says Amy Stursberg, executive director of the Blackstone Charitable Foundation. "That's the direction America needs to go into. Two thirds of all the jobs that are going to be created in our economy are going to have to be from startups."
When they have a shot at some of each generation's best talent, early-stage companies have a better chance of flourishing. Baltimore-based cybersecurity company ZeroFox hired three VFA fellows in 2013. It now employs 12. "Our fellows are absolutely assets to our organization," says ZeroFox "chief people officer" Hillary Herlehy. "They are high achievers who exhibit entrepreneurial spirit, intellect, tenacity, initiative, integrity, and an unwavering pursuit of excellence."
And it isn't just companies and cities and the country that benefit. Adding an easier path into entrepreneurship to challenge the standard law-school-Wall-Street-become-a-doctor options allows today's high achievers to rethink "success" and open up fresh horizons.
"I want to throw something out there," Yang tells me. He notes that a human brain doesn't finish growing and rewiring itself until the late 20s. "When you come out of college you're quite raw and incomplete. So we have to look very closely at what people do between the ages of 21 and 28, because that's going to end up literally determining a lot of who they are." He pauses to collect his thoughts.
"If you work at a startup company in Detroit or Baltimore for a couple years, you're going to become a different sort of person than if you work in a large consulting firm running reports for bureaucratic companies," he says. "I have seen the transformation among our fellows. You can change quickly from well-behaved recent college graduate to gritty builder."
VFA is an effort by philanthropists to create "a path for some of our young people to become the kind of individuals and leaders and potential business builders and job creators that we need," he continues. "I originally thought of this as a plumbing problem," and VFA was going to hook up some new lines. "What I realize now is that we're also potentially an engine of new character formation."
The next generation
It is commencement again at Brown University. This time it's 2013. Same mortar boards. Same iron gates. Same odd dogs.
But a different group of students is processing 17 years later. Among them is Zoe Chaves, a finalist to be the class's student orator. Her speech, about a doctor's care to her uninsured family when she was five, culminates in her expressed desire to help others in an equally concrete way. When her text is printed in the Brown Daily Herald it carries this byline: "Zoe Chaves is graduating with an AB in Architectural Studies and will be staying in Providence for the next two years through a fellowship with Venture for America."
Chaves's background in urban design might not suggest a career in business, but she would argue otherwise. She had experience earlier doing social work at a hospital. "I was helping people apply for things, calling social services agencies and advocating on behalf of my clients," she explains. "But I was starting to worry that wasn't sustainable. I knew that what most of them needed was job training and a job.… And I would just wonder, when are they going to get in crisis again because mom doesn't have work, and can't find it."
Chaves found nonprofits that offered training classes and clothes for interview days, but the general absence of private employment in Providence was "really frustrating." "I just saw this huge need for jobs, and I was starting to be a little skeptical that the nonprofit sector, at least in the way I was experiencing it, could really tackle that." So when she found out about VFA from a professor, she was intrigued. "I heard about VFA's mission of creating jobs by scaling companies, and I thought about all the other effects that might have."
She admits that most of the software engineering jobs her current VFA employer is creating won't be available to those she served when she was working at the hospital. But the community will thrive from the growth. "When a company scales from 5 to 100, it doesn't just have an effect on the 95 extra people that get hired. It has an effect on their families, their communities they pay taxes into, and the people they employ."
"I was ready to try a new approach," she says.
Venture for America is counting on our country being ready for the same fresh departure.
Ashley May is managing editor of  Philanthropy.