"The younger generation is spending all this time looking at a screen two feet away rather than peering half a mile outside," says Paolo Cugnasca, "and so they are growing up shortsighted." It is part of the charm of speaking to Paolo, an investor who came to New York from Italy in the 1970s, that his English idioms are still a bit off. He means to say that more children are nearsighted—the rate of myopia in people 12 to 54 years old increased by nearly two thirds in the past few decades, according to a National Eye Institute study—but upon realizing his mistake he suggests they are shortsighted as well.
Paolo, who grew up outdoors, laments that too many kids today are not spending much time in the open air, and have little appreciation for the natural world. He calls it "nature-deficit disorder," a phrase drawn from Richard Louv's 2005 book Last Child in the Woods.
In 2014, Paolo and his wife, Giovanna, set out to chip away at this trend with Feronia Forward, a nonprofit that would bring lower-income, inner-city kids to Ramblewild, a "challenge course" the Cugnascas constructed in the Berkshire hills. With the use of harnesses and a belay system, visitors to Ramblewild can climb 30 feet up into the canopy of the forest. The 900-acre park allows visitors to scramble from one tree to the next via a 200-foot suspension bridge, kayaks dangled in mid-air, rope ladders, and dozens of other creative pathways.
There are now more than 750 such "aerial-adventure parks" across North America, and more opening all the time. They began as a way for ski resorts to make money in the off-season, but some like Ramblewild are built from scratch and open year-round. Visitors have opportunities to immerse themselves in glowing fall foliage, to witness the beauty of a winter forest, to identify animal tracks and dens. In the spring, Paolo notes, "we have maple sap running. They can even drink it from the tree."
When I visited, the park was filled with people of all ages and skill levels—novices and athletic thrill-seekers, grandparents with grandchildren, even a bachelorette party. Courses of varying difficulty offer something for everyone. It was encouraging to see adults letting kids test their limits, and to see multiple generations engaging in a common activity.
My time there reminded me of trips hiking with my family growing up. My sister and I were always in the lead, the self-appointed "park ranger" and "nature guide" clambering up the rocks ahead. At the time, the reward was a rest on a rock at the top of the mountain and the lunch we had packed in our bags. But looking back, what was most memorable was all the time we had for talking. No dinner-table conversation or long car-trip dialogue ever seemed as pleasant or as natural as chatting while we hiked.
For Paolo and Giovanna, this enterprise has been a family affair from the beginning. Their daughter, Valentina, is a full partner in their philanthropy as she is in their business. As a child, "when she was not behaving I could put her in front of trees and she used to talk to the leaves. She loved climbing trees and never wanted us to cut them down." Valentina went on to get a Ph.D., writing a dissertation called "Tree Hugging Capitalism."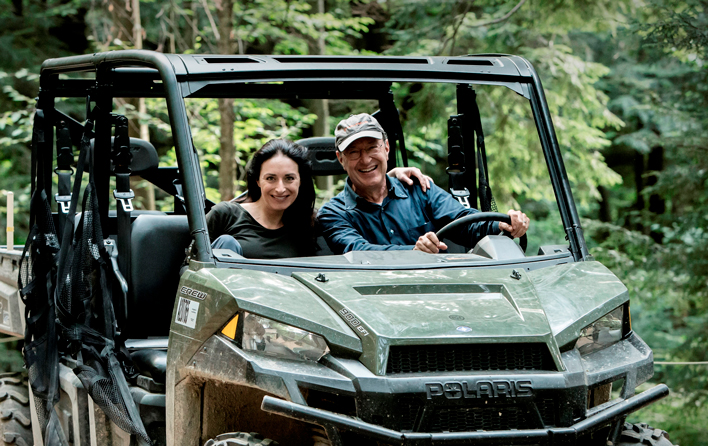 The value of forests
After working at Citibank in Milan and New York, Paolo launched his own firm, Emcor Securities. He began investing in forestry in 2003 as a way of diversifying his clients' portfolios. It soon became clear that he thought about the value of forests in a different way than some people. Pointing to the influx of Green-romantic New Yorkers to Vermont a few decades ago, he notes that "the first thing they did was stop harvesting trees," resulting 40 years later in "a very high risk of fires, which lumbered forests do not have. There is practically no wildlife left, because by not cutting trees you deprive the environment of the undergrowth that makes it possible for baby deer and baby rabbits and baby everything to live. If there is no undergrowth, coyotes are going to get to them. That is a failed experiment in forestry. People don't understand that cutting trees is actually very good for the environment."
But then there is the other extreme: people who cut too many trees too soon. Paolo has studied the history extensively. During the early years of our country, he explains, land on the East Coast was cleared quickly because its value was almost entirely for farming. Once it became cheaper and easier to farm in the Midwest and South, the forests in the East began to grow back. By then, wood was needed. In the late nineteenth century, wood was used for building, for railroad ties, to make industrial charcoal, to smelt metals, and for other industrial endeavors. Forest depletion became an issue.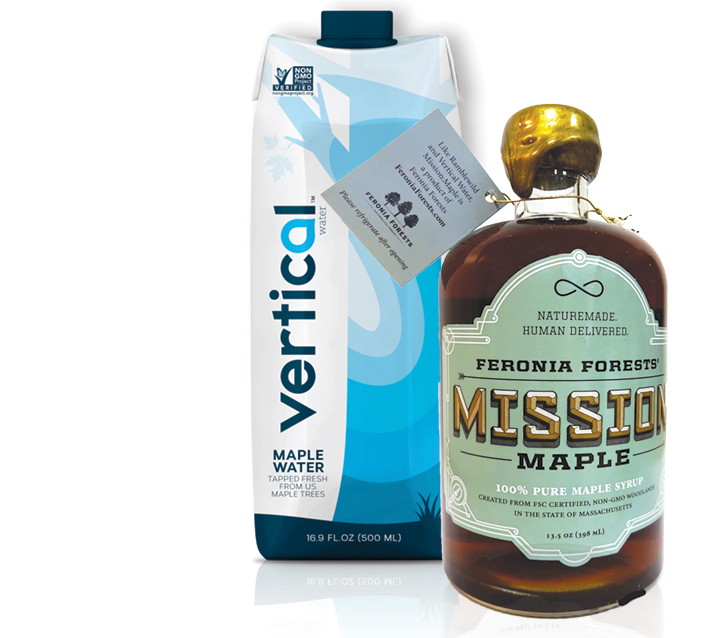 "George Vanderbilt, whose grandfather Cornelius amassed a fortune building railroads, created the first forestry-education school in the country at his Biltmore estate in North Carolina. Vanderbilt wanted to ensure that the forests around Asheville were managed intelligently, and put early conservationist Gifford Pinchot in charge of them. According to the Biltmore website, "His scientific approach to 'planned forestry' was something new and marked a shift in the nation's approach to renewable resources." Vanderbilt's hire later became the founder of the U.S. Forest Service.
Vanderbilt was also instrumental in pushing the passage of the Forest Reserve Act. That now-125-year-old law set aside timber reserves to be "managed for the people." Today almost 200 million acres of land are classified as National Forests. Unlike National Park land, natural resources can be extracted from National Forests, and in many cases that extraction is encouraged. After Vanderbilt's death in 1914, his wife sold most of the Biltmore's 125,000 original acres to become the Pisgah National Forest.
Most people who own forest land cannot afford to simply let it sit idle. Many forest owners in need of cash flow cut down trees before they are at their most valuable, Paolo reports. Letting trees fully mature can significantly improve their value. But how can owners make some money in the meantime?
Most people cannot afford to let forest land sit idle. The Cugnascas' company helps woodland owners produce valuefrom their acreage.
Feronia Forests, a company set up by Paolo and his partners, offers enterprises that help woodlands produce value even while the trees are still standing. Whether it is products like maple syrup, ginseng, or mushrooms that can be harvested from the living forest, or recreational activities like hiking, skiing, or hunting that people will pay for, there is untapped potential.
One of Feronia's businesses is Vertical Water—the raw sap taken from maple trees, which is sold as a health food instead of being boiled down into concentrated syrup. The company pays farmers in upstate New York to collect it, providing landowners in the economically stressed region with cash, while leaving their trees "vertical." Otherwise, "between January and March, farmers in the Northeast have no source of revenue," Paolo explains.
The company also manufactures maple syrup. There is a 110-acre sugarbush at Ramblewild, and the Cugnascas work with the University of Vermont's forestry program to tap some trees and thin others in order to provide the best growth rate for maples and maximum maple syrup. In addition, Ramblewild has gathered new revenue by allowing renewable energy companies like the Berkshire Wind Power Project to erect wind turbines and solar panels on their land in return for annual fees.
Into the woods
But it is Feronia Forward—the nonprofit education and conservation organization—that Paolo and Giovanna are most proud of. For the general public, the summer price of admission to Ramblewild's adventure course is more than $50 per person. But since its 2014 opening the couple has offered 1,300 students a visit to Ramblewild for free under Feronia Forward's philanthropic mission.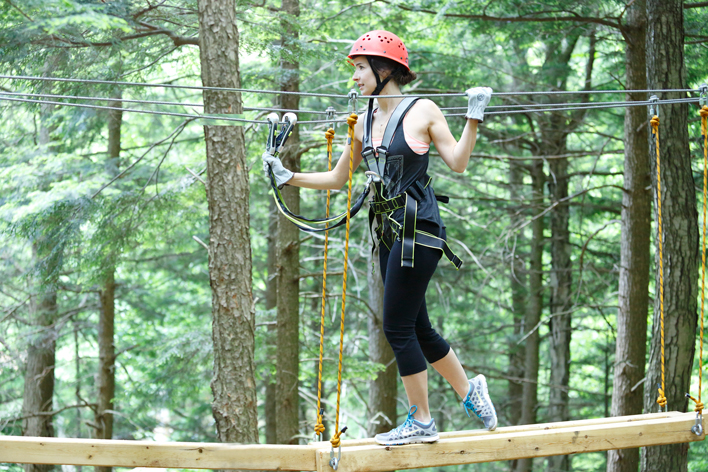 These students mostly come from rural western Massachusetts, where, despite the influx each summer of wealthy attendees to Tanglewood concerts and Shakespeare festivals, there are a good number of poor youngsters. In 2013, about a quarter of the children living in Berkshire County were on some form of public assistance. The Cugnascas' goal is to bring the Ramblewild woodland sports course to about 10,000 children per year from nearby cities like Springfield, Hartford, and Albany.
"Prior to launching Feronia Forward, the Cugnascas' philanthropy was focused on think tanks like the Manhattan Institute and the Independent Women's Forum. But with this venture, Giovanna feels they have a more direct impact. Typically the Cugnascas will approach a disadvantaged school and offer a trip to Ramblewild as a reward for students with good attendance and behavior. Anecdotal evidence suggests it works. Students in a pattern of acting up are pressured by their classmates into behaving better to earn the trip. The Cugnascas are also gratified to see how kids interact with each other while up in the trees. At each obstacle, children tend to cheer each other on and offer advice about the best way to navigate challenges. It's the kind of social interaction that disappears when people are staring at their phones.
Says Paolo, "We want to offer them a transformational life experience in terms of how they look at fear, for example. Or how they look at teams. How they view their friends. How they learn to do things they didn't think were possible."
About 10,000 children per year will visit Ramblewild to build individual confidence and social interaction, and reinforce constructive behavior at school.
Fifth-grade teacher Andrew Mickle took his own family to Ramblewild last spring (his kids' verdict: "fun and cool and a little scary"). When he found out that the site offers educational programs he immediately thought of his students, most of whom could not afford the entry fee. Thanks to Feronia Forward he has been able to take them to explore the aerial park as well as the surrounding forest and wildlife. They learned to "challenge themselves in safe ways." He was particularly impressed by the way some students stepped up to lead the group in making decisions, while others encouraged their classmates to take risks and try new things. He plans to return and integrate science lessons from classroom to copse.
A trip to Ramblewild is an opportunity for students to learn about the natural world. To explore animal habitats. To learn about energy production and land economics. There are signs all over the property with interesting facts about the forest, and students who send in new facts can receive a free ticket to return.
Paolo believes Ramblewild can offer what Rabbi Abraham Heschel calls "radical amazement," a chance to "get up in the morning and look at the world in a way that takes nothing for granted."
"We are trying to use the forest for new adventures, new ideas," says Giovanna. "For thousands of members of our community. And especially for kids."