It happened slowly, and then all at once. That's how traveling salesman Ray Kroc took over a little hamburger chain called McDonald's and then transformed it into an international behemoth.
It happened all at once, and then slowly. That was the tumultuous love affair of Ray and his third wife, Joan. The offspring of their partnership was not a child but a $3 billion fortune. As Lisa Napoli recounts in Ray and Joan, one partner produced the baby, and the other gave it away.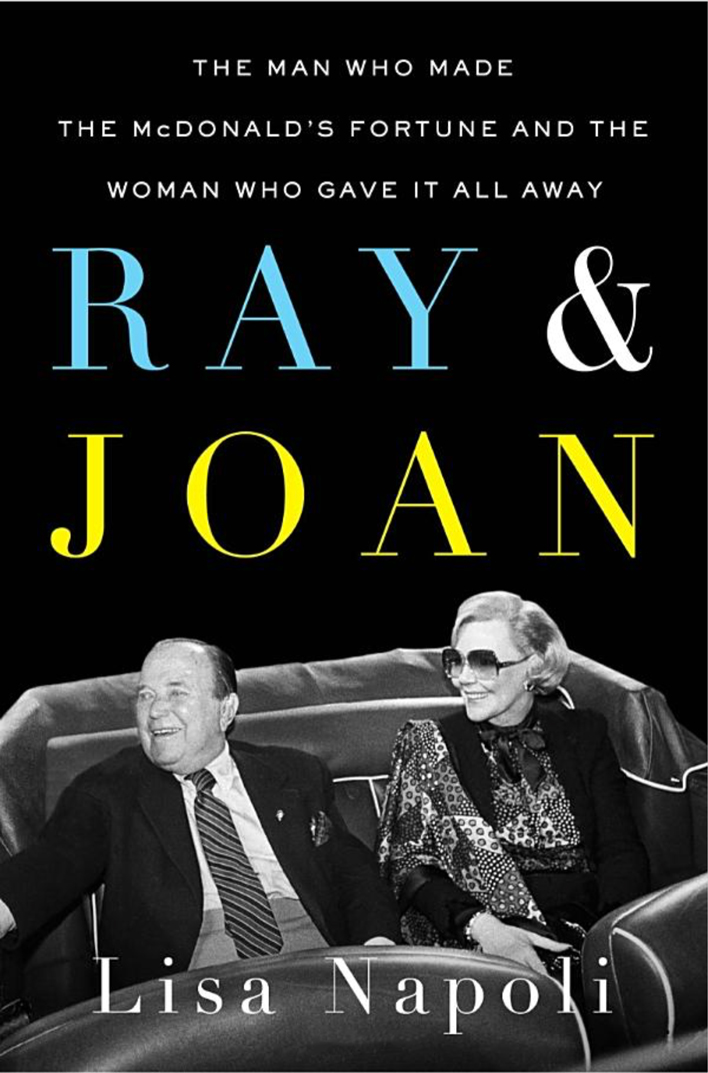 Ray and Joan: The Man Who Made the McDonald's Fortune and the Woman Who Gave It All Away By Lisa Napoli
Ray Kroc was a 52-year-old struggling milkshake-machine salesman in 1954, with nowhere to direct his supersized energy until he came upon a hamburger stand in San Bernardino. He fell in love for the first time, with the fast-food business. The McDonald brothers had perfected the form, cutting away expensive and time-wasting elements of restaurants—the waiters, the tables, the napkins and cutlery. They created a drive-in experience that produced a nonpareil modern meal of hamburger, fried potatoes, and milkshake in 30 seconds, for less than 45 cents. The arches, the name, the ambience of the joint struck him as something unique and yet universal, aspirational yet simple, serving down-to-earth hungers in practical, completely American ways.
After talking the brothers into letting him franchise their operation, Kroc went barnstorming through veterans' halls, churches, and chambers of commerce for the right sort of people to hire as managers. His grandiose vision of the company eventually brought him into conflict with the McDonald brothers, nearly resulting in bankruptcy before he snatched their name and their brand out from under them. Kroc would say later he "founded" McDonald's, which was untrue, but he did create the system that made it a worldwide phenomenon. And that phenomenon made the scrapper who had been a perpetual flop until that point suddenly and fabulously wealthy. 
Kroc's travels threw him in the path of a dazzling blonde named Joan Smith. She was playing the organ in an upscale St. Paul restaurant where Ray had gone to talk her boss, the restaurant's owner, into buying a share of his enterprise. Her boss joined the team, then hired Joan's husband to manage a franchise in South Dakota. Ray dropped in on the Smiths often, and had long talks with Joan on the phone.
In 1961 Ray proposed, and he and Joan went to Las Vegas for the six-weeks residence needed to make their divorces final. But frightened of losing her young teenage daughter, Joan called it off and went home in week five. Eight years later Ray met Joan again, and finally managed to marry his second obsession.
The match was both close and contentious, as both had strong wills. One thing they fought over was how to spend money. Philanthropy was important to both of them. Joan cheered when Ray gave hefty sums in their names to the Salvation Army and the Ronald McDonald houses created to shelter families near hospitals where they had sick children. But she was a liberal, and her inner flower child rebelled when he donated to Richard Nixon and ordered the flags at his restaurants to be raised back to full staff after they had been lowered for the student protesters shot at Kent State. When Ray had a stroke and became largely an invalid, though, Joan nursed him devotedly until he died. She had paid her dues, Napoli opines, and earned her inheritance.
Early on, she made two huge decisions about how to use it that shook the world of organized giving, as her husband had rattled the restaurant business. First, she decided to let her fortune die with her, having more faith in organizations she had worked with than in future generations of foundation executives she would never know. Second, she would dispense the cash herself, relying on her own instinct and experience rather than relying on professionals.
She heard a speech against war that she admired and sent the orator $6 million to start a foundation; sat next to a doctor on a plane and gave her $15 million to launch a hospice; saw a Midwestern city stricken with flooding and dispatched $15 million to be doled out to the displaced. Her giving to anti-war causes might have driven Ray crazy. Nor would he have approved of her $225 million gift to National Public Radio.
But no matter where her personal checkbook took her, she continued to love and respect Ray. She gave the bulk of her funds to his favorite charity. And she did so in a way that was as visionary, practical, tough-minded, and shrewd as her husband's methods of business.
One day in 1997, Joan went on a car tour of poor sections of her hometown of San Diego. The desolation and squalor shook her. "I remember her saying 'I've got to do something,'" recalled Michael O'Neill, the local cop who drove her around. "I could tell from the tone of her voice it was going to be big."
"Think big," Ray had told the McDonald brothers in San Bernardino. "Think big," Joan now told the Salvation Army in San Diego. She urged the staid old organization to imagine things "bigger than you've ever thought before."
What Joan had in mind was a community center the size of a village, with swimming pools, theaters, ice rinks, and classrooms and places for meetings, set in the middle of underserved neighborhoods, where people of all ages could go. Soon engineers working for the Salvation Army were doing what Ray had done in locating his restaurants, checking traffic patterns and family patterns to find the optimal location. A community center was erected for $50 million, with an additional $40 million earmarked for upkeep. At the opening ceremony in 2002, Joan invoked Ray's memory.
But it was not until after her death one year later that people realized that Joan, like Ray, actually had her eye on something bigger—a franchise, of which the San Diego building was just the beginning. In her will, she donated a staggering $1.5 billion to the Salvation Army for the creation of up to 30 new centers. It was the largest philanthropic gift ever made to one charity.
And today, all across the country, Ray and Joan Kroc Community Centers serve Americans who are hungry in body and soul. Some of these ministries operate quite near one of the 35,000 outlets spread throughout the world that serve even more basic human needs, under golden arches.
Noemie Emery is a contributing editor to the Weekly Standard and columnist for the Washington Examiner.