Scoring Philanthropic Freedom
Russian non-profits are in for a heap of trouble. A new law from Putin's government says that all civic organizations receiving funding from abroad and involved in politics (vaguely defined) must register as "foreign agents"—a term that to many means "spies." "We call it a shock and audit strategy," said Douglas Rutzen, president of the International Center for Not-for-Profit Law. "They're literally auditing hundreds of organizations in an attempt to close them down."
Russia's restrictions on giving merited the country a score of 2.5 out of 5.0 in a pilot analysis of philanthropic freedom from the Hudson Institute. Its scholars examined 13 nations and the way they treated civil organizations, tax deductions, tax exemptions, and the ease of giving to and from overseas. The United States scored 4.6 overall, with strong non-profit laws and relatively generous tax deductions for giving. The Netherlands earned the top spot at 4.8, and Sweden, Japan, and Australia tied for third at 4.3. Russia, Egypt, and China scored the worst. But even in the best countries for giving, there is room for improvement. Americans can't get tax deductions if they give to a charity overseas. In Sweden, only gifts between $300 and $900 can earn a tax break. The Hudson Institute's analysis is preliminary—more information needs to be collected from other countries—but its Center for Global Prosperity, which also created the invaluable Index of Global Philanthropy and Remittances, should be commended for another research innovation. As Lord Kelvin said, if you can't measure it, you can't improve it. —Liz Essley Whyte
Big Investment in a New Approach
In May, City University of New York received one of the largest donations ever to a two-year college. The Guttman Foundation presented CUNY with $25 million—with $10 million of it to fund grants and improve graduation rates at seven existing CUNY campuses, and $15 million allocated to the system's just-opened new college in midtown Manhattan, now named Guttman Community College. Designed from scratch using Gates and Carnegie money, this new campus employs many fresh techniques aimed at getting students to complete practical degrees within reasonable periods of time. Nationally, only 36 percent of students who start at a public community college complete a credential or transfer to another institution within six years. The new Guttman College, by contrast, intends to graduate 35 percent of all new enrollees within three years.
Charles Guttman grew up on the Lower East Side of New York City, had no formal education after age 13, but made a fortune as an importer. When they died in 1969, he and his wife earmarked almost all of their wealth to charity. The CUNY gift represented about half of their foundation's remaining funds, indicating a willingness to use the money to do good now, rather than dribbling it out forever from a perpetual trust. —Andrea Scott
Person-to-Person Works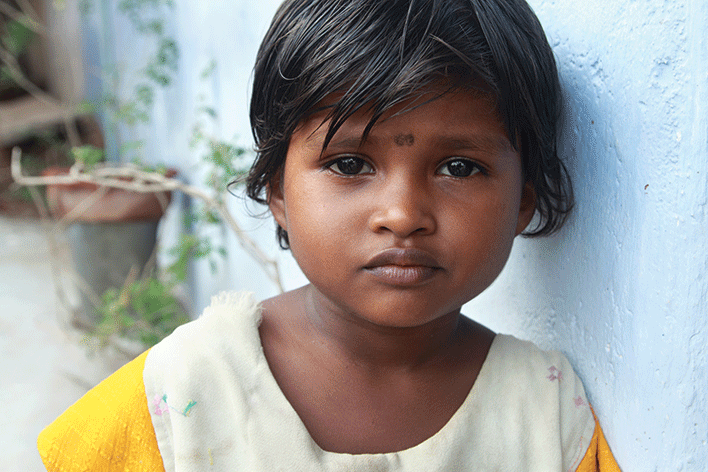 A popular form of giving for many Americans and Europeans is international child sponsorship, with over $3 billion contributed every year to support kids in developing countries. Until now, however, little was known about the long-term efficacy of such person-to-person aid. Thanks to a new study led by Bruce Wydick of the University of San Francisco, sponsors can take heart that their donations are making a difference. Wydick's team surveyed 10,000 individuals in six countries where Compassion International, one of the leading sponsorship organizations, has an active presence. The survey found that, compared to their peers, adults who had been sponsored as children were 27-40 percent more likely to graduate from secondary school, 50-80 percent more likely to graduate from university, and 35 percent more likely to obtain professional employment. In interviews, formerly sponsored individuals most commonly mentioned the educational support that they received as the most valuable aspect of the program—but second to that they ranked "spiritual and character development," rating it more than three times higher than economic assistance or other benefits.
Carrying Nuclear to Newcastle
The University of Colorado has long been known for its left-of-center politics, tinting Boulder as a sort of "Berkeley of the Rockies." Starting this fall, though, the campus will also be the nation's first to host a "Visiting Scholar of Conservative Thought and Policy." The new faculty position was made possible by Earl Wright of AMG National Trust Bank and other donors hoping to broaden the political discussion on campus. Keith Maskus, dean of the College of Arts and Sciences, considers the program an opportunity to "expose our students to experienced, interesting conservative scholars…solid thinkers, not just in scholarship but also as practitioners." Steven Hayward will be the inaugural torch-bearer, spending his one-year term teaching courses on free-market environmentalism, constitutional law, and American political thought. —Adam Sawyer
Soft Touch on a Thorny Dilemma
"Be fruitful and multiply" may be a bounteous Biblical injunction, but it sure can disrupt the charitable mission of a family foundation. As succeeding generations rise to take seats at the foundation board, it can quickly become difficult to harmonize the newcomers' priorities with those of the foundation's original donors. Too often this leads to clashes and family rancor, or the severance of a foundation's actions from its intended purposes, which has a corrosive effect on the willingness of future donors to give. One foundation that has done a clever job of keeping later generations interested while remaining true to the philanthropic preferences of its founders is the Raskob Foundation of Delaware. Now in its fifth generation, with over 100 family members eligible to participate in the foundation's work, Raskob has a simple means for keeping faith without squelching the creativity and priorities of younger family members. Raskob simply requires that every domestic grantee must be listed in the Official Catholic Directory, and that it provide a letter from its local bishop affirming that the organization is who it says it is. This allows family members living in different regions, with different passions, to advocate for a wide range of charities—but all under an umbrella consistent with the strong Catholic faith of the original donors. —Tom Riley