Forty years ago, standing out on the Serengeti, you might have seen a herd of elephant go by—with collars on. A Cessna would purr overhead, tracing their radio signals. In the cockpit, you could glimpse the brash young zoologist Iain Douglas-Hamilton, tracking elephant populations across Africa and shaking up the science as it was then understood. His pan-continental survey, the first and (until now) only of its kind, prepared the way for a new wave of elephant research and conservation.
But in the decade that followed this pioneering count, an explosion in poaching reduced Africa's elephant population by half. At the same time, ironically, biologists were making major breakthroughs in understanding elephants: that they form rich and complex societies, that they communicate with language, that they mourn their dead. Just at the moment when the world was learning what incredible creatures they are, they were being wiped out.
The Convention on International Trade in Endangered Species (CITES) banned new ivory sales in 1990. For a few years, poaching slowed. The decision is periodically revisited, with the nations that host more elephants arguing that trade should be permitted in a limited way. Meanwhile, China's burgeoning economy and other growing Asian markets have created a huge new demand for ivory. Poaching is once again out of control.
Amidst all this turmoil, elephant conservationists have to some extent been working in the dark. It's not certain how big today's elephant populations are, where they are located, or how they are adapting to their current challenges. So Microsoft co-founder and philanthropist Paul Allen decided last year that it is high time for another elephant census.
Let them be counted
Allen and his sister Jody own a reserve in Botswana with two safari camps, one focused on elephants. This and similar private reserves play a major role in Botswanan conservation. Wildlife tourism makes up a large fraction of the country's gross domestic product, placing an economic premium on keeping the land natural and the animals alive. Private as well as public parks were formerly used for trophy hunting—many of the private ones still are—but over time, more have been moving in the gentler direction of photo safaris. Botswana's elephant population, estimated at 130,000 or more, is the world's largest and one of the few that is growing.
Abu Camp, now owned by the Allens, was started in 1980 with a handful of retired elephant movie stars. The herd was later expanded with elephants saved from culls, poaching, and other traumatic circumstances. The camp's mission is ultimately to reintroduce these rescues to the wild, and several have successfully made that transition. But in the meantime, it serves as a safe place to live.
Several years ago, the staff were having problems with an especially aggressive bull. In need of an "elephant whisperer," they called Mike Chase, the first Botswanan with a doctorate in elephant ecology and founder of the nonprofit Elephants Without Borders. Chase charmed not just the bull, but everyone at Abu, and was soon collaborating with camp staff to help other elephants adjust, and conducting research around the reserve.
Allen has supported this and other elephant conservation efforts, including anti-poaching surveillance drones and a protected migratory corridor through Tanzania. But he wanted to do even more to encourage their survival. In 2013, he and Chase teamed up to launch the Great Elephant Census. The survey, paid for entirely by Allen's $7 million gift, is led by Chase's group Elephants Without Borders, in partnership with several organizations that have good relationships with the wildlife agencies of other countries. The aim is to map all the elephants in Africa.
The first flyovers began in February. Out in the field, the day often starts around the campfire at 5 a.m.; by 6 a.m., Chase hops into his Cessna 206 and takes to the sky. He and his dozens of counterparts cover thousands of miles every day, recording each elephant below and analyzing its habitat, sometimes touching down to speak with local leaders about the situation in their area. For select herds, the team is developing new, minimally intrusive tracking devices to learn more about their behavior.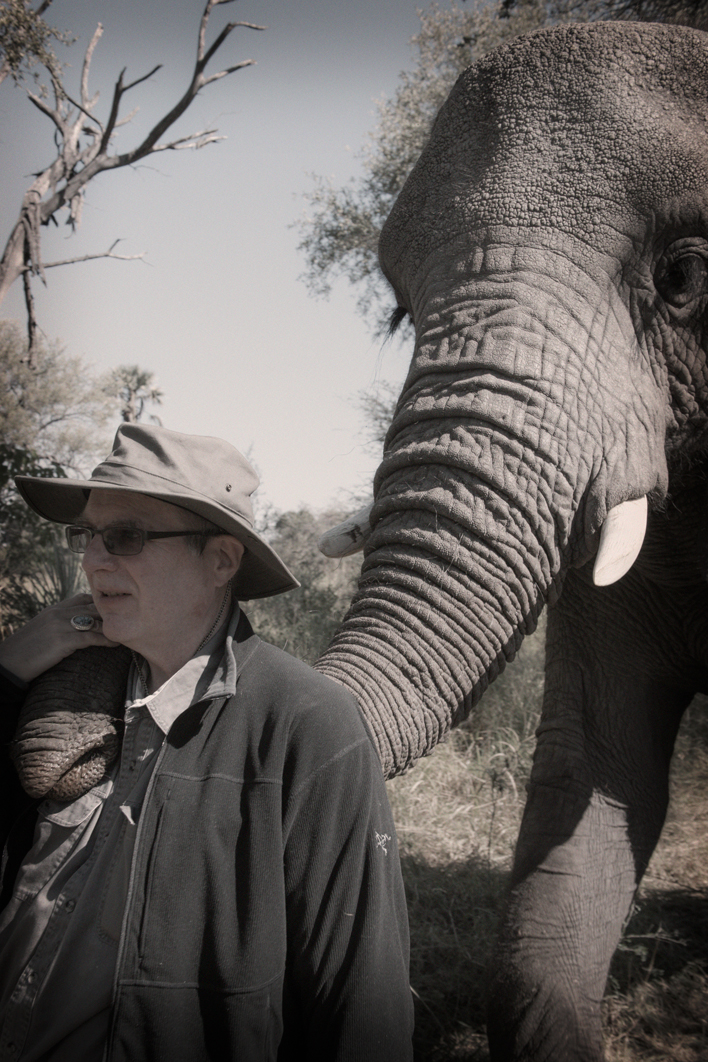 In the first few months of the census, the surveyors have seen their share of bad news, but at least made a couple of encouraging discoveries. In Chad, where elephants endured a string of massacres in recent years, Chase notes that the survivors have banded together in a huge herd—a response to severe stress—but are evidently comfortable enough to reproduce at rates that could begin to bring repopulation. Surveyors have also been delighted to see a few "big tuskers." Preliminary estimates, Chase says, put the total number of these mighty old bulls at fewer than 50 across Africa, as the selection pressures of poaching skew family structure and the gene pool. "Make no mistake—the situation is dire—but there are pockets of hope across the continent," he says. 
The census will take two years to complete, with the results available in time for the next CITES conference in 2016. Meanwhile, park managers and conservation nonprofits will be able to use the accruing data to review which of their methods are working and better tailor their programs to their circumstances. "You can't manage what you don't measure," says Dune Ives, Allen's senior director of philanthropic initiatives. Ives compares the survey to the Allen Institute for Brain Science's atlas project, to which Allen has given $100 million. The institute's mouse and human brain maps were created as tools for neurologists to use in experiments. Like the Great Elephant Census, the brain atlases are an example of what their enthusiasts call "big science"—data-intensive, thorough studies of large systems—and "open science"—costly research products made freely available to all. It was the success of the brain atlas project, Ives says, that encouraged Allen to take on the creation of the elephant map as his contribution to their cause.
This programmer's-eye view of the link between brain science and elephant conservation helps illuminate Allen's eclectic philanthropy, most of which is concentrated in the Pacific Northwest. In 2010, he gave $26 million to his alma mater Washington State University to establish a School of Global Animal Health, and he has contributed to many conservation projects in the region.
Ives and Chase report that the census is important to Allen at a personal level. "Paul feels very deeply for these animals that can't protect themselves," says Ives. But he wants practical solutions. The data crunching and systems analysis spring from Allen's conviction, according to Chase, "that we can conquer what initially appears to be insurmountable—and do so through science and innovation."
Saving rhinos as a side effect
Howard Buffett has a knack for near escapes. "Everybody says you don't want to run into a rhino on foot," he says, "and I did it once by accident." Having gotten his SUV stuck in the bush, he got out to extricate it, "and boom, right there is a rhino." Possibly as startled as he was, "it looked at me and then just turned around and ran." Not so the mother of a baby rhino he was photographing from his vehicle, who "stomped her feet and walked right up close…and I'm thinking here goes the Toyota Land Cruiser right into the junk pile, and me with it!" Another time he turned around to find a hippo practically breathing down his neck. "And I had an elephant charge me once. Oh my God, talk about scary…. When they're coming at you, you're like a little Snickers bar to them," he sums up, relishing the memory.
When it comes to keeping these great creatures alive, however, Buffett focuses on humans and their needs. "You're not going to have people listen to your story if all you're talking about is how to save an animal. The reason they're threatened is because of people, and that's what you need to change."
In his many trips to Africa over the years, he recalls running across carcasses out on safari. "It's pretty upsetting," he says, but he's learned to have more than an emotional reaction. "Honestly, back then I would have thought first of the animal. Today I think about what's driving that to happen."
The poachers on the ground are just the first stage of the supply chain. "If you pay them $500 for a set of tusks," he says, "that to them is probably two years' worth of wages." Then higher-level operators sell the contraband abroad for much more, and often funnel proceeds to paramilitary groups and terrorist networks, including the Lord's Resistance Army and subsidiaries of al-Qaeda. "It's so complex, but in a way it's so simple. They're using people who are poor and desperate to carry out criminal activity." 
When he started his foundation in 1999, most of its work was in conservation. Since then, especially with the infusion of $3 billion from his father, Warren, Howard Buffett has turned his focus to hunger and its causes. People in the developing world can't worry about animals if their own families are hungry and imperiled.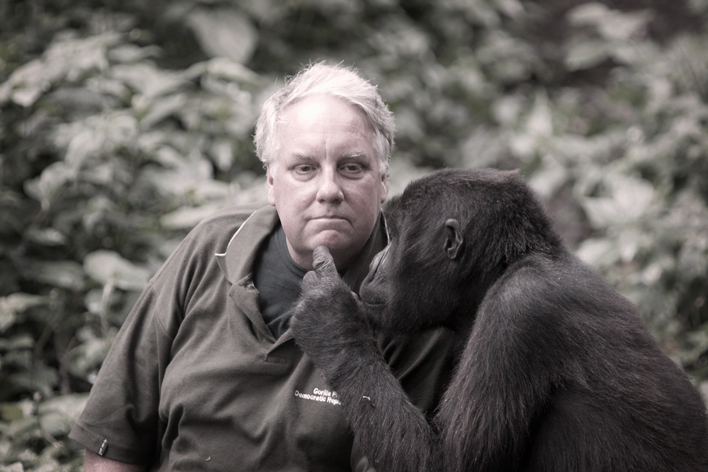 A large subset of both anti-hunger work and anti-poaching efforts is fighting conflict. The connection between poverty, conflict, and conservation became especially apparent to Buffett in his work in Virunga National Park, home to half of the world's 800 remaining mountain gorillas. The violence that frequently erupts in the surrounding Democratic Republic of Congo endangers both human and animal residents. It is often financed by poaching of animals and other protected resources. And it cuts off normal tourism revenue that could support the park and enrich the human communities adjoining it.
Now Buffett is trying to break a similar cycle that is endangering rhinos. In March he announced a $24 million gift to create an "intensive protection zone" around South Africa's Kruger National Park, home to nearly half of the 22,000 rhinos alive today. Hundreds are killed inside the park every year; a recently exposed poaching ring included Kruger's own veterinarian. Buffett's three-year project, led by retired South African major general Johan Jooste, aims to interrupt the funding streams of poachers and allied armed groups, and to experiment with techniques that others can learn from. "Conservation of animals is a side benefit," says foundation president Ann Kelly.
Like elephant ivory, rhino horn is sometimes used for ornamental carvings, but it is far more valuable for its supposed medicinal properties. A single large horn can be worth up to a quarter million dollars. Even when rangers safely saw off a rhino's horn for its own protection, poachers may still kill the animal for the residual stump.
Buffett compares the commodity to the trade in heroin and cocaine (pound for pound, the horn is more valuable). He draws other parallels between poaching and drug trafficking: the illegal but irrepressible demand, the violence funded by the product, the way cartels pressure very poor people to play along, the destabilizing effects on entire communities.
Several pieces of Buffett's strategy are drawn from the Drug Enforcement Agency playbook, including canine units and aerostats (low-flying blimps used for surveillance on the U.S.-Mexican border). Improving intelligence is a major component. There are technical aspects to this, like building reliable communications systems, and also human ones—investing in trustworthy leadership, well-trained and uncorrupted rangers, and a network of eyes and ears on the ground.
But in the end, Buffett believes, it comes down to human incentives. And, though the rhino project is based on law and order, he recognizes that enforcement will never be enough. 
Back home in the American Midwest, Buffett can often be found out on patrol as a volunteer sheriff. "You see what goes on in a world you wouldn't typically be exposed to. People are just struggling to get along." Often he deals with cases related to poverty and dysfunction, in which he must question whether full-blast law enforcement is really the solution.
The dilemma between defending order and understanding the origins of desperate acts is only aggravated when the question is how to deal with a poor African who shot an elephant or rhino for $500. At bottom, more economic opportunity is the obvious answer. In conversations he has had with ex-poachers now working on a farm in Zambia, Buffett says they all state that they used to poach because they didn't have any other way to support their families.
Buffett cautions, though, that economic development at the scale that would make a difference is a hard thing to gin up. Markets have to be built on many preconditions: peace, property rights, decent government. There are vicious circles where violence, poverty, and vulnerability all feed on each other. Buffett and his team are working to break some of them. But some of this is generations-long work. In the meantime, a species can vanish.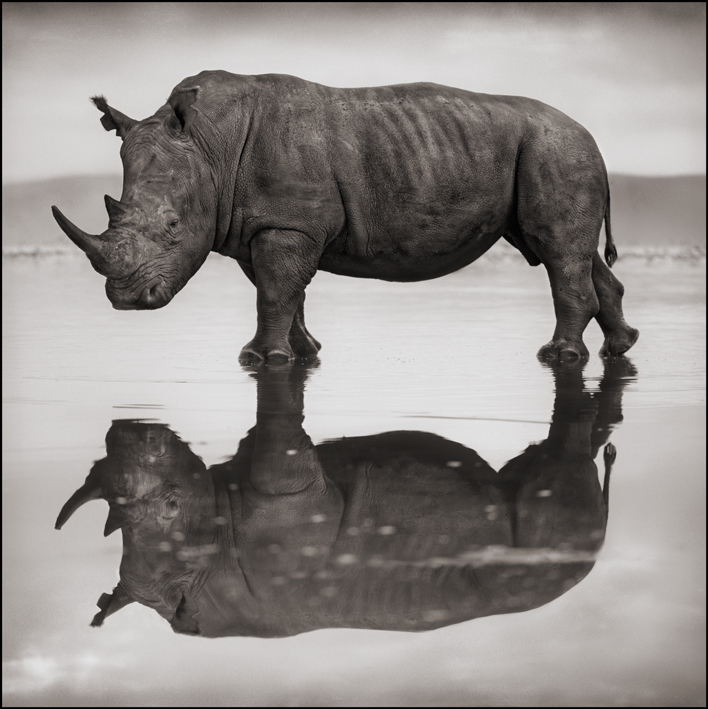 A virtuous circle of life
Kenya's Tsavo area is home to that country's largest population of elephants, as well as many other animals. And nearby Amboseli National Park is the site of the longest-running research ever done on elephants—Cynthia Moss's four-decade field study that has produced much of what we know about the species today. But the budget of the Kenya Wildlife Service is small, and the parks' animals often range past the borders, sometimes straying into Tanzania, a common home base for poaching gangs.
Big Life Foundation, a nonprofit started in 2010 by east African conservationist Richard Bonham and photographer Nick Brandt, views conservation and economic opportunity as interlocking challenges. The organization works with the Maasai and other local tribes to run eight schools, protect crops and livestock from wildlife, and support a security team and intelligence network that operate in tandem with the park rangers. On a budget approaching $2.5 million a year, Big Life covers an area of more than 2 million acres and has become the biggest employer in the region. Many of its recruits are former poachers, bringing a wealth of insider knowledge to the job. Like Buffett, Big Life has found that although the ex-poachers' salaries are a fraction of what they could occasionally make with a big kill, they agree that steady, predictable, and lawful work is more appealing. 
"I am convinced that Amboseli would have lost many, many elephants over the last three years if Big Life had not come in to save the day," Cynthia Moss has said. Brandt's aspiration is to help Kenya and other countries become more like Botswana, with its hundreds of thousands of elephants and thriving ecotourism trade. He first went to Africa in 1995 to direct Michael Jackson's music video "Earth Song" in Tanzania. He was instantly enchanted with the wildlife, to which he has since devoted his career.
Brandt describes his haunting photos—featured in this story, and collected in the trilogy On This Earth / A Shadow Falls / Across the Ravaged Land—as "an elegy to a world that is disappearing." As he traveled through east Africa over the past few years, he was dismayed to find so many of the subjects he had come to love gunned down or poisoned from one trip to the next. One time he learned that an elephant family he was photographing just the day before had been found dead. Their faces, so full of spirit and vitality in his intimate portraits, were hacked off.
No longer content to stay behind the lens, he leapt into action. He called his old friend Richard Bonham—bush pilot, safari guide, legend of the travelogues Sand Rivers and African Rainbow, honorary Maasai. Bonham's community development and conservation group was well respected locally but had little connection to outside support. The two men each had exactly what the other needed. 
Brandt's first supporters were avid collectors of his photography: hedge fund manager Stanley Druckenmiller and his wife Fiona in New York, and investment firm co-founder Stanley Baty and his wife Kristine in Seattle. The couples quickly donated a combined $700,000 to get Big Life started.
"When I look at Nick's photographs, I can feel the soul of the animal," says Kristine Baty. "I will never forget the day we learned that our favorite elephants had been killed." (One of them, Marianna, is the matriarch leading the herd pictured above.) In addition to donating to Big Life herself, Baty has become an active fundraiser for the nonprofit, and is exploring more ways to get involved. Though she and her husband give to many charities, including other conservation groups, she has made this one her cause.
"People often ask why they should save an elephant when there are so many other pressing human needs to be addressed," she says. Big Life's inclusion of the interests of the animals' human neighbors makes this a moot choice. It is critical to the organization's success, and to her support.
Big Life is not just for elephants. One of its signature programs, the brainchild of Bonham and Tom Hill, offers a system of direct incentives to preserve another endangered, and dangerous, species. Texan entrepreneur and venture capitalist Hill packed up and moved to rural Kenya in 2000, where he and Bonham launched a plan to save the local lions.
By some estimates, fewer than 20,000 lions remain in the world, down from 100,000 just 20 years ago. While they are often poached and sold for parts on the black market, the bigger threat to their existence comes from habitat loss and increasing human conflict. Wandering through settled areas and preying on the livestock, they are hunted down by herdsmen trying to protect their livelihoods.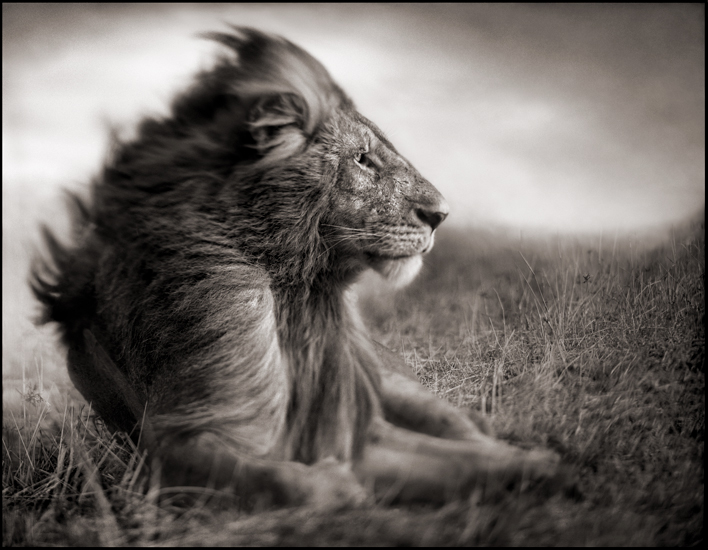 But not so much in Big Life's region. A predator compensation fund started in 2003 that is now part of Big Life has nearly halted lion killings in the area. The premise is simple: Livestock owners are paid for each animal taken by wildlife, so long as the predator is spared. The program, similar to the incentives used to reintroduce wolves to Yellowstone National Park in the U.S., was conceived of independently by the Maasai when Bonham and Hill asked them what it would take to stop killing lions. In its first decade, the fund reduced lion kills from a probable 200 to just six in the range it covered, without impoverishing or harming local residents.
Big Life offers a number of complementary services to help protect local livestock, including better fencing and husbandry training. Immediate compensation for occasional losses, however, is the overwhelmingly popular centerpiece of the initiative—the "core of the onion," according to Bonham, without which the other "layers" wouldn't hold. Program managers explain it as a basic economic equation, a fairer way to balance the benefits that "citizens of Kenya and the world at large" receive from the existence of majestic lions with the burdens of living near them.
The Maasai say they like the program because it replaces their livestock quickly and feels just. The payment goes to them individually and cannot be co-opted by their leaders (as government spending often is in Africa). And it represents the first time local residents have ever received a benefit directly from sharing their land with wildlife. "[We] listened to what they had to say," Hill told the Daily Telegraph.
Expanding programs that combine economic incentives with conservation, and that attend to the needs and priorities of the human community, will be essential to further protecting endangered species. Philanthropists who want to conserve these magnificent animals should work with African authorities to give the local people a direct economic stake—and perhaps even some forms of shared ownership rights—in the wild herds that surround them.
Only a tangible ability to share in the economic and spiritual benefits of teeming wildlife will make the creatures next door an asset to be guarded, rather than a problem. When equipped with such an outlook, as well as the type of knowledge about animals' needs that donors like Paul Allen are collecting, philanthropists will have much better chances of aiding the species they admire.