If you grew up in small-town America, your main impression of the American Legion or the Veterans of Foreign Wars might be linked to Memorial Day. Many a Boy Scout has trekked down on a bright May morning to the dusky basement of the local vets hall, and then the quiet green and gray of the town cemetery, to plant miniature flags on veterans' graves. The parades we watched or marched in were always led by men in VFW or Legion caps.
For others, the Legion means youth baseball. Legion-supported teams play throughout the summer, ending in a national tournament. The Legion organizes oratorical competitions and beloved mock-government opportunities like Boys State and Boys Nation. The VFW has a longstanding "Americanism" program that offers instruction in U.S. history and respect for the flag, and honors educators who teach citizenship.
These organizations have long had a patriotic presence in America. And of course they played central roles in the veterans' community, uniting former servicemen socially in posts across the country. Helping veterans obtain government benefits has also become a large part of their role, a function that has more and more defined their cultural identity.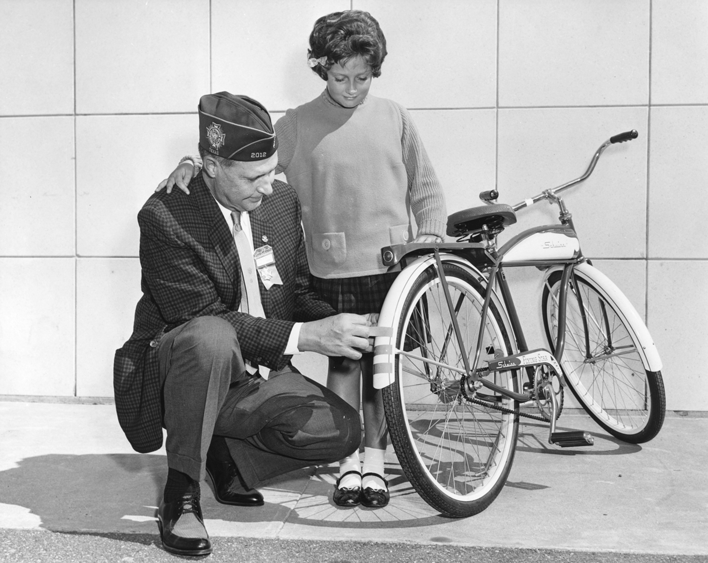 Increasingly, though, the old-line veterans' organizations seem to belong to a bygone era. Local posts close every week. Nationwide, membership has been fading for years.
Take Washington, D.C.'s American Legion Post 8, just a stone's throw from the House of Representatives office buildings in the residential part of Capitol Hill. It is a comfortable and friendly place. Yet only a handful of men and women sit at the small bar, most of them older than 50. When I visited recently, not a single Iraq or Afghanistan vet was present. Most clients were not actually Legionnaires, but children of members.
Wookie Leong was a rare Legionnaire at the Post 8 lounge. He's a past commander of the post, serves as its historian, and was recently elected vice chair. His long gray hair is pulled back in a ponytail that shouts "Vietnam vet." "We're just trying to survive," he says of his post. "But you gotta have the people. And we don't have the people like we used to."
Just outside the Capital Beltway in Maryland, Mark Boles, a Navy vet wounded at Normandy, stands outside American Legion Post 268 and recalls the old days when the Legion Hall lounge was packed. "You couldn't get a seat," he says. No more.
Membership peaked for these organizations right after World War II, when Legion enrollments doubled from 1.7 million to 3.3 million. After the Korean War, Legionnaires numbered 2.5 million. As baby boomers joined, membership floated up to 3.1 million in 1992.
Since then, it's been a steady drop. In 2013, the Legion reported 2.3 million members and the VFW numbered 1.4 million. Even as 2.4 million veterans have returned from Iraq and Afghanistan, the groups have been losing tens of thousands of participants every single year.
And the numbers on the rolls don't reflect actual involvement. Leong estimates that only 10 percent of his post's members are active. The drop is steep enough that the post recently had to amend its bylaws so that if only 15 out of its 300 members attend a meeting, that constitutes a quorum. "That's not just us," he says. "That's all the posts."
Some take comfort in the hope that post-9/11 vets will join when they hit their 30s and 40s, but local posts have yet to see any bump. Other posts claim they have plenty of young veterans on their rolls, but that they're not participating in everyday post activities. "They sign up, but we never see them," Leong tells me.
Much of the shift can be explained by changing culture. The stereotypical dark smoky bar of the Legion or VFW halls might not appeal to twenty-somethings. Today's young vets are more likely to be single than their predecessors—and a Legion hall is not the ideal place to meet a spouse. Americans are more transient, reducing the opportunity or desire to grow attached to a local post.
Not every post has taken this change sitting down. Some have banned smoking or installed video-game systems. But young people aren't flocking in. 
Another factor that has sapped from traditional veterans' organizations their reason-for-being is politics. Over the years the VFW and Legion have had spectacular success lobbying for more government dollars for veterans. The budget of the Department of Veterans Affairs has rocketed from $29 billion in 1990 to $161 billion in 2015. It now has more employees than any other civilian department in the President's cabinet.
The VFW and American Legion have made government spending a centerpiece of their work. They've succeeded beyond what any advocate could have hoped for. Today, however, fatter government benefits are not what typical young veterans are most hungry for. After years of government "never saying no" to veterans, is it possible for a membership group to lobby itself out of relevance?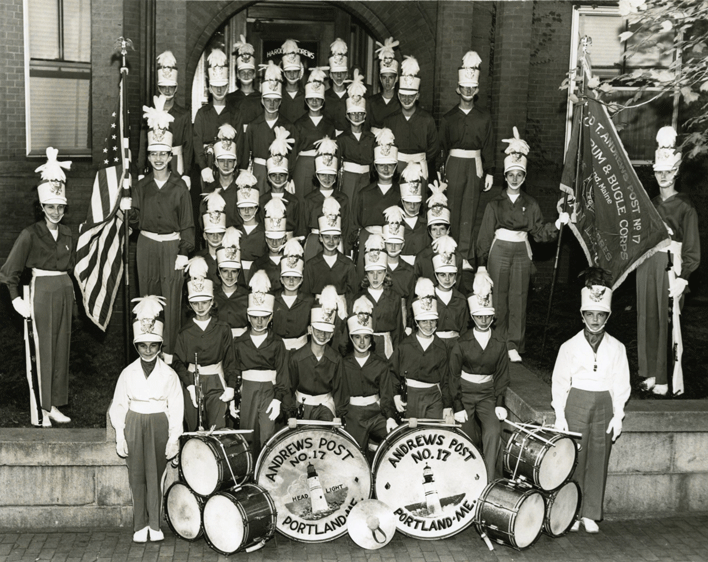 Government battles
The VFW traces its history back to the Spanish American War, when small veterans' groups began to band together and lobby for support from the government that had sent them off to war. The first post opened in Denver in 1899. The Legion was born in the aftermath of  World War I. Both groups eventually received congressional charters as official veterans' service organizations.
The VFW deployed lobbyists and lawyers to press government for health care and rehabilitation programs, emphasizing the "sacred obligation" the nation owed to its servicemen and women. Today the VFW claims it is the most powerful voice inside the White House and Congress for veterans. The group also has an extensive machinery to help vets apply for and obtain federal benefits.
The Legion also emphasized improved government benefits from its beginning. Historian Richard Jones describes legendary Legion lobbyist Colonel John Taylor: "Donning his spats, swinging his cane, he would march down Pennsylvania Avenue to the marble halls of Congress, stalk into committee rooms, present the Legion case for this measure and for that. If reporters buttonholed him as he left a closed committee session, asking if the pending bill would pass, he would answer them with due gravity, 'The American Legion favors it. It is inevitable legislation.'"
Most nonprofits have to be extra careful regarding lobbying efforts, but the VFW and American Legion are special cases. They enjoy unique tax treatment, covered by section 501(c)(19) of the tax code. As with 501(c)(3) groups, donations to (c)(19) groups are tax deductible. But (c)(3)s are barred from dedicating a "substantial" amount of their time or money to lobbying, while (c)(19)s face no such restriction. The Supreme Court upheld this privilege in a 1983 ruling, accepting the government's argument that the special lobbying rule didn't violate the Constitution because veterans are owed a "special gratitude" by the country.
The lengthy list of lobbying triumphs by the Legion and VFW include the 1921 creation of the Veterans' Bureau, the 1934 passage of pensions for widows of WWI vets, the G.I. Bill in 1944, the Montgomery G.I. Bill in 1984, the 1989 promotion of the Veterans' Administration into a cabinet agency, the 2008 expansion of education benefits, and heavy federal funding for veteran disability payments, health care, job training, education, and more.
History indicates that membership organizations tend to attract their highest enrollments when they find a pressing issue to lobby the government for. The elevation of the VA into a cabinet department correlated with peak membership for both the American Legion and VFW. Once that mountain was topped, the veterans' service organizations began to decay.
Even so, the VFW still brings in about $96 million in revenue, and the American Legion $76 million. About a third of each is comprised of membership dues; the rest comes from advertising, sales, and gifts and contributions.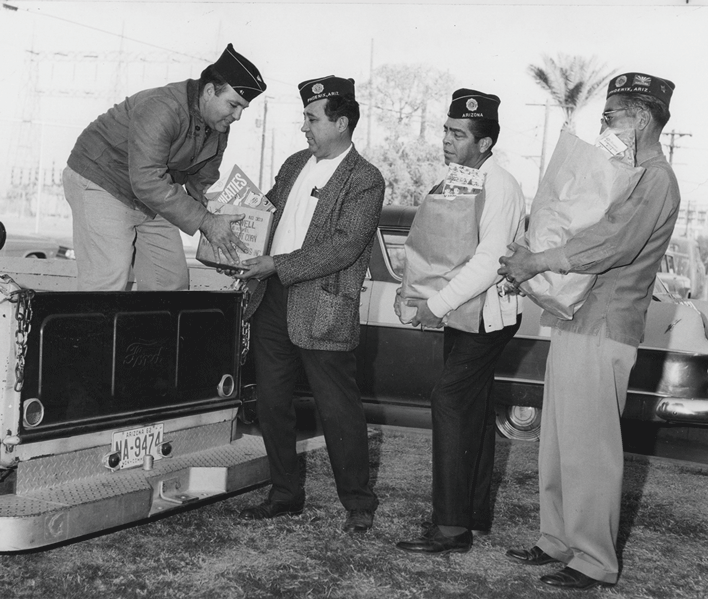 Seeking service
These organizations are more than middlemen between government and veterans. The VFW statement of mission includes: "To foster camaraderie among United States veterans of overseas conflicts. To serve our veterans, the military, and our communities. To advocate on behalf of all veterans."
The Legion's founding statement of purpose is more service-oriented, highlighting such aims as "to inculcate a sense of individual obligation to the community, state, and nation," "to safeguard and transmit to posterity the principles of justice, freedom, and democracy," and "to consecrate and sanctify our comradeship by our devotion to mutual helpfulness."
"The real genesis of Legion service was in the members and the posts," writes Jones. He recounts a common tale of one member informing his local post of a sick comrade in town. While the Legion post was fighting for federal benefits and hospitalization it might itself "supply funds, temporarily, for a nurse." Thousands of members donated their time freely, he continues, "aiding the disabled and their families. Many had given their money."
This mutual support continues today. John Anderson, a disabled vet in Reno, Nevada, hit tough times when his wife had two operations in a short span. His Legion post "paid the rent and helped us back on our feet," Anderson told USA Today. The halls also provide moral support in an informal setting, a place where vets can get something off their chests. "I don't push people to talk about their experiences," Michigan Legionnaire Bill Bishop told USA Today, "but if they do need to talk, they know they can here."
The Legion also runs "Operation Comfort Warrior," which tries to make life as pleasant as possible for patients at VA hospitals, providing calling cards, video games, clothing, and more. The VFW's sister foundation gives over $300,000 per year through its "unmet needs" program to "help families experiencing financial difficulties with mortgage, car loans, utilities, and other payments." It also spends $500,000 to cover the costs of calling home for soldiers stationed overseas. Other programs it administers includes distributing over $100,000 worth of donated sports tickets to vets and their families.
In the past decade, though, a new set of veterans' groups has taken root, offering very different alternatives to younger vets. (See the previous article.) These groups go much further in mobilizing vets to serve their communities. They emphasize the benefits of immersion in the wider community, in addition to the companionship of other vets. They prescribe service, leadership, taking on new challenges, and forming links to non-veterans as paths to meaning, healing, occupational success, and comradeship after military life. These new groups don't push government aid; indeed they sometimes warn their members of the potentially debilitating effects of dependency.
Instead of marching into Congress, groups like Team Red White & Blue, The Mission Continues, and Team Rubicon scale mountains, build Habitat for Humanity houses, or dig out earthquake victims. "We're not here to give a handout," Blayne Smith, Team RWB's executive director says. "We're here to challenge them." While so far these groups are much smaller than the VFW and the Legion, they are growing fast, while the old groups are shrinking.
Many signs today point to a changing of the guard. That's the way civil society works sometimes. Groups with long, rich histories miss a cultural turn, or simply complete their agenda, and suddenly there is a fresher, more relevant alternative on the ground attacking problems in new ways. The old veterans' organizations have served honorably. But the lounges and the lobbying that have been their signatures hold much less interest for today's retired servicemembers.
Timothy Carney is a journalist, and director of the Culture of Competition Project at the American Enterprise Institute.
(Photos by VFW; American Legion)