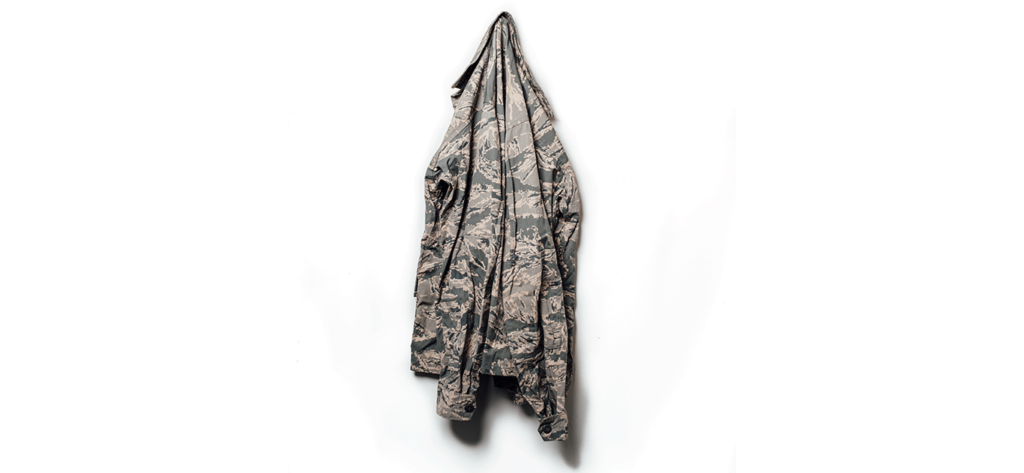 In Fountain, Colorado, Robert Smith drives a truck with a rectangular decal: "Smith Labor Service: For the honey do's that honey doesn't want to do." He erects fences, installs tiles, pulls weeds, builds decks, just about anything his neighbors need. "He is quite the handyman!" a reviewer writes. "He can make or fix just about anything." Smith began his business with not much more than "a hammer and a tape measure," but has kept the venture afloat for a year.
Smith is a retired veteran of the U.S. Army. He's strong, with tattooed arms that could wrestle Clark Kent. If you needed to scare your daughter's boyfriend into making curfew he could probably help with that, and refinish your floor while they were out.
But according to the U.S. government, Smith isn't only a veteran—he's a disabled veteran, with gloomy statistics and assumptions attached. They require large-scale initiatives to convince the private sector to hire them; they're at risk for homelessness, drug abuse, legal problems, divorce, and suicide. At the Department of Veterans Affairs, the single largest budget item isn't for medical care. It isn't for college education. It's for sending monthly checks to veterans who have been labeled disabled.
One of the many recent vets categorized as disabled, Smith receives regular payments from the VA. That offers a safety net of predictable income as he provides for his family. It also brings with it life-altering consequences. Instead of supporting him in his post-military life as intended, disability payments can actually hold him back.
Needing a vision, not a number
Smith had no intention of leaving the Army. He enlisted at age 20 expecting to spend his entire career in the military. He was doing well, on his way to a promotion to sergeant major. But after a tough 14-month deployment in Afghanistan—his third in five years—he returned to his base in Fort Carson, Colorado, with new challenges.
"I was a pretty angry soldier. I had seen so much death; I always let [my troops] know every time they messed up they were going to get someone killed." Even at home he experienced new frustration and rage. Paging through family photo albums, he realized that "for the past nine years, photos of me with the kids—you could see a huge change in my attitude." His wife, Anne, encouraged him to seek help, so he went to his commanding officer.
Smith was quickly diagnosed with post-traumatic stress disorder and spent 30 days at an in-patient clinic. But after time was up he still didn't feel ready to return to active duty. The Army, to his shock, had a solution: He should go into medical retirement. "I felt like I needed help one day, so I said something, and guess what?" he rues. "I'm retired, out of the Army now. I feel like they didn't give me a chance." He tried initially to fight his retirement, but realized he was hurting his family by prolonging the inevitable. His military career was over.
The Army gave him a year to prepare his exit and find a job that would support his wife and three children. Anne worked on base as a dishwasher, but her paycheck wouldn't cover the bills. Moving back to Florida to be with family was a possibility. While he sorted out the options, he was in a holding pattern. Instead of seeking his next calling, the bulk of his time was spent on securing a number—determining his disability rating from the VA.
Disabilities in the military are rated in increments of 10 percent, from 0 to 100. This percentage determines not only the amount of monetary compensation the veteran receives each month, but also his or her access to VA medical care. The higher the disability rating, the bigger the attendant compensation and health benefits.
Smith was on medication for his PTSD and attending group therapy sessions. But he also had a painful shoulder, back issues, and a foot injury. Anticipating a cross-country move and possible difficulties finding a job, the pressure was on to clock a disability rating as high as possible. Everything in today's system pushes a departing soldier in that direction—which is why nearly half of all post-9/11 veterans are now on a track to be officially categorized as disabled. (Among World War II vets it was 11 percent, though the wounded rate then was twice what it is today.)
The process for filing is complex—Smith had multiple appointments every day to assemble medical and service records, file a disability application, and meet with medical examiners to evaluate the claims. In his spare time, he tried taking a heating and air conditioning course, but the frequent conflicts between class and his disability appointments made attending school "a nightmare." Rather than getting set up for success, Smith says "you're just kind of waiting for your percentage to get out."
The VA ultimately rated Robert as 70 percent disabled, entitling him to a monthly tax-free benefit of $1,600. These funds would provide the Smith family some financial cushion, but didn't answer his most urgent question—what comes next?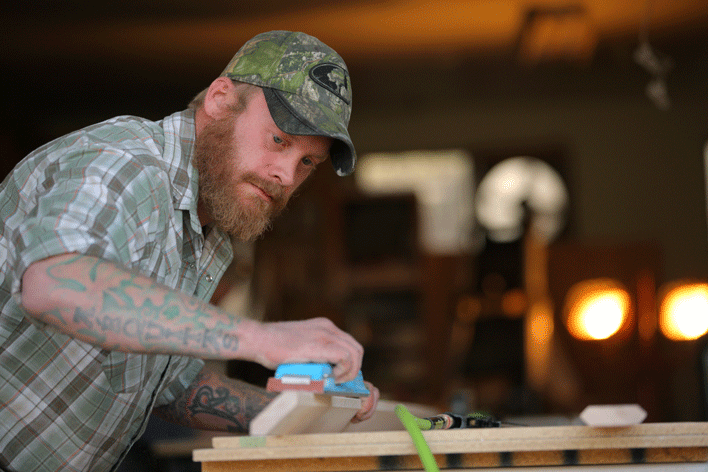 The healing penalty
Leaving the military was not easy for the Smith family. While he waited for his benefits to kick in, Smith was supposed to collect half his Army salary, but a paperwork error delayed his pay for months. He and his wife paid the most pressing bills but took on credit card debt in the interim. Smith considered starting a carpet-cleaning business, and had a strong lead for a contract, but was unable to afford the startup costs and couldn't get a small business loan.
Adversity didn't stop him from creating and growing his handyman business, though. In many respects, Smith's prospects a year later are looking up. He is working. His business is growing. His frustration and anger issues are getting better, so a VA psychiatrist recommended a downgrade of his rating from 70 percent to 50 percent. To Smith the downgrade feels like the VA is penalizing him for improving his situation. A decrease to 50 percent would mean a $600 cut to his monthly check—"a half year's mortgage payment" or "my entire year's worth of car payments and insurance."
The fear of losing benefits can be so great for veterans that they can act against their own long-term interests, sabotaging their future prospects. Jill Wilschke, a Denver therapist who works with veterans, has seen them put off attending college or pursuing employment for fear that the VA would decrease their rating.
Smith knows that had he presented a more downcast view of his situation, or even exaggerated—"flip chairs over, cuss doctors out, and tell them it's hard to live with myself"—he could have kept his rating or seen it increased. But he wants to be honest with his caregivers. Despite the loss of income, he's confident that his family will weather the change: "I'm pretty resilient. My wife backs me up; she's in my corner. We're going to make it."
A cushion that sucks you in
The Smith family's situation isn't unique. Since 2000, the number of recipients of VA disability compensation has increased by over 50 percent to at least 3.5 million. A recent Stanford University study found that the proportion of veterans receiving disability compensation has more than doubled just since 2000. And fully 80 percent of the growth in recipients has come from veterans rated at 50 percent or higher—where payment levels severely interfere with incentives for work and independence.
Today's system was set up with the best of intentions, meant to offer tangible support to those who put themselves in harm's way to serve our country. But its operation severely discourages meaningful work after military service. Many injured veterans find that it overwhelms attempts at self-reliance and professional success, and creates perverse, unintended incentives for veterans to drop out of mainstream society.
Brandon Vance, a U.S. Air Force veteran, knows he does not fit most people's ideas of a disabled vet. He never went overseas, spending most of his service career working as a medical administrator at bases around Texas. When he decided to leave the Air Force in 1999 after four years of service, he was initially uncertain about filing for disability. "Probably in the grand scheme of things, it wasn't something that I necessarily needed to do," he says.
Veterans' groups and some fellow vets, including his brother, an Army veteran working for the VA, urged him on. So Vance put in a claim for migraines and sinusitis—two of the more common service-connected disabilities reported. His third claim concerned a more serious condition. At a psychological evaluation, an examiner suggested Vance might suffer from depression. He had recently lost his grandmother, with whom he had been particularly close, and he was still grieving her death. The result was a 40 percent disability rating.
For Vance, this became both "a blessing and a curse." The income helped support him as he searched for work, but it also drained the search of direction and energy. For ten years, he bounced from entry-level job to entry-level job, working variously as a bank teller, a medical office assistant, and a telemarketer. With his monthly disability check always there as a fallback, he found himself irked by the various minor annoyances and frustrations of work life—a habit that did not endear him to supervisors. With his extra income, he figured it was "no big deal if I lose this job. I'll just go find another little job." Whenever he found himself struggling, he would just quit.
In the early 2000s, Vance got on what he calls the "benefit escalator" and petitioned to raise his disability rating—first to 50 percent, and again to 70 percent. To his surprise, both requests were granted. This is common. Once on disability, there are heavily trod paths that encourage vets to continually add to their list of ailments. In fact, as of May 2015, just under two thirds of all 420,000 pending VA disability claims were supplemental claims, a trend that has held steady over several years.
While this helped Vance pay his bills, he wasn't happy. His life seemed aimless. In 2009, after being laid off, he visited his local VA to talk with his doctor, who suggested he give college a try. Though by then his G.I. Bill benefits had lapsed, through the VA's vocational rehabilitation program he was able to attend community college and later transfer to a four-year university.
This time he vowed to use his disability benefits not as a crutch, but as a means to better himself, "to get back to functioning, being a valued part of the community." He buckled down and thrived at school. When his success there led to a full-time job as an admissions counselor, he was overjoyed.
"In the military, we have a purpose, we have a drive, we have a mission to accomplish," he reflects. The combination of losing purpose and an offer of money if you show you are too broken to take care of yourself can be toxic. He regrets his lost years of relying on a stipend. "Without that, I would have pushed myself, I would have gone to school, maybe a little earlier. I would have tried to do things to better myself." Now he has a rewarding career and recently bought his first house. "I still can't believe where I am today in comparison to where I was," he says. "It's utterly night and day."
Finding a job I can do
Like Vance, many other veterans emerging from the military miss the intrinsic sense of purpose their service provided. "Our identity is wrapped up in being soldiers," says one veteran who helps others transition. It requires a major mental shift to define different goals and pursue them mostly on your own, with a risk of not fulfilling them. "It's a big undertaking. I've had a couple of my guys who are self-employed actually withdraw and self-sabotage because they thought, 'Oh I can't do this.'" Encouraging vets to take control of their own lives and for them to realize that they have much to contribute to society are crucial to successful navigation of this transition.
A Naval Academy graduate and retired Marine Corps lieutenant with blonde, boyish charm, William Reiser has always looked "good on paper." Until recently, he was pursuing an MBA, because he felt it was the kind of thing that people who look good on paper do. But he found he couldn't relate to his civilian classmates or the assignments he was supposed to complete.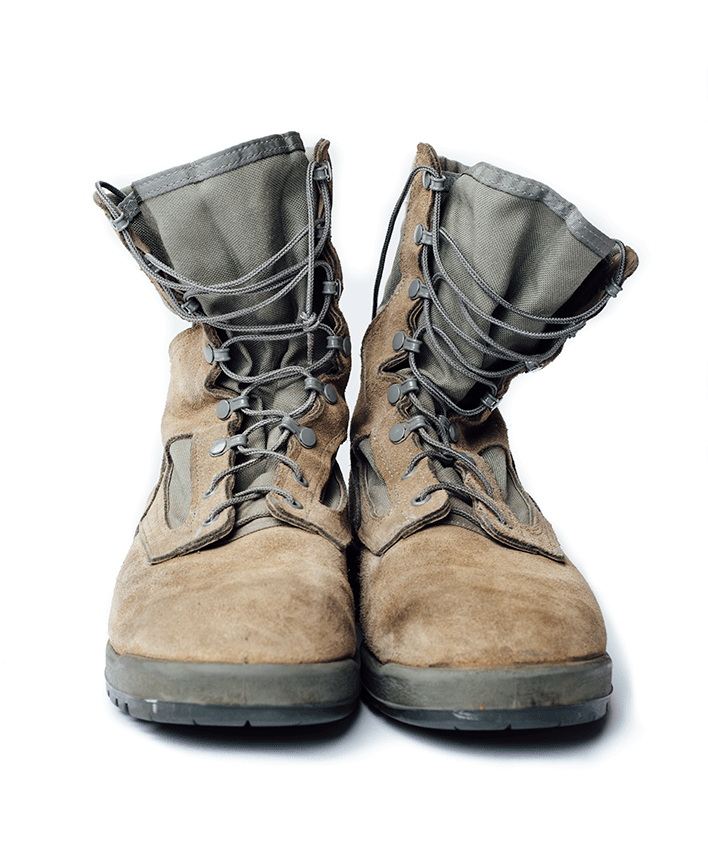 Reiser doesn't have obvious wounds from his two tours of Afghanistan. But he's prone to crippling bursts of anger. He has a support dog that helps him deal with the PTSD and depression he experienced after losing one of the young marines under his command in a 2011 firefight in Afghanistan.
Like Smith, Reiser has been medically retired from the Marines since last year. His disability rating is 100 percent, entitling him to $2,700 a month tax-free, along with medical and other benefits. Without this money, he thinks he might be homeless—or at least, living with his parents—but he hates the idea of taking a "handout." Given his high rating, he is also eligible for Social Security disability benefits, which he could collect along with his VA benefits. He has refused those extra payments because "I'm employable. I just have to find a job that I can do."
What Reiser desires most is to be self-sufficient, but the VA system as he's experienced it seems to sap independence, "making people feel like they're more sick than they actually are." The VA does offer services to help veterans prepare for work, like vocational rehabilitation, but these activities are often relegated to a secondary level of importance. One vet in a similar situation recalls being openly discouraged by his rehab counselors from pursuing the lines of work that he was interested in. "They're trying to limit me and say 'oh, it would take too long,' or 'you won't make as much starting out.'" With doors being closed in his face by the very people who were supposed to help him open them, it seemed like the one avenue left was to push for a 100 percent rating.
From the other side, many vets with a high disability rating who sought outside employment believe it counts against them in the application process if they're asked under what circumstances they left the military. "They're not supposed to discriminate, but it's on you to prove that you didn't get hired" because of a disability, one says. Whatever the whole truth may be, the perception is powerful enough that "there are a lot of people who are afraid to apply for jobs," says one vet. Finding a job "is hard enough," says another. Throwing in a designation of "'damaged veteran who must have issues' is a real challenge." Sometimes it's easier to just not try.
This is bad news for everyone. Those disconnected from work tend to spiral down, notes one veterans' advocate, often turning to substance abuse to numb despair or pass the time. For the nation, the waste of human potential is vast—when young veterans drop out of the workforce or are underemployed, their talents and experiences (which, statistically, exceed those of average Americans) are lost to society and to themselves.
Sent a regular check but otherwise left to his own devices, "I don't know what recovery looks like," Reiser says. With little institutional support, he is searching for some purpose through a combination of nonprofit activities and talking with some fellow veterans about starting a business. What he really wants is "a way we can stop asking people for stuff and be self-sufficient."
A different alternative, driven by philanthropy
Reiser, Vance, and Smith have been dinged by a system that penalizes them from healing, that discourages them from working, that tempts them to coast, that tells them they don't have to contribute to their society, or take control of their own future. And it doesn't do these things for a few years. It does them for life.
If you hadn't seen their paperwork, you probably would never think of these men as permanently disabled. The opposite might be true of Daniel Gade. He nearly died after a roadside bombing in Iraq. He endured dozens of surgeries, months and months in hospitals and recovery facilities, and lost a leg at the hip. He walks with a complicated prosthetic.
Today, Gade is working with The Philanthropy Roundtable to push for an alternative to traditional disability for veterans—a major experiment called the Independence Project. It will recruit participants from among servicemembers who have recently left the military with moderate to serious injuries. Approximately 600 voluntary participants will be randomly offered new incentives and supports toward independence. 
Some veterans will undergo tests of cognitive, medical, emotional, and physical states, and will develop individual plans for maximum medical recovery and finding meaningful work.
Certain participants will have access to a job coach and "personal rehabilitation account" of $10,000 that can be spent on anything that improves their employability. A veteran might use his or her account for vocational training, to obtain an occupational license, buy a franchise, or purchase equipment for a new job. The job coach will supply oversight and feedback, but the veteran will take the lead in making choices and investing his or her own fund.
To counteract today's poisonous incentives that cause vets to lose money if they heal and go to work, some participants will be offered a wage bonus—an extra 25 cent bonus on every dollar of earned income within certain limits. Because this subsidy is a fixed percentage, the bonus increases with the veteran's success. That incentive will draw participants into hard ambitious work early in their recovery, then phase out after two years.
The goal is to find out how much various kinds of help contribute to making vets succeed. Participants will continue to receive benefits they have already qualified for, and will remain eligible for the standard government programs offered to vets like the G.I. Bill, health care, and home-loan guarantees. But the experimental group will be educated about the toxic effects of dependence on disability checks. 
High-quality independent monitors will evaluate all outcomes.
Defined by your potential, or by your problems?
After just two years, the Independence Project will reveal what happens if you pay veterans to heal, work, contribute, and thrive—instead of paying them to be sick, as the existing system does. It will point with proven results to new approaches that have the ability to get veterans on their feet and succeeding at independent life. The Anschutz Foundation has provided a major seed grant for the project. Funds from other supporters will allow this principle-proving experiment to launch in early 2016.
Decades of research show that work does much more than bring financial stability. It elevates self-respect, social participation, physical and mental health, and family strength. Those who don't work show remarkable tendencies to be sicker, more isolated, and less likely to recover from medical problems or mental blows. These findings are so strong that many countries have radically transformed their systems over the last several decades to emphasize "work first" strategies.
The U.S. also experienced a kind of disability revolution over the last generation, at least in attitudes. Much new thinking on what it means to be "disabled" has been codified in new social contracts and laws like the Americans with Disabilities Act. On paper at least, our nation is now pledged to the idea that most disabling conditions still allow the individual to participate in society, to work, to be responsible. People must be allowed and encouraged to recover from disabling conditions, or to compensate via the remarkable new technologies in computers, prosthetics, therapeutic drugs, and so forth, which can allow people who once would have been pushed onto a back shelf to be fully independent.
But the U.S. military disability system has not absorbed any of these modernizing lessons. It is based on a three-generation-old notion of the permanently disabled veteran who needs to be pensioned off, rather than drawn into full participation as a citizen. The Independence Project will rigorously evaluate a more promising and humane alternative for many veterans with disabilities.
Who wants change, who doesn't?
There are powerful interests that have a stake in keeping today's disability structure for veterans just as it is. Some advocates conjure up the specter that successes in attaining self-sufficiency could lead to draconian chops in benefits for vets. This flies in the face of the multi-decade stampede in Congress to increase spending on veterans—from $29 billion in 1990 to $161 billion in 2015. It also clearly misses the point of the Independence Project, which is not to cut or deny benefits to veterans, but rather to give veterans choice in their recovery and base policy on hard outcome-based evidence.
And many veterans themselves are clamoring for a better system. In focus groups and surveys, over two thirds of vets with disabilities say they would prefer a mechanism like that proposed by the philanthropists behind the Independence Project. Invest in us up front and we will grab our dream jobs, they say. That's far preferable to the current practice of treating us as irretrievably broken, and trickling us compensation over a long lifetime on the sidelines.
Most veterans with disabilities can be the captains of their own lives. They can thrive as independent people, no longer defined by their problems. All we have to do is give them the chance.
UPDATE: The Independence Project is currently enrolling qualified participants at https://independenceproject.org.