Following September 11, 2001, the United States experienced the longest period of warfare in our country's history. More than 2.6 million American soldiers have been deployed to Iraq, Afghanistan, and elsewhere for 14 years now. 
Yet social disconnection from our military is more prevalent than ever before. We honor veterans and servicemembers at public events. But how much do everyday Americans know about the lives they lead?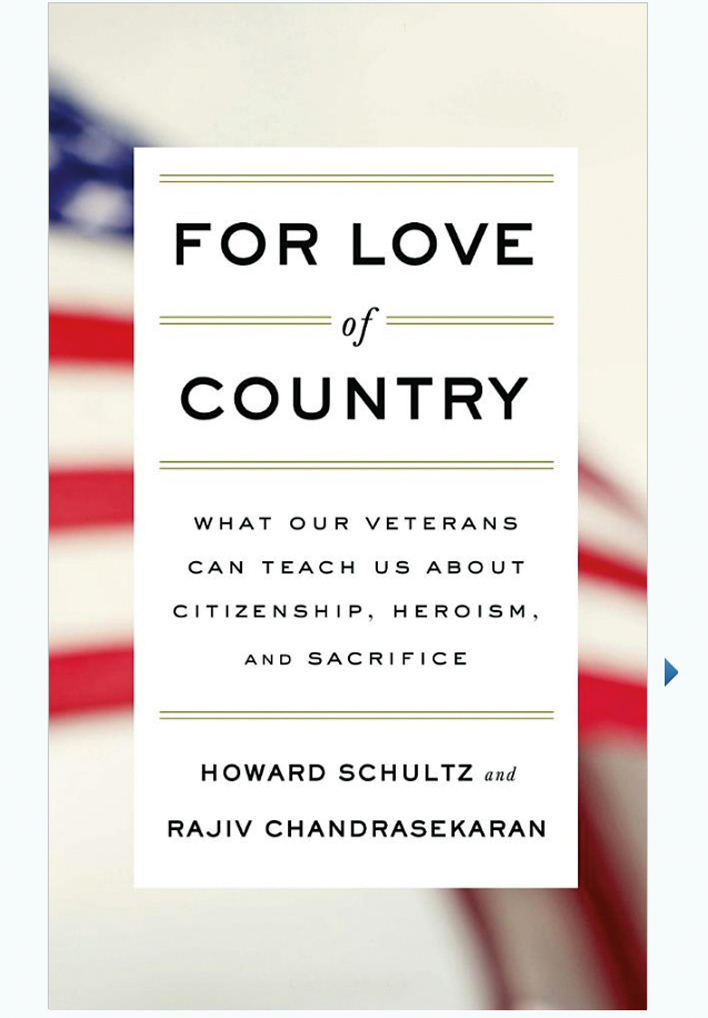 In For Love of Country: What Our Veterans Can Teach Us About Citizenship, Heroism, and Sacrifice, Starbucks CEO Howard Schultz and Washington Post associate editor Rajiv Chandrasekaran argue that it is imperative for U.S. citizens to become more engaged with our troops. Schultz felt this himself when he addressed a room full of cadets at West Point and realized how detached he was "from these fellow citizens who have dedicated years of their lives to defending the freedom I hold dear."
He's now embarrassed to say that at the time of that speech he didn't know anyone in the armed forces. He had never even been to a military base. He had never spoken to a soldier in uniform. But, he has lots of company among other Americans.
Today's civilian/military divide is felt from the other side as well. A recent Washington Post and Kaiser Family Foundation poll found that 55 percent of veterans say they feel "disconnected with civilian life in America."
For Love of Country was written to help address this separation. It offers lay readers an inside look at the lives of men and women serving in today's military. Book proceeds go to the Schultz Family Foundation's Onward Veterans fund, which aims to strengthen the health, employment, and families of servicemembers transitioning back home. (Schultz has made supporting veterans the main focus of his philanthropy, along with efforts to expand educational and economic opportunity for other young adults.)
Meet orthopedic surgeon Bill Krissoff, whose heart sank as soon as three marines in their dress blues showed up at his doorstep one Saturday morning. They grimly informed him that his 25-year-old son, Nathan, a Marine Corps first lieutenant deployed in Iraq, had been killed by a roadside bomb buried in a dry riverbed on his way back to base from a village near Fallujah.
Krissoff's world crashed around him. After a few weeks, however, he had to head back to his work of treating sore knees. He suddenly found this unfulfilling. "Why," he thought, "am I spending my time hearing people complain about nothing?" So he called a recruiter. He was told "no" several times, but thanks to a word from President Bush, he was allowed to enlist in the Marine Corps medical battalion. 
Training was tough, but words from a letter his son had written during his own training gave this father strength. "Honor, sacrifice, integrity aren't just fairytale phrases," Nathan wrote. "They're earned every day in sweat, tears, blood."
Krissoff was eventually deployed to Iraq, becoming, at age 62, the oldest American serving on the front lines. He treated orthopedic injuries in a hospital less than ten miles from where his son had been killed. He went on a second combat deployment in Afghanistan, where he performed or assisted in more than 225 serious surgeries. "In most cases, fathers inspire sons," he said. "In this case, sons inspire Dad."
Sergeant First Class Leroy Arthur Petry was on a "rare daylight mission" pursuing al-Qaeda when his Army platoon was attacked by insurgents in 2008. Gunfire tore through both of his legs. Petry was trying to seek cover when a grenade landed near some of his fellow Rangers. With blood seeping from his legs, Petry lunged for the grenade and was able to throw it away from his comrades as it detonated. The explosion ripped off his right hand and filled him with shrapnel, but he saved his companions. "These are my brothers—family just like my wife and kids—and you protect the ones you love."
The father of four received the Medal of Honor from President Obama. He was the second living recipient since the Vietnam War to be given that five-pointed gold star. His selfless act, the President said during his medal ceremony, illustrated "the strength, the devotion that makes our troops the pride of every American."
For Love of Country also shares stories of how veterans contribute to American society after the military. Army officer David Oclander was at his desk in the Pentagon when a news item about a boy shot dead on a basketball court in Chicago caught his attention. He was astonished to discover that more children were homicide victims in Chicago in a typical year than servicemembers were killed in Afghanistan.
Though Oclander had no teaching background or credentials, he decided to trade his Army career for a school on Chicago's west side with a poor and rough student body. His military discipline helped him thrive as a teacher and as co-leader of a popular group at the school that combines CrossFit workouts with war history. Amid gangs, drugs, and violence he is inspiring students to learn and better themselves.
Another veteran drawn to teaching was Air Force Colonel Michael Gaal. In 2013, he was accepted into the Superintendents Academy established by philanthropist Eli Broad to train education reformers. Last year Gaal started as chief operating officer of the Education Achievement Authority, an entity that has taken over 15 of Detroit's lowest-performing public schools for improvement.
This demanding assignment fits well with Gaal's military ethos. "We're trained to run toward the sound of gunfire and chaos," he says. "Why would anyone want to go into the education sector and not take on a big challenge?"
Thanks to stories like these, this book is a solid and inspiring read. It aims to build understanding and support for the one percent of Americans who currently step up for military service. "Our volunteers," write the authors, "have given the rest of us a remarkable freedom, but that freedom comes with the responsibility to understand their sacrifice, to honor them, to appreciate what they can offer when they return home, to care for those who are wounded, and to mourn those who have given us their last full measure of devotion."
Andrea Scott is associate editor of Philanthropy.