In the pines of east Texas, under an open sky, there's an unassuming college off Mobberly Avenue in Longview, marked with a low blue-and-gray sign: "LeTourneau University." Turning in, the first sight is a "machine garden" sprouting iron implements invented to level land. Sitting quietly amidst the industrial artifacts is a low, unadorned tombstone marking the final resting place of R. G. LeTourneau. It was his restless creative energy that gave birth to these machines. And next to him is a marker for his wife Evelyn, who turned his tinkering genius into a college where other Americans could be immersed in the unusual mix of mechanics and morality that made him a whirlwind of productivity and character-building.
The story goes something like this: East Texas citizens were wooing R. G., then an industrialist known the world over for his earthmoving machines and imaginative heavy equipment, in hopes that he would choose Longview as the home of his next manufacturing plant. On a visit to check out the region, he and his wife were spirited into an airplane for an aerial tour. Glancing out through the windows, Evelyn spotted rows and rows of white barracks, the remains of Harmon Hospital, which had been an Army medical center during World War II. She turned to R. G. and voiced a dream: perhaps that Army hospital could become the campus of a technical college where a generation of strapping men could be formed and educated while her husband taught them how to make good with their hands.
Back on the ground, R. G. went to work creating his plant, while Evelyn made inquiries about the deserted barracks. It turned out the federal government was willing to sell her the land and buildings for a dollar, with the stipulation that if the Army needed the facility in the next ten years, she would immediately return it. The technical school would also be committed to training G.I.s returning from World War II.
In an unusual mix that gets at the heart of the distinctive LeTourneau formula, it was decided that the students would work every other day in
R. G.'s plant down the street, earning a paycheck, and spend the alternating days in classes. They would master the math behind the mechanics, burnish the communications skills needed to be effective supervisors and business leaders, and acquire the spiritual grounding that would make these men good citizens of earthly and heavenly kingdoms. The doors opened in 1946 as the first and only institution of its kind in America: a Christian polytechnic university. 
Learning From a Hard-Knock Life
Long before their school opened, the LeTourneaus had become adept at nurturing young men, especially rough-and-tumble boys who didn't fit easily into the increasingly desk-bound world of post-war America—men of the sort R. G. had been himself. Feeding, caring about, and guiding such men had been part of their lives since the early days of R. G.'s business. The couple would have workers over for dinners; they even opened their own home as a boarding house for employees needing shelter in Peoria, Illinois. Starting at their Toccoa, Georgia, factory, and later near their facility in Vicksburg, Mississippi, they experimented with offering vocational classes to build skills within their labor force.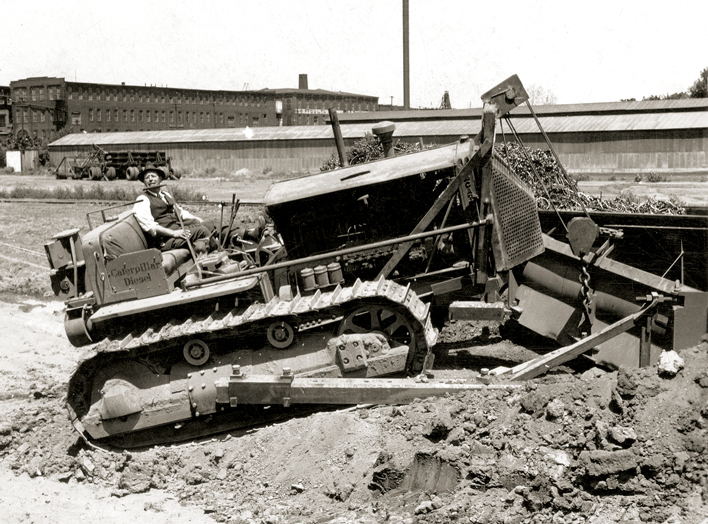 And in all their interactions with the young men attracted to their heavy industry, both Evelyn and R. G. mixed in softening, sweetening spiritual instruction. They incorporated chaplains and chapel services inside each of their plants. They closed up shop on Sundays. They would steer young males to Christian camps that transmitted a vigorous Gospel message in outdoor settings. On one trip driving teenagers to camp, Evelyn was impressed by a camp counselor named Billy Graham, whom she and R. G. would later support financially.
This desire to help red-blooded young men become gainfully employed, useful, and civilized stemmed from personal history. Rebellious from a young age, R.G. struggled mightily in school. By the seventh grade, he later remembered, "I quit trying entirely, and came to hate school with an almost physical violence. I wanted to break windows and kick out walls." In eighth grade he told his parents he was a grown man and didn't intend to go to school anymore. His father, a building contractor, used a church connection to get him a job as an apprentice at an iron works in Portland, Oregon, where he moved sand by wheelbarrow from massive pile to fiery furnace. After his place of work burned to the ground, R. G. moved to San Francisco hoping for work in another foundry. He was 17.
San Francisco was a wasteland after the 1906 earthquake and fire, which destroyed 80 percent of the city. R. G. demolished, pulled tree stumps, repaired houses, worked whatever he could get. It wasn't enough. "I walked the streets for days. You couldn't buy a job," he later wrote, "even if you could have got your money out of a bank to buy it with."
By 21, he was back home, chopping wood for his father. He considered himself a "washed-up bum." He sent away for correspondence lessons in mechanics. Soon he could take a motorcycle apart and put it back together again in one day. No more courses were needed. He moved to Stockton, California, and found a job as a night worker at a garage, responsible for towing cars back to the premises for repair by the trained mechanics in the morning.
R. G.'s gifts were noticed at the garage, and soon he was a daytime mechanic. Then he and a partner struck out on their own repairing cars. He practiced welding, a new technology at the time. He also met Evelyn during this period, while he was boarding in her family's house. When Evelyn reached 16, the couple eloped and married in Tijuana. In addition to a wife, this earned R. G. a kidnapping charge and seven years of silence from her father. The young couple were on their own, with the first World War beginning to spiral.
A month into marriage, R. G. went to the Mare Island Navy Yard and begged to help in any fashion as an iron molder, electrician, mechanic, or machinist. He caught on, and expanded his skills. When the Spanish influenza swept the Navy Yard, R. G. and Evelyn were spared, but they lost their first-born son. After the war the couple returned to Stockton to find that R. G.'s partner in the garage business had turned to alcohol and drunk the partnership into deep debt. Saddled with $5,000 in bills, R. G. hit the streets of Stockton desperate for work of any sort.
A Gift for Invention
It's at this point that an odd job turned into a life calling. A friend asked R. G. to level his field, a key step in farming in northern California, where crops depend upon irrigation systems that work best on flat land. To do this, a tractor would be hitched to a scraper, and with each having its own operator, they would work in tandem. After completing that job, R. G. took another leveling assignment. But the man operating the scraper refused to work the 14-hour sunup-to-sundown days that the financially encumbered R. G. wanted. So R.G. took to his welding torch and created a scraper that could be operated by the single person driving the tractor. He rattled his way across the fields of California, doing the work of two men and pocketing both checks.
He began building other machines that sped and eased his work on odd jobs. Gradually, his ideas and adept torch and wrenches allowed R. G. LeTourneau to build, project by project, an engineering empire. He eventually zeroed in on the manufacturing and sale of heavy equipment, often custom machines. Some of these he made for other companies like Caterpillar. Others he put to work on his own jobs, including building the Boulder Highway that stretched to the Hoover Dam construction site.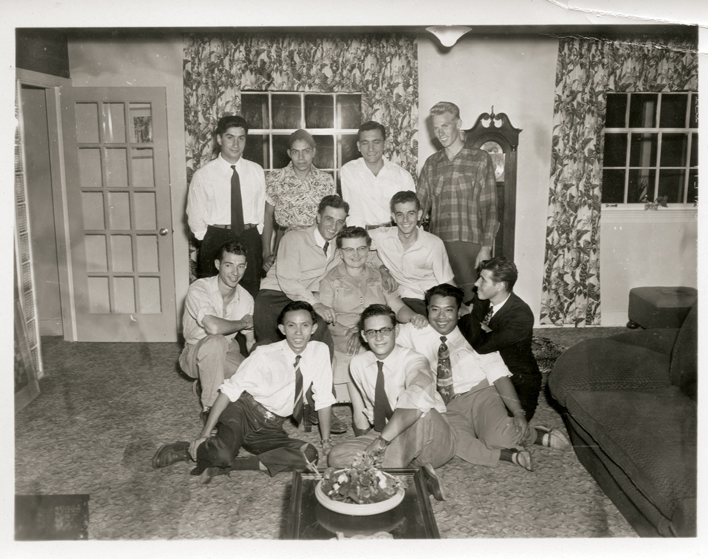 Officially incorporated in 1929, R. G. LeTourneau, Inc. developed many innovations. Instead of riveting parts together he relied on welding alone. He put rubber tires, previously written off as impractical, onto his heavy machinery. His company built the world's first-ever offshore jack-up drilling rig in 1954, propelling the oil industry into new fields (and launching a partnership with George H. W. Bush). LeTourneau came to hold more than 300 patents, many for machines laughed at by competitors and then later accepted as the gold standard. He erected plants across the country, and trained a special workforce for each one. And he kept inventing. Always inventing.
No historical epoch found more uses for LeTourneau's inventive imagination than World War II. His company provided 70 percent of the earthmoving equipment used by the U.S. in the war, churning out everything from bulldozers to cranes specially fitted to pick up and move aircraft. He even set up a plant in Australia to supply the Pacific front.
R. G. and Evelyn LeTourneau had long since shed their debt burden. They were successful and wealthy beyond any expectation. But they felt a different burden—a deep-seated belief that their possessions belonged to God and not themselves. They decided in 1932 to give a substantial portion of the profits of their company to religious and educational purposes. In 1935, they put 70 percent of the company's stock into a newly created LeTourneau Foundation (later upping it to 90 percent). Meanwhile they maintained a simple style of living; the trappings of wealth didn't fit them. "Although his firm has made millions," noted a Life article in 1944, "LeTourneau still refuses to pay more than $35 for a suit of clothes." Instead of finery, he and his wife put much of their money into projects like their college. 
Opening Opportunities for Others
LeTourneau University was not much interested in liberal-arts education, or theology, or abstract learning. It focused on useful instruction in how to build things and solve immediate problems. One of R. G.'s signature refrains was that "God needs businessmen, too."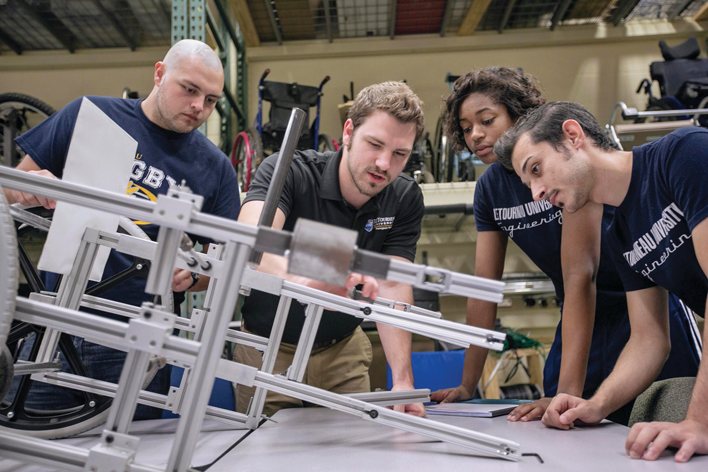 The school was initially funded through gifts from the LeTourneau Foundation, tuition payments, and money raised through the charisma of R. G. himself. He would go on aggressive speaking tours throughout the United States, talking to church members and business councils about the importance of a practical Christianity that not only saves souls but fills bellies. His company newsletter, which eventually became a national publication, captured his approach in its title: Now.
Once the ten-year waiting period with the Army was over, the college moved to become co-educational, and tore down the old barracks and built more permanent structures. It also solidified its programs, for instance adding an aviation school. One LeTourneau son, Richard, served as president of the university. Another son, Roy, ran the foundation. R. G. died in 1969 at the age of 80, and after his passing Evelyn retired to a duplex on the campus, where she lived with her daughter Louise until her own death in 1987.
The LeTourneau company struggled through the loss of R. G. and an extended sales slump. For some time, "there wasn't a lot going out the backdoor at the plant. And if there wasn't anything going out the backdoor then there wasn't anything coming into the LeTourneau Foundation or the university," says Gerri Forbis, who has been an administrator on campus for more than 50 years. Eventually Richard left the college to run the company. When he sold it, that created a burst of funds for the foundation. But it also brought a close to the unique partnership that alternated students back and forth between classrooms and the Longview manufacturing plant. The faculty and staff went to work to find compensating ways of maintaining LeTourneau's focus on practical learning.
Planning also began for a future without dependence on the LeTourneau Foundation. The last grants from the original LeTourneau Foundation went out the door in the late 1980s, and the foundation—which had once been the largest religious philanthropy in America—closed down. The board of the college transitioned during the '80s to a group of national business leaders. Evelyn was the last family member on the board, but current president Dale Lunsford says to this day "there's absolutely honor, respect, and connection to the family."
Mastering Useful Knowledge
LeTourneau University has been an accredited independent college since the 1970s.
Now magazine has evolved into the campus quarterly, and in the back of every issue the school breaks down its revenue and expenses for all to read. It currently has a modest $50 million budget, holds $50 million in investments, and owns $78 million in property and equipment.
"A lot of people assume that if R. G. LeTourneau's name is on the school he must have left some massive endowment," says Lunsford. "Well, the answer is no, he didn't. He was definitely very generous. But he would see a need, and he would give to it." Rather than piling up money for future use, he gave while living.
R. G. did bank a lot of goodwill, though. As Lunsford travels the country raising money for the school today, he is regularly thanked by people whose company or family or charity was helped at some point by the big-hearted industrialist. "He clearly knew the joy of giving, because he experienced it at a personal level all the time."
And while R. G.'s spirit of addressing needs in the moment requires the school to fundraise energetically now, that has kept the scrappy institution tied to its mission of always being relevant, practical, and useful. It needs to attract students, and donors, by demonstrating it can get things done, make things happen.
"Our founder was a doer," says Lunsford. "He was a builder. He wanted to make sure that people left this school immediately productive, immediately able to make a difference." That's the attitude the school continues to inculcate. The staff doesn't speak about diplomas as the ultimate goal—it emphasizes work. "After the investment has been made, you need to be able to go out and get a job," says administrator Don Egle.
LeTourneau students' engagement with employers doesn't start after they graduate. It doesn't start when they are in college. It starts even before they have chosen LeTourneau. When prospective students visit campus, they don't just meet with professors. They also meet with employer partners, who speak about career paths in certain majors and the skills needed to land a job in their company. At the time of my visit, 22 aviation companies had gathered to make the case for careers in their field.
Today LeTourneau educates about 1,100 students on campus, and another 1,000 working adults through online offerings and five microsite campuses. These online offerings were started almost 20 years ago, before distance learning was in vogue. "For us it was an outreach moment," says Lunsford. "We said, here's a group of students who we think should have access to practical, Christian higher education, and this is the mechanism that's going to give them that access. They're not going to have it any other way."
On campus, the staff has worked to keep costs within reach. Annual tuition is now $28,750. But every student receives a minimum of $14,000 in merit-based scholarship funds.
One of the things that attracts kids to LeTourneau is that it offers programs otherwise absent in Christian higher education, and rare in higher education writ large. It is one of only three comprehensive aviation programs in Texas teaching the skills needed to be a pilot, mechanic, or air-traffic controller. It recently added a track in unmanned aerial vehicles, both in piloting drones, and in building and maintaining them. There are only three undergraduate programs in the U.S. that still offer an engineering concentration in welding, now called materials joining: Ohio State University, Ferris State University in Michigan, and LeTourneau. The engineering department is ranked 31st nationally by U.S. News and World Report. Even in practical but not technical degrees, like education, LeTourneau is keeping pace with other colleges. In the last ten years, five of the "student teachers of the year" recognized in the state of Texas have all hailed from this one small college. 
Forbis lays down a challenge: "Take a survey of any of our employers who hire our engineering graduates and they will say that these students are head and shoulders above other people because they know what work is. They give you a day's work for a day's pay." In addition, they've been formed as faithful people of integrity.
Lunsford sees a powerful need for this mix of character training and technical expertise in the future. What America needs, he says, is good, reliable engineers. A lot of them. "Civil engineers to build the next airports and bridges and superhighways. Mechanical and electrical engineers to build the next generation of manufacturing facilities, which are going to be as much about robots as they are about welding and hammering. We're positioned to be a part of the solution for all of that."
Back at the Plant
Down the street from campus, Dale Hardy is writing the parts manual for the largest front-end loader in the world. He's been working at the plant for 28 years, and in that time it has had several owners. But for him it will always be a bastion of the LeTourneau philosophy.
Hardy grew up in Vicksburg, near that city's LeTourneau plant, and even resided in one of R. G.'s experimental concrete houses. He comes from a family of carpenters and practiced that trade himself for 17 years, ending up in Longview in the process. But as he watched his father "work until he couldn't," he started to think about a job change that could allow him to retire with a little more grace. A friend worked at the LeTourneau plant and told him to come over.
Initially skeptical at the prospect of a seated office job, Hardy was given permission to regularly leave his desk and explore the plant floor. "I needed to understand the machines, so I would go down on the assembly line, crawl over the machines, and get that out of my system." In the process, he settled into his second career, and was pulled toward a new hobby: understanding the life and work of R. G. and Evelyn LeTourneau.
Dale Hardy is the person most familiar with the LeTourneau archives. He has collected oral stories from LeTourneau's children. He made the Excel list that catalogues every article and book mentioning the couple. LeTourneau isn't just an abstraction for Hardy—he's the man who built a company that changed his childhood town and his own vocation, and helped propel America forward.
He doesn't wear rosy glasses. The man was a workaholic, he notes. "I'll put it like this: Mom LeTourneau won Mother of the Year. R. G. would never have won that award if there was a similar father's organization. He wasn't home. He would come home and eat, and then go back to the factory." R. G. was always on the move, building, compelled by an urge to fix things.
And so is his acolyte. At the end of the interview, Hardy shakes my hand and darts away with a smile. "Now I'm off, back to work."