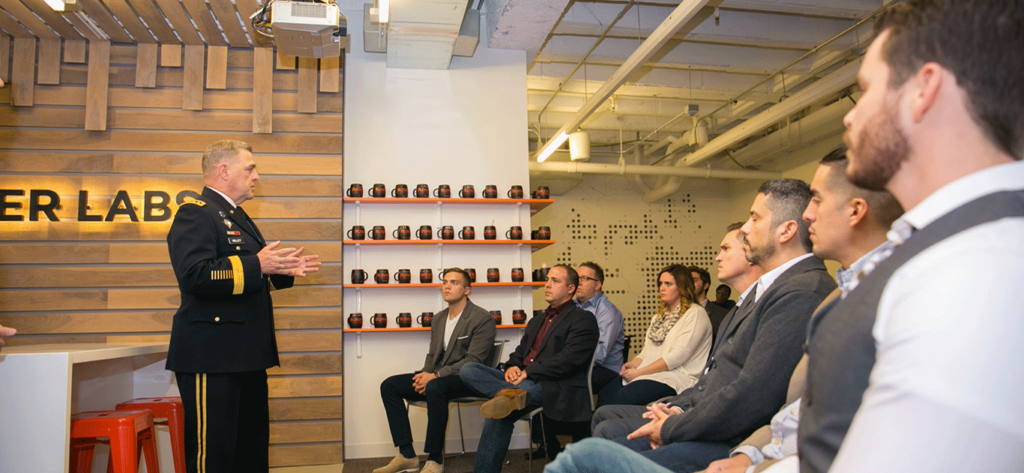 Years before he joined the Navy, Jarek Hamilton knew that one day he wanted to run his own business. He got an early start at the age of 17, buying used ink-and-toner cartridges, refilling them at home, and then selling them to local businesses for a 300 percent markup. But in a difficult economy his business building leveled off, so he joined the Navy and served as an aircraft mechanic.
Leaving active duty in 2012 at age 24, Jarek plunged into entrepreneurship, but a bad bet wiped out most of the savings that he and his wife Katie had accumulated, so Jarek went to work for a military contractor  in Afghanistan. Jarek's dream of having his own business was still a shimmer.
Today, five years later, Jarek employs a small but growing team. On the phone, he delivers a slick pitch for his venture: "Qikpix is an on-demand photography service that allows customers to book a high-quality professional photographer in as little as 60 seconds for only $99 per hour!"
Jarek attributes a share of his success to Bunker Labs, a nonprofit that supports vets pursuing entrepreneurship. He and Katie took its three-month course and studied what a business needs to start and grow. They got specialized training, met sales experts, and made valuable contacts with investors. "Bunker Labs just made it real easy to figure out which direction to go in, and then helped guide us in that direction," Jarek enthuses.
Started in 2014, the nonprofit currently has chapters in 15 cities, and an annual budget of $1.8 million. Its leading donors include JPMorgan Chase, USAA, MetLife, Comcast, and the Bob Woodruff Foundation. It works closely with corporate partners in pulling together its programming.
Founder Todd Connor, who was in the Navy himself, emphatically rejects the view that veterans are "broken people." To understand people coming out of the military, he says, you have to take a look at how they were recruited as 18-year-olds. The military emphasizes adventure and learning how to overcome dangerous challenges. The necessary grit and determination represent "the same ethos that's required in entrepreneurship." When setting up a business, as in the service, "There are no points for trying," he explains. "You either got it done or you didn't. It's not like success is, 'I punched in from 9 to 5. I was compliant. I was there.' "
Bunker Labs owes its name to Connor's service on the USS Bunker Hill, a cruiser from which he participated in the launching of Tomahawk salvos during the invasion of Iraq. Business school and a successful career followed after he left the Navy, and today he is the CEO of an executive-education firm.
But when he became involved with a tech incubator in Chicago, Connor sensed that veterans could benefit from something similar. The barriers to success for many veterans weren't related to any personal in adequacies or "damage"—they were just lacking connections to the right practical know-how and access to capital.
Bunker Labs provides education services, including an online course and an  in-person training program. But the deepest root of his nonprofit's success, Connor believes, is providing inspiration, and then connections: helping vets "build a local network." Bunker Labs helps people stay excited—and puts them "one phone call away from people who can assist in immediate ways, for free." The group's corporate partners play a large role in mentoring, linking veteran entrepreneurs to colleagues, and offering in-kind support.
Local chapters have raised a million dollars for their operations this year, over and above the budget of the central Chicago operation. In addition to the group's educational programming, the chapters encourage collaboration through monthly meetups called Bunker Brews. There are also monthly breakfasts for members who have succeeded in starting a small business, and who are looking to grow. Thanks to donors, all of the group's programs are free to veterans.
Connor often cites a statistic that 49 percent of World War II veterans owned a business at some point following their military service. Owning a local restaurant or car wash or other business was once common, and a major way in which vets became productive members of society. Bunker Labs is taking up this mantle.
In less than three years, the businesses started by members have so far generated over $17 million in revenue, and created 290 jobs. Not bad for a small nonprofit that is, in essence, a startup itself.