It's Saturday morning, and volunteers meet at a local church to receive assignments. With address and phone number in hand, a small group breaks off and drives a few blocks away to an old, musty apartment building to visit 90-year-old Hilda Reynolds, or as they call her, Ms. Hilda.
"My hips are hurting today," the bright-eyed woman tells her guests, as she struggles to prop herself up in bed. She had a minor stroke earlier in the week and is having trouble moving her legs. But she is freshened up for her visitors, and offers each guest a piece of chewing gum from a purse at her bedside.
The last living sibling of 12 children, Ms. Hilda has seen her Washington, D.C. neighborhood go through many changes. The low-income housing she has lived in for 22 years is one of the last local buildings not renovated for luxury apartments. A "Rosie the Riveter" bomb maker during World War II, the now-delicate woman describes how she would return home each day, her hands stained with gunpowder. It's easy to see that she still has spunk, but she is now connected to an oxygen tank and mostly confined to her one-bedroom apartment. A Bible and a magnifying glass are strewn on her bed, and her dressers and nightstand are cluttered with medicine bottles, condiment jars, and fake flowers. "How do you know an old person lives here?" she asks with a grin. "Just look at the dressers!" Her radiant glow and sparkling eyes make it clear she is overjoyed to have guests.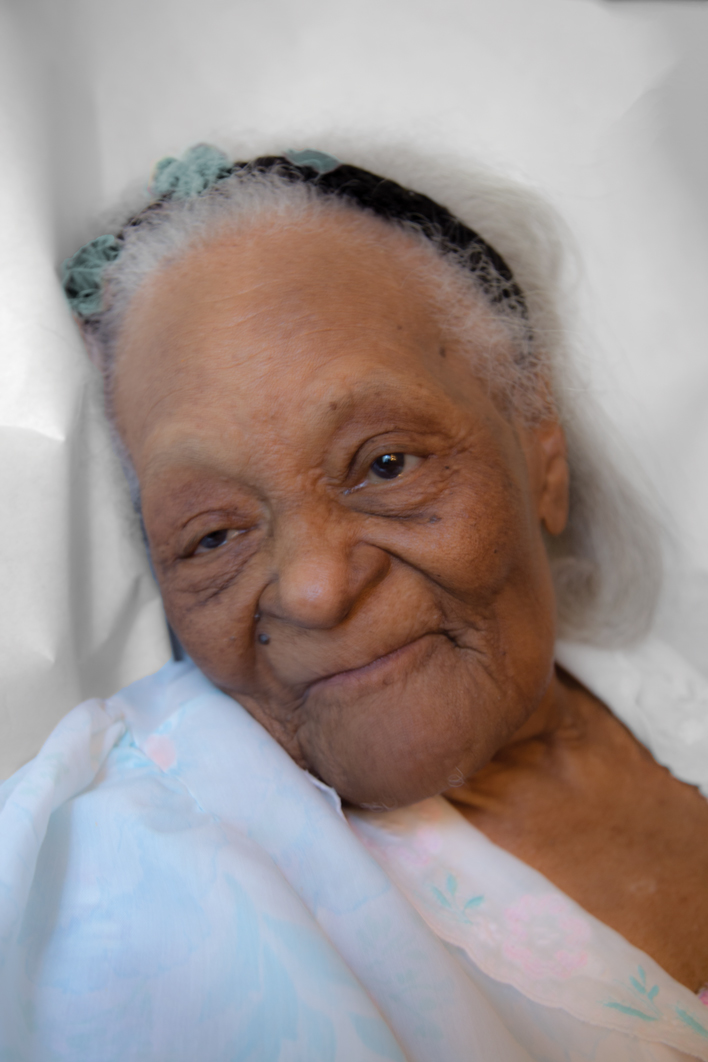 here.) This little bit of self-organized civil society soon spread to other neighborhoods, supported by donations. It's about neighbors helping neighbors and building trust as they get to know each other.
We Are Family relies on free labor and donated goods; Anderson is the only full-time staff member. The aim is for Saturday volunteers to connect with those they serve and take the initiative to visit on their own. The group's goal is not to reach the greatest number of seniors, which would mean expanding out of its community, but rather to serve each senior in it well. What the volunteers bring that is most precious is a human connection, Anderson says. "They are the invisible bonds that make our communities truly nurturing places to live and also ultimately to die."
Aging America
On top of its other woes, our health care system is facing one of the most monumental demographic bulges in history: the aging of the baby boomers. There will be about 72 million adults older than 65 by 2030, more than twice the number in 2000. Medicare spending alone is projected nearly to double as a share of gross domestic product, according to the Congressional Budget Office, rising from 3.7 percent in 2013 to 7.3 percent in 2050. According to studies, a typical senior with multiple chronic illnesses will make 37 visits to 14 different physicians in the course of a year, and receive 50 separate prescriptions.
Meanwhile, the median annual cost of a room in a private nursing home jumped from $67,525 in 2008 to $83,950 five years later. The costs of institutionalization are more than just a burden on families, insurance companies, and taxpayers; most seniors dread the step. So initiatives that help older Americans remain in their current homes as long as possible offer both humanitarian and fiscal benefits.
Seven-dollar solutions
Government agencies are beginning to realize that the small ameliorations worked out through various village-movement charitable efforts could create a win-win solution, making seniors happier and saving heavy public expenditures. A study now taking place at the Johns Hopkins University School of Nursing with public funding, the CAPABLE project, offers tantalizing hope.
The program offers home visits by a nurse, occupational therapist, and handyman to about 800 Baltimore-area elderly. By providing simple improvements like a raised toilet seat or shower grab bar, or help in charting out what pills should be taken on what day, significant improvements can be made in the health and independence of the elderly. Principal investigator Sarah Szanton says the project is showing success across the spectrum, from participants who are bedridden to those capable of going to church or buying their own groceries. "We go in asking the question, 'How can you function best in this house so you can stay?'" she says.
Though final results aren't yet in, researchers are finding very inexpensive interventions can help dramatically. For example, one participant had a torn rotator cuff and thus had trouble driving. The team found that inserting a $7 knob on her steering wheel allowed her to keep driving effectively and stay engaged in the community. "There's a lot of $7, $10, $15 solutions," Szanton says. Sometimes a $5 gadget is all someone needs in order to live safely at home a bit longer.
Previous experiments that brought therapists, nurses, handymen, and other helpers to seniors' homes (averaging five to ten visits during the course of several months or a year) found that for an average expenditure of roughly $4,000 to $7,000, they could head off rehospitalizations and other problems that would cost in the range of $9,000 to $11,000. This assistance more than pays for itself, in addition to allowing the participants the satisfaction of living in their own homes. Compared to the expense of hospitals and nursing homes, says Szanton, "we think that spending the $4,000 makes a lot of sense."
A Baltimore nonprofit called Civic Works, funded by the Harry and Jeanette Weinberg Foundation, provides the handyman help in the CAPABLE project. Teams identify mobility and safety risks, such as uneven carpeting or missing banisters, often associated with  falls that lead to nursing home admissions. The project includes an average of about $1,110 in home repairs free to beneficiaries. A 67-year-old man wrote in after a team installed railings on his stairway: "I used to crawl up and down the stairs on all fours. Since the railings I can walk up and down the steps standing up."
All in the family
The Weinberg Foundation has long had an interest in caring for older adults. The foundation's main focus is low-income and vulnerable individuals and families, and seniors within these populations are specially targeted with $30 million of spending by the foundation every year.
"We've found if you give people lighter supports earlier, they tend to need fewer heavy supports later on," says Michael Marcus, who oversees Weinberg's grants to senior causes. The help offered includes need assessments, home care by volunteers and paid aides, respite care, home modification, transportation, meal preparation, shopping, on-the-spot care consultation with experts, support groups, legal and financial planning, and training for unpaid family caregivers.
"As much as 80 percent of all long-term care for chronically ill and disabled older adults is delivered by family and friends," says Marcus. "We know that we have no organization or governmental capacity to deliver those services at that level. There's no way we can afford to spend that."
Almost 62 million Americans provided care to family members at some point in 2009, according to an AARP study. The estimated value of their unpaid contributions was about $450 billion (up from about $375 billion in 2007)—a figure almost equal to total Medicare expenditures ($509 billion) for the same year.
Caregivers can become overwhelmed, depressed, anxious, or socially isolated. This increases the risk of hospitalization of the elderly person. The extra stress can also take a significant toll on the caregivers' own employment, family life, and health.
Recognizing these difficulties, the Weinberg Foundation launched its Caregiver Initiative in 2009 to support family members, friends, and neighbors who are helping an elder. The three-year program offered more than $8 million to 14 nonprofits and asked them to demonstrate the best ways to support unpaid caregivers for chronically ill or disabled older adults.
A preliminary analysis indicates that this added support helped caregivers keep their elderly beneficiary out of a nursing home for at least an extra six months. Even applying the most conservative nursing home costs, the Weinberg Caregiver Initiative estimated savings of approximately $38 million in either caregiver out-of-pocket expenses or government reimbursement.
Help in hospitals
The John Hartford Foundation has invested more than $451 million in aging and health since 1982. The foundation has magnified its influence by allying itself with other donors, including the Atlantic Philanthropies, the Robert Wood Johnson Foundation, and the Donald W. Reynolds Foundation. One researcher supported by Hartford funds found that in one year, 2 million Medicare beneficiaries bounced back into the hospital within 30 days of their discharge. The federal government has stated that the cost of early readmissions for Medicare patients alone is $26 billion annually. Many of these rehospitalizations are unnecessary, due to things like taking medications improperly. 
In response, the Hartford-funded Care Transitions Program gives seniors additional tools, skills, and confidence before they leave the hospital. Patients go home with a personalized written plan, knowing what medicine to take, an understanding of the "red flags" they should watch out for, and how to call for help before they are really ill. The Gordon and Betty Moore Foundation and Weinberg Foundation have each funded expansions of this project to lower rehospitalization rates.
"One hospitalization on average costs about $15,000. Prevent these and you save money," Szanton said. Another cost-saver is providing home-delivered meals. Brown University researchers recently calculated that increasing home-delivered meals to adults 65 and older would significantly decrease nursing home admissions.
Szanton thinks philanthropists can be a major help in this area. "Philanthropy has the ability to be more innovative and to work faster, and there's really a big role for philanthropy in figuring out how to conquer this whole problem of people aging in place rather than in institutions," she says.
"By the time I'm 80," says Weinberg's Marcus, "nearly a quarter of the population in the U.S. will be over the age of 60. Just within the next few years, there will be a greater need for paid caregivers than for K-12 teachers."
And much satisfaction awaits those who do help. We Are Family D.C. recently helped throw a 90th birthday party for Ms. Hilda. The refreshments were donated by the local grocery store where she was a regular, riding her electric scooter to buy food until her recent stroke. Mark Anderson has seen Ms. Hilda's abilities slowly but steadily dwindle, but he says it is clear that her apartment is where she wants to be.
"It's her home," he said. "Living in her home gives her so much joy and strength."   
Andrea Scott is assistant editor of Philanthropy.