One month after his Presidency ended, George Washington found himself in uncharted territory. By limiting his administration to two terms and then stepping aside, and in other ways refusing to be treated like a king, he had set powerful precedents for modesty in a democratic executive, and established the peaceful transfer of power that we take for granted today. But now he had to find a whole new role.
Certainly Washington intended to keep informed on national developments. "Let me pray you to have the goodness to communicate to me occasionally, such matters as are interesting, and not contrary to the rules of your official duty to disclose," he wrote to his friend and longtime colleague Secretary of War James McHenry in April 1797. Like many observers, Washington was troubled by events in France—"beyond calculation, and so unaccountable upon any principle of justice." He no longer had any duty to respond, though. The private life he had so often longed for now beckoned.
At the same time, Washington was mindful of a need to tend to his legacy. After describing to McHenry his journey home (studiously trying to avoid parades, without full success), Washington expressed his desire for a library: "I have not houses to build, except one, which I must erect for the accommodation and security of my military, civil, and private papers, which are voluminous and may be interesting." Washington would pass away just two years later, though, with no library in sight. For a couple of centuries, his estate remained without a repository for the records of his great life.
Starting with Herbert Hoover in 1934, the National Archives has established a library to house the papers of every U.S. President. A few libraries honoring earlier Presidents have also been created by state governments, historical societies, or other private groups. Yet there was no Washington library, though his estate, Mount Vernon, is among the great triumphs of private initiative in historical preservation.
In 1853, a woman passing by on the Potomac River noted the shameful disrepair that Mount Vernon had fallen into, and remarked to her daughter that if the men of this country could not take care of it, perhaps the women would. The daughter, Ann Pamela Cunningham, was inspired. She founded a group called the Mount Vernon Ladies' Association, which worked tirelessly to raise the funds to buy the property in 1860 and manage it ever since. These patriotic mothers turned the home of our founding father into one of the nation's leading historical attractions. The books and papers of George Washington, however, stayed locked away in storage.
A library at last
In 2001, Fred Smith and Steve Anderson, chairman and president of the Donald W. Reynolds Foundation, were in Washington, D.C., to announce a $30 million grant to the Smithsonian Institution for the purchase and exhibition of the iconic Lansdowne portrait of George Washington. Jim Rees, then president of the Mount Vernon estate, invited them out to see the home of the nation's first leader. Their tour that day would ultimately transform the landscape at Mount Vernon, and help fulfill one of Washington's final wishes.
"Jim Rees mentioned during our visit that George Washington's prominence in the history texts was decreasing," Anderson recounts. "We decided that we wanted to be a part of making Washington more prominent for school-aged kids in this generation and in generations to come."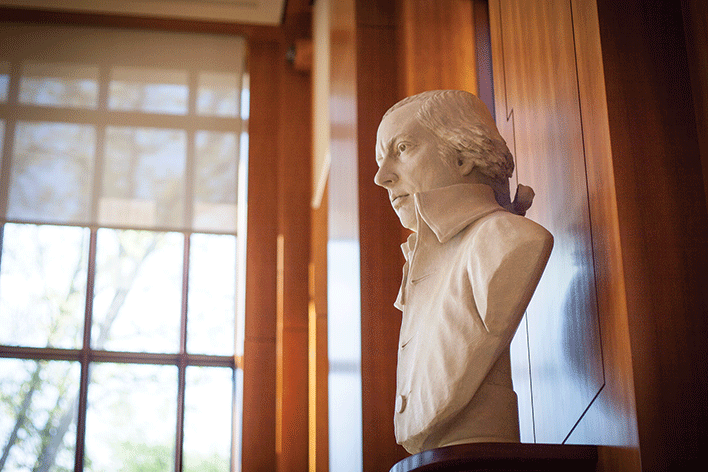 Busts of the founding fathers look over Washington's library. (Liz Whyte)
Since that decision, the Reynolds Foundation has donated $70 million to Mount Vernon. That has yielded a new museum and education center, a distance-learning program, and a traveling exhibit. Rees approached Smith and Anderson in 2009 about the possibility of funding the construction of Washington's library. "It was a natural opportunity to do what Washington wanted to do and provide a home for scholarly research," Anderson says.
The Reynolds trustees were also impressed with the Mount Vernon Ladies' Association, the way it rescued the estate, and the way it continues to manage the property today. "We're the oldest historical preservation society in the country," notes Barbara Lucas, the Association's regent. The group accepts no government funding, relying exclusively on private donations. This "gives us the benefit of being our own bosses. We are accountable to ourselves," Lucas says. "We're also not subject to the ebbs and flows of government funding." (During the 2013 government shutdown, when the National Park Service made a show of blocking access to properties in an apparent effort to inspire public backlash, it tried to barricade the Mount Vernon parking lots, claiming they were federal property. But Mount Vernon officials defended their turf, and, as virtually the only historical attraction in the area left open, flocks of school groups and tourists and scout troops made it busier than ever.)
With a lead gift of $38 million from the Reynolds Foundation, Mount Vernon launched a capital campaign to fund construction of the Washington library and facilitate its inaugural slate of programs. The campaign exceeded its target, raising a total of $106.4 million from more than 7,000 donors, and the library opened in late 2013. The tremendous response in fundraising, and the warm reception that academics and the general public gave the new library, quickly turned it into the preeminent research facility on the nation's first executive and his founding era.
The other Mount Vernon
Among the donors who seized this opportunity to promote deeper understanding of U.S. history was Karen Buchwald Wright. Born on the fourth of July (a family tradition that also includes her grandfather and one of her sons—try orchestrating that at home!) and hailing from Mount Vernon, Ohio, Wright seems destined to have become a patriotic philanthropist. She is CEO of Ariel Corporation, a manufacturing company founded by her father in 1966 that makes industrial-scale natural-gas compressors.
Natural gas is now booming in America, but Wright remembers hard times. The low point came in 1983 when her father had to lay off half of his employees. "That was very traumatic," says Wright, who had just delivered a baby at the time. "My dad came in to meet his first grandchild and started crying because he felt so bad about laying people off. When we could, we hired back almost everybody, and most of them are still here."
Wright worked in the company's marketing division before taking time to raise her sons at home. "As a mother you have to be a psychologist, diplomat, disciplinarian, philosopher, manager, leader, doctor. And it's never the same crisis on a day-to-day basis," she says. "That is where I learned all the skills that I needed to run a company."
And run it she did: After her father's retirement she took the helm in 2001, a single mother of four. Then the 9/11 terrorist attacks plunged the country into recession.
Learning on the fly, at that precarious moment, Wright's can-do spirit prevailed. To avoid layoffs, she sent workers off for vocational training during slumps in production. During Wright's 14 years in the driver's seat, Ariel's workforce has tripled, and sales have quadrupled. It is now the largest employer in its part of Ohio, and the largest reciprocating-compressor company in the world.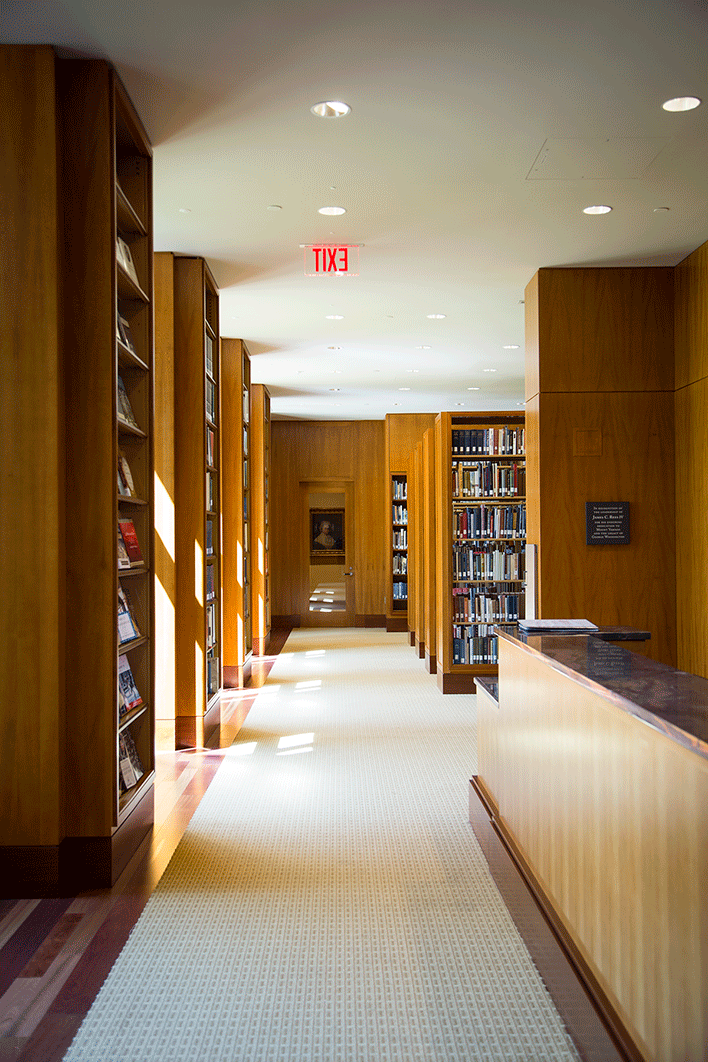 A research wing convenes modern scholarship on American history. (Taryn Wolf)
Wright feels a keen responsibility to support her community. That means keeping the company healthy, and contributing generously to local philanthropy.
When she first heard of the Mount Vernon Ladies' Association, she was intrigued to learn about her hometown's namesake and impressed by the Association's educational efforts. "We are not paying attention to the things that children need if they are to learn to love America," she says. The teacher training and other programs offered through Mount Vernon, she believes, are a substantive step in the right direction. When the library campaign began in earnest, she was eager to sign on.
The heart of today's library is the Karen Buchwald Wright Reading Room, resplendent in polished American sycamore—a tree Washington knew quite well. The walls are lined with busts of many of the nation's founding fathers: George Washington, Benjamin Franklin, Alexander Hamilton, John Adams, Thomas Jefferson, James Madison. In the peaceful sunlit room it sometimes feels as if the life-like images might just float down to the tables and begin arguing anew about the course of the nation. Wright would welcome such magic. Growing up, she says, "I read and read and read and read about all the founders," crediting them as a formative influence.
Among the gems of the library are 62 titles that were owned by Washington himself (housed in a rare-books vault made possible by John and Adrienne Mars). In the  general collection are more than 12,000 modern books, journals, audio-visual items, information files, and electronic resources; 6,000 historical manuscripts; more than 5,000 special collections items such as scrapbooks, photographs, postcards, and other memorabilia; archives and early records; and the office and files of the Papers of George Washington project.
Chief librarian and archivist Mark Santangelo describes how scholars are beginning to use the library's extensive resources, telling the story of a retired Marine and West Point mathematician who was interested in studying Washington's maps and plans from his early career as a surveyor. Like any good rare-books staff, Santangelo says, they provided him with high-quality photocopies to handle. The Marine insisted that he needed to see the originals. Why? He was looking for pinpricks made by a compass, from which he could infer Washington's evolving knowledge of trigonometry. That kind of original scholarship, says Santangelo, "is exactly what we're here for."
Founding friends
Just as the first philanthropic priorities of Karen Wright and the Reynolds Foundation (whose main focus is the region surrounding its Nevada headquarters) are local, most of David Rubenstein's giving is connected to his hometown—but in his case home is Washington, D.C. The Carlyle Group co-founder, another significant donor to the library, has made his mark on cultural and historical establishments all over the nation's capital, developing a reputation as a patron of patriotic institutions in D.C.
His contribution to the library is a venue for lectures and seminars. Its main hall seats up to 100 people, while four smaller seminar rooms accommodate more intimate functions. All rooms are equipped with state-of-the-art audio/visual equipment to allow for distance hookups to classrooms, conference centers, and media outlets.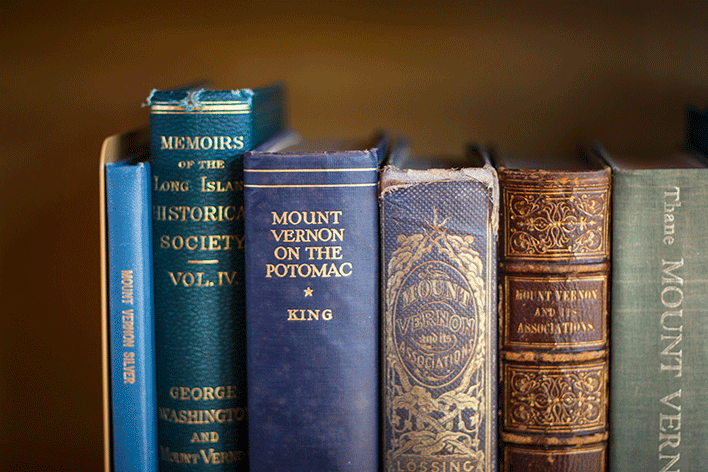 A rare-books vault preserves the first President's own collection. (Liz Whyte)
The Washington library also offers fellowships supporting doctorate-level research. Thanks to a gift from Richard and Helen DeVos, a few scholars are even able to study and live on-site. Part of the mission of a research library, notes Lucas, "is that we want to stimulate new scholarship, new information on Washington that's relevant today." One of the first fellows, Pulitzer-prize-winning historian Edward Larson, has just published a book based on his scholarship: The Return of George Washington.
Mount Vernon's donors are united on one point: Anything that expands knowledge of our first founder and his remarkable colleagues in peaceful revolution is a good thing. Such understanding ultimately accumulates to the benefit of the American public, and people all around the world who care about free and just governance.
Marques Chavez is director of communications at The Philanthropy Roundtable.