At any given moment, Duncan Campbell will suddenly grab a scrap of paper, a napkin, a Post-it note, anything nearby, and start scribbling ideas racing through his head. As a classic entrepreneur, he has lots of them. Once they're on paper, he groups and staples them together, sticks them into file folders and then into boxes, and takes it all to a storage unit. Here, cabinets and more boxes, organized alphabetically and by year, constitute his library of thought.
Campbell's brainstorming habits illustrate one theme highlighted in The Art of Being There, his story as told to author Craig Borlase—how created order can become a path out of disorder. Born into disastrous circumstances, Campbell found peace in his life by building regimens and structure into his days. These include methodical efforts to help other people, particularly children.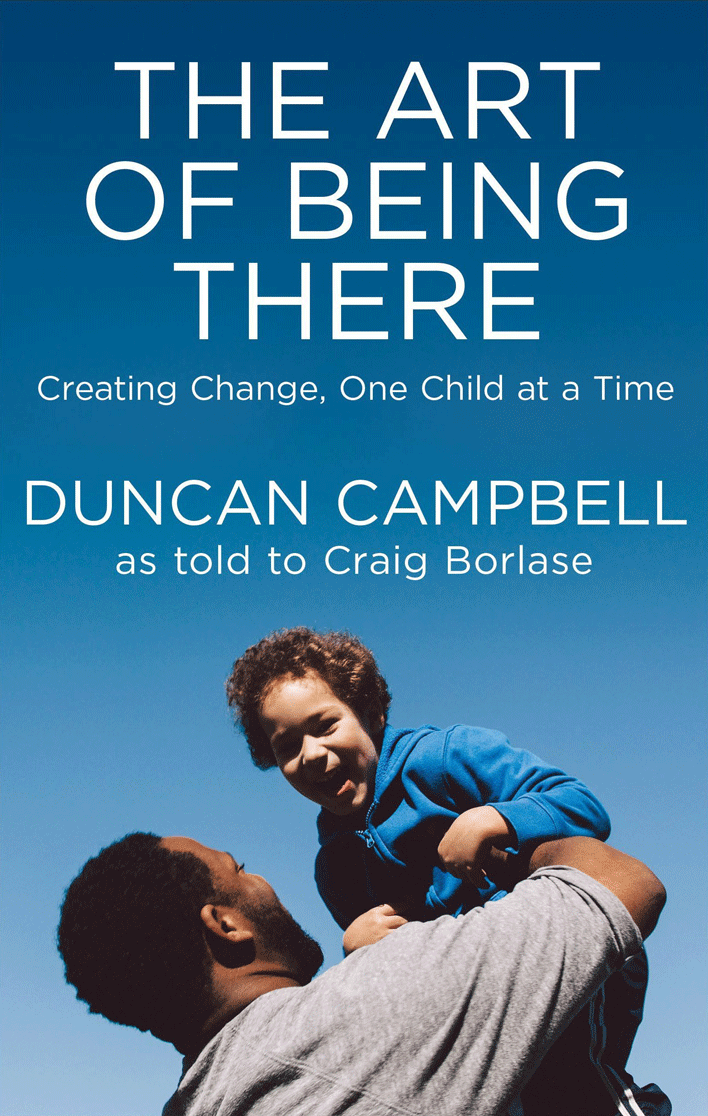 The Art of Being There: Creating Change, One Child at a Time by Duncan Campbell and Craig Borlase
The story begins in Portland, Oregon, where Campbell grew up in a welfare family. His parents were both alcoholics, prone to binge drinking on the weekends; and he would sometimes find strangers passed out in his room overnight. His father was imprisoned twice. Neither was violent, but nor were they affectionate. And they never said "I love you."
Generally neglected by his parents, Campbell took initiative and went to church alone, enrolled himself in the Cub Scouts, and joined the football team. He found relief in school, doing his best; and from his grandparents, whom he lived with for weeks in the summer. From age ten, he always had a job.
In his teens, he started to stray, shoplifting with friends and venting a sharp temper. But the people who cared—his older brother, the brothers and fathers of his friends, his high-school football coach, and a school counselor—course-corrected the young Campbell. Eventually, he graduated with degrees in finance and law, from the University of Oregon.
After college, Campbell did a variety of jobs: supervising condo construction, working in the juvenile court system, and tax work. Running through it all was his desire to help children with childhoods similar to his. "No child should have to be raised the way I was." Looking at the immensity of the problem, he wanted more financial resources to put toward a solution. So he turned to entrepreneurship, creating a timber- investment firm called The Campbell Group, now Campbell Global. Its success made him millions, and enabled him to exercise his dream of helping at-risk children, whom he thought of as "the little Duncans."
Orin Bolstad, a clinical child psychologist, advised Campbell that consistent, positive influences could help children through difficult childhoods, and the two agreed that this needed to start early. Research showed that age five or six is when many youngsters begin to make wrong choices in dealing with problems, unless they have guidance. Duncan and Bolstad tested their ideas in a $25,000 pilot study funded by Campbell, conducted with early- elementary-school students at three schools in Campbell's old neighborhood. The findings held, and two more projects confirmed they were on to something.
Together Campbell and Bolstad formed the Campbell Children's Institute. From the latter's visits to other programs around the country for at-risk children, he and Campbell arrived at several conclusions. Long-term relationships with responsible adults are important. These adults can effectively manage about eight vulnerable students each, spending about four hours per week with them. The endurance of the relationship is key to building the child's resilience. To keep these relationships in place over the long haul they should be paid positions, Campbell and Bolstad believed. They put these conditions into practice in Portland, bracing themselves for criticism about the high price per child.
In this way, Friends of the Children was founded, in 1993 with $2 million, aiming to break the cycle of generational poverty, low educational attainment, teen parenting, drug and alcohol abuse, and criminality. The organization selects from school classrooms only the most challenged children—the ones no one wants. And the earlier the better. Friends of the Children promises kids a 12-year commitment, from the end of kindergarten through high-school graduation —no matter what—from a full-time, salaried, and trained professional, or "Friend."
In 2010, Campbell left Campbell Global to devote his full effort to Friends of the Children, with the goal of expanding to 20 cities over the next 20 years. The organization is now in Seattle, San Francisco, New York City, Boston, and Tampa Bay, Florida, as well as Cornwall, England. The organization says 83 percent of participating children graduate from high school or get their GEDs, more than double the rate of their parents. Mere teenagers gave birth to 85 percent of these children, 98 percent of whom are avoiding early parenting themselves. While 50 percent have a parent who's been incarcerated, 93 percent steer clear of the juvenile justice system.
In addition to learning about Campbell's life in The Art of Being There, we get to know several of the children his program serves. Their stories of domestic abuse and neglect will darken your imagination. But this book reminds us that birth isn't necessarily destiny.  —Claire Sykes