Schoolahoop is an initiative of the Lincoln Network Studio, a nonprofit that partners with donors to create new technology products to solve social problems. Brandon Detweiler serves as the head of product at Schoolahoop, a free service that helps parents access school options in several states based on what is important to each family. 
For decades, philanthropists have played a leading role in the national effort to expand parental choice in education. Millions of American children now attend schools of their parents' choice thanks to the establishment of vouchers, scholarship tax credits, charter schools, open enrollment and education savings account programs across the country. 
But the hard work of expanding parental choice can begin only when laws are changed and new school choice options are established. Advocates must work to help parents learn about and access these alternatives before children have the opportunity to benefit from them. 
Partnership leads to research on how to connect parents to schools
In 2019, the Miles Foundation, a charitable foundation in Fort Worth, Texas, approached the Lincoln Network for help solving a problem in their community. They wanted to know why many parents and children most in need, including those in low-income areas or districts with failing schools, were not taking advantage of free schools of choice, such as charter and magnet schools. They wondered whether technology could help make parents aware of these myriad options.
At Lincoln Network, our studio team is focused on developing technology solutions to public policy problems. Along with the Miles Foundation, our technologists and software developers sought to access disadvantaged families who were opting to keep their children in low-performing public schools instead of utilizing school choice options. We began our unique user research process, interviewed and surveyed parents, researched enrollment patterns and observed parents as they were using existing school finder tools. 
What we discovered was incredible. Up to 80% of parents surveyed could not name a single school outside of their locally-zoned public school. Many parents did not even understand the basic differences between types of public schools. For example, many thought that public charter schools cost money and cited potential tuition costs as a reason they did not consider them as a realistic option for their children. 
The research and parent interviews revealed a clear problem to solve: parents needed a simple and intuitive way to learn about their school choice options.
Our team began developing a technology solution with the assistance of parents, who demonstrated how they would go about finding new school options for their children. The parents we observed went straight to Google, as most of us do when looking for information, and ran a search along the lines of "school near me" or "3rd grade school in Fort Worth." This is where things got interesting.
When parents ran these searches, the top results were biased in favor of traditional public schools. Therefore, results nearly always displayed the schools that parents already knew about, their locally-zoned public schools. Even school finder websites like Great Schools or Niche significantly favored zoned public schools in search results.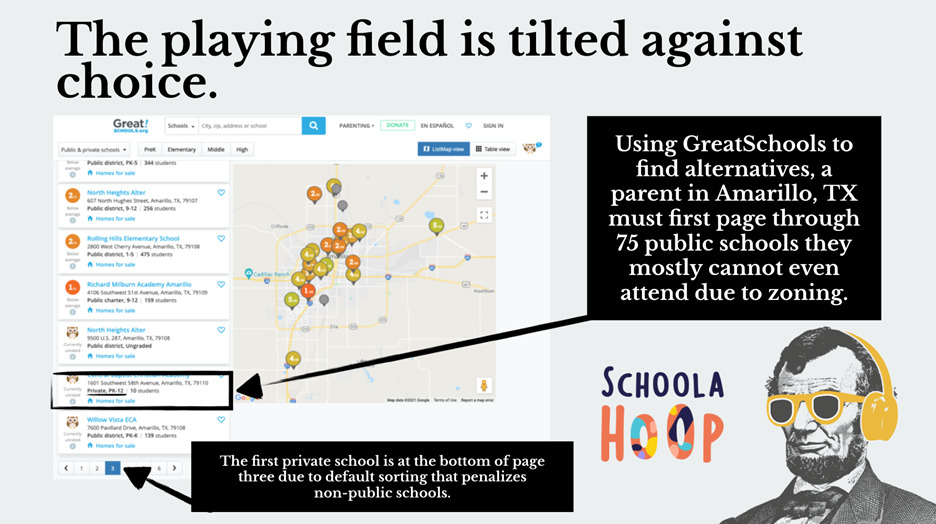 Even if parents made it this far (which required a lot of patience from parents), school finder options were full of confusing and often overwhelming data that made many parents want to stop their search.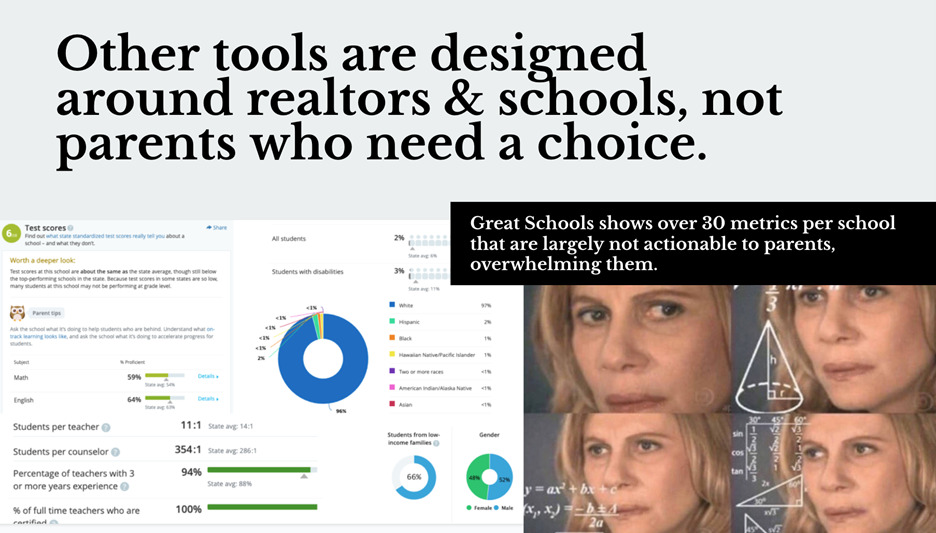 This is about the time we had the "eureka" moment. Not only was there a real problem to solve, but we uncovered some things that would allow us to solve it. As we moved to the next stage of our process, prototyping and testing, we built four different clickable prototypes and tested each one with additional parents. The prototype with the best results is what we now proudly call Schoolahoop, the best and easiest place for parents to find the right schools for their children.
Schoolahoop: A free service that helps parents explore PK-12 school options
Schoolahoop launched in Texas in November 2019. Since then, we expanded the service to Florida in late 2021 and Arizona and Kansas City so far in 2022, with Wisconsin on deck for later this year thanks to the generosity of our supporters. 
Schoolahoop's success is due to our user-centered design approach. Here are a few of the ways Schoolahoop is unique: 
Personalized matches: While other websites show parents dozens of zoned schools their children may not qualify to attend, Schoolahoop provides users with personal matches. For states that don't have open enrollment, we even filter out all of the locally zoned public schools children are not eligible to attend.
Filtering options make sense: We built filtering options that parents actually want and care about, like the ability to filter schools based on religion, safety or class size. Parents even have the ability to tell Schoolahoop how they want their child to get to school. Do you want your kids to take the bus, walk to school, ride a bike or find schools that are along your morning commute as a parent? There's a filter for that. Schoolahoop addresses the misconceptions parents have about cost (or lack thereof) of the school options available — and educates parents about different school types. Charter schools and magnet schools are free, and parents should know that.
Seamlessly connects parents to schools: We also have made the next step seamless. By clicking to contact a school, Schoolahoop will send an email introduction on behalf of the parent. This also helps our team track the effectiveness of the tool. It is our priority to have accurate information so parents are reaching out to a real person every time. 
Scholarship matching program: We are especially excited about the latest feature our team launched in Florida this year. Florida, like many states, has scholarship programs that offer either reduced or free tuition to some families. We streamlined this process by building a quiz that matches parents with the scholarship programs they're eligible to participate in and shows them the names of schools that accept those scholarships. This helps make private schools accessible to families that otherwise couldn't afford them.
We're incredibly excited about all the features Schoolahoop offers and the ways it is unique, but we're even more excited about the results we've seen so far. Here are some of the stats from a case study in Fort Worth, Texas.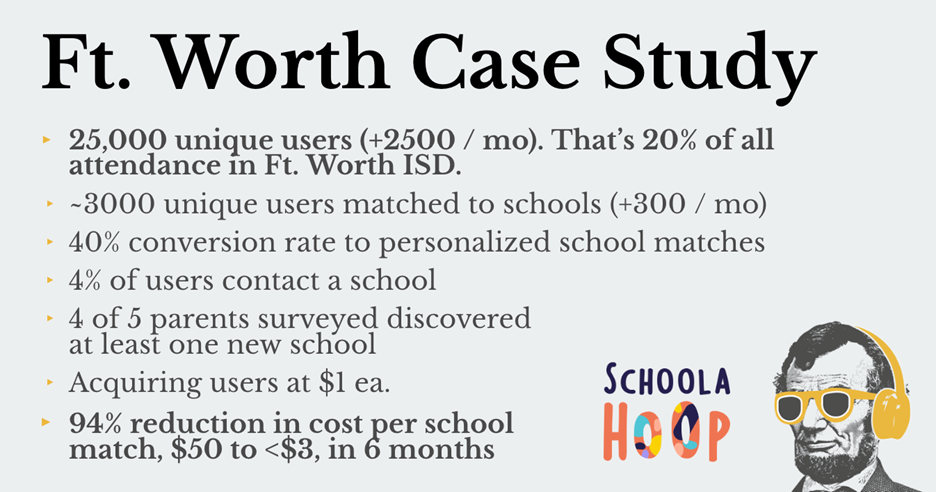 We believe Schoolahoop is the most effective way to make parents aware of the educational alternatives to traditional public schools, to educate them on various school types – and to match them with the best results for their children.
Our goal is to make Schoolahoop available to every family in the U.S. and help students gain access to school options that will prepare them for life … not make them fall behind.
To learn more about Schoolahoop or the Lincoln Network, please reach out to Erica Haines, program director at Philanthropy Roundtable.