For some, it was the homecoming they never received, and for one veteran it was a chance to say goodbye. 
Walter Kotzur (USAF retired) spent the majority of his time during the war in Vietnam flying combat missions on the AC-47D, a fixed wing gunship affectionately known as "Spooky" or "Puff the Magic Dragon." Thanks to the North Country Honor Flight, Kotzur has the opportunity to say a final farewell to his fallen brothers of the "Spooky Brotherhood" as he continues to find their names engraved on the Vietnam Veterans Memorial wall in our nation's capital. After being drafted, Kotzur lost 28 comrades in his first year in Vietnam alone and 59 since. 
The North Country Honor Flight, which serves veterans in upstate New York, Vermont and New Hampshire, is part of the larger national Honor Flight network that celebrates our nation's veterans by offering them a one-day trip to the nation's capital and memorials. Each hub organizes travel, accommodations and any individual needs for each veteran and their sponsor, typically a family member, for the entirety of the trip. 
For many veterans, the day begins with a police escort from their home or nearby hotel. While the Honor Flight prioritizes World War II veterans and those with serious medical conditions, veterans from every era receive special accommodations to make sure it's a day to remember. Communities organize "goodbye" sendoffs when the veterans board the airplanes, as well as homecomings complete with "welcome home" signs and banners from volunteers of all ages. 
For some veterans, this is the only homecoming they have ever received. 
"Coming home [from Vietnam] was the absolute worst," said one veteran who traveled to Washington, D.C. last month. "I feel like I did everything for nothing. My service didn't matter." 
To make sure everyone receives a proper homecoming, Barrie Finnigan, organizer of the North Country Honor Flight, spreads the word through the local newspaper and television news station, community newsletters and Facebook. "Younger people will tell grandpa about the Honor Flight. That happens a lot," Finnigan said. 
The veterans who participate in the Honor Flight find themselves a part of a new family as they remember fallen friends and share stories on the flight and bus ride. The North Country Honor Flight flew 30 veterans with their sponsors to D.C. this fall and has planned events like barbeques and outings to keep in touch.  
"Like it or not, you are a part of our Honor Flight family now," said Finnigan. "We are one big happy family." 
For the crowds of tourists who flock to the National Mall, the arrival of the Honor Flight brings history to life. As the veterans exit the buses in their matching "Honor Flight Veteran" jackets and make their way through the memorials, often in wheelchairs, visitors to the capital from around the world look on as the granite monuments are juxtaposed with the flesh-and-blood men and women they honor. These veterans' stories could fill libraries, but they often go untold, sometimes because the veteran doesn't think anyone is interested in hearing them or because the memories are still too painful. 
The Honor Flight changes that. As veterans walk the memorials and find the names of fallen brothers-in-arms, they remember the struggles they endured and the friends they lost. But they also remember the sense of pride they felt, and still feel, in donning uniforms to answer their nation's call. Finnigan and other volunteers say one of the flight's biggest blessings is the impact it has on veterans long after they return home. Finnigan says he receives calls from at least 20 families after each flight, thanking him for the life-changing work they do.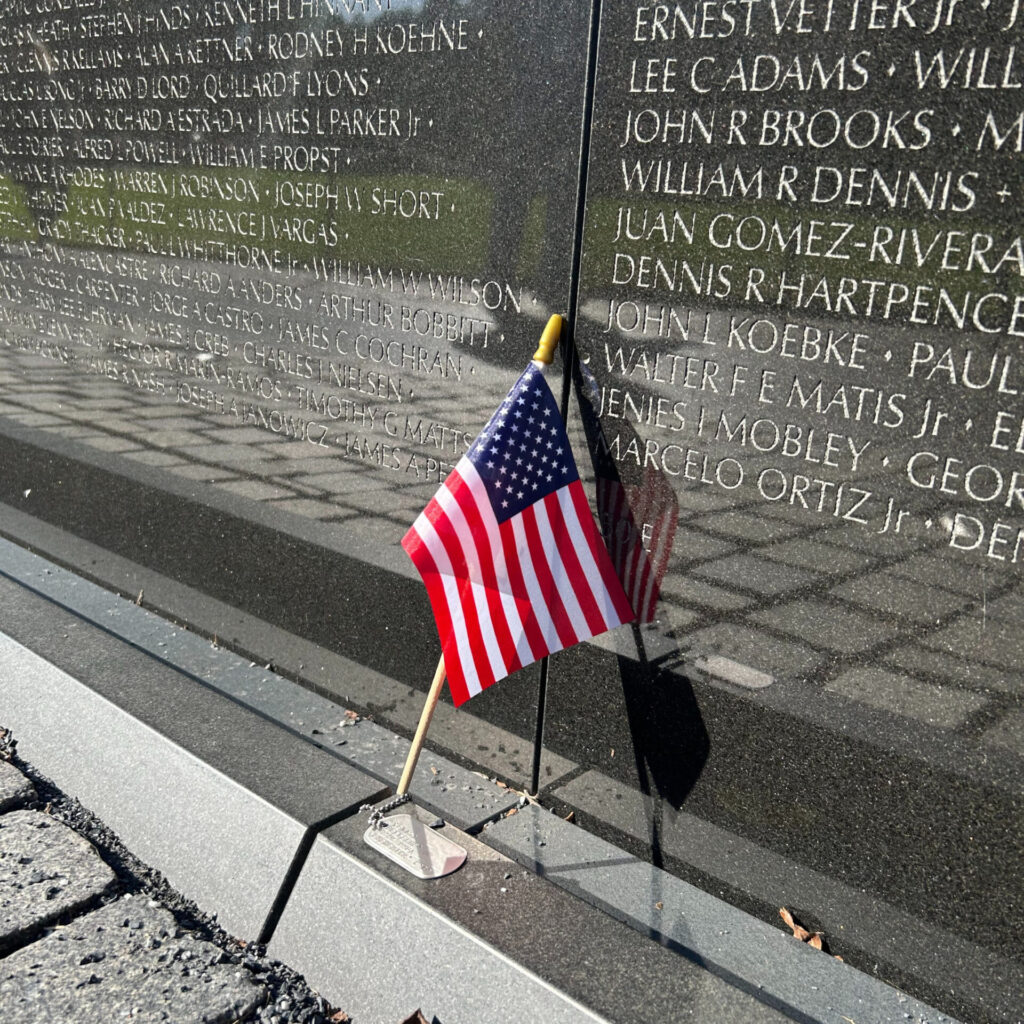 "Since that Honor Flight, we've got a brand-new person. Grandpa's back where he was 10 years ago, he had cashed it in sitting in his recliner all day long," Finnigan said. "Now he wants to go do things and tell us all about the war. If you can change someone's life like that, how can you not get involved?" 
The busy one-day itinerary includes stops to Arlington National Cemetery and our nation's war memorials, beginning with the WW II Memorial and ending with the Korean and Vietnam Memorials. The Honor Flight network has Washington, D.C.-based volunteers who greet the veterans with welcome signs and fanfare at their various stops. Some are veterans, but most are civilians seeking to honor their loved ones who served. 
That's why Finnigan does what he does. During WWII, his father served in the Army Air Corps in the South Pacific and his mother served in the Canadian Army.  His son also served in the military after 9/11. Although the Honor Flight didn't come to northern New York until after his parents passed away, Finnigan honors their legacy and his son's service through his volunteer work.  
"It's a labor of love. I just love doing it," he said. "You just meet so many people and their stories. It's unreal." That is, after all, the Honor Flight's mission: ensuring that no veteran goes unappreciated.  
As Walter Kotzur takes one more look at the names of his fallen brothers from the "Spooky Brotherhood," he ponders the significance of this experience.  
"This is a solemn place," he says. He's right, of course, and it couldn't be otherwise for him.  
But it should be a solemn place for all Americans, a permanent reminder that any society that wishes to remain free has a corresponding duty to defend that freedom. Men and women like Kotzur, veterans of World War II, Korea and Vietnam, are steadily dwindling as the years pass by. But these war memorials are permanent reminders of what they've done and the legacies they leave behind. 
It's up to us, on this Veterans Day and every day, not only to remember those legacies, but to make the most of them. 
If you are interested in learning more about Philanthropy Roundtable's work with organizations serving veterans, please contact our Programs team.