The recent turmoil in American politics may have helped more Americans understand basic civics. That is, at least, according to the most recent findings of the Annenberg Public Policy Center's annual Constitution Day Civics Knowledge Survey, which was administered to 1,009 American adults between August 4–9, 2020. The representative sample answered basic questions about the structure and function of American government.
The survey indicated that Americans are more knowledgeable in several major issues than they were last year. For example, 51% of respondents were able to identify all three branches of government, up from 39% last year. Moreover, many more people were able to correctly identify the five freedoms guaranteed in the First Amendment than in each of the three previous years going back to 2017: 73% were able to name freedom of speech, as compared to 48% in 2017; 47% were able to identify freedom of religion, as compared to 15%; 42% named freedom of the press, up from 14%; 34% identified freedom of assembly, as compared to 10%; and 14% identified freedom to petition for the redress of grievances, up from 3% previously.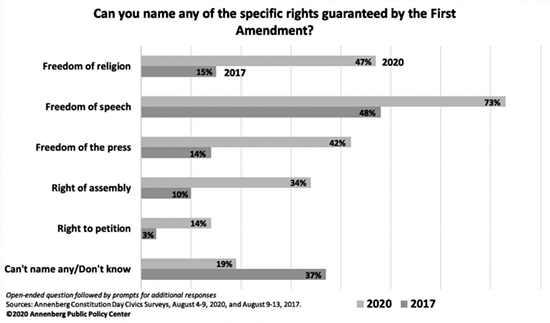 What is the reason for this dramatic increase in civic knowledge? According to Kathleen Hall Jamieson, director of the Annenberg Public Policy Center, it may be due to the increased divisiveness of our politics and the issues that it highlights: "Divided government, the impeachment process, and the number of times political leaders have turned to the courts probably deserve credit for increasing awareness of the three branches, while controversies over the right to peaceably assemble, freedom of religion, and freedom of speech may have done the same for the First Amendment."
Yet, despite these signs of progress, civic educators still have work to do. According to the same poll, Americans were less aware of some issues than they had been in previous years. For example, fewer respondents could identify the two-thirds majority requirement for Congress to override a presidential veto—47% versus 53% last year—and only 54% of respondents indicated that they understood that a decision by the Supreme Court becomes the law of the land, down from 59% last year.
While Americans' ability to recite critical facts about our representative democracy is important, civic education is more than this. Tumultuous politics might encourage Americans to learn—and retain—more about how government functions, but more effective civic education could help to prevent tumult in the first place. At its best, civic education can help citizens think more carefully about their rights and responsibilities, understand how to engage the political system effectively, and deliberate with their fellow Americans in a civil and productive way. In short, it can help build civic friendship.
That is why it is so crucial that the philanthropic sector continue to support effective civic education: Our continued liberty and prosperity as a nation may depend on it.