Philanthropy Roundtable believes the American spirit has always been generous, with neighbor helping neighbor to uplift entire communities. To propel further investment in entrepreneurial approaches that strengthen communities, we are highlighting leaders and initiatives that cultivate civil society and support the values that transform lives.
As housing prices across the country continue to rise and tent cities line the coasts, policy makers, nonprofit and philanthropic leaders are seeking solutions to homelessness in our country. Last week, a slew of Seattle-based corporations and philanthropists, including Amazon, Starbucks and the Bill & Melinda Gates Foundation, announced a $10 million plan to decrease homelessness in that city. In California, Gov. Gavin Newsom pledged more than $116 million for seven projects that will provide housing across the state. 
Data from the U.S. Department of Housing and Urban Development show that the rate of homelessness increased 2.2% between 2019 and 2020. Consequently, in 2020, 18 Americans in every 10,000, over 550,000 people total, were homeless.  Those numbers are only rising.
The greatest predictors and contributing factors of homelessness include gender, race and ethnicity. Men are at a far greater risk of becoming homeless, as are Blacks, Hispanics and individuals (as opposed to families). Higher rates of homelessness are directly connected with income disparities, unemployment rates, healthcare access and incarceration rates. To exasperate this further is the reality that the median home price has risen 30% over the last 10 years while incomes have risen just 11% over the same period.
But homelessness is not just a statistic – it represents complex, nuanced individuals who have dignity and purpose.  One organization working to tackle this issue and provide relief to those in need is City Relief, where thousands of volunteers serve over 30,000 homeless individuals in urban centers, primarily in New York City and New Jersey. Josiah Haken, chief executive officer of City Relief, says the need goes far beyond housing.
"With mental health services interrupted throughout the pandemic, many in the homeless community have had loss of contact with their psychiatrist or have had their medication routine disrupted, causing increased mental health incidents and violence," Haken explained. 
"Compounding this reality, many in the homeless community have lost friends and loved ones and are experiencing grief, loss and depression. The collective anxiety temperature has been dialed up across our society, especially in the homeless community," he added. 
Yet as City Relief and others work to confront this crisis, a debate is raging on how best to serve the homeless, with two competing policies: Housing First and Treatment First. In a recent report, Chris Rufo, former visiting fellow for domestic policy studies at The Heritage Foundation, says proponents of Housing First policies say permanent housing to the homeless should be prioritized with no requirement for sobriety or participation in addiction and mental health services. Meanwhile, proponents of Treatment First policies argue we must address addiction and mental illness, creating a series of incentives to move the homeless into treatment programs then into more stable housing. Rufo and others believe Treatment First options more successfully address the human dimensions of homelessness – highlighting that those who are homeless are nuanced and complex individuals, and therefore, efforts to serve them must address this complexity.
Haken says providing only housing is too simplistic an approach to the myriad challenges contributing to homelessness.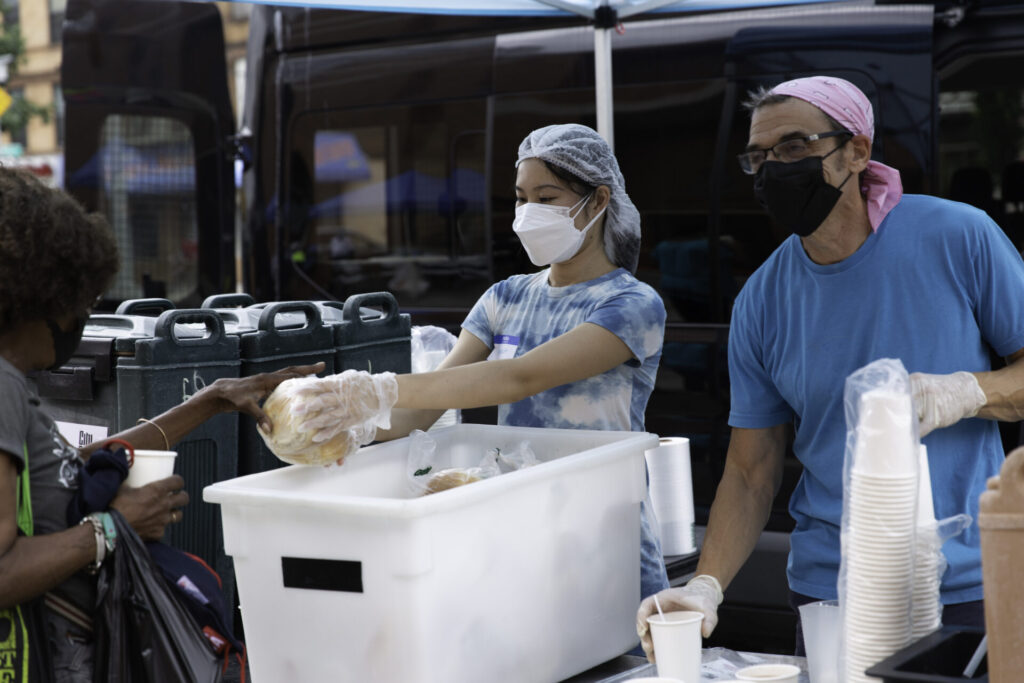 "Though it certainly is a key part of the continuum of care for those who are homeless, providing housing alone is not a silver bullet," he said, adding, "Each individual who is homeless is unique and therefore our care for them must be highly tailored, providing relationship and connection." 
City Relief's approach focuses on serving those who are homeless in a way that dignifies their humanity. The organization's outreach buses provide outreach "block parties" where those in crises can access hot meals, hygiene kits, socks and more. The nonprofit, which partners with over 250 organizations to serve tens of thousands of people, seeks to connect guests to specific shelters, job programs, detox or rehab, depending on their individualized needs. Founded by Dallas-based entrepreneur Richard Galloway in the 1980s, City Relief provides those struggling with homelessness and extreme poverty with the help, hope and resources to live a transformed life. 
The faith-based organization, which engages more than 6,000 volunteers each year, provides programs through a three-step process that recognizes each person deserves dignity and respect: 
Step One – Compassion: Staff and volunteers serve hot meals, distribute hygiene kits and items like socks and pray for those in need at outreach pop-up care centers.
Step Two – Connection: City Relief connects guests to resources that will help them find a better tomorrow through Life Care Visits, one-on-one meetings that provide hope and resources through individualized action plans. Attendees listen, encourage and pray with those who are struggling — and connect them to emergency shelter, jobs programs and detox or drug rehabilitation services.
Step Three – Community: Guests work with City Relief's Follow Up Care Team, which also provides introductions to community partners, nonprofit agencies and government programs. The Follow Up Team provides a range of services from assisting with paperwork to attending meetings to advocate on the guest's behalf.
In response to the growing and evolving needs of those who are homeless, City Relief has expanded its programs and increased its holistic services – and has more than doubled its total budget in the past three years to meet the rising overall demand. 
According to the Legatum Institute's U.S. Prosperity Index, a comprehensive assessment of each state's (and some counties') economic, social and institutional well-being, New Jersey, where much of City Relief's work is concentrated, is one of the highest ranked in offering a reasonable quality of life, including material resources, shelter, basic services and connection to others. The organization's approach to elevating living conditions among those who are homeless could very well be a contributing factor in this ranking. 
If you are interested in helping to accelerate City Relief's impact, please go to https://cityrelief.org/ or reach out to Philanthropy Roundtable Program Director Esther Larson.