Ahead of Veterans Day this year, Philanthropy Roundtable sat down with Jordyn Jureczki, CEO of Frontline Healing Foundation (FHF), an organization answering the call to treat veterans and first responders who struggle with substance abuse and suicidal thoughts as a result of service-induced trauma and post-traumatic stress disorder (PTSD). As a primary funder for those seeking help through the Warriors Heart Treatment Center and similar treatment centers, FHF helps "Warriors," who may not have insurance, access world-class medical care and participate in hands-on rehabilitation strategies. Instead of a one-size-fits-all rehabilitation approach, FHF provides Warriors with a loving and supportive atmosphere, the tools to become self-sufficient and meaningful lasting relationships with those who have also been in the fight. 
The interview below has been edited for length and clarity.  

Q: What is the mission, history and focus of Frontline Healing Foundation? 
Jureczki: FHF, formerly the Warriors Heart Foundation, was founded in 2015 out of necessity to subsidize the funding of treatment for chemical dependency in the Warrior class (those who are active-duty military, veterans or first responders). The foundation works closely with the founders of the Warriors Heart treatment center in Bandera, Texas, who created something truly unique. Tom Spooner, who is a retired U.S. Army Delta Force operator and has been in the recovery community for over 30 years, combined forces with Josh and Lisa Lannon, a power couple who had built and operated drug and alcohol treatment centers across the country. Josh has also been in recovery for over 20 years and Lisa is a former law enforcement officer (LEO). Together, they built a program offering treatment that works in confronting a mental health crisis among veterans and service members.   
When we look at the staggering statistics, primarily the suicide rate statistics among the veteran population, what is a variable that we can single-handedly attack? Substance abuse. When service members commit that final act, they are often under the influence. The founders of Warriors Heart determined that if we could treat the chemical dependency, we also could get to the underlying PTSD and traumatic brain injury (TBI) that may be at the root of the substance use.  
The primary obstacle to providing world class treatment is funding. And thus, the foundation was born. In 2023 we changed our name to the Frontline Healing Foundation to reduce confusion regarding the separation between Warriors Heart, which is a private entity and treatment facility, and the foundation, which is a 501(c)(3) nonprofit.  
The foundation funds individuals who do not have the means to fund their treatment. Some of the treatments we fund are inpatient treatment, intensive outpatient treatment, sober living, K9's and MeRT brain treatment.  

Q. How did you get involved with Frontline Healing Foundation and why does this mission mean so much to you? 
Jureczki: I am a U.S. Navy veteran and a Texas LEO. In 2019, I was involved in a relationship with a man who was also a veteran and LEO. He suffered heavily from PTSD and we both drank heavily, as that was typical behavior in our community. He was extremely abusive, and one night I realized that if I didn't leave, he was going to kill me. I ran out of the house in my pajamas, barefoot and my department was notified. The local mental health authority refused to see him, because he was under the influence of alcohol. Charges were filed, but ultimately dropped. I landed in a run-down apartment where I wallowed in my guilt and shame on a nightly basis and resorted to alcohol to cope with feelings of failure.  
 In 2020, I began training in jiu-jitsu and attended a local competition in San Antonio. This is where I met Josh Lannon, who introduced me to Warriors Heart. Although my involvement was initially few and far between, the Lannons began to immerse me in the Warriors Heart community and the personal development it offers. In 2021, I reached my breaking point and made the decision to take my life back and get sober. I haven't had a drink since, and I owe the absolutely linear improvement of my life to Warriors Heart, without which, I would likely not be alive today. I was given the opportunity to become the CEO of the foundation at the beginning of this year, and I will continue to dedicate my life to giving the opportunity to heal that I was given to my fellow Warriors.   

Q. Frontline Healing Foundation is a primary funder for warriors seeking rehabilitation at Warriors Heart addiction and PTSD treatment center. Can you tell us a little bit about that treatment facility or the others you work with? 
Jureczki: Warriors Heart is truly one of a kind. The original facility is located in Bandera, Texas, on a 500-acre ranch which was formerly a corporate retreat for ConocoPhillips. When you enter the front gates at Warriors Heart, you are immediately overcome with a feeling of release and you know you are in a place of great healing. For those who have been to other drug and alcohol treatment centers, you will immediately note that this feels nothing like the cold, damp halls of a state-funded facility. The first stop is intake, where, instead of having your shoelaces quickly taken from you, you are told a phrase that will be repeated throughout your stay: "Welcome Home."  
The staff members at Warriors Heart all have some connection to the community, whether that be the Warrior community, the recovery community or both, – and it shows. The entire dual diagnosis-based program was written by the founders and former clinical director, Annette Hill, to operate as a training program, not a hospital. For Warriors, going to a 42-day inpatient training seems a lot more familiar than going to conventional rehab.  
During their stay, Warriors have the opportunity to attend group counseling, one-on-one counseling, art class, wood and metal shop, bass fishing, hiking, fitness and jiu-jitsu classes. Upon completion of treatment, Warriors have the choice to attend an Intensive Outpatient Program, stay in a sober living community and receive MeRT Brain Treatment, or return home. If a Warrior chooses to return home, they can always return for a "recharge" or attend Warriors Anonymous meetings via Zoom. Warriors Heart recently opened its second facility in Milford, Virginia, where they plan to continue to pursue their mission of bringing one million Warriors home.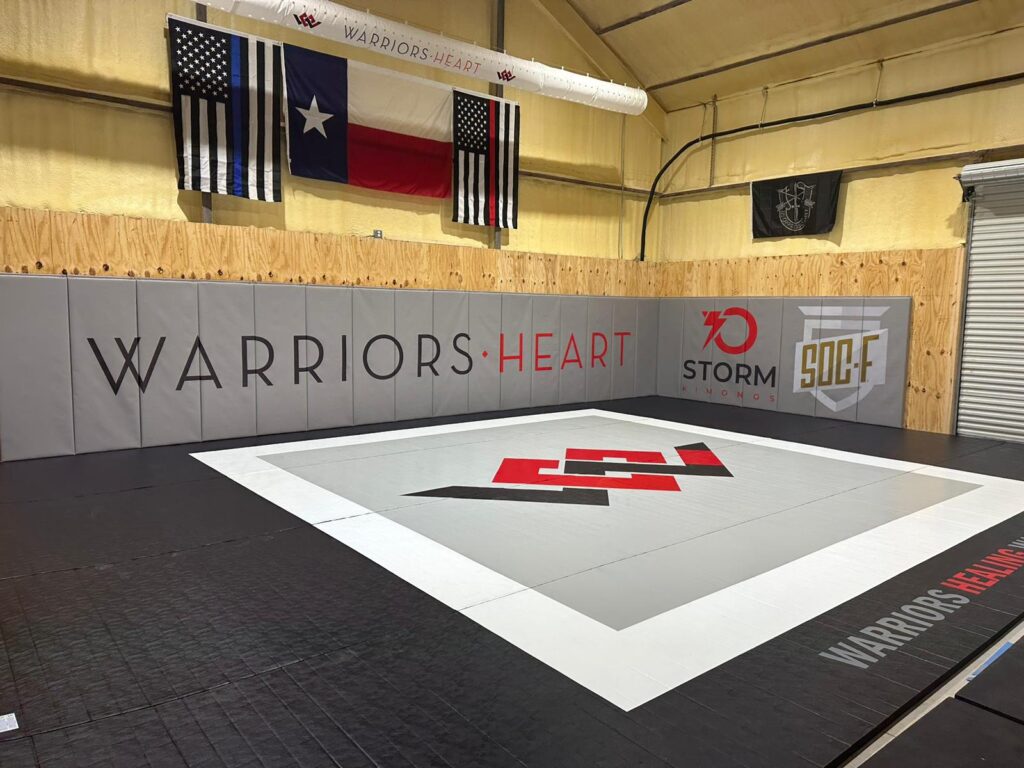 Q. Can you share any stories of warriors who have received funding for treatment through Frontline Healing Foundation, and how this treatment has changed their lives?  
Jureczki: Due to the anonymous nature of recovery, it is not often we get to share the stories of the Warriors who cross our paths. However, there are some who choose to share their stories so they may inspire the next Warrior to seek the help they need. Robert and Kyle, who attended Warriors Heart in 2020, do this through a podcast they both host titled "The High Speed Chicken Feed Podcast." Robert, a retired Louisiana law enforcement officer who was fully funded by the foundation for treatment, emphasizes how he was initially unable to find funding for treatment due to the scarce resources provided to members of law enforcement. Robert also shares his full story of recovery on the podcast, in his own words.  
Kyle, a U.S. Army veteran, and Robert were able to fill in the gaps for each other during treatment, validating the emphasis that Warriors Heart puts on peer-to-peer support. Robert now works as an admissions advocate at Warriors Heart and Kyle continues to serve the Warrior community by living and breathing the lessons we are taught in recovery. 

Q. What more do you think people need to know about supporting veterans through philanthropy? Any thoughts on why foundations like yours are so critical for this community? 
Jureczki: I think it is very important to offer solutions to the problems in our community. When a veteran reaches out for help, whether that be through the VA, the suicide hotline or through friends and family, what's the next step? Many treatment centers for PTSD and TBI will not accept individuals who are under the influence. The fact of the matter is, addicts are not typically invested in. 
I cannot promise you that 100% of our Warriors will come out with no more problems. That's just naive. Treatment is expensive and sobriety is a journey, it's something you have to work for. What I can promise is that each Warrior we fund will be sent to a vetted facility that offers them the best environment for healing. They will be insulated by love, surrounded by their fellow Warriors and cared for by people who are committed to serving those who served us. 
Last year, FHF funded 112 individuals through treatment in 2022 with an average cost of $9,555 per person. You can read more about who we serve and how we serve them in our impact reports. 

Q. What is your vision for the future of Frontline Healing Foundation?  
Jureczki: Our vision for FHF is to have the ability to fund every Warrior for all treatment they apply for. Currently, FHF funds approximately one million dollars a year in hardships, and we would like to see this number double within the next year.  
We want to show all Warriors, from Army Rangers to Sheriff's deputies, from Marines to local EMTs, that you are worthy of healing, and don't worry about the bill. We'll pick up the tab. You deserve it.  
If you or someone you know is struggling with suicidal feelings, the Veterans Crisis Line is available 24/7 for veterans and service members in crisis, and their friends and families. Dial 988 then Press 1 to chat live or text 83825.Warriors Heart also has a 24 hour hotline: (888) 598-4875. And if you are interested in learning more about Philanthropy Roundtable's work with organizations serving veterans, please contact Philanthropy Roundtable Program Director Clarice Smith.