The joint is jumpin'.
Every Monday the Jazz Foundation of America hosts a public jam session at the musicians' union hall in midtown Manhattan. Tonight the players have braved a February cold snap to honor saxophonist Fred Staton, who played with trumpeter Roy Eldridge, pianists Erroll Garner and Earl Hines, singer Billy Eckstine, and other jazz masters. Though Staton also had to work at a restaurant to support his family, his eagerness to play never waned. When his five children were grown he joined the Harlem Blues and Jazz Band, a veteran group dedicated to keeping the music of the swing era alive, and played gospel brunches in Harlem with another combo—performing with passion right up until his death last year at age 102.
A dozen of the saxophonist's pals quickly turn the memorial jam into a romp. When they begin Duke Ellington's "Take the A Train," Billy Kaye, the dapper 83-year-old drummer serving as Master of Ceremonies for the evening, demonstrates the agility that led him to the 1952 Olympic triple-jump competition as he vaults onto the stage, grabs a microphone and says, "Wait a second. I ain't got no token." Trumpeter Joey Morant invites the audience to stand before the next song. "Thank you children. Now clap your hands and shake your booties," he says, prompting whooping and hollering among the crowd of seniors gathered in the hall as he leads his fellow musicians in a rollicking rendition of "Shake, Rattle, and Roll."
"Welcome to another night with the family," says Wendy Oxenhorn, executive director of the Jazz Foundation. She is weary after spending the day drumming up support for a piano player in the throes of a sudden medical crisis. Looking around the music hall she notes that, "There is always an emergency. Someone needs us. We run to hospitals. We help people to die. We help people to live."
Helping people one at a time
The mission of the Jazz Foundation is to save this musical tradition one musician at a time. Even though jazz and the blues are a treasured part of America's cultural heritage, the men and women who make the music typically live gig to gig, with little or no long-term financial security. Most get no pension or health benefits, and as they age they often find themselves in dire straits. Last year the foundation assisted 1,300 musicians and their families on a budget of $4 million. The services offered included help with housing, emergency assistance, disaster relief, employment opportunities, and pro-bono medical care. The foundation produced more than 1,000 concerts that provided 4,000 paychecks for musicians, while bringing jazz and blues to 100,000 audience members ranging from schoolchildren to nursing-home residents.
"The work of the Jazz Foundation is not just a job," says Jarrett Lilien, the president of the board, "it is a calling." The businessman and asset manager has helped guide the foundation through some dramatic changes during the past quarter century. Since the foundation's creation in 1989, "We've gone from well-intentioned people passing a hat at music parties in apartments to a professional organization with a multimillion-dollar budget doing good things across the country. But we haven't lost any of the personal spirit that makes the foundation's work unique."
Lilien says that "the people we help are not looking for handouts. These are self-starting entrepreneurs, fiercely independent and proud, who have such a passion for what they do that they go out there without safety nets like health insurance and retirement plans. A lot of business people can relate to that, because they've done it themselves."
Percussionist Ray Mantilla, 83, exemplifies that spirit of self-reliance. "I started playing when I was 18," he says. "I always worked. Made good money. Played with everybody. Then one day all my major guys I worked for are dead." In recent years, paying gigs have been few and far between, and during the recession his credit-card debt started to spiral out of control. Then his son Robert, who suffered from bipolar disorder, fell ill and needed round-the-clock care. "It's the first time I've ever asked anybody to give me a hand. You know us old guys. We want to do it ourselves." Robert died last March after spending eight months in a hospital.
The Jazz Foundation covered Mantilla's rent for six months. It also helped him get some long-overdue dental care. "I had some loose teeth and the foundation got me a great dentist who put my mouth in shape. Funny thing. He's a tabla player and I put him on a new record I just made." Mantilla now does one Jazz Foundation gig a month leading a band in a school or nursing home. "The pay is decent—and they show you respect." He's heading to Europe soon for a few performances and no longer needs help covering his bills. "I'm back on my own two feet," Mantilla says. "They say they help musicians one at a time. That's the truth. I'm one of them."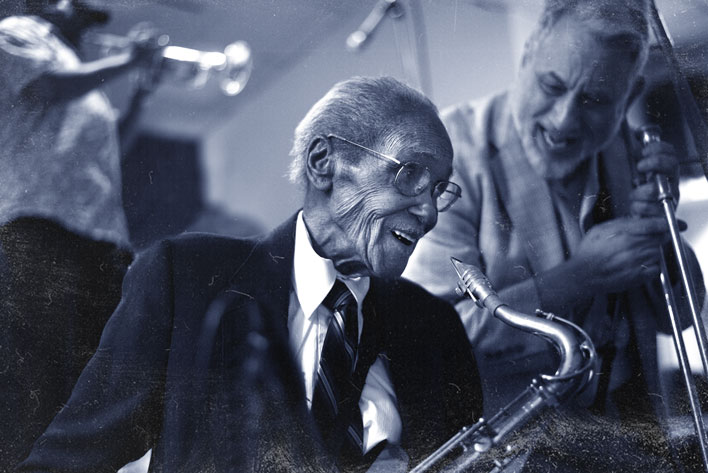 Saxophonist Fred Staton played with the greats while also working at a restaurant to support his family. He played until his death at 102.
A parting wish
In 1992, jazz pioneer Dizzy Gillespie checked into the Englewood Hospital and Medical Center in northern New Jersey for diagnostic tests and learned he had pancreatic cancer. As his health declined during the months that followed, he bonded with his oncologist, Francis Forte, who happened to be an accomplished jazz guitarist. Hospital executive Ellsworth Havens also struck up a friendship with the famed trumpeter, joining him for lunch or dinner almost every day he was in the hospital. Havens had played trumpet in high school, and joked to Dizzy that "You play the trumpet for the good of mankind. I gave up playing the trumpet for the good of mankind."
When it was clear Dizzy didn't have much longer to live, Havens asked if there was anything special the hospital could do for him. "He said, 'I don't need anything. I'm fortunate. I have insurance and I get the best care available. But that's not the way it is with most jazz musicians. Can you do something about that?' " After consulting with his colleagues, Havens promised Gillespie, "In your name, we'll provide free care to uninsured jazz musicians—and it will be the same quality of care we've given you."
Havens subsequently reached out to trumpeter Jimmy Owens, one of the creators of the Jazz Foundation. They agreed that the foundation would handle referrals to the hospital and heralded the fledgling partnership at a park near the hospital with a musical celebration: 100 Trumpets for Dizzy.
Drummer Rudy Walker was the first musician to benefit from free surgery at the hospital. He suffered from arthritis in his hip as a result of getting clipped by a Cadillac when he was a teenager, and by middle age his pain was unbearable. "As a freelance musician I was so busy hustling to cover my bills that I didn't take out health insurance. I was in trouble." Thanks to Englewood's program, Walker underwent hip-replacement surgery in 1994. "It allowed me to continue working as a jazz artist. I'm not famous. But everyone at the hospital treated me the same way they treated Dizzy—with dignity and respect." 
In the years since, more than 2,000 uninsured jazz-and-blues musicians have received pro-bono care worth $7 million from the hospital and an extended network of physicians recruited by Dizzy's oncologist. "We provide free care in every aspect—room and board, radiology, anesthesia—anything and everything it takes to help the musicians get well," says Mike Pietrowicz, the hospital executive who oversees the program and serves on the Jazz Foundation board. "We also reach out to the foundation staff whenever we do preventative-health screenings, and they find ways to get musicians here by Uber or bus."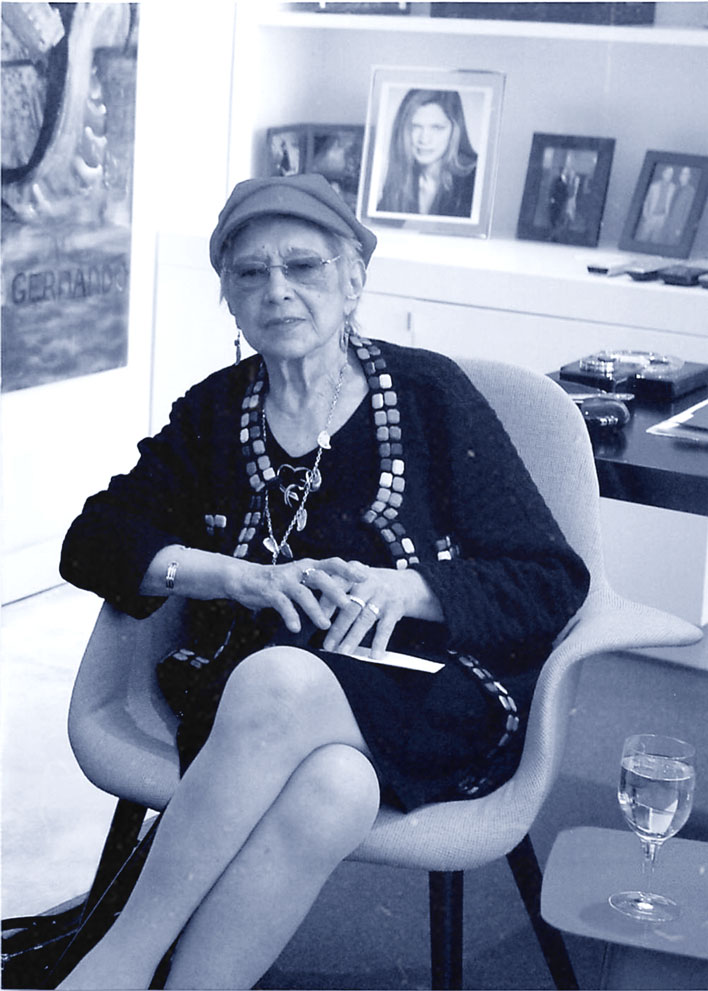 When donor Agnes Varis found out about the Jazz Foundation's work in New Orleans, she gave $250,000 for concerts in schools—hiring musicians in need of income, and exposing kids to moving music.
Rebounding from troubles
Wendy Oxenhorn brings a deep firsthand knowledge of the blues to her work at the Jazz Foundation. Her hopes of becoming a professional ballerina were shattered by a knee injury as a teen. "I called a suicide hotline, and the counselor started telling me her problems. I ended up counseling her," Oxenhorn says. "In three days I was working at the suicide hotline and I loved it. Instead of worrying about my own stuff I worried about other people." In the late 1990s a failed romance with an Italian composer left her facing the blues again. "I started wailing on a blues harmonica he had laying around and ended up playing in the New York train stations with a great old Mississippi bluesman who wanted me to pass the tip bucket." She was undaunted when she arrived at the Jazz Foundation in 2000 and discovered it only had $7,000 in the bank. "I said, 'Hey guys, let's try to raise some money and help some people.' " She organized a fundraiser inspired by the documentary A Great Day in Harlem, which recounted the story behind a 1958 group portrait of 57 legendary musicians photographed in front of a brownstone in Harlem. "It occurred to me that we could stage a big concert at the old Apollo theater and call it 'A Great Night in Harlem.' "
By tragic coincidence, the concert was held just two weeks after the 9/11 attacks. The house was packed and emotional. Before the night was over, 75 musicians appeared on stage, and the foundation raised $350,000 for its Musicians' Emergency Fund. A Great Night in Harlem became the foundation's annual fundraising event.
The foundation also sprang into action after Hurricane Katrina. Many musicians in New Orleans were suddenly homeless. "I realized we could get the brass bands to play in the shelters, put some of these guys to work," says Oxenhorn. Donor Agnes Varis was a leading figure in the generic-drug industry and a managing director of the Metropolitan Opera. One of her best-known philanthropic projects was an effort to create a wider and younger audience for opera by making seats for matinee performances available for free or at a dramatically reduced price. When she got wind of Oxenhorn's relief efforts, she gave the Jazz Foundation $250,000 to hire musicians to put on concerts in schools after the flooding of the city. "We ended up employing and rehousing over 1,000 New Orleans musicians," says Oxenhorn. The foundation also provided assistance to musicians whose houses were damaged by floods in Baton Rouge in 2016. "The homes had to be bio-washed and dried with a $60,000 machine," Oxenhorn says. "We got a guy to do it at cost. It was a miracle."
Passing the torch
Varis left money after her death in 2011 to help the foundation support more performances where master musicians could earn a paycheck, while exposing new audiences to great American music. Before one recent show at an agency in Manhattan that serves homeless and at-risk teenagers, Bertha Hope, an 81-year-old pianist, projects an air of elegant radiance as kids wander aimlessly through the room.  Her all-star women's quartet kicks things off with the Thelonious Monk song "Bright Mississippi" and, after several more jazz standards, opens the stage to the kids. A few step forward with fragments of rap monologues, and one by one, each wannabe performer swells with pride as the quartet picks up a rhythmic pattern or melody line and turns it into a song. "Everybody has a story," says Hope.
At a secondary school in Harlem, librarian Paul McIntosh welcomes 100 or so students into his domain and says, "Jazz is about you. Your creativity. Your history." Then the Jackie Williams Quartet takes over. "Whoa!" exclaims one kid after Williams, the 85-year-old band leader, takes an extended drum solo. Eventually the students join in the choruses, and when the band picks up Herbie Hancock's rollicking "Watermelon Man," some kids start dancing. One does the splits in the aisle. "Jazz is a new experience for most of these kids," says Williams after the show. "It's great to bring some joy to their soul."
"Everything the world is missing now is what these musicians are about," says Oxenhorn. "Spontaneity. Doing what you love. And giving people joy. This organization is a little love machine, fueled and purely based on the principles of love. Well—love and money. Because it takes both to help."
David Grogan is a Brooklyn-based writer and editor.