From "American History's Great Philanthropists"
Andrew Carnegie
Andrew Carnegie may be the most influential philanthropist in American history. The scale of his giving is almost without peer: adjusted for inflation, his donations exceed those of virtually everyone else in the nation's history. The magnitude of his accomplishments is likewise historic: he established dozens of charitable organizations that remain active nearly a century after his death. And, perhaps uniquely among businessmen, the quality of his writing has ensured that his thoughts on philanthropy have been continuously in print for more than a century, and remain widely read and studied to this day.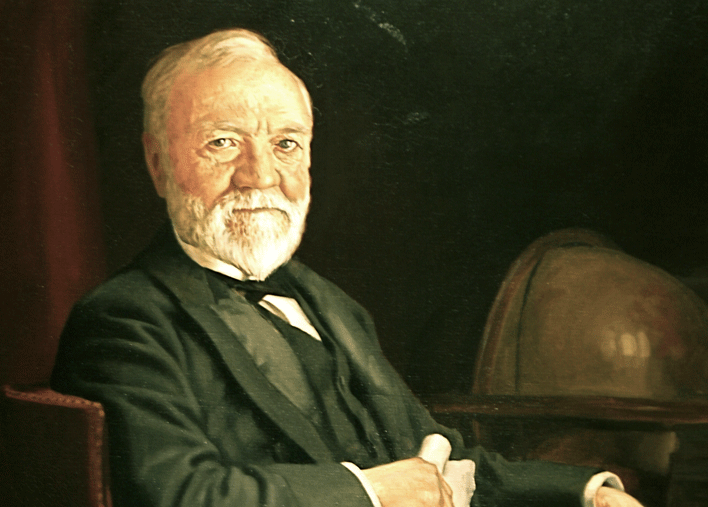 During his lifetime, Carnegie created many innovative charitable institutions. A handful of examples shows the range of his interests. In 1900, he founded the Carnegie Technical Schools, later the Carnegie Institute, and known today as Carnegie Mellon University, one of the world's leading research universities. In 1904, he created what he called his "pet child," the Carnegie Hero Fund Commission, which recognizes and rewards individuals who spontaneously risk life and limb to rush to the aid of others. A year later, he launched the Carnegie Foundation for the Advancement of Teaching, whose many accomplishments include the Flexner Report (which revolutionized American medical education) and the provision of pensions to college faculty members (which increased the attractiveness of an academic career).
But Carnegie is perhaps best remembered for the nearly 3,000 public libraries he helped build. As a young man in Allegheny City, Carnegie spent most of his evenings at the library of Col. James Anderson, a prosperous local businessman who gave working boys free access to his 1,500-volume book collection. It was clearly a formative experience, one that Carnegie hoped to replicate for the similar benefit of others.
Starting in 1885, he began funding the construction of thousands of libraries. (The precise number he built is disputed; at the time of his death, the tally stood at 2,811 libraries, roughly two-thirds of which were in the United States.) To ensure that communities were equally invested, he would pay solely for buildings—and only after local authorities showed him credible plans for acquiring books and hiring staff.
This was a vivid illustration of his conviction that merely giving away money was not enough. "[O]f every thousand dollars spent in so-called charity today," he opined, "it is probable that nine hundred and fifty dollars is unwisely spent—so spent, indeed, as to produce the very evils which it hopes to mitigate or cure." The problem, as he saw it, was "indiscriminate charity"—providing help to people who were unwilling to help themselves. That sort of philanthropy only rewarded bad habits rather than encouraging good ones.
Carnegie argued for a different kind of philanthropy, one that would deliberately support institutions that strengthen and refresh individuals so they could become more independent and productive themselves. Universities, libraries, hospitals, meeting halls, and recreational facilities—these, Carnegie believed, were the best way for philanthropy to achieve its high ambition of helping people to help themselves.
Henry Phipps
Henry Phipps Jr. was a lifelong friend and business partner of Andrew Carnegie. The second-largest shareholder in Carnegie Steel, he had a brilliant mind for finance and accumulated one of the 100 largest fortunes in American history. With that wealth, Phipps funded research into the treatment, prevention, and cure of tuberculosis, an effort that led him to build extensive, hygienic, and reduced-cost housing for the working poor of New York City. But Phipps was best known for his efforts to beautify the city of Pittsburgh in the 1880s. "I think Mr. Phipps put his money to better use in giving the working-men of Allegheny conservatories filled with beautiful flowers, orchids, and aquatic plants," wrote Carnegie, "than if he had given his surplus money to furnish them with bread."
Nathan Straus
Nathan Straus was one of the greatest retail merchants in American history, a co-owner of the Macy's department store chains. He put much of his wealth to helping the poor in New York City, funding Jewish causes at home and abroad, and providing safe milk to children throughout the country. During the Panic of 1893, for example, Straus provided 1.5 million buckets of coal to struggling families. The following year, he supplied 2 million tickets for coal, food, and lodging at shelters he established. When coal was selling for 20¢ per pail, he supplied it at 5¢ to those who were poor, and gave away 2,000 tons for free to those who were truly desperate.
Isaiah Williamson
"It was seeing boys, ragged and barefooted, playing or lounging about the streets, growing up with no education, no trade, no idea of usefulness," wrote Isaiah V. Williamson, "that caused me to think of founding a school where every boy could be taught some trade free of expense." In 1888, Williamson committed $2.1 million to the project, clearly stipulating that in considering admissions to the school, "preference shall always be given to the poor." To this day, the Williamson Free School for Mechanical Trades recruits young men from the toughest areas of Pennsylvania, working with ministers, guidance counselors, coaches, and other mentors to find promising young men who would benefit from learning a trade. And to this day, the school provides a full scholarship for all of its students, not one penny of which comes from public sources.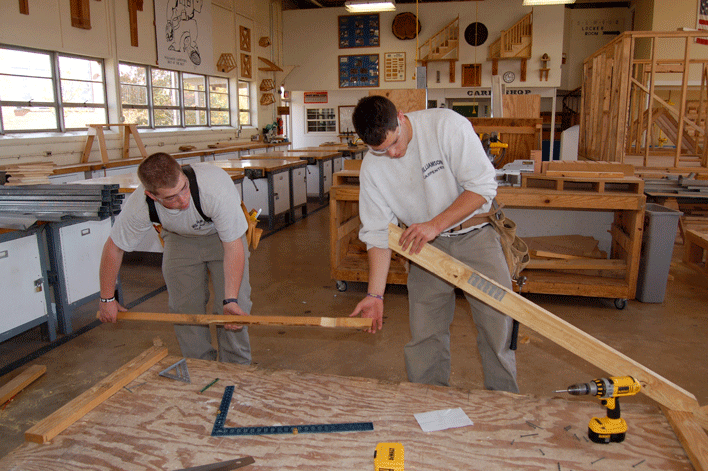 George Peabody
George Peabody was the first American widely known first and foremost as a philanthropist. After a storied career in banking, his interests turned to charitable giving in the early 1850s. Headquartered in London for the last 30 years of his life, he caused a sensation in March 1862 with a letter to the Times of London. He announced his intention to create a trust, initially funded with £150,000, to "ameliorate the condition of the poor and needy of this great metropolis, and to promote their comfort and happiness." The Peabody Donation Fund (since renamed the Peabody Trust) was chartered to build affordable housing for the workingmen of London. With gas lights, running water, subsidized rent, and smart appointments, these dwellings were vastly superior to the housing stock otherwise available to the laboring poor. Peabody also ensured that the tenants were deserving, demanding punctual rent payments, instituting a nighttime curfew, and enforcing a moral code.
Margaret Olivia Sage
Margaret Olivia Sage was the widow of Russell Sage, among the greatest Wall Street investors of the 19th century. When Russell died in 1906, he left $75 million to his wife. She proceeded to give away approximately $45 million before her own death in 1918. Her donations went to a wide variety of causes, the bulk of them in relatively small amounts. But Olivia Sage is best known for launching the Russell Sage Foundation for Social Betterment, which she endowed with $10 million in 1907. Though it was deeply concerned with poverty, the foundation had almost no direct interaction with poor people. Instead, it employed experts in the emerging social sciences to study social dysfunctions and devise systemic solutions. Although it has not achieved its goal, the Russell Sage Foundation nevertheless represented a bold attempt to accelerate social science and end poverty by studying its root causes.
Ewing Kauffman
Ewing Kauffman loved his fellow entrepreneurs. Throughout his career, the founder of Marion Labs would freely offer advice and mentoring to people thinking about starting a business. His early philanthropic interests were in youth substance-abuse awareness, K–12 education, and college scholarships. But the more Kauffman thought about philanthropy, the more he became concerned—in the words of a Kauffman Foundation report—that without good jobs in a growing economy, "all we [will do] is to create a more sophisticated but a more highly frustrated part of the population. We've got to do something to help encourage the creation of jobs." In 1990, Kauffman decided to trust his instincts. He instructed his foundation to take a chance on a new kind of philanthropy: the promotion of entrepreneurship.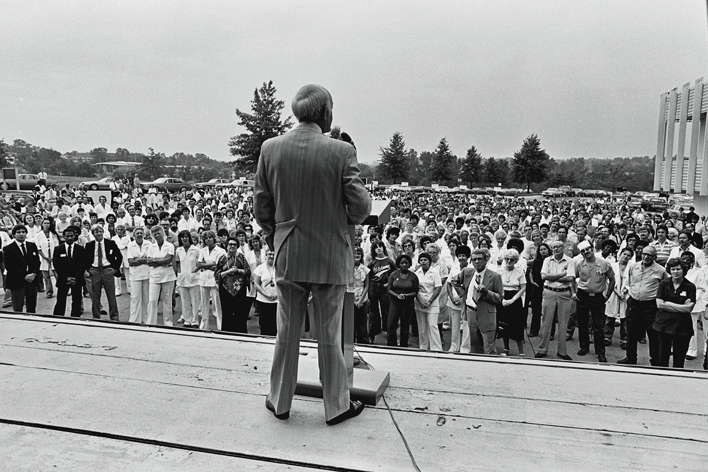 Nicholas Longworth
Nicholas Longworth was born in Newark, New Jersey, in 1783, the son of a once-prominent merchant. Unfortunately for the family, his father had been a stalwart Loyalist during the American Revolution. After the war, virtually all of the family's property was confiscated. Nicholas spent his boyhood in poverty, bearing the stigma of his father's loyalty to the Crown.
When he was 19 years old, he moved west, eager to distance himself from the shame and poverty of his youth. In 1804, he arrived in Cincinnati, Ohio, where he began to study law. In short order, Longworth passed the bar and began an energetic law practice. What money he made he used to buy real estate. The investments proved immensely profitable. By one estimate, at the peak of his fortune, Longworth's net worth as a percentage of GDP places him among the 40 wealthiest Americans of all time.
The great bulk of Longworth's wealth went to his idiosyncratic program of philanthropy. Longworth, explained an 1863 obituary in Harper's Weekly, "had a whimsical theory that those whom everybody will help were not entitled to any aid from him, and that he would confine his donations to the worthless and wretched vagabonds that everyone else turns away from." These, he would explain, were "the devil's poor." They were the beneficiaries of virtually all of his charitable giving.
Every Monday morning Longworth was known to give away 10¢ loaves of bread to anyone who would ask for one; most weeks he reportedly gave away between 300 and 800 loaves. He built a four-story brick boarding house on his property, with 56 neatly appointed apartments that he rented below cost to poor laborers and their families. If a man could not afford the rent, Longworth would often allow him to stay, free of charge, for months and sometimes even years.
"Vagabonds, drunkards, fallen women, those who had gone far into the depths of misery and wretchedness, and from whom respectable people shrank in disgust, never appealed to him in vain," wrote biographer James McCabe. "He would listen to them patiently, moved to the depths of his soul by their sad stories, and would send them away rejoicing that they were not utterly friendless. 'Decent paupers will always find a plenty to help them,' he would say, 'but no one cares for these poor wretches. Everybody damns them, and as no one else will help them, I must.'"
Longworth died in February 1863, 81 years old. Tributes poured forth, praising the son of a disgraced Loyalist. None, it seems likely, would have moved Longworth so much as the sight of his funeral procession, with thousands of outcasts—drunkards and prostitutes, beggars and criminals—sobbing at the loss of this, their one true friend.
Frugal Philanthropists
A passerby once spotted Nicholas Longworth working in his garden. Mistaking the ever-shabby millionaire for destitute, he dropped a quarter into Longworth's hat and wished him better luck.
George Peabody tried to avoid the two-penny bus. Even in a drenching London rain, he would wait half an hour for a one-penny bus to come along.
Around Philadelphia, Isaiah Williamson was famous for his frugality, and was said to rely on a bread crust for a meal, and believed to make one suit last as long as most men had two.
Thrift, believed Sir John M. Templeton, was a moral virtue, one that he practiced by using the back sides of copy paper and driving a used Kia Opirus.