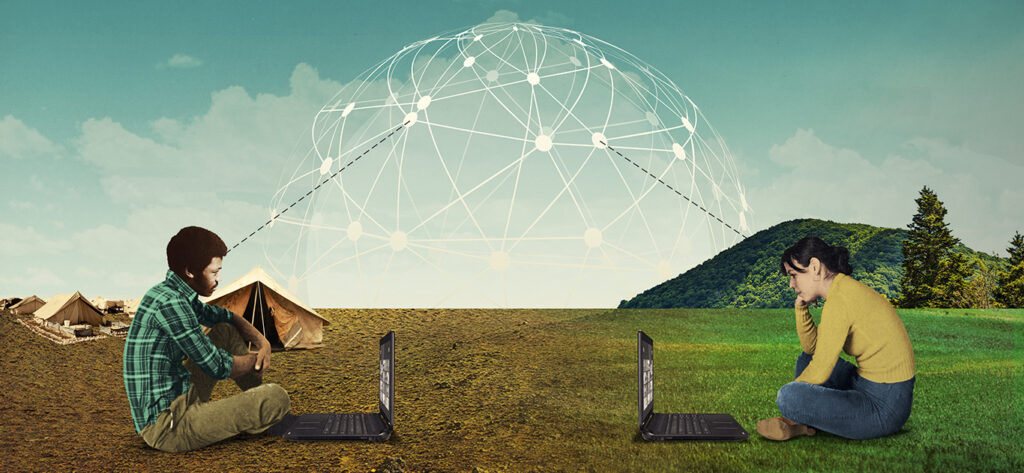 It's evening in Bangalore. A woman at an Internet café enters a comment into an online discussion board, then closes her notes and heads to her shift at a call center. Meanwhile, a peach-picker in Fresno is just waking up and logging on. He reads his classmates' commentary and chimes in with a question of his own. Across the ocean, an Eritrean student in a refugee camp submits his answers to the computer-science problem-set via text message. Their teacher, a moonlighting professor from NYU, reviews the assignments and ongoing conversation. This is the University of the People, and it is real, not a thought experiment.
In today's economic climate, a college degree is becoming more and more valuable. At the same time, rising costs are making it harder for more and more people to attain. Shai Reshef is out to change this.
The 60-year-old entrepreneur spent over two decades in for-profit education, first as CEO of the Kidum Group, an Israeli test-preparation company, and then as the founding chair of KIT e-learning, the first online university outside the United States. In the early 2000s, while managing hundreds of programs for hundreds of thousands of students from kindergarten to the university level, Reshef came to appreciate the reach and flexibility of online learning. Yet he "had this feeling that something was missing." Virtual schooling was not as accessible to everyone as it could be.
Soon Reshef "realized that everything that had made the previous university I owned so expensive is actually available for free. There's open-source technology. There's content that professors produce and put on the Internet for everyone to use. There's this culture of social networking where people share, teach, and learn from each other. I told myself, 'Wow. All I need to do is put it all together and create a university.' So I did."
That was six years ago. Now Reshef's dream has blossomed into the University of the People: the first tuition-free, accredited, nonprofit, online higher educator of its kind. It has enrolled over 2,000 students from 150 different countries and graduated its first crop of bachelor's students last April.
The university has only three requirements for admission: a high-school diploma, English proficiency, and Internet access. There are currently two subject tracks offered—business administration and computer science—with the choice of an associate or bachelor's degree in either. A basic liberal-arts curriculum is required, then students go deep into their practical specialty. Courses are designed by an advisory board of academics and practitioners, and all study materials are freely accessible through the Open Educational Resources system that organizes learning material on the Internet. The only time students reach into their wallets is for each course's $100 exam fee, with scholarships available in cases of true need. By the time graduation rolls around, the average bachelor's student will have taken 40 courses and paid $4,000. Most students complete their degree within four to seven years, usually while working full-time.
Each course enrolls between 20 and 30 students, often from as many different countries. In addition to individual assignments, active discussion is required. The instructor will pose a question for the week, and the students will write substantive responses and comment on each other's submissions. Instead of strolling in from dorms and dining halls, students log in from city libraries and refugee camps, many of them between hours spent at jobs or raising kids. "Our students are unique in their motivation," Reshef says. "For most of them, we're the alternative where there is no other alternative."
The people of University of the People
Twenty-one years old and a first-year computer science student, Clarice Bayne learned resilience at an early age. At 18 she moved out of her family's home in Washington state to escape some unstable dynamics, and got two jobs to pay the rent and finance what education she could find in the area. The choice was a wise one emotionally, but the financial burden was overwhelming. Bayne had to pay for every thousand-dollar class out of pocket as the community college considered her a dependent on parents. The investment brought disappointing returns.
"For the first six classes, I didn't learn anything new," she says. "It was a recap of high school. All my friends urged me to just push through it, but education is one of those things I don't want to push through. If I'm not learning anything, some certificate saying 'She knows what she's doing' just isn't worth it."
Then she was hit by a series of health scares that required multiple surgeries, took her out of the workforce, and left her with $20,000 of medical bills that sent her back to work for long hours. School slipped off the table.
Then, just as she began to get her bearings again, her brother mentioned the University of the People. Bayne watched Reshef's TED talk and "fell in love" with the idea. She applied and enrolled in the fall of 2014. One year in, she raves about her experience.
"I'd pay full price for this education," she says. "I've learned so many things I never would have imagined learning. The instructors are really nice and get back to you in a timely manner. You're viewed as a person instead of a piece of paper. I can't B.S. things like I used to—it's a lot more difficult than I expected."
She's also found that the benefits extend beyond the curriculum. "I'm not only learning educational things, but learning things about myself, about my peers, and different viewpoints that I would have never imagined. I'm learning a whole different side of compassion."
UoPeople has attracted first-generation college students, single moms in Appalachia, undocumented immigrants, Rwandan orphans, Haitian earthquake survivors, and a Syrian named Wael Ahdali whose Skype tagline reads "in the land of blood and tears."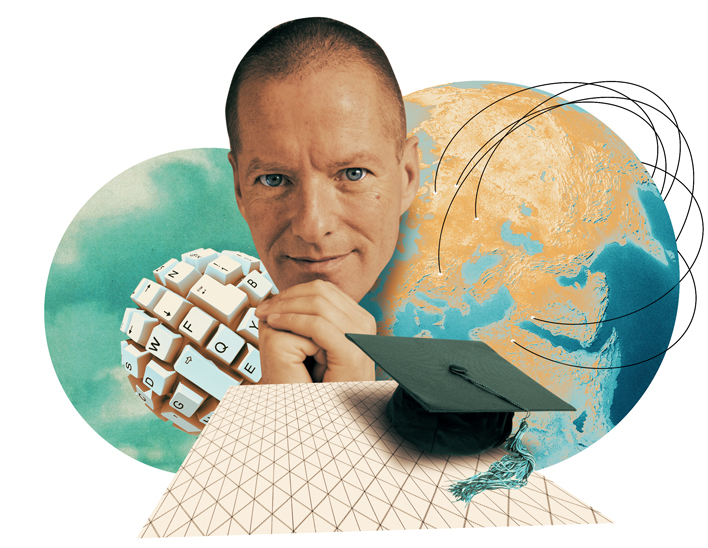 "When you give these people the opportunity, they grab it as hard as they can, as strong as they can, and they push it all the way in order to succeed," says Reshef.
Take Jacob Ousi, a Ugandan refugee now living in Konya, Turkey. Ousi grew up in a family of 11 and had to drop in and out of school because of political instability. He won a scholarship to attend a college in west London but eventually had to return to Uganda to care for his mother and siblings. When he lost his job there, he knew he couldn't climb the economic ladder without a degree. A friend told him about University of the People, but he was skeptical. The bit about free tuition sounded off.
"The universities that are free—they're not exactly admirable," he says. "When I told my mother about University of the People, she was like, 'What? We know Oxford. What is this place?'"
But when he lost another job, he "became willing to try anything. I realized that without a degree, I'm not going anywhere. Is there a university that can let me leave Uganda, that can offer an opportunity to move as well as study, without holding me accountable to a rigid schedule?"
Ousi went to Turkey to find work and enrolled in University of the People. He lives amid refugees spinning in from war zones in Syria, Iran, and Iraq. It's been tough finding a place to settle. Sometimes he has to join class discussions from free hotspots on the street because he can't afford to renew the Internet connection in cafés. But "these moments will be worthwhile in the future when my struggle for higher education is finally over," he says.
And as much as he wants his degree, in some ways the camaraderie and intangible benefits are as meaningful to him as the coursework. "University of the People is an inspiration to me," he says. "It's not just a solution to my problems. It offers a broad spectrum of ideas."
"The best thing I've gotten is being able to share with others interactively," he goes on. "When you check in to the discussion forum, you get respect, you get the feedback. You feel really good about yourself. You say, if you can do this, if you can understand that, so can I. It gives you the fuel to go on."
Ahdali in Damascus says the often wide-ranging discussions can be as valuable as the required readings. "The system here in Syria would never discuss what's actually going on—everything we learn would be outdated. But at UoPeople, we have debates—everyone sees stuff from their own view. It's a very unique experience, seeing how people from other places think and imagine things."
Supporters of the people
UoPeople styles itself as the un-MOOC (the massive open online courses that some universities and teachers popped onto the Internet starting a few years ago). For one thing, it attracts a different demographic from those large, less structured, much looser, à la carte class offerings. A big proportion of the users of many popular MOOCs, states Reshef, already have secondary or advanced degrees. Because users are generally seeking personal enrichment, not practical advancement, the rate at which participants complete the courses is very low. By contrast, "our students do not come with a previous academic degree, yet 95 percent of them complete each course. They realize this is the last opportunity to get out of the situation that they're in, so they'll do anything in order to succeed."
In addition, UoPeople's relatively low-tech, text-based materials and forums make them far more accessible to students without the bandwidth to watch video lectures (though there are videos available as optional supplements). And its discussions and weekly assignments promote engaged learning and active participation, not passive watching.
Another difference is that UoPeople is intimate, not massive. Its high level of interactivity relies on heavy volunteer labor from professors and administrators. So far 3,000 volunteers have signed up to teach a class, proctor an exam, or assist in some other capacity. All faculty and advisers have tenure-track or emeritus status elsewhere. Paid backups stand at the ready but have not yet proven necessary. "Hardly any of our volunteers quit," says Reshef. "We are very lucky—people love what they're doing."
Their testimonies confirm this. "What Shai is trying to do is use a combination of technology and sheer inventiveness to democratize education," says Stephan Chambers, chairman of the Skoll Centre for Social Entrepreneurship and a member of UoPeople's advisory board. "You'd struggle to find someone who'd argue that education is a waste of time. Or that it is adequately distributed around the planet….  Here's Shai with a creative and energetic attempt to really do something about this."
Another supporter, venture capitalist Albert Wenger, sees in UoPeople "the potential for very profound change," citing its accessibility to anyone, its aim to become a self-sustaining enterprise, and its curricular focus on practical business knowledge. Its $1.5 million budget goes mostly toward a few paid staffers, IT, and other modest administrative costs. Reshef believes the $100 exam fees will make UoPeople operationally sustainable when it reaches 4,000 students, expected to happen in 2016. After that point he expects it to have a surplus, which will be allocated toward student scholarships and a greater investment in academic programming.
Additional donors include the Bill & Melinda Gates Foundation, the Ewing Marion Kauffman Foundation, the Carnegie Corporation, Chris Anderson and Jacqueline Novogratz, the William & Flora Hewlett Foundation, and many more, including corporate supporters like Microsoft, Google, and Hewlett-Packard. Some of the corporations are providing professional mentorships along with financial support. Academic institutions such as Yale and a council of administrators from top universities worldwide (which includes people like the chancellor of UC-Berkeley and the presidents emeritus of Barnard, Rockefeller University, and George Washington University) provide counsel and in-kind support.
Pfizer has given funding to develop a health- sciences program that will become a third major alongside business and computer science. That will present new challenges—much of the vital training in health work cannot be done at a computer. Reshef's team is exploring regional partnerships that will allow students to get the lab and clinical experience they need.
"The first time I saw Shai describe his university," says NYU president John Sexton, "a technology enthusiast who was moderating the panel exclaimed, 'You are the future!' Much to his credit, Shai said, 'No, I hope I'm not the future. University of the People is simply the source of hope for those in Haiti or Africa or India for whom the alternative is nothing.'"
This kind of self-awareness struck Sexton, who has thought hard about the pitfalls of online education. Admiring Reshef's prudence, Sexton agreed to chair his board. "I believe this is a model we in the higher-ed community can use to discover talent and draw students to the contexts where they can succeed most," he says.
Sexton sees UoPeople as a bridge to the millions of people who are qualified but unable to access a school like NYU. "We can use University of the People as a search engine for talent. What I want to do is find people who do well in the courses their freshman year. Then I'll put NYU on the table with some sort of offer to them to come to our campus. Hopefully we can get lots of universities on the table."
A Haitian man already found his way to NYU's Abu Dhabi campus from UoPeople's pool. Reshef had secured 250 scholarships from the Clinton Global Initiative, which he committed to Haiti earthquake survivors. This student earned straight A's his first year at UoPeople, won a scholarship to NYU, and is now studying in Abu Dhabi. After graduation that student intends to return to Haiti to start a boot camp training IT professionals.
"With his grades, graduating from NYU, he can go anywhere in the world, study anywhere, work anywhere," says Reshef. "But he wants to give back. I love him, what can I say?"
Commencement
Whether they proceed to further studies or out into the world, University of the People aims to propel its students forward. The dozens of students I interviewed described in very concrete terms how much they're learning. Faculty from some of the most prestigious universities often find their interactions with UoPeople students to be the highlight of their week. Corporate partners laud the " twenty-first-century skills" that UoPeople fosters.
One trial for the short-term will be to maintain the volunteer enthusiasm that makes the whole operation tick. Reshef wants to challenge common assumptions about how much a quality education should cost, but his business model takes for granted a large supply of donated labor. Will the mission that draws today's volunteers be sustainable if the student population expands beyond the most disadvantaged? Reaching out to appropriate beneficiaries has also proven difficult—there are no central channels for word-of-mouth testimonials to reach the villages, refugee camps, and post-disaster zones that hold the people the university is particularly eager to serve. Finally, there is the question of impact. The net economic benefit of the institution remains unknown, as do the futures of its students. The first class has just graduated, so results are still forthcoming.
For now, University of the People is doing something intriguing and bold. Reshef marvels at "the goodwill of the world," while wishing that "we could run much faster and much bigger. It will happen, and we're still running fast enough. But I do wish the world would come alongside and help us run faster."
"We always overestimate the change that will occur in the next two years, and underestimate the change that will occur in the next ten," Bill Gates once said. If higher education is to shake off its structural inertia and make itself more affordable, more practical, more effective and efficient, something must light the fuse for change. A betting funder might keep an eye on University of the People.
Anne Snyder is a writer in Houston, Texas.