Tom Kees admits that he isn't particularly into classical music. He loves golf, food, and wine enough to host a weekly radio show on those three joys. Music he merely likes. Yet every four years, he and his wife Becky move their dining-room table and chairs into the garage, put aside all their normal daily rhythms, and welcome a stranger and a huge, noisy Steinway piano into their home.
They are loyal volunteers for the internationally renowned Cliburn piano competition. "Holy moly. You're just stunned that they can remember so many notes," says Tom. "It's like watching the Olympics."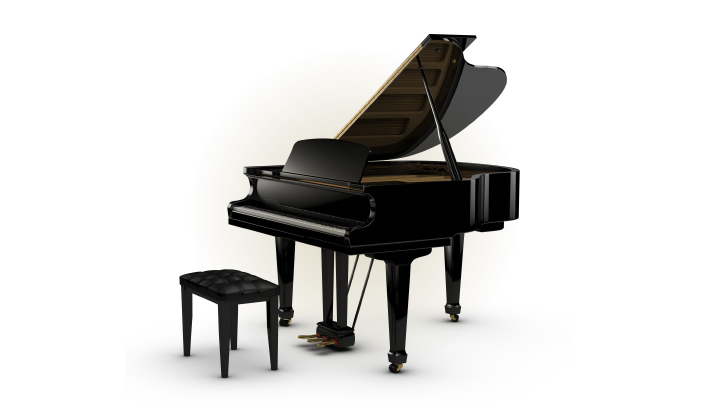 Becky is a seventh-generation Texan, and while working in the insurance business she took on the Cliburn competition as one of her clients. (Gather thousands of people together, and accidents will happen.) In a business meeting, Becky asked how she could help the organization personally. The staff jumped. She was signed up as an artist host.
In 2009, she and Tom housed and looked after a competitor who traveled all the way from South Korea to take part in the Cliburn. In 2013, they hosted another competitor, from China. Both of these guests did extraordinarily well in the quadrennial battle of 30 of the most promising young pianists in the world, so the joke was that something in the water at their castle was producing finalists. In 2017 they planned to take a break.
But when another family pulled out, Tom and Becky ended up welcoming to their home Kenny Broberg, a 23-year-old Minnesotan who was one of four competitors in the Cliburn play-off hailing from the U.S. After meeting their rescue beagle Piper, Kenny settled in to prepare for the grueling 17-day competition.
There are arguably four piano competitions that stand at the top of international contests in music. There's the Tchaikovsky in Moscow, the Chopin in Warsaw, the Leeds in Britain. The fourth is in Fort Worth, Texas: the Cliburn. And if you excel at the Cliburn, your life will be changed.
The competition was started in the early 1960s by the local Piano Teachers Forum to honor hometown hero Van Cliburn and the music he loved. Lanky and smiling, the curly-haired blond had taken the world by storm in 1958 when he won the first-ever Tchaikovsky competition in Moscow. Conceived to showcase Soviet artistic superiority, the Tchaikovsky winner that year was supposed to be Lev Vlassenko of the USSR. The very last scenario anyone envisioned was an American winning this battle deep in Cold War Russia. But in one of those electric occasions that happen in live music, Cliburn emerged as the overwhelming crowd and jury favorite. With special permission from Khrushchev, he was awarded first place, and became known around the world as an "American Sputnik."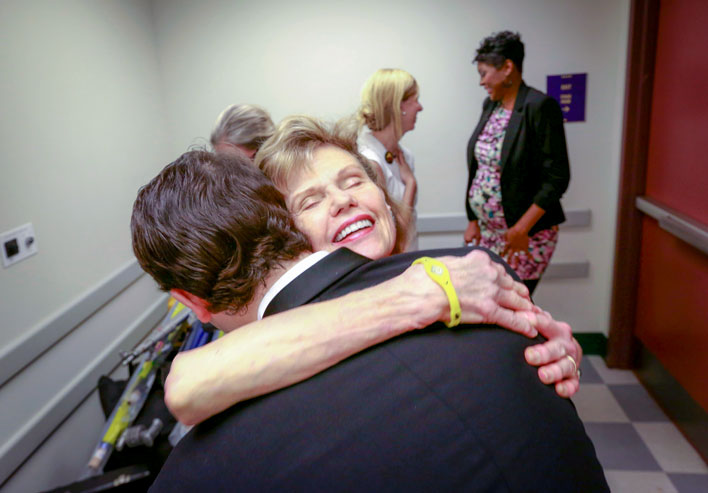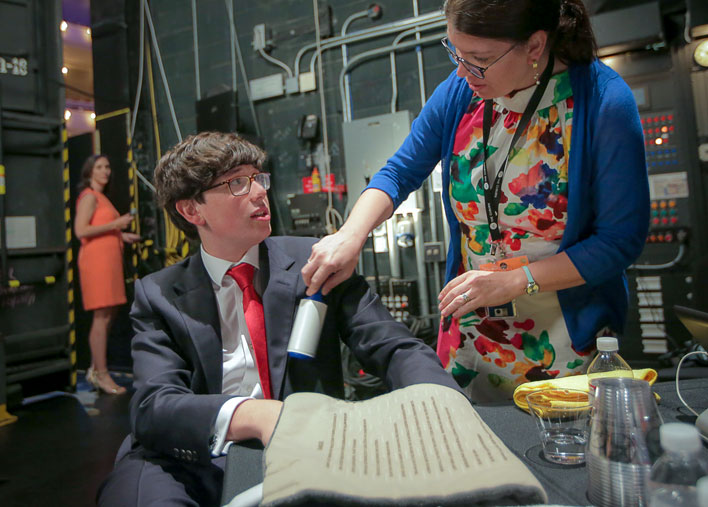 Hugs, lint rollers, snacks, high-fives: upwards of 1,200 volunteers give the lengthy competition a soaring humanity.
Back in the U.S., Van was welcomed home with a New York City ticker-tape parade fit for a war hero. He snagged a record deal with RCA and sold over 3 million discs. A winsome cultural ambassador, he visited the USSR several times more, and touted the power of music to forge relationships across cultures in conflict. His performing career included recitals for every President from Truman to Obama. All this time, he lived in Fort Worth, a town affectionately described by locals as "Cowtown."
Today the Cliburn competition has a few key elements. First, it is held every four years, like the Olympiads. The participants must be 18 to 30 years old, and only 30 competitors are chosen to come to Texas and be judged by a nine-person jury of influential musicians and educators. There are four rounds—the first two requiring a 45-minute recital, the next requiring 60 minutes of repertoire and a Mozart concerto, and the final round consisting of a piano quintet and a concerto performed with a full orchestra.
Sprinkled within the competition are specific repertoire requirements that test the pianist's competencies—perform a new work, play in an ensemble, interpret Mozart. Bronze, silver, and gold medalists are selected at the end.
The Cliburn offers its winners much more than just prize money. Unlike other competitions, it gives each medalist three years of career management, with intentions to launch them into the stratosphere of classical performance. A New York publicity firm and a boutique agency in London are hired to promote their concerts. In the year after the Cliburn, medalists often perform up to 150 times around the world.
Yekwon Sunwoo, a competitor from South Korea, found out about the competition a decade ago. Van Cliburn became "one of my favorite musicians to listen to, almost like an idol," he says. Part of the event's attractiveness, he thinks, is "to have a concert career right from the beginning if you win first prize." Another part of the Cliburn's magic, though, is more personal—it's the human touch that helps competitors operating under great pressure to rise to their highest powers.
Home is where the Steinway is
Kenny Broberg practices from six to seven hours a day. Often until late in the night. Sometimes at 3:00 a.m.
The piano in Tom and Becky's house is four steps from their guest's bedroom door. He talks on the phone often with his teacher, Stanislav "Stasig" Ioudenitch, who was a Cliburn gold-medal winner in 2001. Stasig values regimented practice. Kenny "would take certain sections and just beat it, beat it, beat it," says Tom. Pianists memorize their pieces through intensive repetition, burying muscle memory deep in the fibers of their fingers. Sometimes Tom and Becky's house resembled a music box stuck on a three-second loop.
All of the Cliburn hosts like Tom and Becky are expected to make sure their guest has a private room to sleep in, a private bathroom, and unfettered access to the piano that Steinway puts in their home. Sometimes there are parents or spouses who travel with the competitor and must be accommodated. Hosts make sure the participant is fed, and shows up where expected. "Darn near every day," says Tom, they drive their artist somewhere.
The couple learn quickly that Kenny could eat Mexican food for every meal, and has a frequent hankering for In-N-Out burgers. He prefers Coke to wine. He is visibly bothered if the keys of the piano aren't spotless.
And his hosts become more and more interested. They attend every performance. As "his Texas mom and dad," they begin to identify emotionally with Kenny's rollercoaster ride through the competition.
From the contest's very inception, hosting has been this intimate. The Piano Teachers Forum was the entity that originally established the Cliburn as an independent 501c3, but it was the Junior League of Fort Worth that supplied the early volunteer corps—not only scads of helpers at the performing venues and social activities, but the crucial artist hosts. Hosting competitors in private homes is an unusual practice at international competitions. Impersonal hotels are the rule. It has come to be one of the distinctive calling cards of the Cliburn. These family involvements make enough of an impression on participants that some have decided to make Fort Worth their new residence after the competition.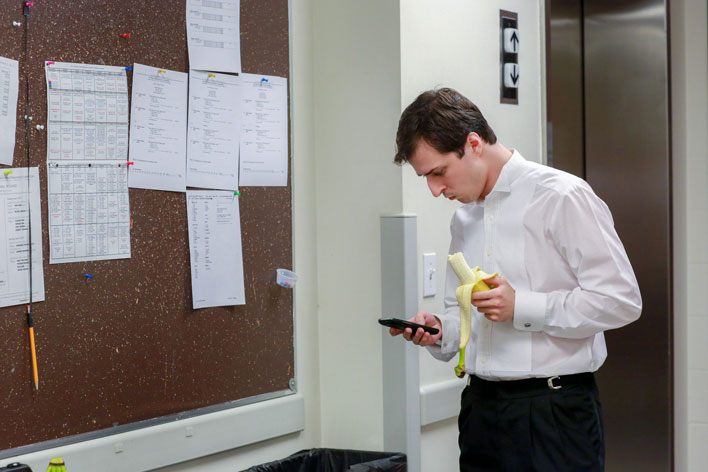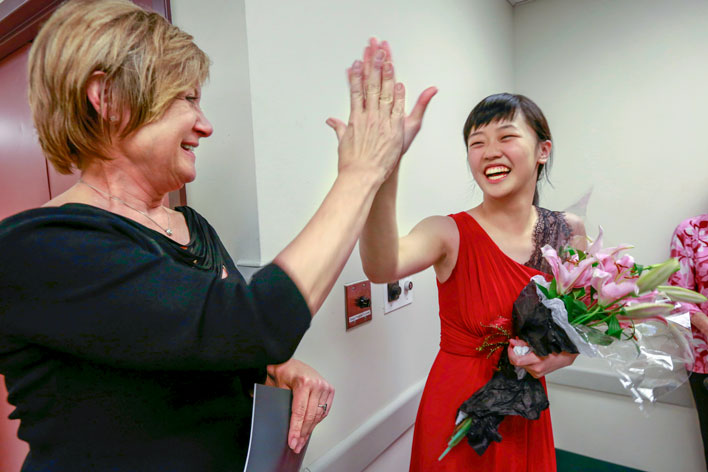 Thirty host families take responsibility for feeding, housing, and transporting each competitor, providing a dose of Texan hospitality and familial support.
Today the 30 host families come from all over Fort Worth and even Dallas, some living up to 30 miles away. The homes and hosts vary. Kay Howell, who coordinates the volunteers, says that "we have everything from little condos to huge houses." The main criteria are enough space for a Steinway grand, and sufficient time and energy to provide a healthy dose of Texan hospitality. "It's not a hotel," says volunteer leader Adelaide Leavens. "You are their mother…. You're providing emotional support, transportation, any social responsibilities."
And the hosts are just the tip of the iceberg. Upwards of 1,200 volunteers participate during the course of the competition. There are volunteers who pick up jurors from the airport, "backstage mothers" who scurry to provide bananas and water and whatever else performers need, an entertainment committee in charge of parties and social events, a production team to execute the wishes of the artistic staff, young "runners" who carry messages around town. There are gift-shop workers, people in charge of flower arrangements, volunteers who set up or clean after events, a group that makes hundreds of welcome bags, a publicity team that hangs banners all around downtown after they are painted by schoolchildren. Young professionals are assigned to each competitor for peer companionship and social navigation through Fort Worth. Other people donate food for all of these volunteers. The Cliburn is basically "feeding people on a 24-hour basis for three and a half weeks," says Howell. Some volunteers "just literally give us their credit-card number to purchase meals."
On Jacques Marquis's second day on the job as Cliburn CEO, he walked to Starbucks to get a cup of coffee. His thick French-Canadian accent inspired the barista to ask where he was from and what he does. "I work for the Cliburn," he said. "Oh, the Cliburn! My mom's a volunteer," she effused.
"The Cliburn is precious to Fort Worth," says Marquis. "Because of the volunteer base. Because of Van Cliburn himself." After years of sweat equity "we have parents who were involved, and grandparents, and now the kids." Family hosting creates an "extremely intimate relationship…the people who host these candidates, they get the Cliburn logo tattooed on themselves forever." 
For both Yekwon Sunwoo (above) and Kenny Broberg (below), a real home setting—including charitable dogs!—was an aid to focusing and de-stressing that brought out optimal performance.
Mass-marketing music
Tom is driving Kenny to an elementary school. It's the second day of Kenny's stay, and he's been asked to perform for an assembly of fourth and fifth graders. Kenny is still in college and hasn't toured, and he's never had an audience like this before. Tom, meanwhile, has never heard Kenny play a live concert.
The event goes well. "The kids were going nuts," says Tom. "They were taking pictures. They had posters of him." Back at home, Tom takes Becky aside. "I think this guy might go far."
Over the Cliburn's four-year cycle, year one is focused on promoting the medalists from the previous season's competition. In year two, the city hosts the Junior Competition, aimed at pianists age 13 to 17. Year three brings a spirited amateur competition for pianists over 35 who do not play professionally—accountants, computer programmers, folks who have day jobs but love music and play with great talent, and are willing to take vacation days to compete. Year four is the international battle for the top crown. Then the cycle starts again.
Layered onto this are ongoing Cliburn concerts throughout the year that bring alumni and other outstanding musicians to Fort Worth to play at the Modern Art Museum, Bass Hall, the Kimbell, smaller venues like restaurants, or outside in the downtown plaza known as Sundance Square. The organization arranges up to 300 concerts at schools in the DFW metro area each year.
"Our mandate is to expose people to a live musical experience," says Marquis. "Nobody will say, 'Oh I would like to learn the piano,' if they've never seen a piano played." Drawing in audiences for classical music is a process, Marquis believes, a continuum. A person not familiar with classical music is not going to walk by the Bass performance hall and say, "Oh there's a piano concert tonight, let's do it." But that person may stroll through Sundance Square while someone is playing and be intrigued. There are many on-ramps, and the Cliburn organization wields strong promotion and marketing tools to get people interested.
The total four-year budget for each cycle is now around $18 million. The peak competition year costs over $7 million, with each of the other years at close to $4 million. About a third of the Cliburn's budget come from earned revenue. One percent comes from an NEA grant. The remaining two thirds is covered by private donations from individuals, foundations, and corporations. Of course the event would be much more expensive, and less distinctive, if it didn't have its cadre of 1,200 volunteers as its backbone.
A climax, and a new beginning
Piper the beagle has found a new favorite spot in his house: sitting underneath Kenny's piano bench. As the musician practices, he periodically lets one hand dip down to scratch the back of a beagle ear. Relaxing between performances is almost as important as peaking on stage.
Even when the normally fastidious artist notices that the keys on the piano have dog hairs on them, he somehow doesn't mind. Before long, Becky gives him a homemade good-luck charm to carry around: a plastic baggie of Piper's hair. It seems to work, because Kenny makes it to the final round.
In between practice for the competition and phone calls with Stasig, Kenny's mind goes back to the elementary-school students he met on his second day in Fort Worth. He wants them to come to Bass Hall and hear his final performance. A neighbor who's on the school board knows just what to do. He charters a bus to pick up any kids and parents who want to attend.
Inside Bass Hall (named for Fort Worth philanthropists Nancy Lee and Perry R. Bass), Kenny's girlfriend is now in the audience, and so is his dad. As is Stasig. Of course Tom and Becky are also there, along with "half of Fort Worth" according to Tom. The couple look on excitedly as their guest strolls up to the piano, to an audience reception Kenny later describes as "pretty raucous." Tom notices that the player's confidence has increased with each round.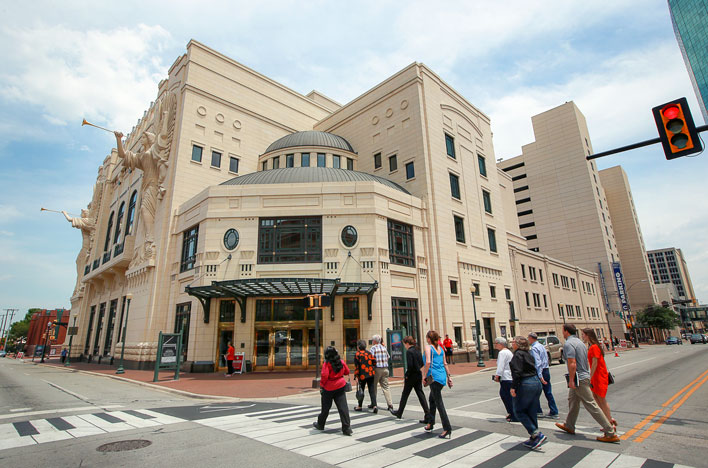 Ebony and ivory keys in the road lead to Bass Hall, the coveted performance space for the competition, which was built entirely with donated funds, including a lead gift from Fort Worth's Bass family.
Across the performance hall, first-time hosts Kay and George Duggan are sitting just as eagerly and anxiously, in support of their competition guest Yekwon Sunwoo. George describes himself as "more of a classic rock kind of guy," but the hosting experience and exposure to classical music has "opened up my senses." The Duggans invited their neighbors to the concert, and folks have shown up in mass support. Their 26-year-old daughter is so nervous for Yekwon that she refuses to enter the recital hall. She's decided to watch from Sundance Square, where the event is projected on a large screen.
During the competition the pianists are asked to sit together in the front as results are announced for each round. For the final results, though, they are given the privilege of sitting next to their host families, for moral support. Breaths are held awaiting to hear who has won the Nancy Lee and Perry R. Bass gold medal.
When the overall winners are announced after this final concert, the Duggans' daughter screams so piercingly that the police come over to check on her. Yekwon has won gold. And Kenny will take home the silver medal. A jubilee ensues around each of the three winners. Players make their way to the after-party at a café across the street. The 2017 International Cliburn Competition is over. For Yekwon and Kenny, the work of building their performance careers is about to accelerate. 
The world is watching
Months later, both Kenny and Yekwon spend most of their time on the road. Every few days Yekwon plays in some U.S. or overseas city. He mails the Duggans a German newspaper splashed with the photo of him embracing Kay when he was announced the gold medalist.
Kenny, meanwhile, recently got to substitute for celebrated pianist André Watts in a performance with the Minnesota Orchestra, in his hometown. He's also been back to that elementary school to perform again for the kids. He feels like he's always heading to or from the airport. "I'd planned on getting performances like this, but I thought it was a couple years off. It normally takes a long time to develop a major career," he notes.
Tom and Becky did "pretty much everything" for him during the competition, Kenny continues. "I would spend all my time at their house and leave just to go to the hall and perform, then come back and hang out with them and practice." Yekwon describes a similar experience: The host families "do literally everything, so you can perform well. Basically you become their son or daughter."
An existential cloud of worry hangs over classical music today. Leaders wonder how they will reach the next generation. How can they cultivate a taste for something that requires repeated exposure, patience, attention?
When it comes to making classical music relevant, interesting, and approachable, the Cliburn stands out. The organization has only 14 staff members. Most years it operates on just a $4 million budget. Yet you can watch a Cliburn performance on Medici TV in France, or follow a Korean reality TV show about Yekwon. There are Cliburn competitors performing all over Asia. At a festival in February, a Thursday-night performance of Russian music was sold out, with guests sitting in the aisles. Outside Bass performance hall, the city of Fort Worth has painted piano keys across the street intersection. Classical piano is not a dying relic of the past in Cowtown, or the hundreds of other towns that now echo with performances and performers launched from here.
The Cliburn has achieved this level of mind-capture and emotional penetration thanks to its donors—the many locals who give money, philanthropies like the Sid W. Richardson Foundation, and particularly those who give time. It's the volunteers who have made the Cliburn competition something special, something uniquely Fort Worth, something that would be prohibitively expensive to replicate with paid staff. They've turned a classical music competition into a Super Bowl experience.
In the process, thousands of people have learned to experience classical music live, often for the first time. And it is more than just the power of music that fuels the Cliburn competition. Love of a particular place—Fort Worth—and a particular person—Van Cliburn—are the other potent sources of energy.
Kay Duggan will never forget the one time she saw Van Cliburn in person. "He had such pride about Texas and where he came from, and never forgot that." That loyalty and love for a hometown is reciprocated today by thousands of north Texans. As Marquis at times shouts out when he introduces concerts, his hands in the air and a smile on his face: "We do it for Van!" 
Ashley May is managing editor of Philanthropy.