Memphis
Ecstatic children shriek with delight, piercing the summer humidity. Around a bend in a curving arbor, a playground comes into view. Several dozen kids scurry about, ignoring the summer heat. The first play area features a 15-foot slide, a tower, and a hand-operated fountain. From there, a footpath winds toward a huge bowl of slides and rope ladders, and then loops away to another play circle, where kids swing from maypoles. Curve again, and you see Swiss Family Robinson–style treehouses connected by a suspended rope mesh.
The playground is one of the newest features at Shelby Farms Park, one of America's largest urban parks. Near the playground, but just inside the shade, chatty parents keep one eye on their kids. Past a stand of mature trees is Pine Lake, where a family unloads a cooler and starts to suspend a piñata. A pair of cyclists appears at a crest of a ridge opposite the lake. Did they arrive via the 6.5-mile Greenline trail that runs east from midtown Memphis—or north across a brand-new bike-pedestrian bridge?
From the bikers' vantage point, Shelby Farms opens up—a pastoral landscape of grassy hills, dotted by stands of poplars and magnolias. Windsurfers are out on Patriot Lake, and to the south, through the afternoon haze, mountain bikers crush the Wolf River trails. At the bottom of the hill, a herd of bison grazes contentedly.
The new playground, trails, and bridge are just the beginning of a transformation at Shelby Farms. It is possible because of a philanthropic innovation: putting public parks under nonprofit, private management—and largely operating them with a mixture of public and private funds. It's a public-private partnership, but all the energy is on the private side of the equation, and all across the country, the results are some of the most amazing urban parks America has ever seen.
These public-private partnerships take shape in three situations. In some cities, parks are decent but suffer from benign neglect; private donors and managers bring a burst of energy to improve the park and match its promise. In other cities, once-great parks have declined—or been destroyed—to the point that they are beyond rescue unless private initiative takes over. And many fast-growing American cities don't have enough parkland—so private donors furnish the imagination to create new parks from scratch.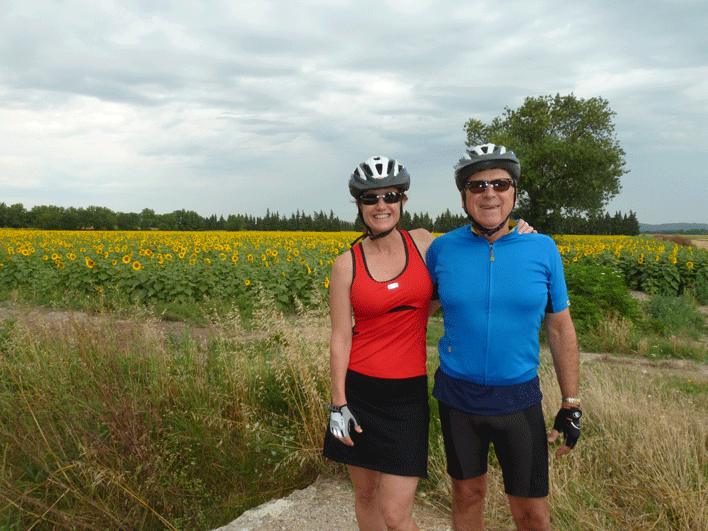 Pitt and Barbara Hyde on one of their frequent bike rides in Shelby Farms Park. Photo courtesy of the Hyde Family Foundations.
Improving Underperformers
Pitt and Barbara Hyde live just a few minutes from the entrance to Shelby Farms Park, in a leafy part of Memphis. Barbara opens the door. Pitt, the founder of AutoZone, one of Memphis' largest hometown companies, joins us in the living room. Over iced tea, we talk about their support for public parks.
Located on 4,500 acres in the center of Shelby County—Tennessee's most populous—the park had been through previous incarnations as a failed utopian commune (in the 19th century) and a penal farm (in the 20th). Starting in the 1970s, Shelby County shut down most of the penal farm operations (although the county prison remains located on the edge of the park) and began allowing recreational use. But it remained something of a hodgepodge—experimental fields here, an RV park there, an expo center at one end. A freeway shoots through the middle.
Improvements were generally slapdash. "They had to come up with dirt to cover the landfill that's nearby, and so they said, 'Oh, we'll create a lake,'" Pitt says about Patriot Lake, the park's accidental centerpiece. "It's a popular spot for biking, walking, and running, but unfortunately the lake leaks quite a bit." Despite modest resources from the county, Shelby Farms took shape. The leaking lake became a spot for sailing. Along the Wolf River, a tributary of the Mississippi that borders the park to the south, biking and hiking trails went in. Stands of trees grew. In the northern part of the park, Pine Lake turned into a favorite picnic spot.
In the late 1990s, a few local activists and philanthropists took notice. "Very little was spent on it, and it was maintained pretty much in its natural state," Pitt says. "There had been proposals to develop parts of it, and we were concerned that the park could be sold off, one piece at a time." The possibility that Shelby Farms might lose its pastoral character seemed like a step backward to the Hydes.
"Every major city in the country is interested in improving its green, recreational, outdoor areas," Pitt explains. "We were struck by the fact that we had this huge asset just sitting there. Most cities have had to spend a fortune assembling park space! The stage was set."
Conserving Shelby Farms wasn't without its opponents, but enthusiasm for the idea grew. "It wasn't just a handful of influential people saying, 'Let's do a park,' Barbara explains. "It became clear that this was a park that was going to serve a whole lot more people, a lot of strong fans and advocates who supported it." The county protected the park from development, and, in 2007, awarded a management contract for the new park to the private, nonprofit Shelby Farms Park Conservancy. With the park protected by a conservancy, its board of directors commissioned a master plan, with Barbara leading the volunteer effort. In 2008, the Hydes made a $20 million challenge grant to jumpstart the initiative. It was the couple's largest-ever single gift.
"We took seriously the public ownership of the park, and did a good job of getting public input as to what the park should look like," says Barbara. "We developed an international competition to bring the best talent to this work. We had the freedom to choose a design team with a strong track record. This outside expertise led us to a world-class master plan."
The first part of that plan is moving toward completion. "You've seen some of the early, new projects—the bridge, the playground, and the Greenline," Barbara says. "A lot of emphasis in the master plan is around creating more access for everyone, different neighborhoods all around the park, more connectivity within the park." It seems like a small point, but the Hydes insist that the park become easily accessible for all kinds of people with all kinds of transportation.
"One of the things that's so fabulous about the park is its location in the center of the county," says Barbara. "When coupled with the Shelby Farms Greenline, it truly connects with neighborhoods that reflect the diversity of Memphis. On any visit to the park, one can witness what a unifying role it plays in our community." And better access has paid off in attendance, which has tripled since the conservancy took over, according to executive director Laura Adams.
The next big step, which will build on the improvements in access, is to double the size of Patriot Lake. "The doubling of Patriot Lake allows us to develop a 300-acre 'heart of the park.' The lake will become the park's centerpiece, but with lots of amenities around it," Barbara explains.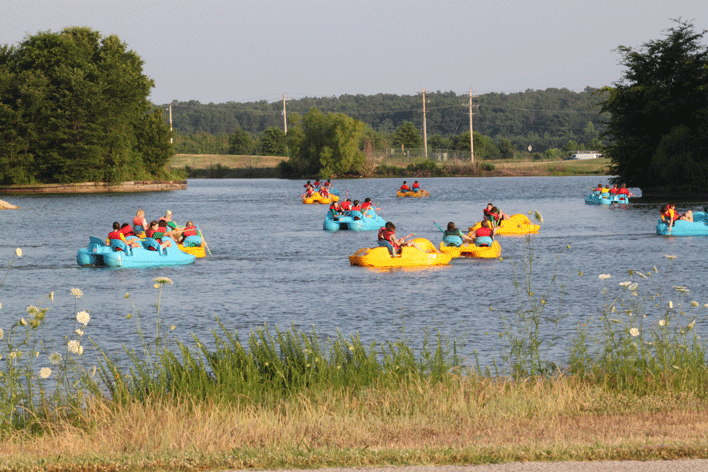 Paddleboaters ply Patriot Lake in Shelby Farms Park.
"It's going to be a much more sustainable lake," Pitt adds. "And, of course, by it increasing in size, you're going to have many more recreational opportunities on the water—sailing, rowing, those kinds of things." The plans also call for the construction of a water park, an amphitheater with a floating stage, an event rental space, and a boathouse.
"The north side of the lake will have a lot of active amenities," says Barbara, "and then the south side of the lake is going to have cypress groves and be more natural. There will be trails and loops for biking and walking around the lake and connecting to the rest of the park. There will be amenities that generate revenue—the conservancy is thinking in new ways, and doing what the government wouldn't be able to do on its own. It's a great partnership."
Intervening in Broken Systems
Shelby Farms was an underperforming space that needed a lift from philanthropy to become a great park. But in New York City, Central Park needed more than a nudge. It needed to be rescued. It was trapped in a dysfunctional system—one that required a drastic intervention.
Starting in the 1960s, Central Park had begun a long, but preventable, decline. Once emerald lawns had been trampled to bare dirt. Changes in policing and homeless policy meant that bums and gangs dominated the park. Graffiti was everywhere. In the '70s, New York's fiscal crisis reduced the budget for routine maintenance, leaving Central Park's landmarks to break down under neglect and vandalism. And public-employee-union work rules strangled initiative among park workers.
"As a boy, I wasn't particularly aware of the condition of the park," says Richard Gilder, the founder of a brokerage firm and a leading philanthropist in New York City. He grew up around Central Park. "It was always playable. But it had started to fall into disrepair. Finally, I could see the dreadful condition of the park, and it was getting worse, not better." To do something—anything—Gilder teamed up with an unlikely partner.
"We both felt very strongly that Central Park needed some looking after," says hedge fund titan George Soros in a commemorative video. "We formed the Central Park Community Fund. This was my first attempt at philanthropy. Our outlook on life is quite different. He's a libertarian, and I'm much more of a government-interference type. Nevertheless, we got on very well."
In 1976, Gilder and Soros funded a study of how Central Park could be revived, calling for a private board and modern management. The idea went nowhere—at the time, many thought the park was beyond rescue. Then they met a young landscape planner named Elizabeth Barlow Rogers, whose Central Park Task Force was likewise struggling. In 1978, a newly elected Mayor Ed Koch took an interest in this handful of citizen-activists. To capitalize on their opportunity, Gilder and Rogers merged their organizations, creating the Central Park Conservancy in 1980. "You don't throw money at the problem," Rogers realized. "You throw management."
The Central Park Conservancy began slowly, re-sodding the Sheep Meadow and rebuilding the crumbling Belvedere Castle. With every successful project, the public could see that the conservancy was working. In the 1980s, the parks department remained what Gilder calls a "dominant partner," covering two-thirds of capital expenditures and supplying most of the park's staff.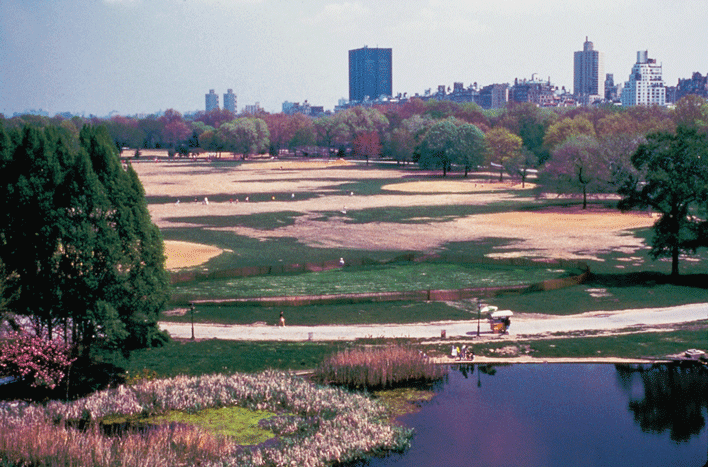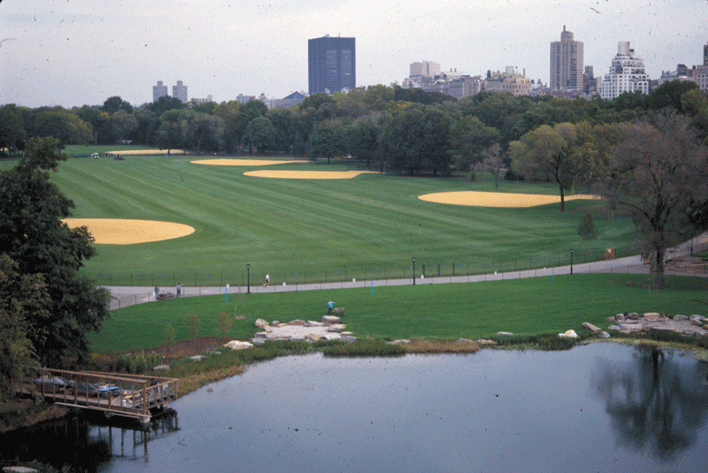 Central Park's Great Lawn, before (top) and after (bottom) its restoration.
The conservancy gradually took the driver's seat. It raised well over $100 million in the 1980s and '90s, including big gifts from Gilder and private equity leader Henry Kravis. Rogers used the funds to restore Harlem Meer and its boathouse, to re-plant and restore the Great Lawn, to renovate sports fields, and to finish the landscaping on the West Side. Meanwhile, city budget cuts in the early 1990s allowed the conservancy to fill in the gaps with new personnel. By 1997, the city was providing one-third of the park's budget and 30 percent of its workforce. The next year, New York rewarded the conservancy with a long-term contract to manage Central Park.
If you visit today, it's hard to imagine the Central Park Conservancy not in charge of the 843-acre park, which attracts 40 million visitors annually (up from 12 million in the early 1980s). Crime in the park has fallen by more than 90 percent. The conservancy employs 90 percent of the park's maintenance staff and provides 85 percent of its $42.4 million budget. The city pays an annual fee to the conservancy, but that's a small part of its budget. It is private money and private management that have made Central Park the outstanding place it is today—and helped the city around it to come alive.
Central Park's restoration is sometimes cited as a result of the Rudy Giuliani–era reforms that helped to revive New York City. Government, though, had little to do with the comeback. The conservancy pre-dates the Giuliani administration by more than a decade—indeed, the restoration of Central Park was a harbinger of New York's resilience and vitality, a leading indicator that it was possible for a broken city to thrive again, with the help of innovative and far-sighted philanthropists. "As the park goes, the city goes," explains conservancy president and CEO Douglas Blonsky.
The Central Park model for restoring parks spread quickly. In the wake of its success, landmark parks in Manhattan, Brooklyn, and the Bronx were all reclaimed from crime and decay and given new civic energy by private donors. "Dick Gilder made it possible for many other like-minded citizens to get involved in the life of public parks," says Adrian Benepe, who recently served as New York City Parks Commissioner and is now head of the Trust for Public Land. "Without Dick's participation, there would be no Prospect Park Alliance, there would be no Battery Conservancy, there wouldn't be a Friends of the High Line group creating the High Line."
Imagining New Parks
In some parts of the country—especially the fast-growing Sunbelt cities—rapid population growth has made big parks something of an afterthought. For these cities, the challenge isn't turning around existing parks. Rather, it's imagining new parks and, using the private conservatory model, building them from scratch.
"Houston, which has seen tremendous growth in the last 50 years, will only become more densely populated," says Nancy Kinder. Her husband, Rich Kinder, is chairman and CEO of Kinder Morgan, America's largest pipeline company. Together, they are generous donors in their adopted Texas hometown. "We feel a sense of urgency in preserving and developing green space."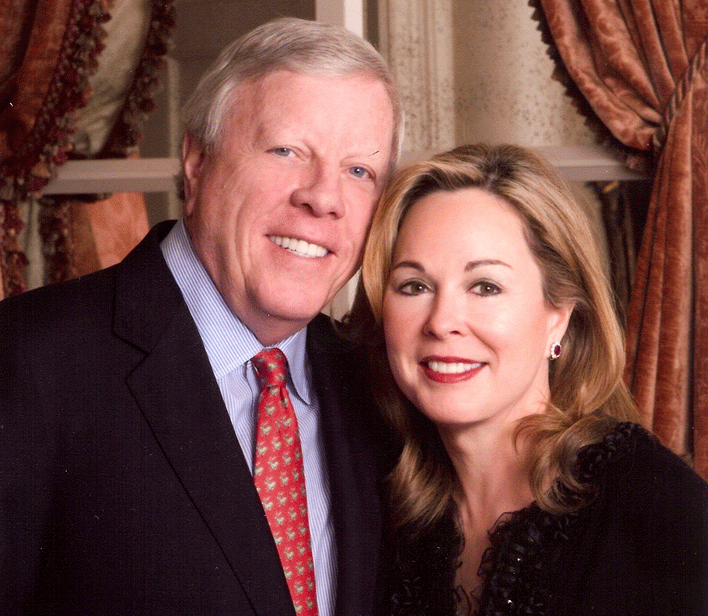 Rich and Nancy Kinder.
In the early 2000s, the Kinders had their eyes on creating a brand-new park on an undeveloped 12-acre tract in downtown Houston, near the convention center. "When Rich and I became involved with the Discovery Green project, we had a unique opportunity: to be part of a small group of like-minded donors who had a vision to create a type of park that did not exist in Houston," Nancy explains. "We knew early on that a public-private partnership was crucial, and research introduced us to similar success stories in other cities. The result is that Discovery Green significantly changed the way people think about parks in Houston." The park cost $125 million to purchase and develop, but it has generated a reported $500 million in adjacent real estate development.
Discovery Green was ideal for private management, says former director Guy Hagstette, for three reasons: because downtown parks require a higher level of management, because it was intended to serve as a spur to development, and because it would be "highly programmed." Since it opened in 2008, Discovery Green has logged over a million visitors per year and hosted more than 250 mostly free public events annually. "We love it," Nancy adds. "Our grandchildren love it. Our dogs love it. Rich, in particular, enjoys the jazz concerts that feature current students and alumni from the High School for the Performing and Visual Arts."
The Kinders turned next to Buffalo Bayou, the bayou that runs through the center of Houston to the Gulf of Mexico. The bayou, which is part of Houston's flood control system, has long featured trails, but—like Shelby Farms—the park space never reached its full potential. Nancy Kinder is excited: "Buffalo Bayou Park will redefine how Houstonians think of bayou park land. It's under construction now from Shepherd Drive to Sabine Street. This park will be iconic and beautiful and set the standard for other bayou park development throughout the region." Launched by the Kinders' $30 million gift, the $55 million project includes renovations to this stretch of Buffalo Bayou and will feature 10-foot-wide bike and pedestrian paths, two pedestrian bridges, water features, and art.
They're not stopping there. "Our most recent park investment has been in Emancipation Park, which was bought in 1872 for $800 by four former slaves and donated to the city in 1916 to become the oldest park in Houston," Kinder explains. "It is our hope in Houston to inspire like-minded individuals to donate to parks."
Vacant lots, drainage basins: philanthropists are uncovering entirely new places to create parks. In Dallas, a private conservancy is building Klyde Warren Park on decking placed over a freeway—connecting downtown to uptown via the Arts District. Manhattan is home to one of America's most celebrated unconventional new parks. On the Lower West Side, a group of private donors, inspired by the Central Park model, created a new park on an abandoned elevated railway colonized by wild grasses. Led by a $20 million gift from Diane von Fürstenburg and Barry Diller's family, the High Line has become a major Manhattan attraction since opening in 2009, providing a place for millions of annual visitors to stroll and jog amid the wild-feeling flora along a right-of-way that snakes through a once-gritty neighborhood of old industrial buildings.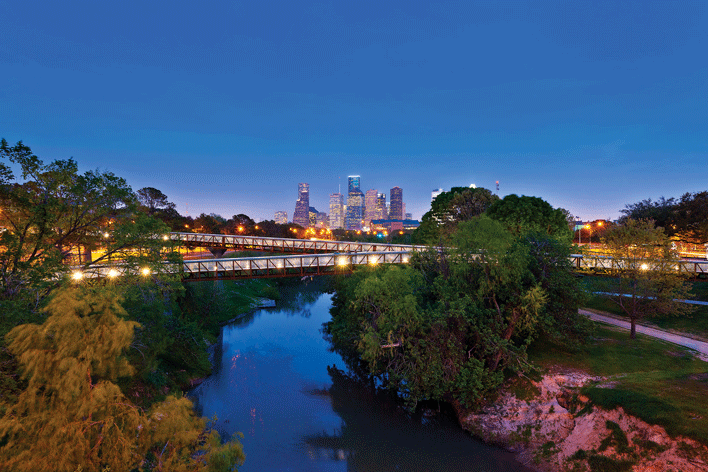 Downtown Houston from Buffalo Bayou Park. Photo by Geoff Lyon.
"The Next Great Park"
Everyone benefits from a landmark park—whether the great space is created via improvement, intervention, or new imagination. Kids get active; families gather outside; cities can focus on other priorities like emergency services and public schools. The private management model isn't an end in and of itself—it's a means to a broader vision of public spaces with exceptional beauty and civic vitality.
Toward the end of the conversation with the Hydes, their teenaged daughter Claire comes into the living room to make evening plans with her parents. "Claire is a fan of Shelby Farms," Barbara says. She thinks for a moment. "Actually, one of the things that motivated us around the park was a conversation with our older daughter, Susannah, about what the family foundation was doing. She said, 'Well, I can see that the K–12 education work is really important, but I don't think you guys are doing enough around the environment.'"
"That resonated with us," smiles Barbara. "It's so exciting to be a part of taking Shelby Farms from being a beautiful big piece of ground that was underutilized and undermanaged—from that, to a vision of being the next great park for the 21st century."
Philanthropy managing editor Evan Sparks grew up in Memphis.
Conservancy 101
"We were inspired by the Central Park example of what happens when private interests get involved in the management of public assets like a park," explains Barbara Hyde. Philanthropists can bring two improvements to the table: "management and the infusion of new capital."
Most conservancies negotiate an overseers' agreement with a municipality. This commonly includes a "management fee" from the government representing a small piece of the park's operating budget, usually around 10–30 percent. The balance of annual expenses is covered by donations. Home Depot co-founder Arthur Blank, who helped fund the revival of Atlanta's Piedmont Park, says private donations will become increasingly important to outdoor recreation. "At a time of unprecedented pressure on public resources, there simply are not public dollars available to 'think big,'" he explains. "Creating a great park requires a bigger vision and more investment. That's the role an organization like the Piedmont Park Conservancy plays."
The key to building an effective park conservancy—and, according to Houston parks impresario Guy Hagstette, earning donors' confidence—is giving the conservancy both fundraising and management power. Management conservancies can accomplish projects faster, which creates a flywheel effect of more giving and better results. American cities are dotted with so-called conservancies that are really just fundraising vehicles for city parks departments, without any design or operations power. "That's not really a conservancy," says Peter Harnik of the Trust for Public Land. "That's just business as usual." 
Even though they don't usually charge admission, city parks can be substantial producers of operating revenues. Where they are allowed to operate valuable but tasteful ancillary services—from ice cream stands to boat rentals—conservancies can make up a big share of their budget in earned revenue. This varies from city to city, however. Shelby Farms keeps its concessions revenue, but Central Park turns that revenue over to New York City.
Are these conservancies efforts at privatization? It's not privatization at all, in the sense of excluding anyone, ripostes Battery Conservancy founder Warrie Price. "It's bringing vision, imagination—areas where government normally does not have the time and resources to do well. We bring those qualities to the task and hopefully give the public something extraordinary."