The covid-19 crisis created numerous problems in the food sector. Food banks were taxed as millions of families sought assistance. Meanwhile many of their volunteers were unable to help out as usual.
However: Thousands of restaurant workers and chefs were suddenly unemployed. Savvy nonprofits and donors connected the dots. 
World Central Kitchen is a nonprofit that usually provides food to the hungry after natural disasters. It was founded by celebrity chef José Andrés, whose book Philanthropy reviewed here. When the coronavirus arrived, WCK launched a Chefs for America initiative to employ restaurant workers to make meals for the hungry, giving them a source of income and quarantined people a source of food. Since it began this spring, the initiative has served over 10 million meals, and helped over 1,600 restaurants keep their staff busy during the economic shutdown. 
The process works like this: WCK finds restaurants either through its existing network, through an application form on its website, or through community partners. Once a restaurant signals its interest in the program, a WCK team member will talk to the restaurant about maintaining safety protocols. (Aspen Institute, James Beard Foundation, and WCK joined together to create safety guidelines for food prep during the pandemic.) WCK encourages restaurants to make 200 meals per day; for each meal a restaurant prepares using its existing infrastructure—employees, food supply chains—the restaurant receives $10. It's likely not enough to turn a profit, but it's just enough to keep them afloat. Later, WCK tracks how many meals have been prepared, and sends restaurants payments for the meals.
Then WCK connects the restaurant with a particular community center, church, or senior center, which will distribute the food. "They understand their community really well, and they have a really good pulse on where food insecurity lies," VP of Development Erin Gore says. To get those meals to those who need them, some restaurants have grab-and-go pick-up sites, but the majority deliver to an off-site distribution station, such as a community center. When the restaurant already does delivery, it continues to employ delivery drivers to drop off food themselves. When they don't have a delivery service, WCK uses meal delivery partners like Uber Eats, Grubhub, or Postmates.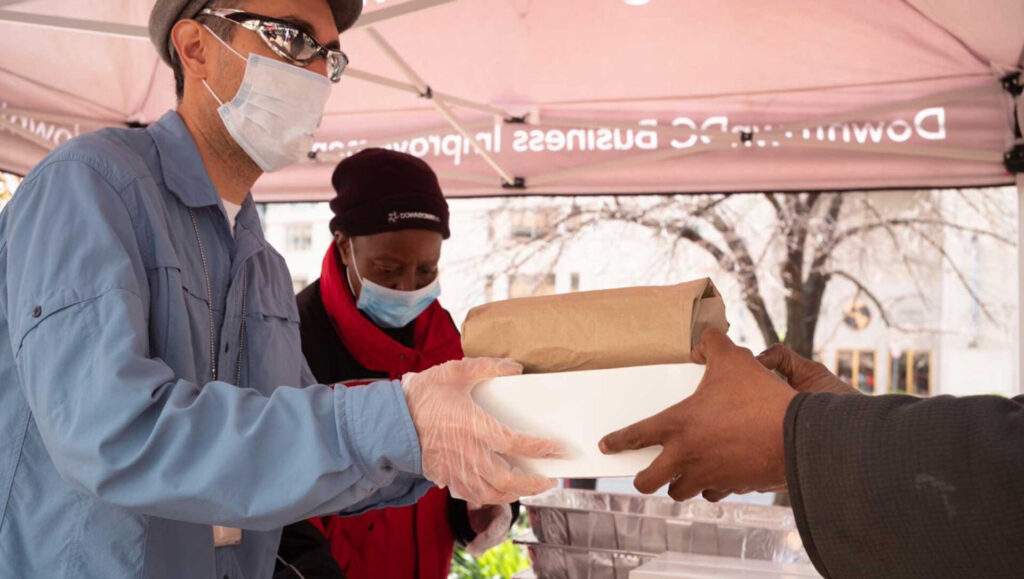 Anchor donors allow WCK to expand to new cities. Major donors to the effort have each focused on a particular region: Robert S. Smith in New York, the Rihanna Foundation in New Orleans, and Phil and Monica Rosenthal in Los Angeles. Once WCK is in a city, it's able to expand partners and raise more philanthropic support—from donations by middle-class citizens to multi-million dollar gifts from individuals and foundations. 
Amid uncertainty about the covid-19 crisis and a slowly re-growing economy, the initiative will keep going until it's no longer needed. Donors Phil and Monica Rosenthal provided a grant of $1 million to Chefs for America. Since the gift addresses two problems at once—unemployment and food assistance for the needy, Rosenthal says it viewed it as "a win-win situation."
In Texas, another organization had a similar idea to connect the hungry with the unemployed. This time, however, instead of working at restaurants, laid-off food workers would be paid to staff food banks. In mid-March, Texas businessmen Anurag Jain and Patrick Brandt combined to create Get Shift Done, an initiative to give restaurant workers a chance to earn $10 to $15 per hour while serving needy populations. 
Brandt used his experience as president of Shiftsmart to employ its technology to connect workers with charities like the North Texas Food Bank. The matching platform was a success and soon expanded to Arkansas, Washington, D.C., and other areas. One of the early philanthropic supporters of the effort was the Communities Foundation of Texas. Sejal Desai, business-engagement director at the foundation, says it was the entrepreneurial experience of Jain and Brandt that allowed the initiative to get off the ground so quickly, and then grow to other regions.
Though the U.S. economy is beginning to reopen, the needs for work and for nourishment haven't gone away. "We started this as a relief program," Brandt says, but "it's turning more and more into recovery." Jain notes that with many restaurants opening up at just 25 percent of capacity, there will be unemployed and underemployed workers in the food-service business for some time.