A Home for Young and Old
Alpha-Omega Miracle Home • Fort Lauderdale, Florida
There is a hint of what goes on in the Alpha-Omega Miracle Home right in the organization's name. Alpha is the very first element of the Greek alphabet. Omega is the final letter.
The charity was created by Lisa Franklin. She had been a floundering teenage mother but pulled her life together. Then she went looking for a way to help other young women who were struggling as she had. In 1997 she started with a single house that was big enough to shelter seven unmarried girls during vulnerable months of pregnancy and early motherhood when they had nowhere else to go. With help from a growing ring of generous community members, Franklin gradually built up a faith-based nonprofit that now offers these fragile households not only housing, but forms of companionship and services capable of bridging them to competence and self-sufficiency.
"I needed support," explains former Alpha-Omega resident and current volunteer Paige Madancy, who grew up in foster care before becoming a single mother. "I was scared, lost, and alone. I had no hope. I needed someone willing to almost co-parent with me, help me get to the right areas for help."
Lisa Franklin's innovation—so simple and logical it's surprising lots of other places haven't copied her—was pairing needy single mothers like Paige with lonely, isolated, older women. In shared two-bedroom apartments, the charity thus feeds two birds with one cone. The young women get experienced guidance and mature emotional support. The retirees are able to live independently in a setting where they have purpose, and reap love as surrogate grandmothers.
Her innovation was pairing needy single mothers with isolated older women. The young women get experienced guidance. The retirees reap love as surrogate grandmothers.In addition to getting help and mentoring at home, the young women are expected to complete a GED or two-year college degree. Case workers guide and transport them to medical appointments for themselves and their babies. Classes teach child care, budgeting, nutrition and cooking, and resume -making. There is licensed mental-health counseling in weekly sessions. There are religious supports, Bible studies, and opportunities to become involved in a local church of choice. Residents can draw on a diaper bank, and get vouchers redeemable for clothes and family supplies. Sometimes used cars are donated to the home so mothers can get themselves to work or school. The Alpha-Omega Miracle Home has partnerships with career counselors and local businesses that often lead directly to jobs.
"When we place young mothers and their children with senior women, they become family," say staff members. "Young mothers gain wisdom. Seniors realize they are needed and valued." The home challenges mothers to change the behaviors that got them in trouble, to meet demands and grow in maturity, to become economically self-supporting and emotionally healthy.
In addition to two bedrooms, each apartment has its own kitchen, laundry, fenced yard, and parking, with all maintenance provided by the charity. The senior women tend to become permanent residents of these supportive-housing units, while the mothers and children typically transition through until they are able to provide for themselves. Before arriving at AOMH, some of the seniors have themselves experienced a displacement or otherwise fallen into economically or socially precarious positions, and they are offered the same suite of medical, counseling, and practical assistance that is made available to the young mothers and children, if they need it.
The Alpha-Omega Miracle Home cares for 80 or so women and children every year. And they do all this without any public funding. The nonprofit runs lean, relying heavily on volunteers in areas ranging from life-skills instruction to groundskeeping. It raises about half of its annual spending from donations, with the other half coming from two large thrift stores the nonprofit operates. The stores also offer employment experience for some of the young women. The group is now raising funds to add another 100 housing units.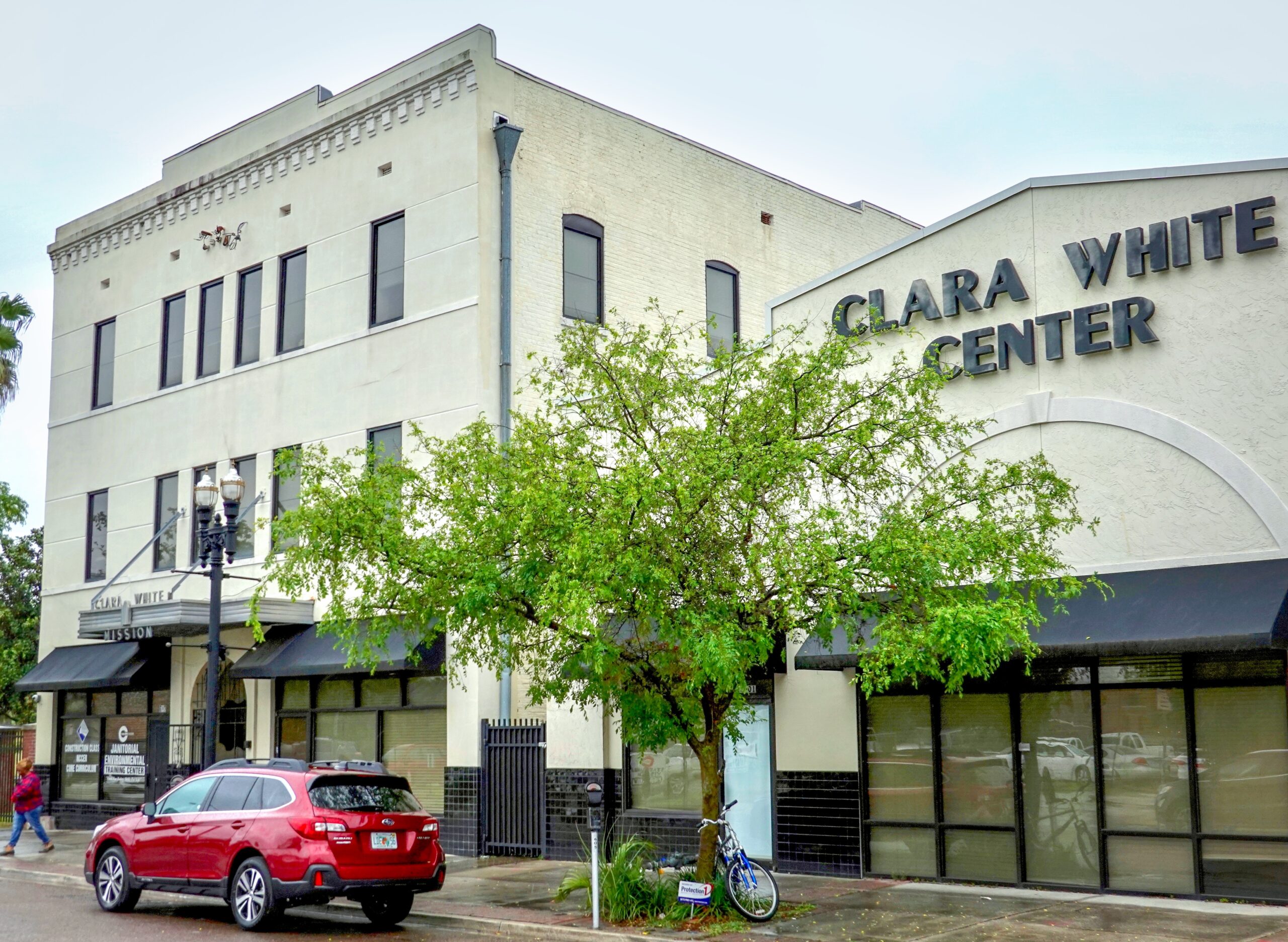 Mission on a Mission
Clara White Mission • Jacksonville, Florida
Clara White was a former slave who started aiding needy neighbors and old people in her two-room house. After Clara's death in 1920, her daughter Eartha picked up the operation. A born entrepreneur, Eartha ran many small businesses during her 97 years of life: laundry, store, restaurant, janitorial service, taxi company, employment bureau. She sold life insurance to fellow African Americans. She became Jacksonville's first female realtor.
During the Great Depression Eartha bought an old theater in her city's historically black LaVilla district and built there a larger charity operation dedicated to her mother. The Clara White Mission eventually spawned a nursing home, tuberculosis hospital, home for unwed mothers, boy's improvement club, orphanage and adoption agency, child-care center for working mothers, halfway house for alcoholics, and ministry for released prisoners. For more than 40 years, Eartha regularly visited the Duval County jail. She created the first public park in an African-American neighborhood and financed it herself for a decade until Oakland Park was absorbed by the city.
From 1932 until her death in 1974, Eartha White lived in rooms on the second floor of her mission's headquarters. Today you can get a quick education in the striving productivity of entrepreneurial blacks in a segregated Southern city by touring the little museum created in her former rooms.
Thanks to additions made to the historic theater that Eartha purchased, the Clara White Mission now dominates a full city block in the shadow of Jacksonville's downtown towers, and it remains an energetic community-improving organization operating a wide array of charitable efforts. It feeds 400 people per day. It supports A.A. counseling, clothing distributions, bike repairs, and worship programs. It offers employment help for seniors, and operates a drop-in day center. There is a housing program which transitions about 85 homeless persons a year into independent living through a combination of work or schooling, mental-health assistance, and sobriety requirements and support. There are job fairs organized for men and women with criminal records.
A signature of the mission is the occupational training it offers to struggling residents. There are classes in construction trades, forklift operation, and other industrial jobs. There are well-developed 20-week programs that prepare participants for employment in food service or janitorial work.
The mission's School of Culinary Arts runs a fancy catering operation which combines instruction with income-producing opportunities. In a longstanding partnership with St. John's Episcopal Cathedral, culinary students also serve an upscale lunch that is open to the public—every Friday on the cathedral grounds. All proceeds benefit the mission.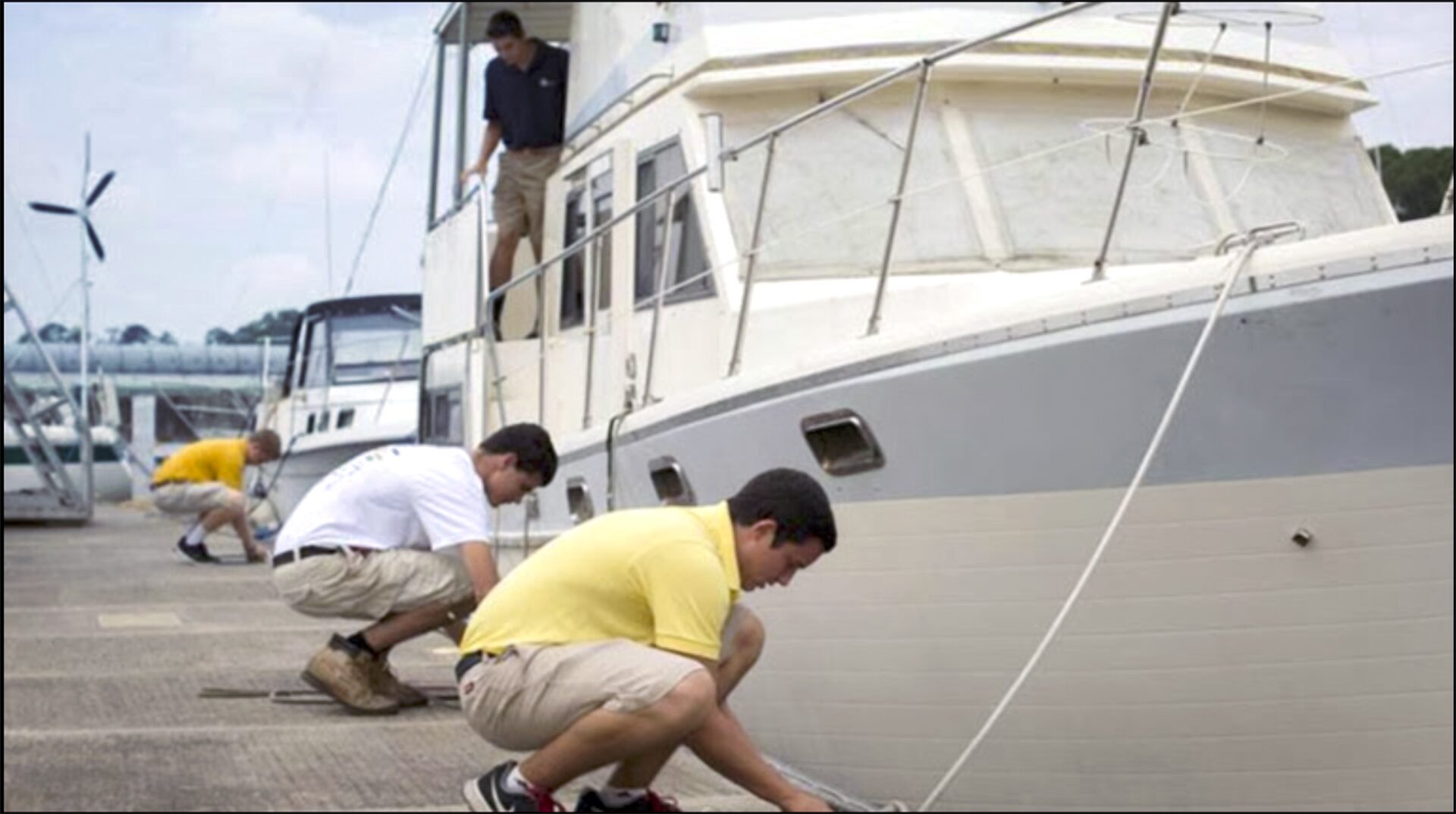 A Haven for Boys
Safe Harbor Maritime Academy for Boys • Jacksonville, Florida
Many solutions to social problems are discovered accidentally. The Safe Harbor Maritime Academy for boys is a good example.
In 1982, Robbie and Doug Smith were getting ready to sell their family business, retire early, and embark on a round-the-world trip on their sailboat. Then a Florida judge who was a friend stopped by with a boy who was in trouble with the law. The judge considered him a minor offender and wanted to keep him out of the county's rough juvenile detention center, so he asked the Smiths to house him in their large sailboat for a few days. The judge wasn't just taking a flyer—both Robbie and Doug are licensed mental-health professionals, with master's degrees in psychological counseling and doctorates in ministry. Doug is also an ordained minister.
"When Doug and I took in our first boys for short-term stays, we had no idea this would become our life's work," says Robbie. But it did. The Smiths found it tremendously satisfying to build relationships and work bonds with boys who were not fundamentally anti-social but floundering in family decay, crime, drugs, or truancy. In 1984 they set up a nonprofit and started accepting donations for their ministry.
At any given time they have up to a dozen teenaged boys boarding with them on the water, referred to them by the courts or enrolled by an overwhelmed parent. Each young man lives on his own boat and is responsible for improving it. Vessels are sold after being fixed up, to defray program costs. In the process of renovating the sailboats and powerboats donated to Safe Harbor, the residents learn welding, woodworking, diesel-engine repair, fiberglass molding, sewing, and other useful trades. At any given time, there are around 20 vessels of all sorts bobbing at Safe Harbor slips.
The young men also attend the academy's state-registered year-round private school, and progress toward high- school graduation requirements. Along with normal academics, they are instructed in practical fields like budgeting and responsible use of credit, and have chances to learn seamanship, scuba diving, boat racing, fishing, and other maritime skills. The boys also cook and serve all of their own meals, and have a regimen of chores and outdoor activities. There is character education and personal counseling at this faith-based school—which enrolls youngsters from all religious backgrounds (or none) and offers spiritual training without mandating particular beliefs.
Most boys respond strongly to this regimen of work, outdoor exposure, freedom, personal demands, and Christian love, and view their time at Safe Harbor as a turning point in their lives. About 70 percent of the roughly 1,200 at-risk young men who have been in residence have continued their education after leaving. (The usual time on site is one year.) Many end up working in maritime jobs. About a third of graduates enter military service.
The direct personal involvement and love of Robbie and Doug have been crucial to the success of Safe Harbor. They have deep empathy for, and credibility with, the boys they mentor. Doug's father was a paranoid schizophrenic, and Doug himself ran away from home as a teenager, living under a bridge in Jacksonville, Florida, with a prostitute and a dog. When a police officer shot his dog, Doug assaulted the lawman and was facing serious jail time. But a group of fishermen whom Doug had worked for over several years rallied to his defense and convinced the judge to put him in seaman's school instead of behind bars. The young man grabbed his second chance and thrived—occupationally, in family life, and in faith. Then he shared his life's lessons with other young males, who found it easy to trust that kind of leader.
Having passed retirement age, the Smiths are now transitioning into a more advisory role. They still live however at the old tugboat basin where their academy, its score of vessels, and current dozen boys ebb and flow with the tide.
The remarkable life story of Doug and Robbie was translated into a surprisingly accurate and enjoyable Hallmark movie called Safe Harbor, released in 2009. Paradoxically, the movie may have hurt the school more than it helped, though. Donors seemed to conclude that a charity prominent enough to merit film treatment must be well financed, and gifts tumbled.
The Smiths had decided from their beginning to avoid government funds, relying instead on a mix of private and corporate donations, plus moderate tuition paid by families who are able. To keep costs to a minimum the founders live on boats or in a trailer on shore, and volunteers provided many services. The charity has always run on a shoestring—budgeted at well under a million dollars per year, and often half that.
When Hurricane Irma pummeled the Jacksonville area in 2017, Safe Harbor Academy and its docks and boats suffered serious damage. Power was unavailable for most of a week, and food ran low. A fellow nonprofit, generous businesses, and an alum of the school came to the rescue. The head chef at a local Salvation Army center was a graduate of Safe Harbor, and saw to it that hot meals were made available. A marina company offered pro bono prices to repair the ruined docks, while using the Safe Harbor boys as laborers.
Safe Harbor relies heavily on its volunteers, religious givers, the kindness of neighbors, and corporate angels to keep its doors open. There is, alas, a large and growing population of drifting boys in need of its services. With adequate support, the school would like to enroll one to two dozen students at all times, offering its challenging services to launch decent men into the seas of life.