Dan Pallotta was an ambitious twentysomething living in Los Angeles when, in 1994, he organized a long-distance bicycle ride to raise money for AIDS, involving 478 people cycling from San Francisco to Los Angeles.
Soon Pallotta TeamWorks, a fundraising consulting company he started to sponsor such events, was producing AIDS rides all over the country, netting millions of dollars for medical services at AIDS charities. In 1998, Pallotta TeamWorks added three-day fundraising walks for breast cancer, which proved even more successful. The first walk, a 60-mile hike from Santa Barbara to Malibu, brought in more than $4 million. Soon Pallotta TeamWorks was holding events all across the United States and even abroad, moving into other causes including suicide prevention. Pallotta poured money into marketing, advertising, and logistics to ensure that the events ran smoothly.
"People don't imagine the scope and the scale of it," he says. "People at the time would say, 'Is that a full-time job?'" In fact, Pallotta had more than 350 full-time employees in 16 U.S. offices. The team included a 60-member traveling crew that erected a mobile city at each event—tents, toilets, kitchens, showers, medical units, and dining halls. Pallotta TeamWorks had 15 people in its internal advertising agency, including media buyers, graphic designers, a photographer, and a poet. For capital, it set up a multimillion-dollar line of credit. Pallotta recruited the best people and paid generously—including a salary of $394,500 to himself in 2001. "We did what we believed would work," he recalls. "We advertised our events the way Apple advertises iPads."
For one AIDS ride in the east, Pallotta TeamWorks chose three AIDS groups in Philadelphia as beneficiaries. But there were 91 AIDS organizations in Philadelphia, and 88 of them felt aggrieved. Some threatened to hold a "die-in" at the beginning of the bike ride, depressing participation by cyclists and reducing the event's income. The Pennsylvania attorney general fined Pallotta TeamWorks $110,000 for generating a small percentage return and failing to register as a professional solicitor. The attorney general's action did not suggest any deception on the part of Pallotta, but critics nevertheless pointed to the fine to raise doubts.
Pallotta TeamWorks continued to grow, attracting 182,000 people as walkers or riders and 3 million donors. By 2002, its events had raised $582 million. Harvard Business School chose Pallotta TeamWorks for one of its formal case studies, and the company moved into a new 50,000-square-foot headquarters. In 2002 Pallotta netted—after expenses—$82 million for medical services and research, a sum equivalent to half the annual giving of the Rockefeller Foundation at the time.
Meanwhile, activists accused Pallotta of profiteering. Some resented the way his name seemed to be at the center of everything. Some critics would say: It's about him, not AIDS or cancer. Others were aghast at the high salaries for people running charity events: Why should ordinary workers contribute to charitable events run by people earning hundreds of thousands of dollars a year? Logistics, marketing, and administrative expenses swallowed up about half of each dollar donated, and this drew additional fire. In 2002, Pallotta tried to expand too quickly, holding more AIDS bike rides than the market could bear, so the amount going to charity dipped to 17 percent. One rider sued, and outrage at Pallotta spread.
AIDS Community Donor Action ran an advertisement with the headline "Ask Pallotta TeamWorks: Will Their Upcoming AIDS Vaccine Events Save Anyone's Future, EXCEPT THEIR OWN?" One critic denounced Pallotta's "greed and unabashed profiteering off the good intentions of others."
Avon, which was Pallotta's partner in the cancer walks, announced it would cut its ties with him and hold its own fundraising walks for breast cancer. Without a partner, Pallotta TeamWorks collapsed. It owed money to the bank and now had no way to make payroll or pay the rent. Pallotta describes that day as the worst in his life.
The critics believed that without the glitz more money would be available for AIDS and cancer research. Indeed, the California AIDS bicycle rides continued under new management in a more understated way. But without the promotional spending, the amounts raised for charity plunged. Net returns to AIDS charities dropped more than 70 percent in one year, from $6 million in 2001 to $1.6 million in 2002. The San Francisco AIDS Foundation laid off 28 employees, and the Los Angeles Gay and Lesbian Center eliminated 55 jobs. More than 48,000 people participated in the last year of Pallotta TeamWorks walks for breast cancer; the next year, 8,000 people joined the Avon walks. The net amount raised for breast cancer grantmaking fell from nearly $77 million under Pallotta in 2002 to $11 million under Avon in 2003.
One of Pallotta's most fervent critics back in 2002 was Craig Miller of AIDS Community Donor Action. "I stand by those criticisms," he said. "A tremendous amount of money was being raised" in the name of AIDS charities, but "the vast majority of it was being consumed by very high event production costs." As it turns out, Miller has been doing some of his own AIDS fundraisers. Overhead for his 2012 walk in San Francisco ate up 58 percent of revenue—worse than Pallotta's average performance—and the event netted $1.2 million for AIDS charities, a paltry sum compared to the amounts raised by Pallotta.
Pallotta is now lecturing and writing widely about how "our system of charity undermines the causes we love." He particularly resents criticism of salaries of leaders in the nonprofit industry. "We don't want people making money in charity," he says in a recent book, Charity Case. "Want to make $50 million selling violent video games to kids? Go for it. But if you want to pay the right leader half a million dollars to cure kids of malaria, you and the leader are parasites yourselves."
From advertising to advocacy
When the public considers whether to support a nonprofit, one of the basic bits of information people look for is its Charity Navigator ratings and the proportion of its revenues consumed by administration, particularly salaries. They also see overhead and marketing as a drain that should be absolutely minimized. Administrative expenses can indeed be relevant, but what truly matters is not overhead but impact. There's no point in funding an AIDS vaccine effort that saves on overhead by using unreliable third-rate laboratory equipment. Would it have been better in the 1950s to finance a polio charity that used 99 percent of its funds to push survivors around a park in wheelchairs, or one that swallowed up half its money in salaries for talented scientists and lab equipment and ended up financing Jonas Salk's invention of the polio vaccine? One shortcoming of Charity Navigator ratings has been that charities often respond by systematically underinvesting in anything overhead-related. Charity Navigator is trying to figure out ways to measure impact, but its focus on overhead metrics has encouraged charities to skimp on computers, personnel training, evaluation, marketing, and talented people.
We asked Charlie MacCormack, who formerly ran Save the Children, about overhead at nonprofits, and he was blunt: "Our uncompetitive salaries make it almost impossible for people to develop real careers; our underinvestment in staff development hampers performance; and our creaky knowledge management and information systems undermine potential results.… Nevertheless, donors are more than resistant to funding these kinds of activities and consider pie-chart ratios to be proxies for organizational quality."
Forced to squeeze their overhead, aid groups cut corners in ways that undermine the mission. Without the funds or expertise to do rigorous evaluations, they're often groping in the dark to determine what works best. They sometimes even fiddle with their bookkeeping. A fundraising appeal will include a paragraph about the challenges so that a chunk of the mailing cost can be allocated to advocacy rather than fundraising.
Charities also hugely underinvest in marketing, hobbling themselves in getting the word out. The experience of one former ad executive shows how much they're missing out. Brian Mullaney had made it big on Madison Avenue. After rising to the top of an advertising agency, he quit and formed his own firm. He lived in a Manhattan penthouse, drove a Porsche, wore Armani suits, and had a gold Rolex watch on his wrist. He had everything in life—except a purpose. That's when he became involved in reconstructive surgery for children with cleft lips and palates.

(jayesh / istockphoto.com)
In the developed world, clefts are surgically repaired in the first year of life, but in poor countries children often remain disfigured. They may also have difficulty eating and speaking. Inspired by how fixing a cleft, which is so simple, can change a life path, Mullaney became involved with a charity called Operation Smile. He traveled with American surgeons to Vietnam and China and saw the transformation in children who had clefts repaired, and began to dream of change on a grander scale.
Meanwhile Operation Smile was running into its own problems, and Mullaney realized that it made little sense to fly American surgeons and equipment halfway around the world for a week; paying local surgeons for the same work would save money, improve efficiency, and build an important skill base. He approached entrepreneur Charles Wang, who generously invested $27 million to back a new initiative called Smile Train. When the first two presidents of Smile Train lacked business sensibility, Mullaney agreed to take the helm himself on an interim basis. He has never returned to the corporate world.
Mullaney focused on fundraising by advertising and direct mail appeals, sending out mass mailings and carefully measuring which kinds of messages and photos worked best to generate donations. He studied which zip codes responded most generously. He compiled responses by name, learning that someone named Alyson will on average give more than someone named Suzie. He learned to emphasize storytelling about individuals. While continuing to expand into new countries and mastering the science of direct-mail appeals, Mullaney began to think that a movie about Smile Train's work would surely help. "Let's do a documentary and try to win an Oscar," he resolved.
Smile Train hired two first-rate filmmakers and sent them into the field to document cleft repairs. One of the directors went to India and focused on telling the story of Pinki, an eight-year-old girl from Varanasi with a gap in her upper lip. Villagers mocked and teased the girl for her deformity. Other children sometimes threw stones at Pinki, and she was reluctant to leave her hut. But her parents didn't have the money for an operation. That's when Smile Train stepped in.
Countless aid groups have made promotional films and videos, usually watched by no one other than aid workers and their mothers. But this 39-minute film, named Smile Pinki: A Real-World Fairy Tale, was different. Smile Pinki cost around $300,000 to make and was watched by millions of people, mostly in India, where it generated huge attention and sympathy for children with clefts. Broadcast by HBO in the United States, it raised millions of dollars for Smile Train. And it did win an Academy Award.
Mullaney used the success of Smile Pinki to take his operations to new heights. His aggressive marketing techniques helped Smile Train raise about $700 million on his watch, reaching the major leagues of American charities. He recruited top-notch, business-minded executives, whom he paid very well by charity standards.
Over time, Mullaney began to believe that the challenge of cleft lips and cleft palates was diminishing. Smile Train and improved health care in China, India, and around the world were making a difference. The global cleft problem could be solved, he says, and local hospitals were developing better tools to manage needs. But while the Smile Train board wanted to focus on bringing down the average age at which clefts were fixed, Mullaney wanted to branch out. He left to start a new organization where he would use the same direct mail techniques to tackle an array of other surgical health problems such as burns, clubfoot, and blindness.
Mullaney called his new venture WonderWork, a conglomerate that is the umbrella and back office for a set of focused charities operating with the same marketing and fundraising machine, sharing overhead to keep costs down. If you respond to one blindness mailing, you may get a letter asking you to help kids in India with clubfoot.
When we asked Mullaney about the economics of a mailing that we received, he surprised us with a revelation: he expected it to lose money. A first mailing, he says, always loses money, because for every 75,000 direct mail letters sent out to potential new donors on average 323 new contributors are found.
Overall, Smile Train says it cost $1.79 to raise a single dollar from a new donor in 2012. Mullaney is finding the figures are a little better at WonderWork, but it still costs him $1.45 to raise a dollar from a new donor for clubfoot. Mullaney is willing to lose money the first year with a new donor because he feels he can raise money cheaply in subsequent years. For second and future mailings, the response rate is about 6 percent. After about five years, each $1 invested in direct mail has raised a total of $5 or so.
Mullaney is regularly invited to make presentations to boards of other nonprofits. The conversation usually goes downhill when he explains that the millions he raised were from direct mail. "People come in and go, 'Direct mail? No, I'm going to grow my charity on the Internet because it's free,'" he says. "They reject everything." Mullaney says that charities get by with weak productivity records that would lead General Motors or Ford to go bankrupt and shut down, but with a charity, the refrain is: "They're doing God's work. Aren't they great?"
The nickel effect
Mullaney is brash, and his marketing sensibility can rub traditional nonprofit leaders and donors the wrong way. Within aid groups there has been a backlash against grim photos of suffering children—sometimes called "poverty porn"—but Mullaney is unapologetic. Cheerfully exaggerating, he mimics a UNICEF official: "We don't want to show any unhappy kids. No kids with flies." He shakes his head: "It's so antiseptic and artificial. It's like they're dancing around a little village." Mullaney pauses and says emphatically. "If you want to raise money, you have to show a problem and suffering."
We flinch at advertising blindness and clubfoot, but we're even more troubled by the thought of children who are blind or crippled and aren't getting treated because organizations aren't efficient at raising the money to treat them. You see children with clubfoot dragging themselves through the traffic at intersections in cities around the developing world, begging for money from passing cars. That's a thousand times more undignified than using their photos in mailings.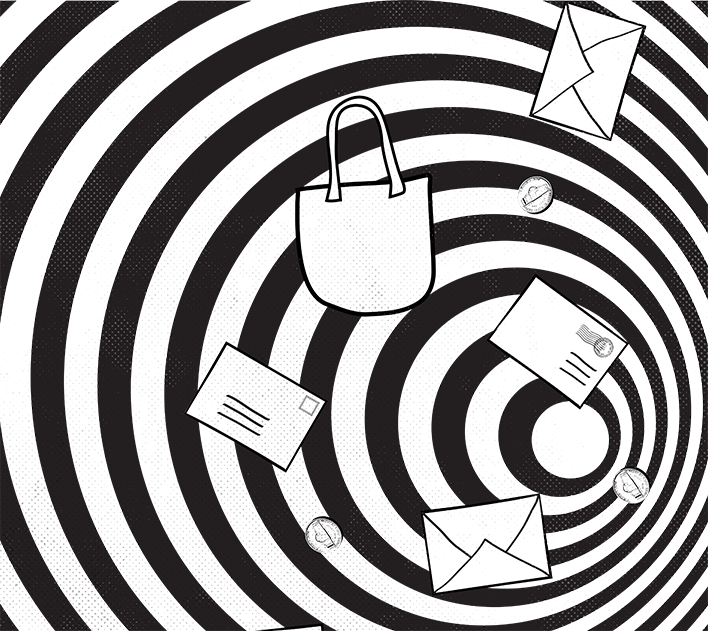 (in8finity / istockphoto.com)
Mullaney may be paid a hefty salary. He has helped more than a million children all over the world, though. And by using local doctors in developing countries, he figured out how to lower costs, serve more people, and build local capacity.
People working on urgent causes such as poverty or disease too often fail to make their case effectively. When we were both at the New York Times, charitable groups working on life-and-death issues would send us unprintably dry press releases at the wrong address. Altruists may flinch at the idea of marketing, but it's more important to "sell" vaccines or girls' education than it is to sell a hamburger.
When we received a charitable mailing with a stamped return envelope, we used to grumble about how we didn't want our donations squandered on stamps or other giveaways to people in a database. Then we got a mailing from the United States Fund for UNICEF containing a tote bag. That made us gnash our teeth at the waste, so we called Caryl Stern, the president of the United States Fund for UNICEF, to grouse.
She explained that the tote bag goes only to their best prospects for donations, and that it doubles the response rate. The upshot is that more money is raised for vaccinations, school feedings, and all the other work UNICEF does. Stern noted that the United States Fund for UNICEF has been in the vanguard of experimenting with direct mail for many years, and in 2002 it put a nickel in mailings, visible through a glassine window on the envelope. The response rate in the mailings rose from 0.78 percent without the coin to 1.47 percent with it.
"While we did get criticized, it was one of the most successful direct mail campaigns we did," Stern told us. "We're here to raise money to save kids' lives." As counterintuitive as it may often seem, this kind of pragmatic thinking should perhaps have a bigger role in charity.
Adapted from the new book A Path Appears: Transforming Lives, Creating Opportunity by Nicholas Kristof and Sheryl WuDunn.
© 2014 by Nicholas Kristof and Sheryl WuDunn. Published by arrangement with Alfred A. Knopf.