A young priest in cassock and sideburns sits at a boy's bedside. The child coughs and writhes with a high fever as his mother looks on in alarm. The priest pronounces a blessing, and lays his hand on the youngster's forehead as morning light warms a window.
It's a scene from Silent Night, a film portraying the actual origins of the Christmas hymn with the same name. And Lora McAllister is enjoying the scene. Having provided major financial support for the production, Lora and her husband, David, are on-scene in Austria to witness some of the filming.
The film is a project of BYUtv, an entity you probably have never heard of, though it is becoming difficult to ignore in the entertainment world. It's a television network run out of Brigham Young University's broadcasting facilities in Utah. It was the first network to stream content online, and all programming is available free through the Internet, touching millions of homes worldwide. Founded in 2000, BYUtv's mission is to help people "see the good in the world" by producing high-quality, entertaining family content that people of all faiths and backgrounds can enjoy. And in the process, the network has become an important training ground for hundreds of young people who will write, film, animate, produce, and distribute America's future entertainment products.
The BYUtv lineup currently runs from original movies to the Cold War drama "Granite Flats" to the popular sketch-comedy show "Studio C." "The world is full of good people," says Lora McAllister, but "there just isn't a lot of that on the major networks." One goal of BYUtv is to circulate content that encourages, inspires positive living, and helps people be good neighbors and citizens. Another goal is to equip professionals with those values so they can succeed in Hollywood and Manhattan and other centers of popular culture where more nihilistic and narcissistic views are often dominant.
It is legions of donors, like the McAllisters, who make this (very expensive) work possible. David and Lora have long been active philanthropists. They have volunteered in their community, in Scouting, in schools, and in their Mormon church, even participating in two year-long volunteer missions. After graduating from BYU themselves, they moved to Portland, Oregon, where David worked at an accounting firm while Lora taught elementary school and raised their children. After much success, they are now retired.
When first approached about supporting BYUtv in its early days, they weren't convinced. Lora remembers thinking the lineup seemed "boring." But they eventually took a leap. "We watched them struggle the first year or two, but they gradually started putting together quality programming," says David. The McAllisters have seen BYUtv rise from a basement office to its current state-of-the-art broadcasting facility, and from an initial peak viewership below 10,000 people (for a quilting show) to 351 million cumulative online views for "Studio C."
Broccoli and pizza
How an entertainment network can make that kind of leap in popularity and impact is perhaps best illustrated by a biker in a denim vest. "American Ride" features former history teacher Stan Ellsworth, who motors his Harley Davidson across the country, beard and long hair blowing in the wind, to explore American history. In one episode, he rumbles up to the Kentucky Horse Park to talk equine history and culture with a local expert. "American Ride" has become one of the most popular shows on BYUtv.
Many people are interested in values-based entertainment. But viewers won't tune in unless the ideas are fresh and the production quality is high.
According to Scott Swofford, BYU Broadcasting's content director, the shows are all about broccoli and pizza. "The joke we use is that we're smooshing them together and making broccoli pizza," says Swofford. "You want your kids to eat broccoli. They want to eat pizza. One has to find the balance. If there's too much broccoli in the form of edifying or uplifting or faith-based content, then no one's going to eat the pizza."
Swofford and his colleagues discovered through survey work that many people are interested in having more values-based entertainment. But viewers won't tune in unless ideas are fresh and production values are high. With a glance at its positive ratings, the "American Ride" presentation of history and patriotism seems to be onto something.   
A veteran of the IMAX film circuit, Swofford knows how to produce arresting shows. He's an original thinker with a history of climbing pyramids and living with an Amazonian tribe to get a good story, bringing practical experience and useful ideas with him to BYU. Donors like the McAllisters have noticed a shift to a higher gear at BYUtv since his arrival.
BYUtv doesn't easily fit the entertainment industry's existing molds. Swofford refers to it as "thinking man's family." Because this model is an experimental a flavor of content that has not previously existed, it's very unlikely to emerge from the existing commercial networks. And it relies on donor support to germinate and gain public traction.
Investing in popular culture
By commercial standards, BYUtv operates on a shoestring. "Granite Flats," its first scripted series (described by Swofford as a cross between "The Wonder Years" and The Goonies), costs just under $1 million per episode to produce. That's comparatively frugal when considering the Hollywood-quality production levels and the professional cast, which includes Cary Elwes (The Princess Bride) and Christopher Lloyd (Back to the Future). Shows on commercial networks commonly cost $3 million or more per episode.
But $1 million per show is still a mighty big shoestring that has to be raised somewhere. BYUtv relies on donors to keep the cameras rolling—primarily loyal supporters from the Church of Jesus Christ of Latter-day Saints (the folks who underwrite BYU's wider educational mission as well).
Recognizing the power of popular culture today—and the ability of whoever is holding the megaphone to influence the direction of our lives, particularly the minds of young people—donors have stepped up. They have built expensive studios, they help pay talented instructors, they have bought the many pieces of technology, from HD cameras to supercomputers, that go into sophisticated storytelling today. And they have subsidized the classes, work-study programs, industry internships, and other elements that are part of building successful careers in this cutthroat industry.
A new fast track to Hollywood
At any given time, there are 200 student employees working and learning their craft at BYU Broadcasting. The real-world experience these students receive is not only part of their education but a potent boost to their professional trajectories. Abbie Horlacher, a student working with BYUradio (a sister to BYUtv also housed within BYU Broadcasting), has seen this happen firsthand. Horlacher is majoring in film, and wants to help make movies that have a wholesome effect on the world. While only a freshman she got a salaried production position that offers her a great deal of creative leeway.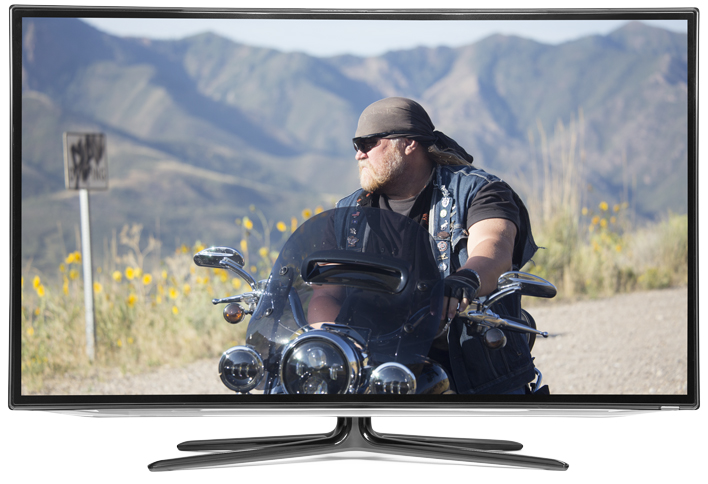 Horlacher's characterization of her office sounds something like a cross between Google headquarters and a law firm, blending fun and strict professionalism. She describes an ongoing conversation she had with a desk neighbor who comes into the office at different times—which they conducted via sticky notes. Students are serious about their responsibilities, though. Many of them are given key positions that require a high degree of professionalism, such as director of a show. Horlacher has a lot of trust placed in her, not to mention expensive equipment and production time, and she faces high expectations and stiff performance reviews.
"One of the things we're trying to offer is a great, real-life employment situation," says Damien Bard, who oversees fundraising. By her account, Horlacher is experiencing just that. "Though I'm in my early years of college I'm working for salary in a real job, doing something that is related to my field, demanding, and professionally valuable," she says. And it isn't just technical experience she's referring to. "I have opportunities here not only to expand myself, and my capabilities, and my perspective, but also to expand others," she explains. "When I work at BYU Broadcasting I have power to reach thousands and millions of people across the world."
Horlacher's philosophy about media work mirrors that of the progenitors and funders of BYU Broadcasting: "The visual arts have a lot of influence on the choices people make, and the way they see the world. I respect that power, and want to use it for good things."
BYUtv gives away its programming for freeto cable networks, YouTube, Roku,Amazon Fire TV—any outlet withan appetite for broccoli pizza.
Horlacher has a passion for storytelling she hopes to tap via future employment in film. "I like telling the story," she says. "Stories have power. Stories have lasted for centuries and centuries, and crossed cultures, and brought people together. Even in our modern society that's just as true as ever." Horlacher describes BYU Broadcasting as "a perfect combination of the secular and the spiritual," and "not necessarily in an overt way, which is sort of the beauty of it."
New technology, new values
In addition to preparing students to occupy high ramparts within America's castles of popular culture, BYUtv is working hard to get their uplifting content to as many hungry eyes and ears as possible. A lot of buzz comes from the "distinctive qualities of our content," but "if people don't have a way to watch that content, there's a real problem," says Bard. So the university and its donors have invested heavily in making sure their work is delivered to everyday citizens.
"Right now, BYUtv is really on the cutting edge in terms of the number of platforms where you can see our programming," Bard reports. By the number of viewing platforms where it is available, BYUtv has now surpassed ESPN. Its TV studio is completely digital. It sends out all of its content in HD, at no cost, to cable companies and directly to online viewers, on platforms like YouTube, Roku, Amazon Fire TV, and its own BYUtv app. In 2015 alone, there were 190.7 million BYUtv page views spread throughout these various platforms. Because BYUtv invested in its digital setup early on, it is well positioned to remain relevant and fast-moving in the years ahead.
Of course, all these investments and all this calculated effort are for naught if people aren't actually looking for the broccoli pizza the department is cooking up. Scott Swofford and the rest of the team are betting heavily that there is a big market in America for wholesome content. There are many hints that they are right. One is the dramatic box-office successes of the funny, wholesome animated films produced by Pixar—which has its studios packed with BYU graduates. (See "Joy Story" in Philanthropy's Summer 2011 issue for more on this.)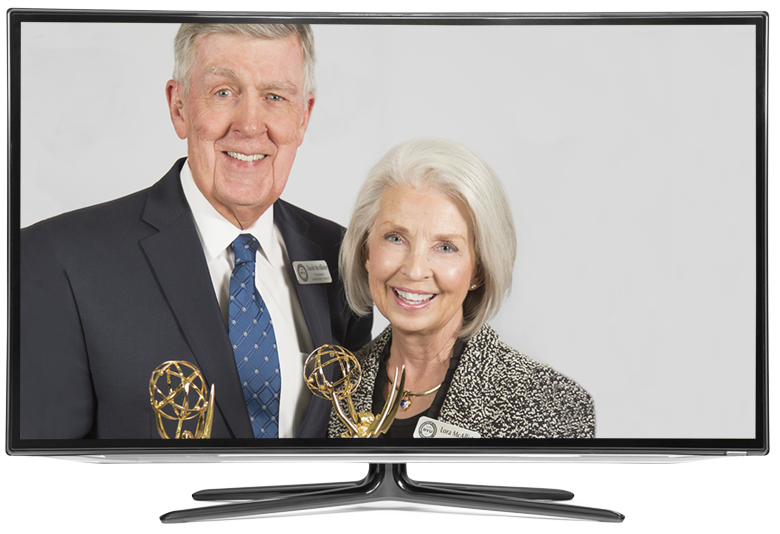 The skyrocketing viewership of BYUtv seems to be sending the same message. (One "Studio C" comedy sketch about an endless soccer shootout currently has 37 million views on YouTube). But it's not just eyeballs—BYUtv has been getting a remarkable amount of critical acclaim as well. In 2015, BYU Broadcasting won ten Emmy Awards for regional programming. It is earning praise from media outlets like the New York Times and the Huffington Post. Silent Night was given a Gabriel Award by the Catholic Church.
Since family-friendly entertainment is one of BYUtv's deepest goals, one of the most encouraging statistics concerns viewing habits of families. Though the shows follow Mormon values—there is no smoking, no drinking, no "adult" content—they are created for families of all faiths and backgrounds, Swofford insists, and for everyone in the family. 
David McAllister is especially interested in what BYUtv does for families. "Parents today have to keep a close eye on their television if they have children in the house. When you put on a channel and know the programming is going to be something you don't mind your children watching, that's valuable. The principles of love, kindness, faithfulness, respect, working toward a goal even when you face obstacles—all of those qualities and others are reflected in the programming."
It takes a creative village
Lora McAllister admires the team effort that goes into this. "The wonderful leadership and talent at BYUtv, and then the donations of so many people, are what has allowed these things to happen." The river of content pouring out of BYUtv demands the concentrated attention of hundreds of directors, writers, producers, actors, camera operators, editors, sound and lighting technicians, computer programmers, and other specialists—an army of students overseen by a corps of talented adults.
And it takes generous givers as well. "The programming can only occur if people band together," says David McAllister. In the end, it is just television, entertaining and fun. But this crew knows that can have power. "The reason we band together," McAllister notes, "is to protect and spread virtues that are worth cherishing."