Donald Rumsfeld was an influential member of Congress, served as a White House chief of staff, and aided four Presidents. This included time as both the youngest Secretary of Defense and then the oldest. He also worked for 20 years in the private sector, including as CEO of the G. D. Searle pharmaceutical company, CEO of General Instrument Corporation, and chairman of Gilead Sciences. 
Rumsfeld started two family foundations, and now donates his money and time to a handful of special causes through the Rumsfeld Foundation. His philanthropy helps veterans returning home, aids small-business proprietors abroad, supports graduate students planning a career in public service, and encourages young leaders from critical countries in Central Asia to forge connections with the United States and each other.
Philanthropy sat with Rumsfeld to learn about his giving and ask how private donors can promote a free society. With a smile, hands crossed, energy high, he dove right in.
Philanthropy: How did you start your family giving?
Rumsfeld: When I left the Ford administration and went into business for the first time at G. D. Searle, someone told me that an effective way of getting involved in charitable activities was to put some Searle stock in a vehicle. So my wife, Joyce, and I put it in a private foundation. The stock did so well that I ended up with some money we could use for charitable gifts. Later I put in stock from the other companies I'd been involved in.
After years of family giving through our first foundation, in 2007 Joyce and I decided to establish the Rumsfeld Foundation to focus our efforts on encouraging public service in the United States and supporting the growth of free political and free economic systems abroad.  To that end, we chose to concentrate on four areas of specific interest that tie into our mission.
Philanthropy:  What are your focus areas?
Rumsfeld:  Needless to say, I've been interested in military activities. My dad was in the Navy on a carrier. I was in the Navy and spent time in the Pentagon. So we are interested in supporting the men and women who serve and their families.
And Central Asia is a focus. I grew up in Chicago around folks with relatives in countries like Poland and Czechoslovakia coming out from under communism. As those countries made their transition to freedom, they were connected to a lot of people in the United States who were very friendly and helpful.
Chicago and Detroit and Pittsburgh didn't have a lot of Uzbeks or Tajiks or Kazakhs, but those countries were making that same journey, figuring out how to live freely. I thought it would be useful if we did something in that often-neglected region—the five Central Asian countries (Uzbekistan, Tajikistan, Kazakhstan, Kyrgyzstan, and Turkmenistan), the three South Caucasus countries (Georgia, Armenia, Azerbaijan), and Afghanistan and Mongolia.
Third, we provide grants to global microfinance organizations that promote entrepreneurship and opportunities for self-sufficiency for the least privileged around the world.
Fourth: I had a couple great people work for me in the Pentagon who came from very modest families but ended up getting doctorates thanks to Earhart Fellowships, eventually preparing them for senior posts in government. One was the number-three person in the Pentagon. Another was in the policy shop and then was deputy national security adviser and one of our ambassadors. I heard the Earhart Foundation was tapering down and thought, golly, the people it's been helping might not have the opportunity absent assistance. So we decided our foundation would assist those kinds of students interested in serving our nation.
We have advisers at 19 colleges and universities. They recommend promising students with an interest in public service who are working on graduate degrees and need assistance. We gather these graduate fellows here in Washington from time to time, and they have a chance to meet alumni who are out in government or think tanks or doing things related to public service, and those relationships are helpful.
Philanthropy:  How else can government be improved?
Rumsfeld:  You've got to keep injecting people into it at every level who come from the outside, who have different experiences, young people who don't believe that something "can't be done" and are willing to try heroically and in some cases actually achieve it.
There's something about dealing with other people's money—and this is a risk for foundations as well—there is a risk they'll treat other people's money differently than they would treat their own. That's a reality of human nature. How do you deal with it? It takes bringing people in from the private sector who've had to earn it and having them be a part of government. The closer government is to the people, the more likely it is that the people will affect how it behaves. 
Philanthropy:  Does this principle apply to philanthropy as well?
Rumsfeld:  Oh my goodness, yes. I constantly ask, "Are we looking at these charities we're giving money to? What's happening to the boards of directors? Are some good people getting off? Why are they getting off? Is the focus of that activity still relevant and important? Are we satisfied that their administrative costs are appropriate?"
One model that avoids many of these concerns is microfinance, which we've had an interest in since the beginning. I watched governments do development programs where many poor
countries had corrupt officials, so I always worried about going through a governmental structure. I was attracted to the idea of going directly to individuals.
Microfinance does that, bypassing governments. And it's not a gift; it's a loan that has to be paid back. In the microfinance programs we support at the Rumsfeld Foundation, we've found that the pay-back rate is often above 90 percent.
Philanthropy:  Where do you think the foundation is making an impact?
Rumsfeld:  The graduate fellow program is developing a life of its own. And the Central Asia program has been a big surprise. I thought what we'd do is bring people over to the United States and let them see something of our country besides our movies and our music and the big cities—the obvious things that people from other parts of the world tend to focus on. But there have been byproducts we didn't anticipate.
The fellows would meet Joe Lieberman or Nino Scalia or a head of an association, and it caused the people they were meeting with to have to sit down and get out a map and say, for example, where in the world is Turkmenistan? Meeting with sharp young folks who are doing impressive things in Central Asia, Americans have a chance to focus on a new part of the world. They think a little about what Russia may be doing or China may be doing in that area, and realize that Central Asia and the Caucasus is really not on the radar screen over here.
The countries in our program are largely former Soviet republics, but they don't have a regional identity. I'll have the fellows to lunch and go around the table and say, "Okay, you're from Kyrgyzstan. How many of the other nine countries have you visited?" Generally it isn't more than one or two. The visa controls are tight. To get anywhere in that part of the world you've got to go to Istanbul or Moscow or someplace else to get back in. They tend not to drive between countries. We try to link them together.
We've been doing the program for eight years. One fellow became an ambassador. Another is a deputy minister in his government. Another has a chain of retail apparel stores. Another is a banker. Some serve in the American chamber of commerce in their countries. Some are academics. One is a tribal leader. It's a very interesting array.
Without question the single most important part of the program is the fact that the fellows get to know each other. They live with each other, travel with each other, and develop relationships so that they're now doing business deals together between countries. They're doing government deals between countries. They have also formed networks bringing together fellow countrymen from various walks of life who didn't know each other at all.
All of a sudden there's a network in that part of the world that never existed. It's built on independence and self-rule and modernity. That is probably the single most important thing that came out of this. And, to be candid, it was totally unanticipated.
Philanthropy:  Do you think about how the foundation's work should continue when you're gone?
Rumsfeld:  I've seen people leave their money to others to decide what to do with it, and there are occasions when it gets handled in a way that's notably different than how the individuals who earned it would have wanted. I went to Princeton and saw what happened there when a big chunk of money was used for different purposes. I've seen people disassociating themselves from foundations that became "professionally managed" by people who had different views. 
We are going to sustain two pieces of the Rumsfeld Foundation—the public-service graduate fellowship program and the Central Asia Caucasus fellowship program—for five or ten years after Joyce and I are gone.
Philanthropy:  Do you think the private sector today underestimates the potential of our returning veterans?
Rumsfeld:  People in the military get responsibility so much younger than you do in the private sector. They're dealing with people's lives. They're dealing with equipment that costs millions of dollars. They understand discipline. They understand the chain of command. They have a desire to serve. I don't know what better you can ask for in a private-sector enterprise than those kinds of characteristics. A lot of employers don't know that.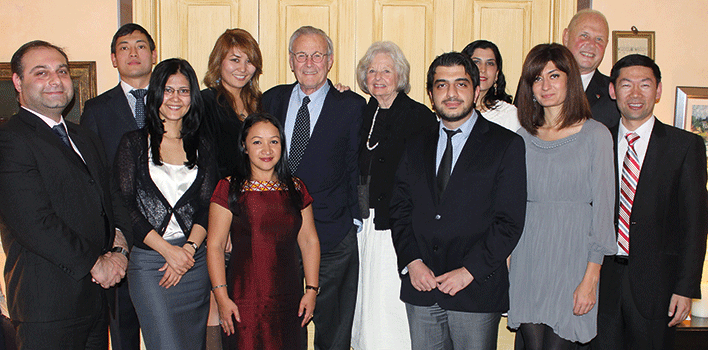 The Central Asian countries pressed up against the underbelly of Russia are oft-forgotten. Several of them are energy rich; they are strategically located; and their importance in any struggle against Islamic extremism became clear after 9/11. But these poor, sparsely populated lands are dwarfed in current affairs by noisy neighbors like China, Iran, and India. And their rising leaders get few opportunities to travel, never mind experience life in the West.
During the wars in Afghanistan and Iraq, Defense Secretary Rumsfeld spent countless hours in Uzbekistan, Turkmenistan, and surrounding locales, seeking diplomatic support for U.S. military operations. He saw the potential in these lands, and the pain inherent in their transition from communist Soviet satellites to sovereign nations. Since 2008, the Rumsfeld Foundation has partnered with the Central Asia-Caucasus Institute at Johns Hopkins University to bring more than 100 students from Central Asia to the United States for six weeks of immersion in U.S. civil society. They meet with about 60 leaders from business, philanthropy, government, and journalism. Fellows are based in Washington, D.C., but travel for one week to a midsize city for another look at U.S. life. In places like Memphis or Huntsville, fellows live with host families.
Fellows are encouraged to keep in touch when they go home. In 2013 the foundation held a conference for alumni in the Kyrgyz Republic. It held another reunion in 2015 in Mongolia.
Ravshan Sobirzoda of Tajikistan first heard about the Rumsfeld Fellowship in 2009. He had been in the United States before, studying for his master's degree in international affairs from Ohio University, but the Rumsfeld Fellowship was different. "I have never had such a great experience." He recalls a meeting with Dr. Ben Carson: "I still remember word for word what he told us—'No information is wasted information, no knowledge is wasted knowledge.' When you meet with such bright individuals, it encourages you to take on challenges in your life."
The program helped Sobirzoda to reach for new possibilities. He now works for the World Bank in Tajikistan. He keeps in touch with other fellows, and when one visits his city he extends a dinner invitation.
Kyrgyz participant Zarina Chekirbaeva likewise says that "within the country, our team is very active on keeping up personal and professional ties. Many of us belong to business networks where we collaborate." Some of the Kyrgyz fellows have been working with others in Tajikistan and Mongolia on startup companies. These cross-country efforts encourage fellows to think of Central Asia as its own region, full of possibilities.