IN JULY, Pew Research Center released a philanthropically supported survey aimed at helping Americans understand where their fellow citizens and society are headed. Here are selected answers to their survey question, Which issues do you consider a "very big problem" today?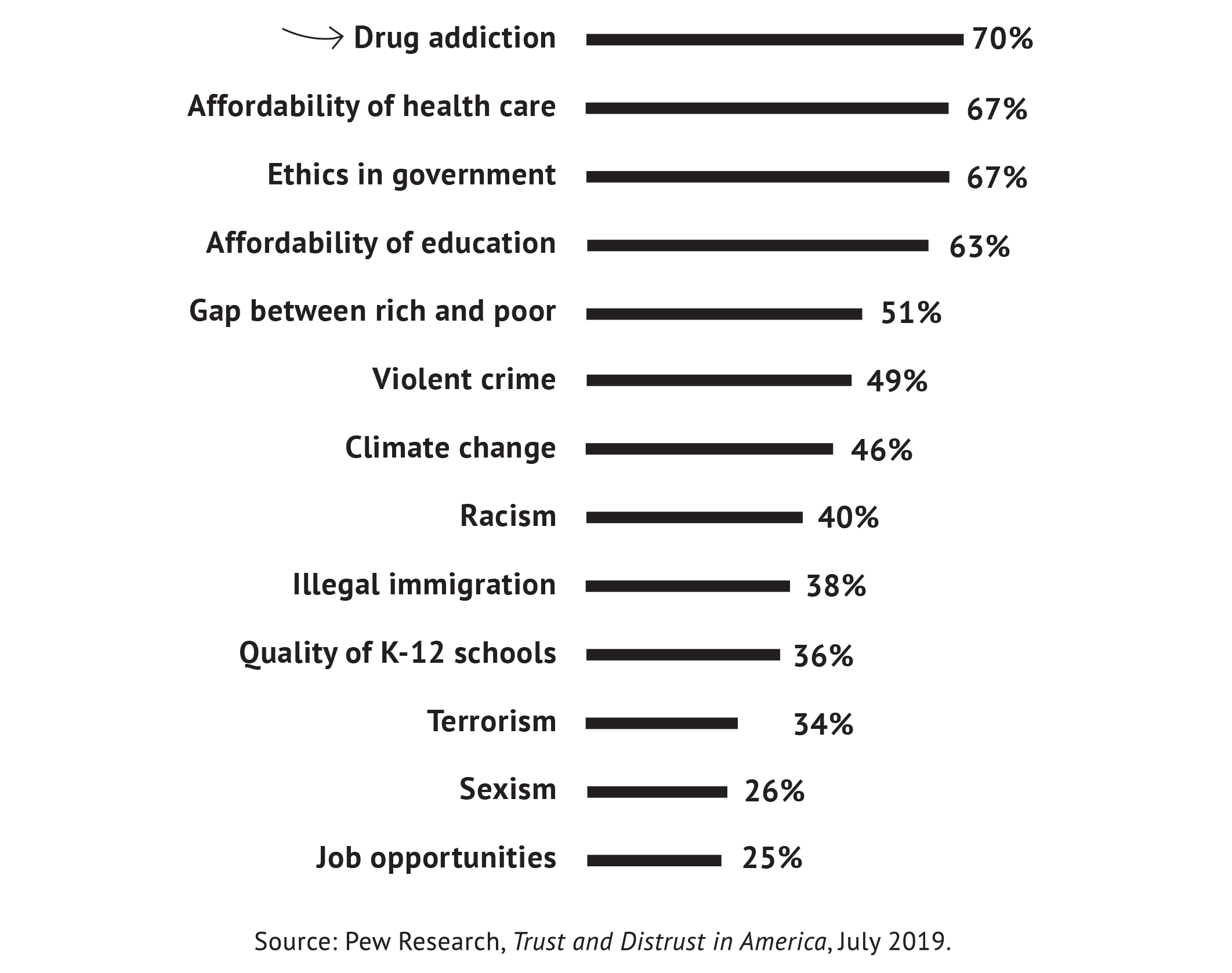 Ding ding! Though it gets little air time, Americans are very concerned about drug addiction. More so than racism, climate change, or jobs. Will philanthropy follow?
A BIG CONGRATULATIONS to New York patron, Russ Carson, winner of this year's William E. Simon Prize for Philanthropic Leadership. The award presentation on October 24 at our annual meeting will feature Mr. Carson in conversation with fellow philanthropist Jim Perry. Russ gave Philanthropy magazine an interesting interview for our winter 2018 installment—pull out your back issues or give it a read here! We also touch on one of Carson's many fine causes in the Sweet Charity write up in this issue.

ANOTHER philanthropically supported report was published recently by the National Alliance for Public Charter Schools—examining state policies for funding charter-school buildings. It turns out 14 states have no provision of any kind for charter-school facilities. They provide no per-pupil allowance, no grant programs, no loans. These states that are apparently expecting charter schools to hold their classes under apple trees are: Hawaii, Iowa, Kansas, Kentucky, Maine, Maryland, Michigan, Mississippi, Missouri, New Jersey, North Carolina, Oregon, Virginia, Wisconsin.
CHARTER SCHOOL DEFENDERS have their hands full these days. It was recently reported that the largest California teacher union has been spending more than $1 million per month since April to push legislation to restrict charter-school growth. In California's last legislative session, the union spent more on lobbying than any other special interest, from oil companies to hospitals.
EDUCATION WRITER Rick Hess dropped the "f bomb" in Forbes, suggesting that talking about faith might be an integral part of "Social and Emotional Learning" (a favorite shiny penny among education theorists today):
"Team SEL, led by cosmopolitan funders and advocates, education professors, and public educators, has tended to approach SEL as a matter of science, programming, and technical acumen. Yet a compelling pair of recent AEI essays by professor Jay Greene and educator Marilyn Rhames make the case that a failure to explicitly confront the moral and faith-based implications of SEL is misleading, short-sighted, and problematic for efforts to cultivate the social and emotional well-being of students."
Hess quotes Rhames pointing out that 196 million Americans are adherents of a religion, "yet nobody would know this from looking at the SEL landscape. Despite the centrality of faith to millions of American children and families, faith is conspicuously absent from the SEL scene. It's the 'f-word.'"
A VETERANS NONPROFIT that just launched is very unusual in two ways: 1) It begins without hard and fast priorities, intending to develop those from the bottom up by frequent querying of the vets who enroll, asking what they care about. 2) It uses high-end smartphone and social-media technology to find veterans even before they go looking for an advocate. Mission Rollcall reportedly got positive responses from 350,000 vets in its first few weeks; the aim is to engage regularly with millions. We'll be watching closely. MissionRollcall.org

Donor Freedom: Encouraging Events in Donor Privacy
Charitable donors who want to decide for themselves whether to be public or private in their giving have had a lot to be disheartened by in recent years. Bills have been filed in many state legislatures to limit the right of givers to stay out of the public eye.
For example, a bill was introduced in Maine's legislature during its 2019 session that would have required every nonprofit in the state to disclose all of its donors. Goodbye privacy and anonymity. Bills like these are typically aimed at "outing" donors to organizations supporting or opposing political candidates. Most are so poorly drafted, though, they could force charities of many types to publish all of their donors, for instance if they just mention a state legislator's name in a newsletter.
There are also efforts that blatantly target specific groups, such as legislation in Connecticut aimed at forcing nonprofit charter-school operators to disclose major contributors. The intent in such cases is to embarrass or disadvantage issue opponents.
While it's troubling to see these sorts of bills regularly pop up around the country, it's cheering to realize that nearly all of them, so far, have failed to be enacted. And the occasional bill that does make it through to signing has often been amended in order to protect the privacy of charitable donors.
The main reason efforts to expose donors have so far frequently failed is because of the "strange bedfellow" coalitions, crossing partisan and ideological boundaries, that recognize the importance of charitable giving in a democracy, and want to protect it from manipulation for political gain. During the hearing for the Maine bill, the committee chair opened his comments by noting that it was "not every day" that the state's free-market think tank, the local chapter of the American Civil Liberties Union, and the state Chamber of Commerce joined to oppose a bill.
These boundary-breaking alliances are common when charitable donor privacy is at stake. In state after state, groups and individuals from right, left, and center have united to protect anonymous giving.
In a few states like Iowa, Michigan, and Mississippi there have even been bills aimed at pro-actively protecting donor privacy. While only the Mississippi legislation made it all the way through to become law, there was broad bipartisan support for the bill in Iowa (it was voted out of committee on a 20-1 vote), and in Michigan the donor-privacy legislation passed both chambers with the support of groups like the American Cancer Society and the Michigan Catholic Conference before being vetoed by the governor.
It's certainly true that charitable donor privacy is under attack from many quarters today. But it's also true that there remains significant support across the ideological spectrum for anonymous philanthropy. Many elected officials understand the stakes behind this issue and are willing to vote to protect the right to keep giving private. For that, we can be heartened.

WEST PALM BEACH has adopted a new strategy to keep people from sleeping overnight in the region's newest beachfront park. The city is playing repetitive kids' songs like "Baby Shark" and "Raining Tacos" over outdoor speakers in the park, on a loop, starting at 10:00 p.m. Mayor Keith  James told the Washington Post that the approach is reducing overnight vagrancy. "Listen, it's a very annoying song."
Over on the other coast, politicos in San Francisco continue to bend over backward to avoid annoying vagrants. Their police department registered 28,000 complaints of human excrement in parks or on sidewalks last year, and an infectious-disease expert said the golden city's level of contamination exceeded that of Third World urban areas in India, Brazil, and Kenya. Yet municipal rules make it almost impossible to pick up street people even for public excretion, aggressive panhandling, menacing passersby, and other crimes.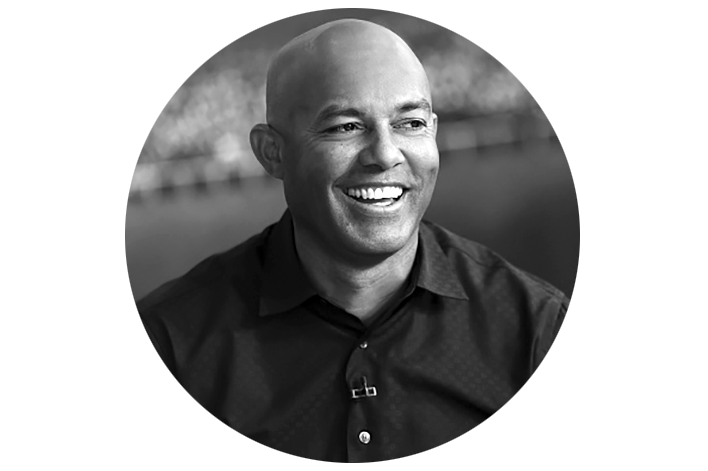 MO GIVING This summer, former Yankees reliever Mariano Rivera became the only person ever to be unanimously elected to the Baseball Hall of Fame in Cooperstown, New York. That happened not just because he dominated his sport like few other athletes ever have, but because of his famous selflessness, humility, and moral integrity.
Those qualities have also made Rivera an impressive philanthropist. The major focus of his foundation is poor children. He knows something about the subject, having grown up in Panama with so little that all of his baseball gloves until he hit age 12 were homemade out of cardboard and tape.
Rivera's other big cause has been church planting. His childhood sweetheart not only became his wife but also the pastor of Refugio de Esperanza, a Pentecostal church they founded out of their home. Husband and wife eventually bought a century-old sanctuary in New Rochelle, New York, and restored it into a thriving multicultural worship center with $3 million of donations. They have also funded church construction in Florida, California, Panama, and Mexico.
HAVE YOU HEARD that Hillsdale College is suing the University of Missouri over donor intent? Philanthropy Roundtable philanthropic-services guru Joanne Florino gave us the low-down: 
Hillsdale's suit alleges misuse of a $5 million endowment left to the University of Missouri by financier Sherlock Hibbs upon his death in 2002. A 1926 graduate, Hibbs stipulated that the gift be used to create six professorships filled by disciples of the Ludwig von Mises school of economics. To protect his intent, Hibbs named Hillsdale College as a contingent beneficiary of that gift. This empowered Hillsdale to monitor whether Mizzou met the conditions of his gift, and provided legal standing for Hillsdale to sue if the university violated his wishes.
As the contingent beneficiary, Hillsdale College was to receive reports confirming that the six professorships had been filled by "dedicated and articulate disciple(s) of the Ludwig von Mises (Austrian) School of Economics." Mizzou has apparently honored the reporting requirement and included attestations from the economics professors hired with the Hibbs monies that they are adherents of the free-market principles espoused by Mises.
Hillsdale has countered that the faculty hired to date do not, in fact, meet the donor's standard, and that Mizzou should—as Hibbs's terms provide—give the funds remaining in the endowment ($9 million) plus a reimbursement of the funds spent to date ($4 million) to Hillsdale. The litigation is ongoing, with Jay Nixon, former Democratic governor of Missouri and a Mizzou graduate himself, representing Hillsdale College. Nixon maintains that internal university documents obtained during the discovery process will clearly demonstrate "that the University of Missouri never embraced this responsibility of teaching this philosophy. It never embraced Mr. Hibbs' intent."
We will be following this case closely, given its implications for donor intent. Although naming a contingent beneficiary is not common practice, in the right circumstances it may be an effective way to ensure that a trusted organization has legal standing to enforce a donor's wishes years after a gift is made.

WE ARE happy to report that Joanne Florino and the Roundtable have a brand-new book coming out on the important topic of donor intent. It is packed with practical advice and examples, and will be available in early 2020.
LOTS OF ACTIVITY is percolating these days among coalitions of philanthropists anxious to improve the quality of civics education that is offered to young people. Some examples from this fall:
The Jack Miller Center convened a group on Constitution Day to discuss civic education at the K-12 level.
In September, Bellwether Education Partners put together a funders workshop to discuss the broad landscape of civic education, with representatives from Hewlett, Koch, Bloomberg, and other donors
That same month, the U.S. Chamber of Commerce hosted a "Civics Forward" summit in Washington, D.C., for business leaders, educators, philanthropists, and government officials.
The Philanthropy Roundtable's civics program is gathering interested givers in October.
On November 7, a group of donors and practitioners will convene in Dallas to compare notes under the sponsorship of the Sumners Foundation. To register and for more information, e-mail Eileen@HattonSumners.org 

ROUNDTABLE GATHERINGS 
Perhaps we'll see you at one of these upcoming Philanthropy Roundtable events!
October 23: Investing in a Civic Renaissance, Carlsbad, California
October 23-25: 2019 Annual Meeting, Carlsbad, California
April 29-30: 2020 National Forum on K-12 Philanthropy, San Antonio, Texas
Just as this issue went to press our Economic Opportunity program—now headed by Tony Mayer—held a lunch and field visit in Baltimore to explore new strategies for connecting young people to careers.
For more information on Philanthropy Roundtable events, and to register, view upcoming events here or call 202-822-8333.

Nonprofit Spotlight: There's an Audience for Balanced News—Are There Donors? 
The Internet has upended the news business over the last generation, cutting the total circulation of daily newspapers in half, causing a third of all dailies to close permanently, and trimming the number of employed journalists of all types by a quarter over the last ten years. In response, some donors have directed contributions into various forms of "nonprofit journalism."
In some cases, like Gerry Lenfest's purchase and then donation of the Philadelphia newspapers to a charitable management entity with an endowment, givers have aimed to shore up local journalism. There are now 200 counties in the U.S. without any newspaper, more than 2,000 counties with no daily newspaper, and 1,449 with just one paper, usually a weekly. The disappearance of local news worries civic boosters.
But much of the fashionable money in philanthropy has been going to something other than the nitty-gritty work of filling local news gaps. A huge predominance of today's fast-growing funding for nonprofit media is dedicated to progressive muckraking. For example: Pierre Omidyar's First Look Media, the Center for Investigative Reporting, ProPublica, and the $50 million Craig Newmark has recently given to entities like The Markup—not to mention single-issue publications like InsideClimate News, Injustice Watch, Food & Environment Reporting Network, the Marshall Project, and Barbara Ehrenreich's new Economic Hardship Reporting Project. There is a potent core of liberal crusading in the "public- interest journalism" now being promoted by much of the philanthropy establishment.
Donors seeking to support a more centrist, less ideological source of high-quality news and analysis have an alternative: the RealClear network. It began with the RealClearPolitics website that aggregated stories on current events and public-affairs from a true right-to-left spectrum of publications and writers, and a range of regions and life experiences.
There is a kind of middle-American equitableness and common sense to the approach of the RCP founders, and they have created an information exchange that is adamantly open to viewpoints of many types. Each day's collection of readings feels like a fair-umpire's selection of tangy American reporting and analysis. Which is why RealClearPolitics quickly attracted an audience that is not only large (40 million page views per month) but also high-quality (for many American thought leaders a morning visit to the site is now a ritual).
In recent years the RealClear operation has expanded into many other branches of news, information, and reflection. Partly thanks to angel philanthropists, it has created subsidiary sections devoted to books, education, religion, science, health, history, energy, defense, foreign policy, markets, investigations, and policy. 
The organization recently launched Fact Check Review  to audit the self-appointed arbiters who increasingly define whether a public statement is true or false (like Snopes, Politifact, FactCheck.org, etc.). These groups are used by Facebook and other news aggregators to decide what will and will not be displayed on news pages, giving them immense influence. Recognizing the highly subjective and often tendentious nature of their judgments, FCR methodically evaluates how fair and accurate each checker is over time.
Collectively, the RealClear sites now chalk up 165 million page views per month. Their readers are evenly split between Republicans and Democrats. Seven out of ten have a post-graduate degree. And visitors stay longer and read more pages than at any other major news site.
"What the Internet naturally separates, RealClear brings together into a balanced, dynamic, and engaging snapshot of news in the making," is one of the mottos of the organization.
The network hopes to continue to expand in the future. Two current areas of interest are more coverage of threats to religious liberty, and a project to syndicate articles original to the RCP site to newspapers all over the country for free. RealClear's leaders welcome public-spirited donors interested in spreading its model of balanced curation to additional sectors of news and information.

Big Idea: Private Givers Can Open Up the Iron Triangle That Stultifies Vets Policy
Federal policy toward veterans is dominated by the "Big Six" interest groups: American Legion, Veterans of Foreign Wars, Paralyzed Veterans of America, Disabled American Veterans, American Veterans, and Vietnam Veterans of America. While these powerful lobbies have notched many achievements, they have also made it extremely hard to introduce new ideas, program modernizations, or any sort of innovation into government services for vets. That's why veterans have a disability system built on antiquated WWI-era concepts of what injured persons are capable of. That's why our health system for veterans is outrageously lumbering and scandal-plagued.
By completely dominating the policy conversation, putting an inordinate focus on benefit payments, and frowning on new practices, the Big Six have had the effect of stagnating national approaches to veterans. They've promoted an inward focus on entitlements for vets, instead of an outward focus that would help vets bring their talents to bear in civilian society. Veterans are civic and economic assets, not needy victims, and veterans policies should be premised on helping them succeed in that way.
Instead, policymaking has aimed narrowly at expanding the V.A. It has often been premised too much on pity and too little on pride. And make no mistake: there is no clearer example of unbalanced political power in Washington than interest groups operating in the name of veterans. The veterans lobby comprised of the Big Six, the Congressional committees on vets, and the Veterans Affairs department (the largest and most scandal-plagued civilian bureaucracy in the entire Federal government) operate as an Iron Triangle. They jealously claim all issues touching on former servicemembers, define them narrowly, and cordon them off from change that would disrupt their status quo. 
It makes for a closed policymaking loop, with the interest groups dictating to the committees and the V.A. As former White House Domestic Policy Council staffer Yuval Levin once put it, "It is impossible to overstate the political power of the veterans interest groups over the V.A. The simplest way to describe it is that they get everything they want, period."
While this dominance has borne fruit in areas like extraordinarily generous G.I. education benefits, it has also suffocated desperately needed reforms. Concerns about whether policies are truly the best ways to help vets flourish, or whether they are fiscally sustainable, are suppressed. Question the conventional wisdoms of the Iron Triangle and you will be hit with serious political repercussions. The effect is a one-way rachet in which benefits are perpetually expanded in existing forms, without reference to effectiveness and efficiency, without connection to the true long-term interests of most vets, without regard for the fiscal well-being of the country.
The veto power of the Big Six is exacerbated by a lack of high-quality research and alternative centers of expertise. Gary Schmitt and Rebecca Burgess of the American Enterprise Institute recently warned of "scholarly neglect" of veterans issues. New efforts "to generate knowledge about veterans and society are rare," they note. The knowledge deficit is made worse by the fact that only a very small and shrinking percentage of our population has served in the military.
Philanthropy can provide valuable antidotes to this problem. Donors can fund research at think tanks and universities aimed at uncovering fresh approaches to unserved problems. The very participation of philanthropists in national debates helps break down the Iron Triangle that has stultified veterans policy. Donors don't answer to the interest groups that so intimidate our political class. Their experiments don't have to go through the Congressional committees, or be executed by the V.A. bureaucracy. Private givers have the ability to test, explore, and innovate in areas where the V.A. and Congress are completely bogged down in business as usual.
America's veterans need much more willingness to explore untried methods of delivering training and services, based on high-quality, dispassionate research. Patriotic donors can help break logjams and deliver valuable breakthroughs, addressing urgent questions like:
• How should today's mushrooming disability benefits for veterans be restructured to incentivize more independence, prosperity, and happiness among vets, and less dependency and depression?
• Can we improve health care for veterans both inside the V.A. and across society at large?
• What new tools could be employed to enhance mental health among vets?
• What talents do veterans bring to communities, and how can we maximize their use?
• What national challenges can former servicemembers help us solve in their civilian lives?
• How can vets fill crucial gaps in our economy?
• Could we harness military veterans for badly needed character building among 
young Americans?
• Which are the most effective nonprofit organizations that serve veterans? 
In concert with many savvy donors, these are issues we are wrestling with at The Philanthropy Roundtable. If you'd like to play a role in injecting fresh energy and tested ideas into national policies toward the men and women who have worn our nation's uniform, please contact us.
Future leads for The Exchange to: editor@PhilanthropyRoundtable.org